The Residences At Mandarin Oriental - Ultra-Luxury Condo-Hotel Coming to Midtown Ala Moana
The Mandarin Oriental is a new luxury condo-hotel tower coming to Midtown Ala Moana. The first phase of the project is estimated to finish by the end of Q1 2023, with the development overall aiming for a 2025 completion date. The Mandarin Oriental aims to bring 99 luxury residential units to the market, known as The Residences, in addition to 125 guest suites and hotel rooms. Amenities within The Mandarin Oriental will include several that are exclusive to residents, such as a ninth floor indoor-outdoor terrace against a beautiful Honolulu backdrop.
-Jump To Listings In The Area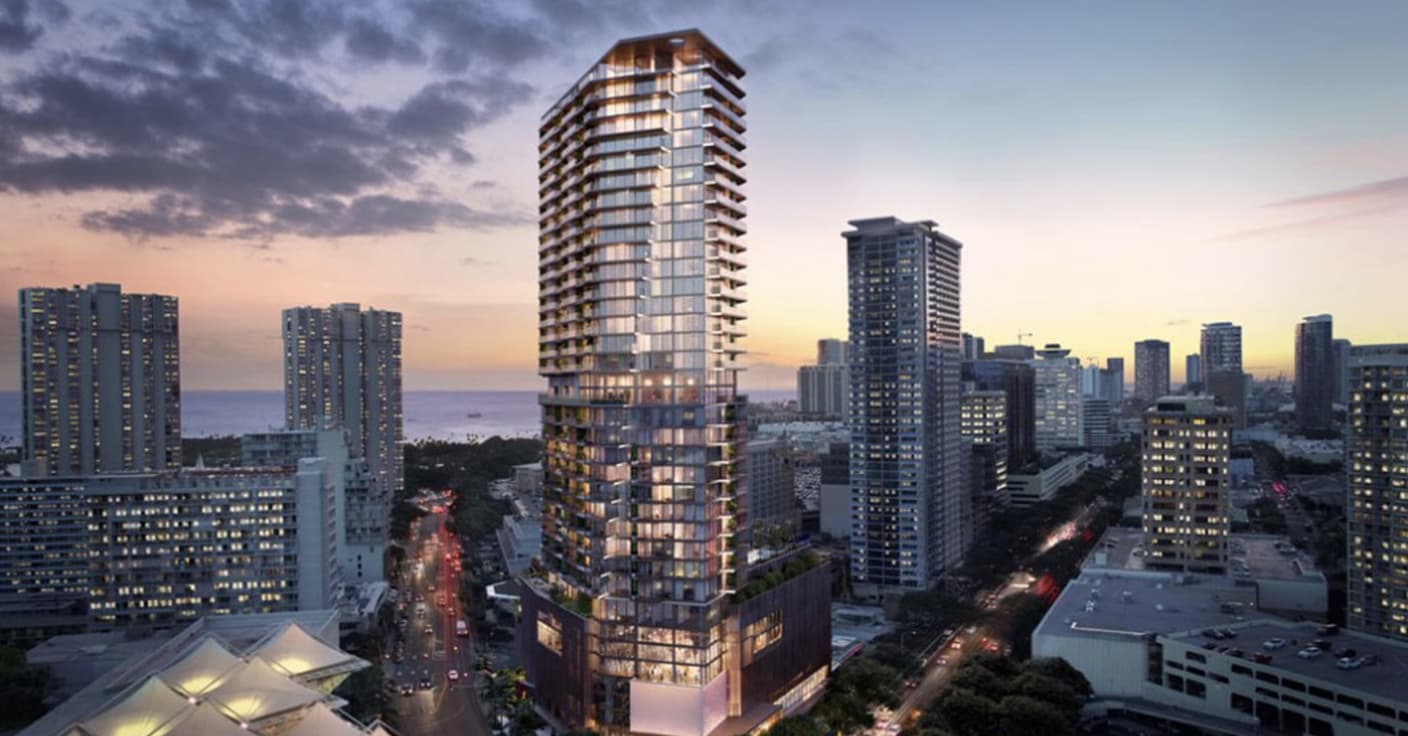 Midtown Ala Moana is an area seeing exciting developments in recent years, with residents seeing easy access to the midst of Honolulu's arts and culture scene. The Mandarin Oriental is going up on the corner of Kapiolani Blvd, a little over a mile away from the Honolulu Symphony and the Blaisdell Center, along with many other activities within easy walking distance.
The 99 luxury condos within The Mandarin Oriental will be known as The Residences. Perks and amenities brought by The Mandarin Oriental are expected to match those of a 5-star hotel, with top notch concierge services, Michelin star restaurants, and more.
Building Information
1695 Kapiolani Blvd. Honolulu, HI 96814
37-Story Ultra Luxury Condo-Hotel Tower
99 Luxury Condo Units, 125 Guest Suites / Hotel Rooms
Where Is The Mandarin Oriental Honolulu Being Developed?
The Mandarin Oriental Honolulu is a planned development at the corner of Atkinson Dr and Kapiolani Boulevard in the Midtown Ala Moana area of Honolulu, Oahu, Hawaii.

To the west of Ala Moana is the Kakaako area and downtown Honolulu, while to the east is Waikiki and Diamond Head. Just across the street from the planned location of The Mandarin Oriental Honolulu is the Hawaii Convention Center.
Neighborhood Features
Mandarin Oriental's planned development location puts it steps away from the Ala Moana Center, the largest open-air shopping center in the world. Perfect for shopaholics, this shopping center is home to a large collection of luxury brands, including Gucci, Chanel, and more. Both residents and guests alike will be able to indulge in all their retail shopping desires. Not only that, 70+ restaurants in the Ala Moana Center serve cuisines of all types.
For relaxation, the Ala Moana Beach Park is just a few blocks away. With palms, banyan trees, and beautiful white sands, this beautiful beach park offers swimming, surfing, tennis, and more within easy walking distance of residents and guests.
About The Mandarin Oriental
The Mandarin Oriental Honolulu is a planned condo-hotel development on Oahu, aiming to bring world-class amenities and hospitality to the island. It will offer views of the Pacific Ocean, the Koolau mountain range, and Diamond Head in select units.
The first 20 floors of the tower will be a Mandarin Oriental hotel, while the top 17 floors are dedicated to 99 condo units known as The Residences. The crown jewel of the tower is a luxurious 4-bed 4.5 bath condo unit that takes up the entire top floor. Residences blend indoor-outdoor living and offer gorgeous views.
The Mandarin Oriental Services & Amenities
The Mandarin Oriental Honolulu is planning to bring world class service and amenities to Oahu.