Alia - New Condo Development In Ward Village
Alia is a new luxury residential development coming to the Our Kakaako neighborhood of Honolulu, with plans approved by the HCDA on September 7th, 2022.
This 400 Ft. tower will be the 9th project in Our Kakaako and will bring 483 residences to the neighborhood, with 40 units of reserve housing, 437 market-rate condos, and 6 market-rate lofts along Koula Street. The development is bringing an additional 3,500 Sq. Ft. of ground-floor commercial space on the 3.45 acre lot, designated "Block I" in the Our Kakaako master plan.
-Jump To Listings In The Area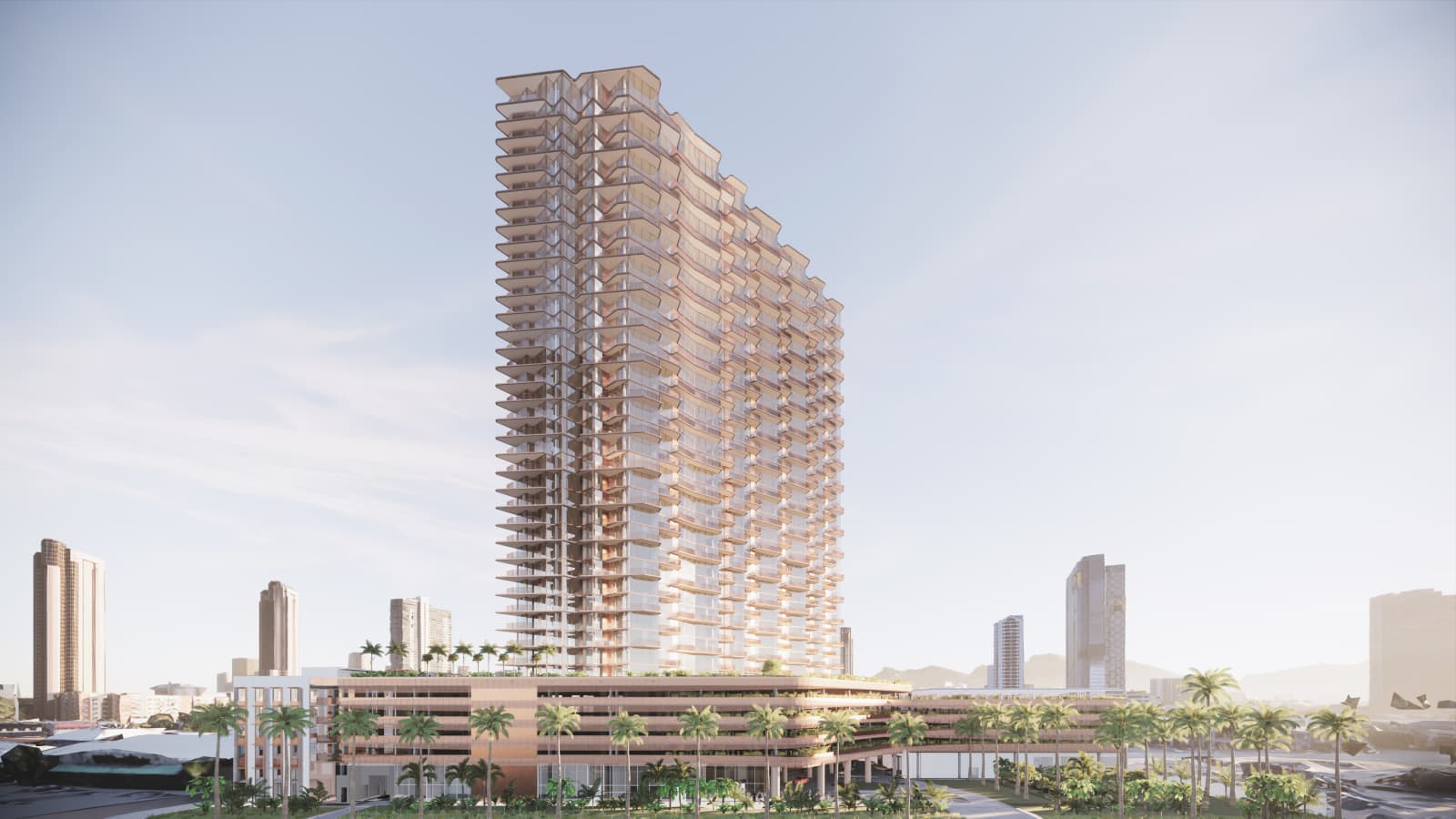 This rendering was created by the developers of the neighborhood, who we are not associated with. All information is subject to verification.
Alia means salt bed in the native Hawaiian language, as an homage to the salt flats that historically made up the region. The development of Alia is taking place during Increment II of the Our Kakaako Master Plan. Construction is estimated to begin during 2023 and finish in 2026, with sales expected to start before the end of 2022.
Our Kakaako became an established neighborhood under Increment I of development. Increment II intends to build on this with further pedestrian-friendly development and open-space design while encouraging sustainability and resiliency.
Alia Tower Information
888 Ala Moana Boulevard, Honolulu, HI 96813
39-Story Tower
483 Units in 1-Bed to 3-Bed Floor Plans
Estimated To Begin Construction In 2023 To Finish Construction In 2026
Where Will Alia Be Developed?
Alia is a new residential development being planned in the Our Kakaako neighborhood of Honolulu. Just south of Downtown Honolulu and northwest of Ward Village, Our Kakaako is being developed as a walkable community with lots of inviting green spaces. Alia's development is being planned on the 3.45 acre lot, dubbed "Block I," on the southern tip of the neighborhood.
The aim of Our Kakaako is to build a progressive community that encourages the evolution of island culture in a sustainable neighborhood where different forms of transportation are encouraged.
Neighborhood Features Available To Residents Of Alia
Once the development of Alia is complete, residents will have access to the 3,500 Sq Ft of ground floor commercial space it provides. Nearby, Gateway Park provides an open-green space to unwind.
SALT at Our Kakaako was a part of the Increment I phase of development that takes up a whole block of neighborhood space. Winner of the 2018 Shopping Center of the Year award, SALT comprises 85,000 Sq Ft of retail, restaurant, and mixed-use space. Whether there to eat, relax, or gather, it has space for you.
Even within the city, the beach isn't far - Ala Moana Beach is just over a mile away from Alia's planned development.
About Alia - New Residential Development In Kakaako
Not much is known about Alia at this time. The 400 Ft tower will consist of 483 homes, split into 437 market price units, 40 reserve housing units, and six market rate lofts on Koula Street.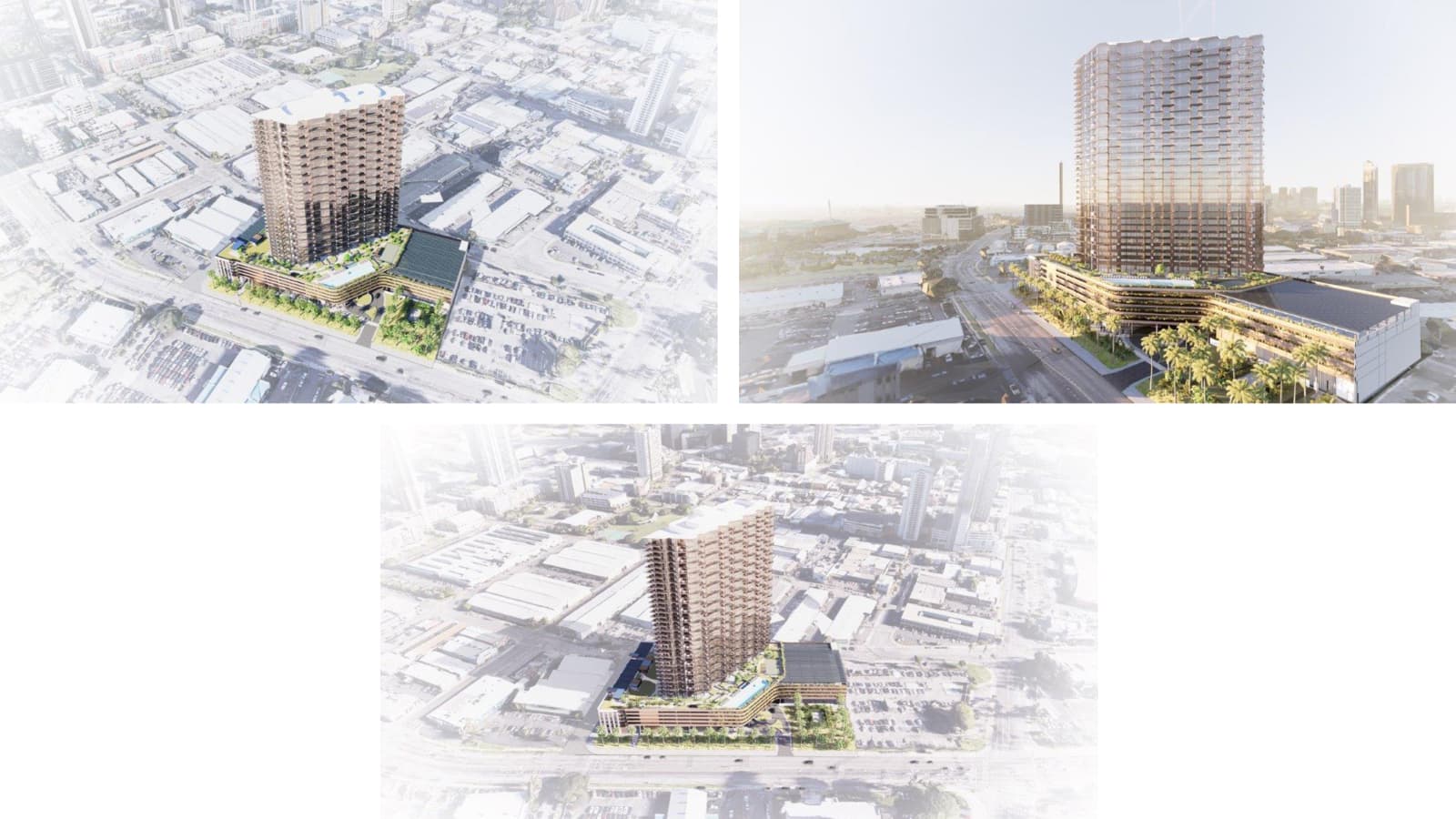 This rendering was created by the developers of the neighborhood, who we are not associated with. All information is subject to verification.
Alia will be bordered by Ala Moana Blvd, Koula St, and Auahi St. This project will be the 9th in the neighborhood and will be located on the southern tip, providing some of the best views in the neighborhood. The most recent announcement promises comprehensive, sustainable features integrated into the design process from step one. Landscaping will be centered on indigenous, endemic, and canoe plant varieties.
Alia - Services & Amenities
Not much is known about the amenities and services available at this time, but Alia is expected to include 50% more recreation space and 70% more open space than required by the HCDA guidelines.
About The Kobayashi Group
The Kobayashi Group is a real estate development and investment firm that is focused solely within the state of Hawaii. The business has been family owned and managed since it was first established and has taken on multiple projects in Hawaii over the years. The Kobayashi Group is bringing over 40 years of experience to Our Kakakaako with Alia, their latest undertaking.
Alia - Condo Units
Not much is known about the units in Alia at this time. Keep a close eye on this space for the latest information as it comes out!
The above information is concerning a project that has not yet been completed. The information is subject to change at any time by its developers, who we are not affiliated with. Images used on this page are the property of the developers and may not accurately represent the completed project. All information is subject to verification.
Contact Us About Alia
Think Alia is the perfect place to buy a condo? Need more information about the area or the units before you make the leap?
We specialize in helping buyers purchase in new development projects on Oahu while providing the complete concierge service. Reach out at 1-(808) 435-7754 or fill out the form below to request a consultation and we'll get back to you as quick as we can. We have decades of experience assisting with buying in new development projects - and we love putting that experience to work helping people get settled in their perfect Oahu home.
Listings In The Our Kakaako Neighborhood
January 27, 2023