A'ali'i - Delivering Smarter Living To The Urban Core Of Honolulu
Living in A'ali'i in Ward Village means waking up to the sound of the waves in the distance. It means getting ready for a day of productivity, stepping out the door - and being in a pedestrian friendly neighborhood right in the urban core of Honolulu. It means walking home after a hard day of work, grabbing a book from the shelf, then heading to the rooftop deck to catch the sunset.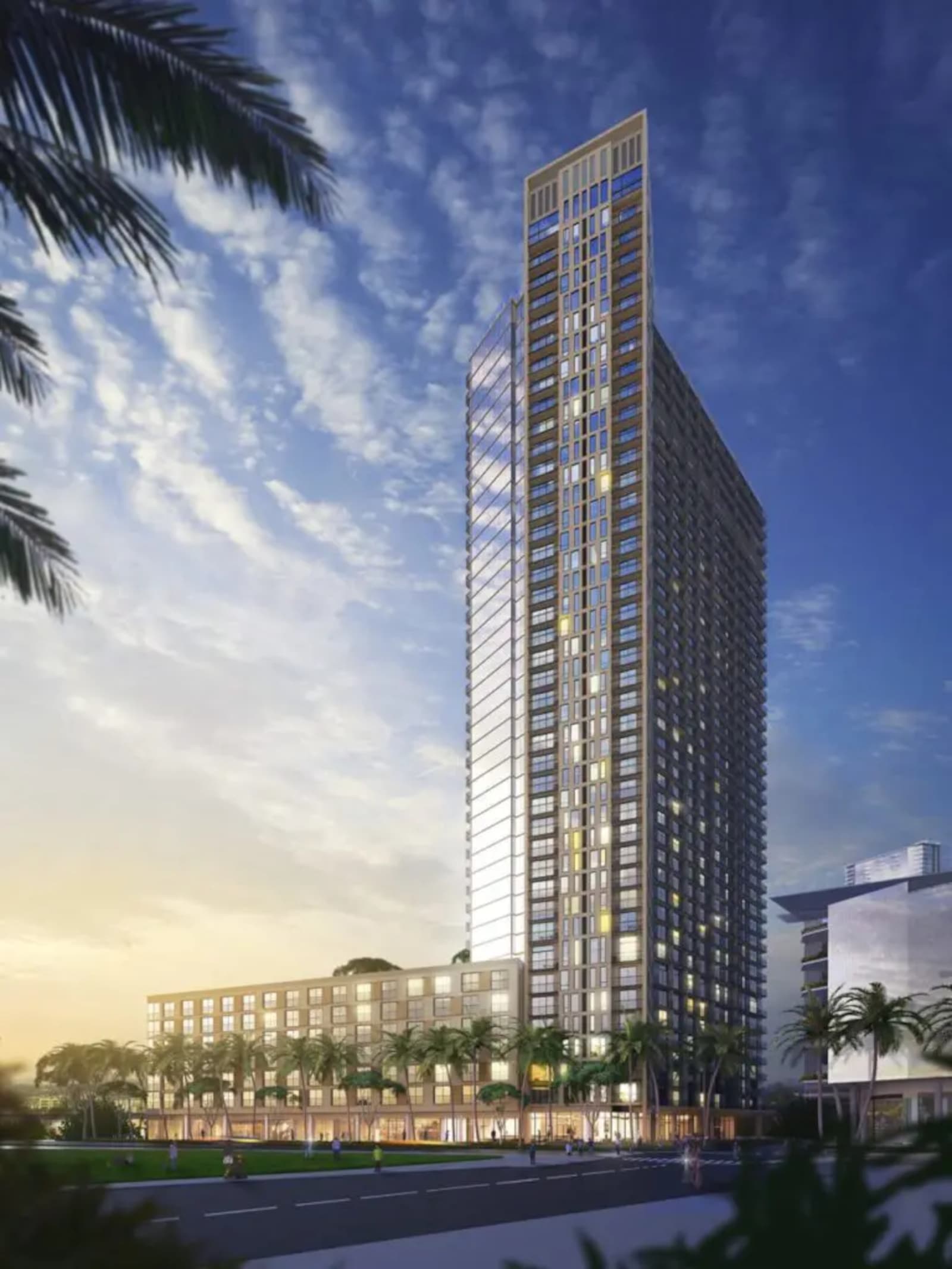 With Smarter Living, units in A'ali'i promise to deliver an optimized and efficient living experience in the urban center of Honolulu - without sacrificing the island life. Every unit has custom furniture included or optional and ample streamlined storage designed to optimize floor space without sacrificing function. Step inside, stow your stuff, and then relax and enjoy the view in your private lanai.
A'ali'i is a residential tower developed by the Howard Hughes Corporation in Ward Village in Honolulu. This 42-story residential tower has 751 urban core condos for sale. Bringing together architecture firm Solomon Cordwell Buenz and interior designers at Rottet Studios, the Howard Hughes Corporation is bringing Smarter Living to Ward Village with A'ali'i.
Building Information
42-story Residential Tower Completed Fall 2021
751 units with studio to 2-Bed floor plans
277 to 850 sq ft, with custom furniture to optimize space optional or included
Pet-friendly, with verification from tower management
For more information about the amenities of A'ali'i, condo features, and the surrounding neighborhood, scroll down and read on. Alternatively, contact me, Scott Startsman. Fill in the form at the bottom of the page, call me at 808-291-5441, or email me at [email protected] I'll be happy to give you a hand!
Where Is A'ali'i?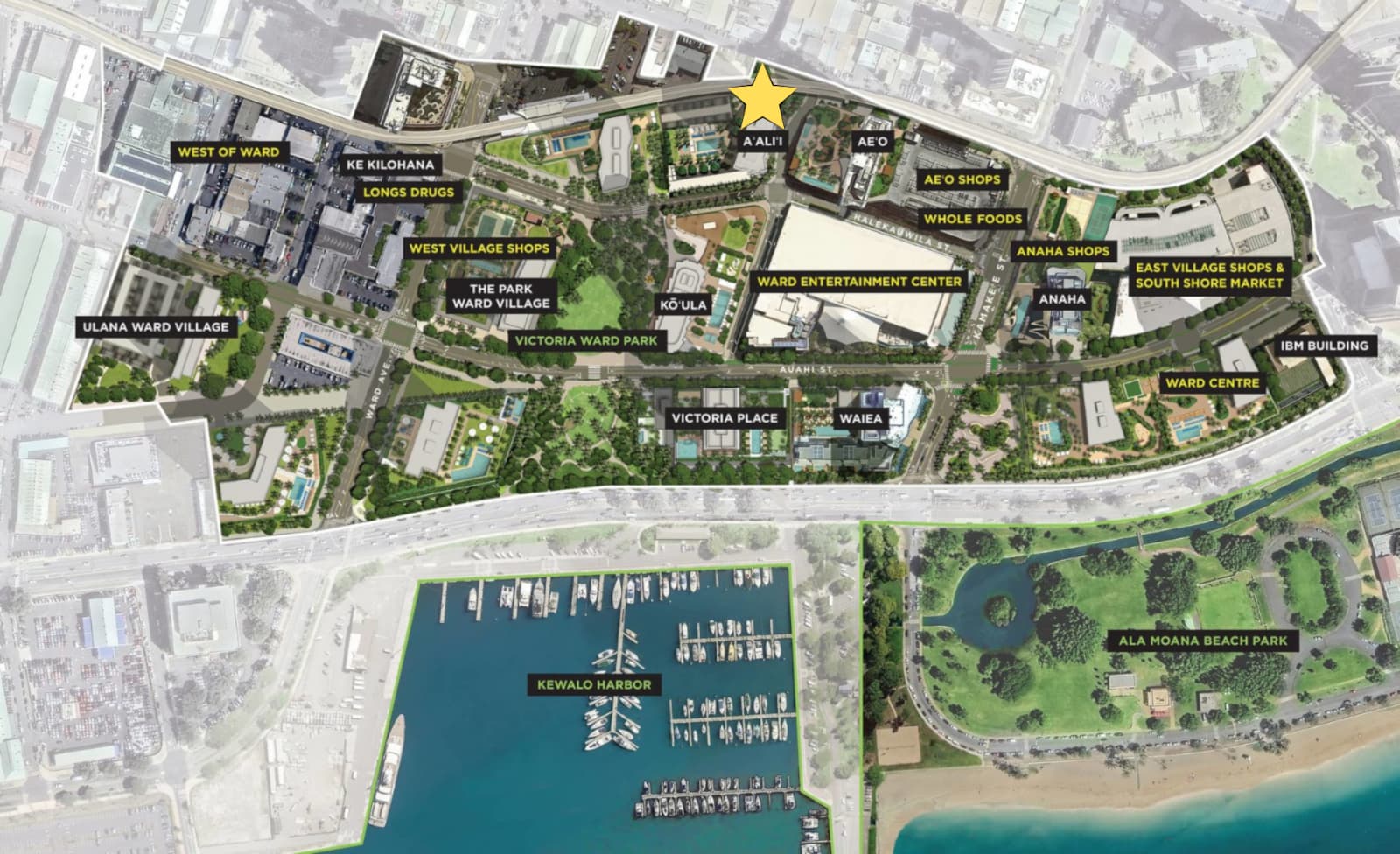 A'ali'i is a residential tower in the Kaka'ako District of Honolulu. On the southern shore of Oahu, Kaka'ako is a commercial and retail district that offers easy access to shopping and dining opportunities in downtown Honolulu. As a resident of A'ali'i, you live within a ten-minute walk of the Ala Moana beach in a pedestrian-friendly neighborhood.
A'ali'i is being developed in Ward Village, a 60-acre community that was named Best Master-Planned Community in the U.S. by Architectural Digest in 2018. This mixed-use neighborhood is being built from the ground up to be pedestrian-friendly - with plenty of green open spaces and a planned pedestrian promenade in the works. A'ali'i is completed in Fall of 2021 and is the fifth out of nine residential towers planned in Ward Village.
Neighborhood Features Available to Residents of A'ali'i
As a resident, you'll be thankful for the comfortable position near Ala Moana Beach. An easy 10-minute walk puts you right on the golden sands, letting you relax in the warm sun. Continuing along the beach puts you in the Ala Moana Regional Park, with its lush gardens and banyan trees. Then practice your tennis swing in the open sea air of the Ala Moana Tennis Court.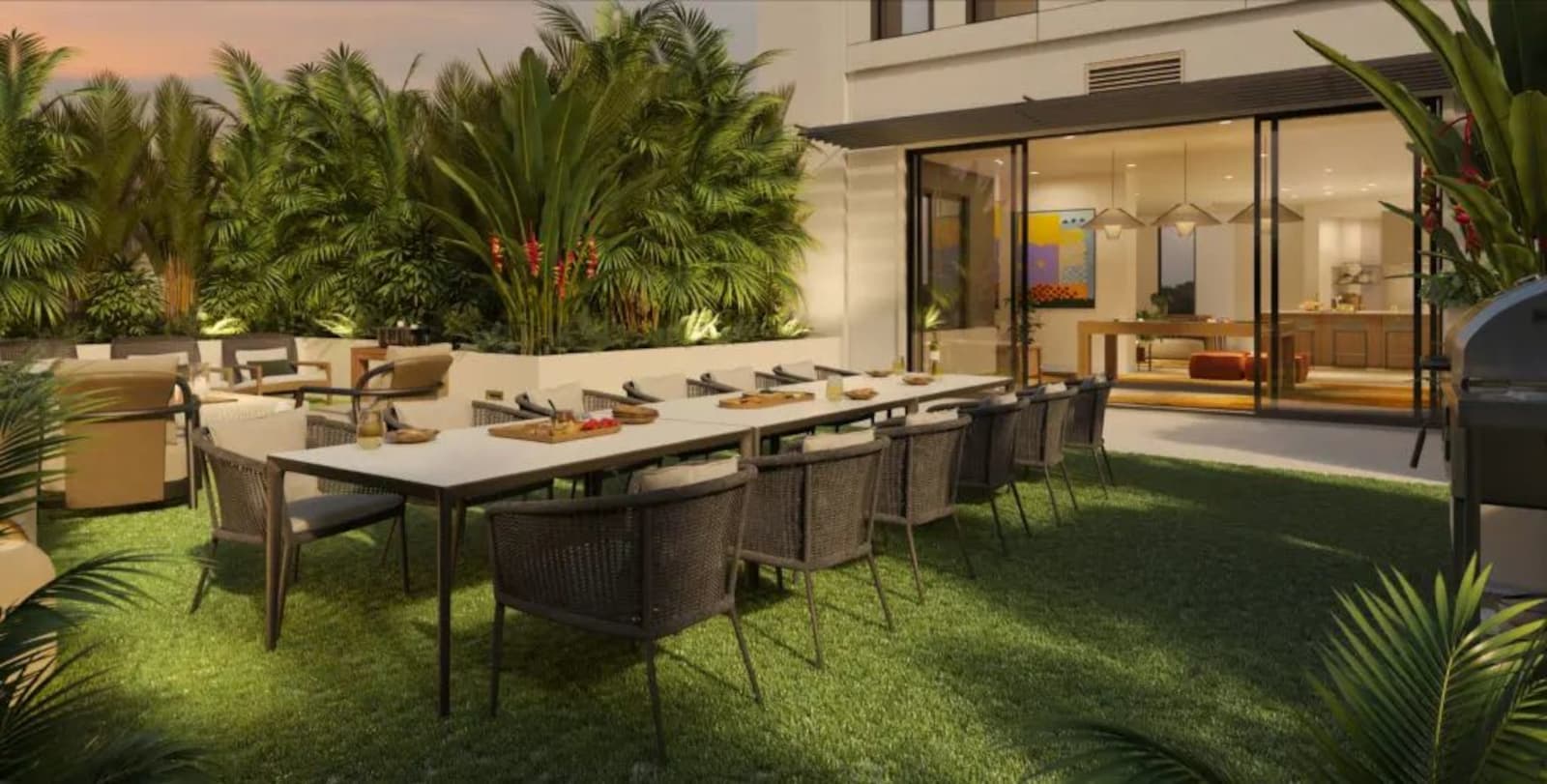 When you're done there, head over to Ala Moana for an afternoon of shopping in the open-air before a 10-minute walk home. A'ali'i's location in the Kaka'ako district puts it in convenient reach of amazing shopping and dining opportunities throughout Honolulu. SALT At our Kaka'ako is just one example of this, winner of the 2018 Shopping Center of the Year award and home to delicious restaurants such as Moku Kitchen.
Ward Village is continually expanding - and two foodie favorites are the latest fresh additions to the Ward Centre: The first is, Fat Cheeks Hawaii a little mom and pop shop at heart that blends flavors from each of the cooks' upbringings, with delicious lobster and other seafood at its core. Taqueria El Gallo Rosa brings authentic scratch-made Mexican cuisine to a taquira-like setting,
With Downtown Honolulu on one side, Waikiki on the other, a beach ten minutes away, and a pedestrian friendly neighborhood all around you - living in A'ali'i delivers on Ward Village's promise of the perfect mix of Urban and Island lifestyles.
About A'ali'i - Planned Residential Condo Tower in Ward Village
A'ali'i is the fifth residential tower completed in Ward Village. It finished construction in Fall 2021, bringing 751 units to Ward Village - 150 of the units being Reserved Housing. Residents of A'ali'i have access to world class living both in and out of their tower in a convenient location nestled between Downtown Honolulu and Waikiki and just ten minutes away from Ala Moana Beach.
A'ali'i - Tower Amenities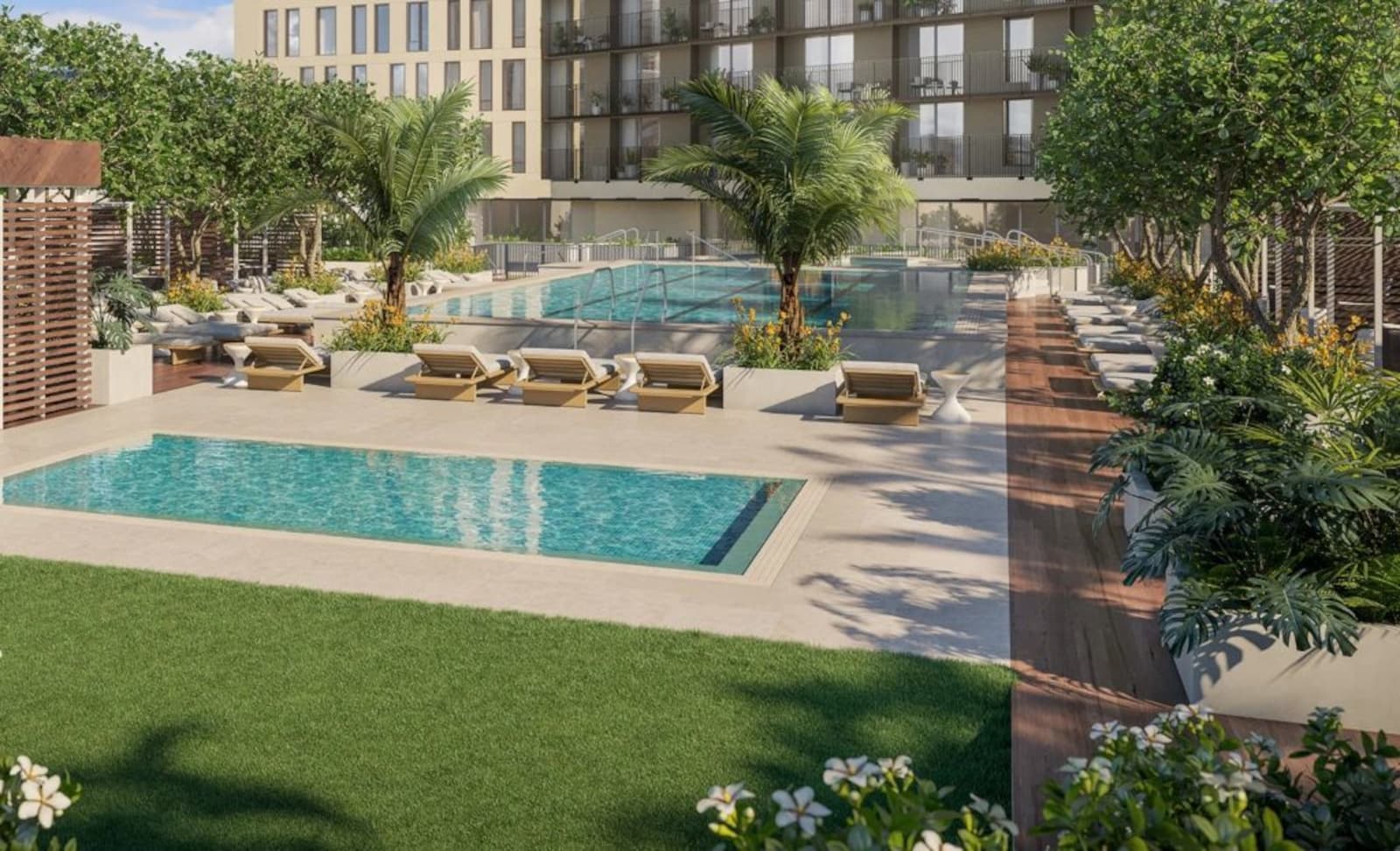 Besides its amazing location, A'ali'i holds luxurious amenities all on its own. As a resident, you have access to the A'ali'i phone app - letting you call concierge or reserve amenities at any time. Some of these reserved amenities take place on the roof deck of A'ali'i, named Lanai 42, and the pool deck on Level 8.
Lanai 42 has something for you, no matter what time of day it is. For a great start to your morning routine, it has both outdoor and indoor fitness areas featuring gorgeous views that can't be beat. After a light lunch, head up to the Sunset Sky Lounge and enjoy an afternoon with a book. And after a hard day of relaxation, reserve one of the guest-friendly Ocean View Event Spaces for hosting your family the next day.
Below, the 8,000 sq ft pool deck offers a family friendly pool experience that is the envy of Ward Village. It includes a separate kids pool and play area, indoor and outdoor event spaces, and outdoor grills. Located on top of the parking structure for A'ali'i, the pool deck will become your sanctuary.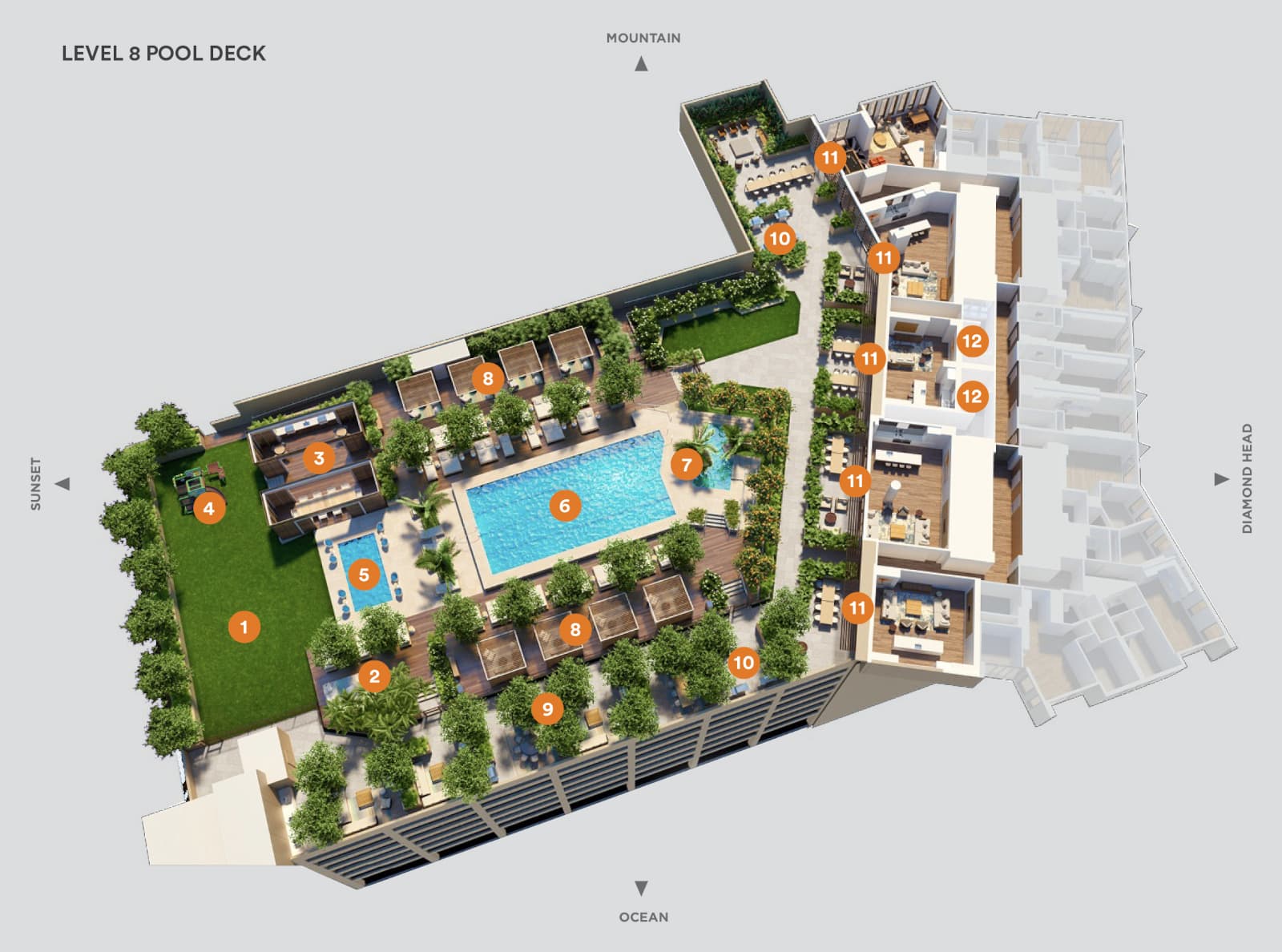 Level 8 - Pool Deck Amenities
Great Lawn
Outdoor Seating Area
Private Pavilions
Children's Play Area
Children's Pool
Pool
Spa
Private Cabanas
Private BBQ Areas
Grill-and-Go BBQ Stations
Indoor-Outdoor Private Lounge
Men's & Women's Restrooms
Lanai 42 - Sky Deck Amenities
Sunset Sky Lounge
Rooftop Fitness Club
Adult Pool
Cabanas
BBQ Pavilions
Indoor/Outdoor Event & Entertainment Spaces With Ocean Views
Children's Play/Splash area
Developer - Howard Hughes Corporation
The Howard Hughes Corporation shifted their focus in the 1970s towards real estate and is an experienced developer of communities. The company currently has five master-planned communities completed and over 25 projects in various stages of development. A'ali'i is another amazing addition to Ward Village, completed in Fall 2021.
Architects - Solomon Cordwell Buenz
Solomon Cordwell Buenz (SCB) is an international architecture, interior design, and planning firm established in 1931. They are currently based in Chicago and have worked on over 100 projects in Chicago and over 200 worldwide. They are no strangers to success in Honolulu. Anaha, their previous Ward Village tower, won the 2019 American Architecture Award. A'ali'i is their latest work in Ward Village.
A'ali'i - Condo Units
Units in A'ali'i range from 277 to 850 sq ft, with every tower home featuring a private lanai. They will be a mix of studio units to 2-bed units. The interiors have been designed with Smarter Living in mind, with smart furniture that transforms for day and nighttime use included or optional. Every tower home comes with a private lanai, letting you take in the ocean breeze.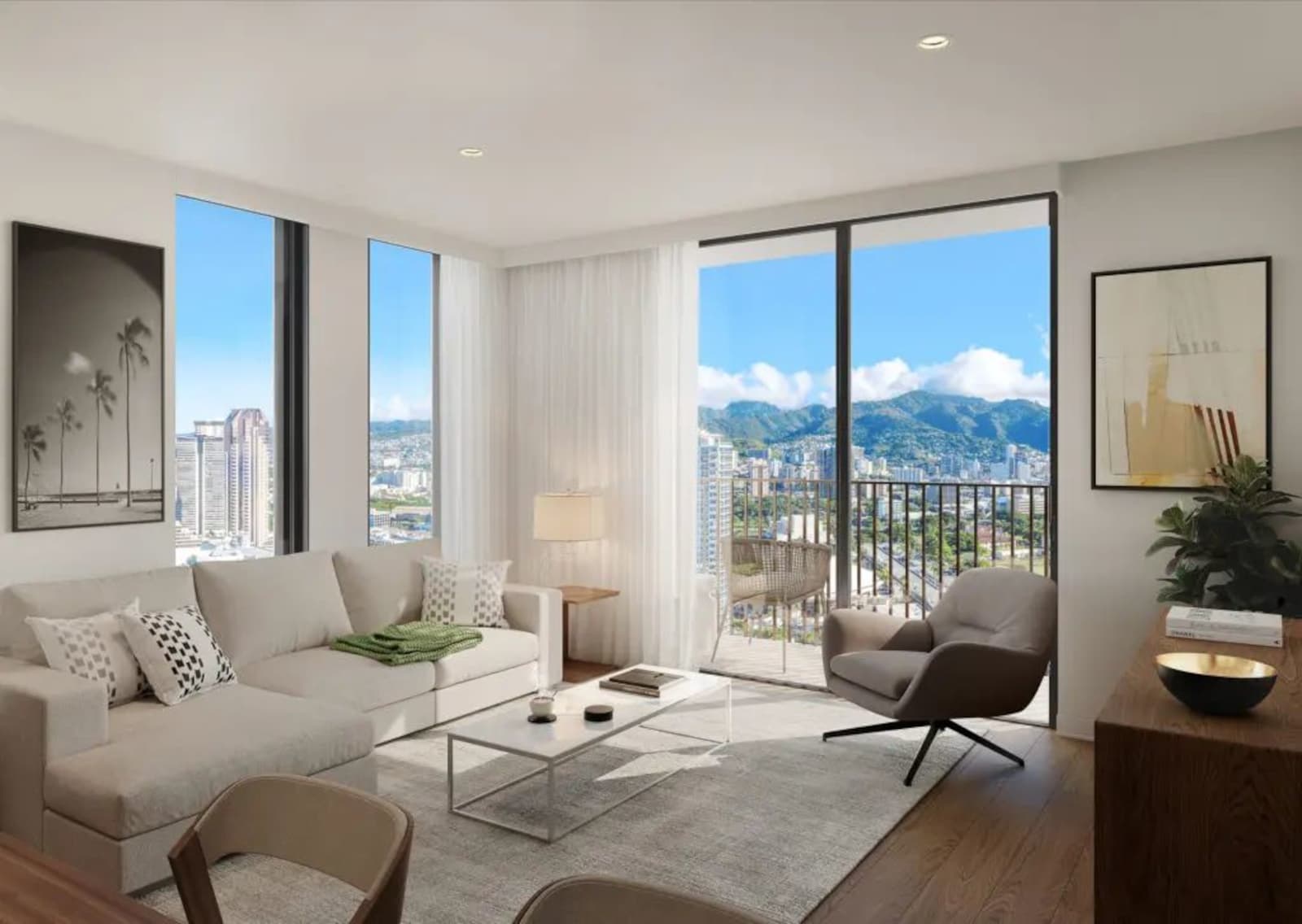 Unit Features:
Private Lanai for every tower home
Wall-to-wall bedroom carpeting
Bosch kitchen appliances throughout
Custom panel finish on Refrigerator and Dishwasher
Full-height kitchen cabinets
Natural Stone kitchen countertops
European Porcelain Tile in the bathroom
Natural Stone bathroom countertops
Kohler bathtub
Kohler and Hansgrohe bathroom fixtures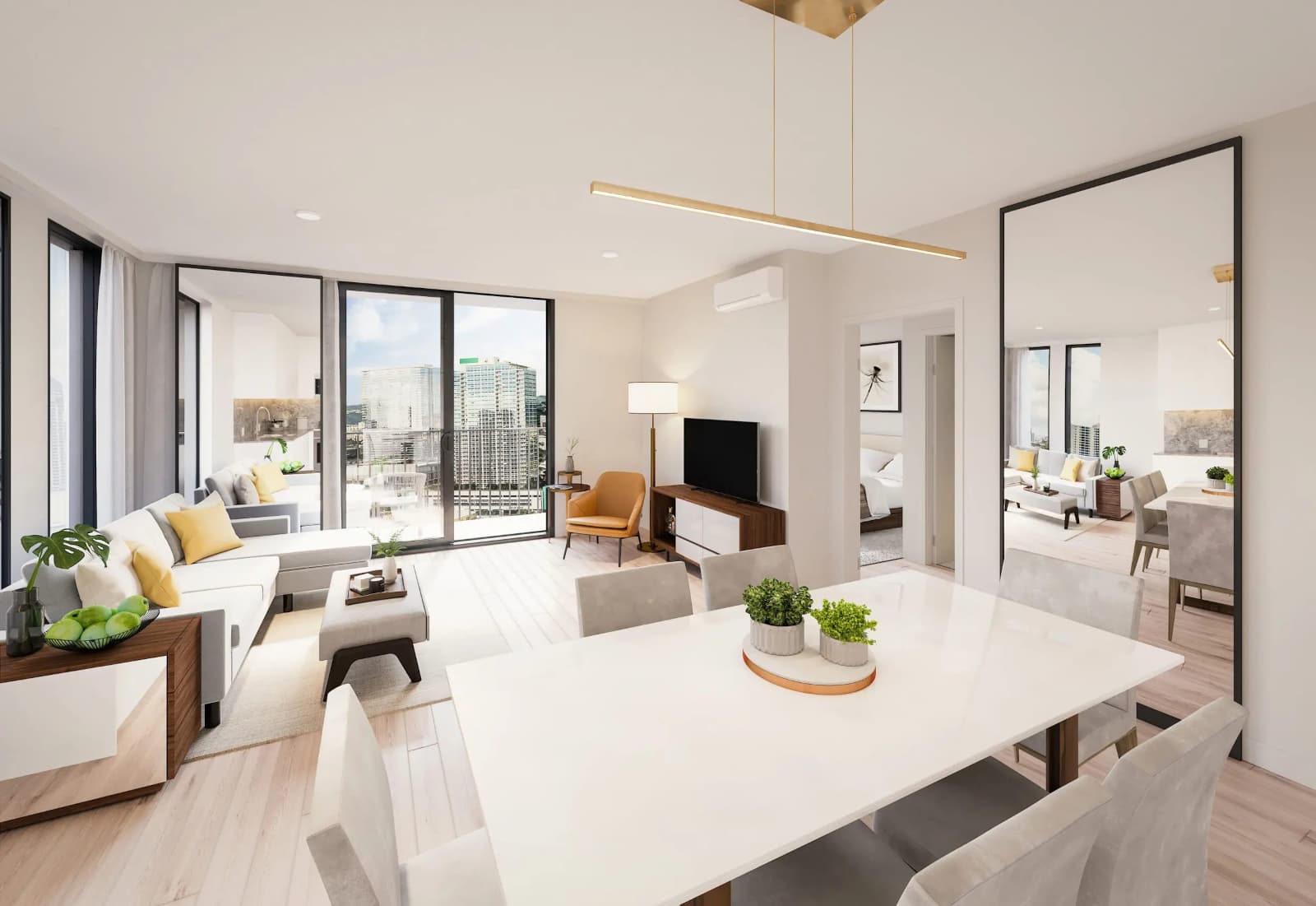 Interior Designers - Rottet Studios
Rottet Studios is an international architecture and design firm founded in 2008 by Lauren Rottet. Lauren was named Designer of the Year by Boutique Design in 2012 and is the first woman to be a fellow of both the International Interior Design Association and the American Institute of Architects. In A'ali'i, Rottet Studios have designed spaces and furniture tailored around Smarter Living.
More Information On A'ali'i Condos
A'ali'i finished construction in Fall 2021 and brought a total of 751 homes in studio to 2-bed floor plans. This 42-story tower is in the Ward Village community in the Kaka'ako district of Honolulu and is designed to provide an optimized living space in the urban core, while maintaining the island lifestyle.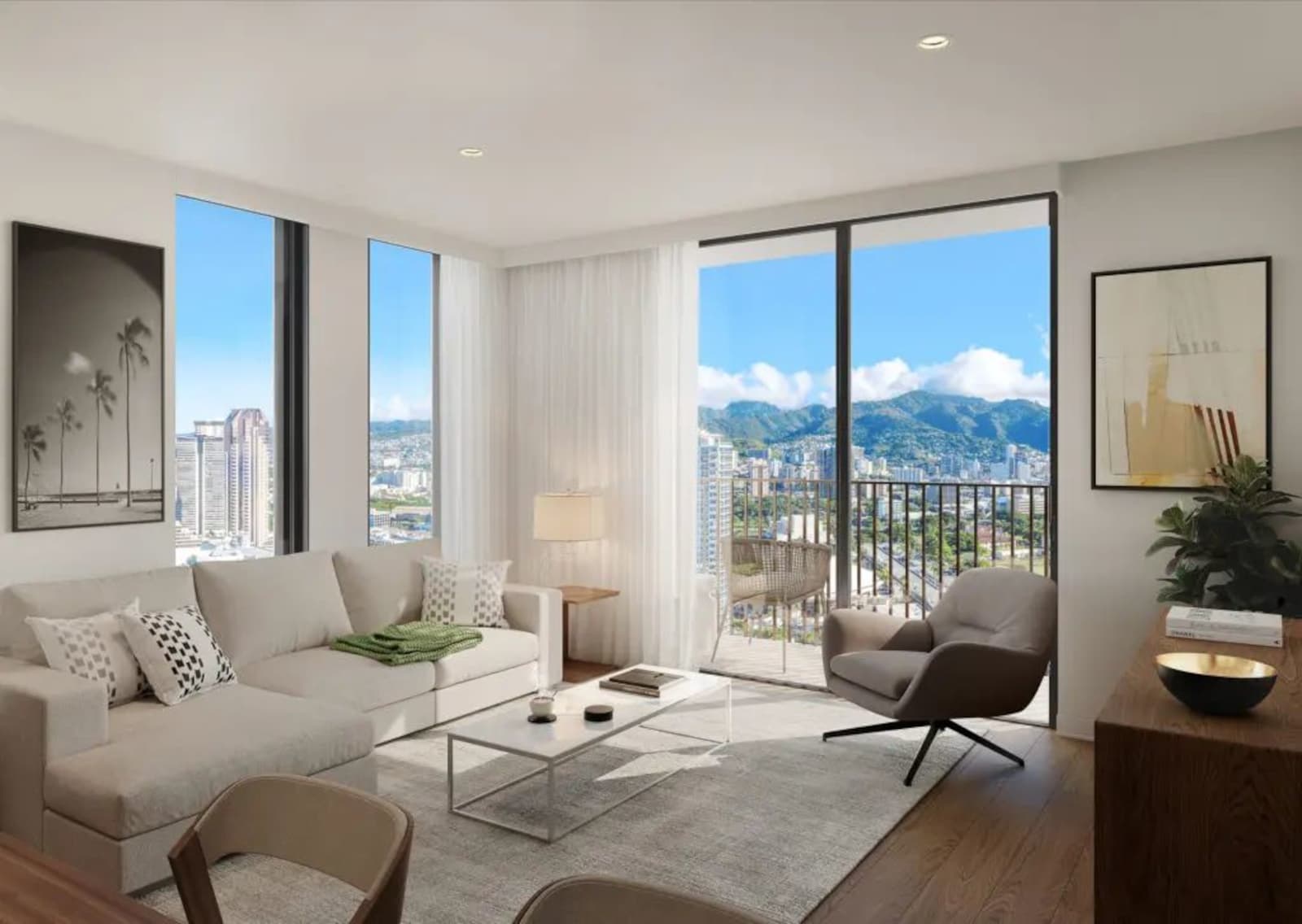 The information abive is subject to change at any time by its developers, who we are not affiliated with. Images used on this page may not accurately represent the completed project. All information is subject to verification.
For more information on floor plans, condo units, prices, or just for a helping hand in finding your new home contact me, Scott Startsman, Realtor Associate. You can fill in the contact form below, send me an email at [email protected], or give me a call at 808-291-5441. I love nothing more than introducing people to their new homes.
Register Your Interest Or Reach Out Below!
Aalii Condos For Sale
October 22, 2021
$1,576.86
Avg. $ / Sq.Ft.