Ward Village - Where Urban Life And Island Lifestyles Mix | Urban Core Community
Ward Village brings a unique mix of city and island lifestyles together in this urban community. Named "Best Planned Community" by Architectural Digest, the people that live here love expressing how much they love it. Victoria Ward Park shows this, with concerts, live Hawaiian music, yoga in the park, and a farmer's market among the free community events hosted.
-Jump To Listings
Ward Village is a master-planned community developed by the Howard Hughes Corporation on the southern shore of Oahu, between Downtown Honolulu and Ala Moana. This 60-acre development is composed of shopping centers, boutique restaurants, shops, residential towers, and open green spaces. Started in January 2011, the last residential tower in this development is estimated to finish in 2023.
Where is Ward Village?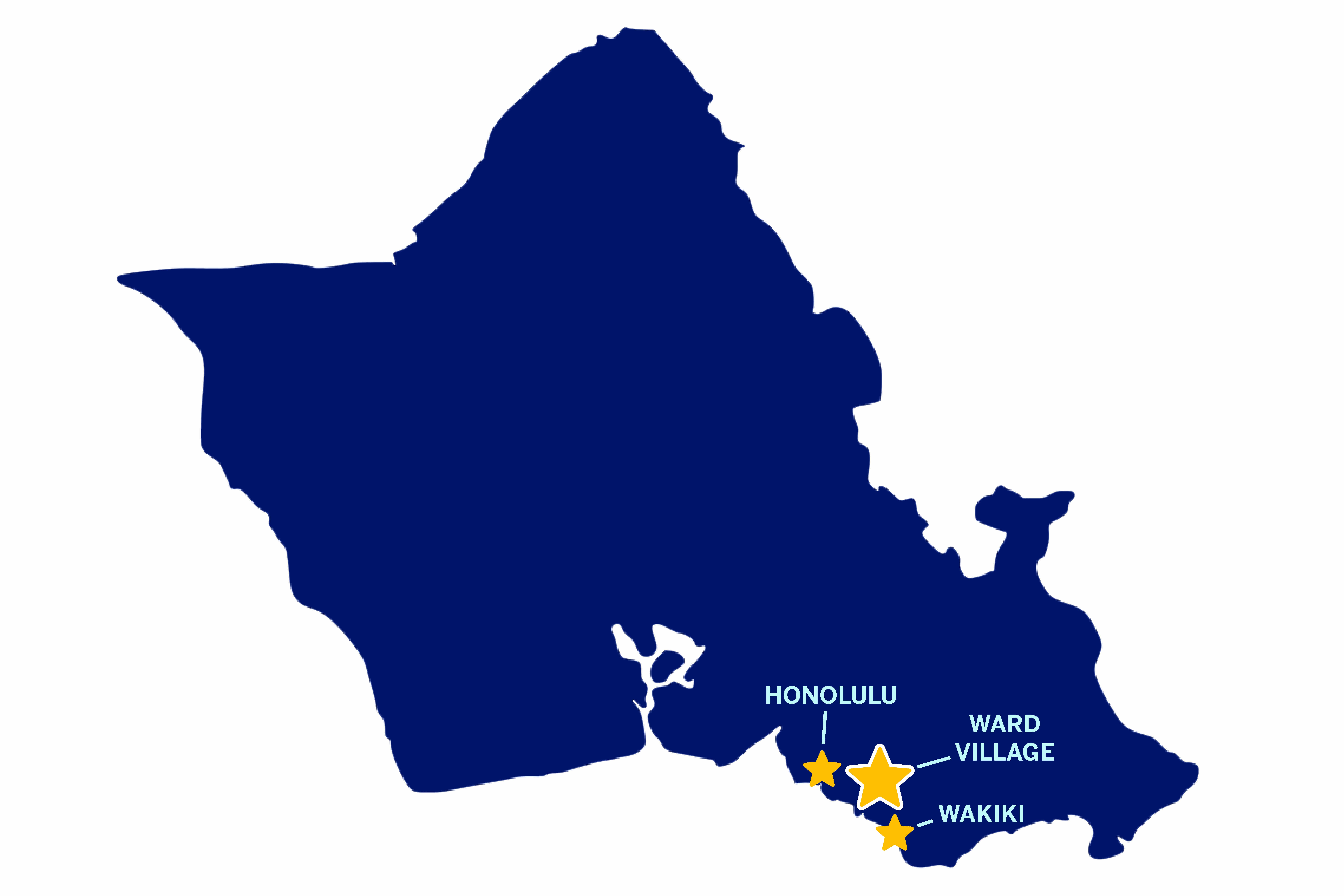 Ward Village is in the southeast corner of Kakaako district in Honolulu, just a short walk from Ala Moana Regional Park and Ala Moana Beach. Ward Village is a 60-acre stretch of mixed shopping centers, restaurants, and residential towers. Between Downtown Honolulu and Ala Moana and with Waikiki in easy reach, residents of Ward Village have full access to the urban center of Honolulu. With Ala Moana Beach Park just around the corner and an active wellness community, Ward Village intends to bring the "Perfect mix of urban and island living" to Honolulu in a healthy fresh community.
Residential Condominium Towers In Ward Village
Ward Village is an urban core community built from the ground up to be pedestrian friendly, ensuring residents stay healthy and active. The housing in Ward Village is primarily high-rise residential condominium towers with loaded amenity decks, offering sunset views, pools, workout areas, and more. There are four towers complete so far and five more in various stages of planning or development.
I have listed the four completed towers below. Click here to visit the New Developments page and check out the rest!
---
Aalii Condo Tower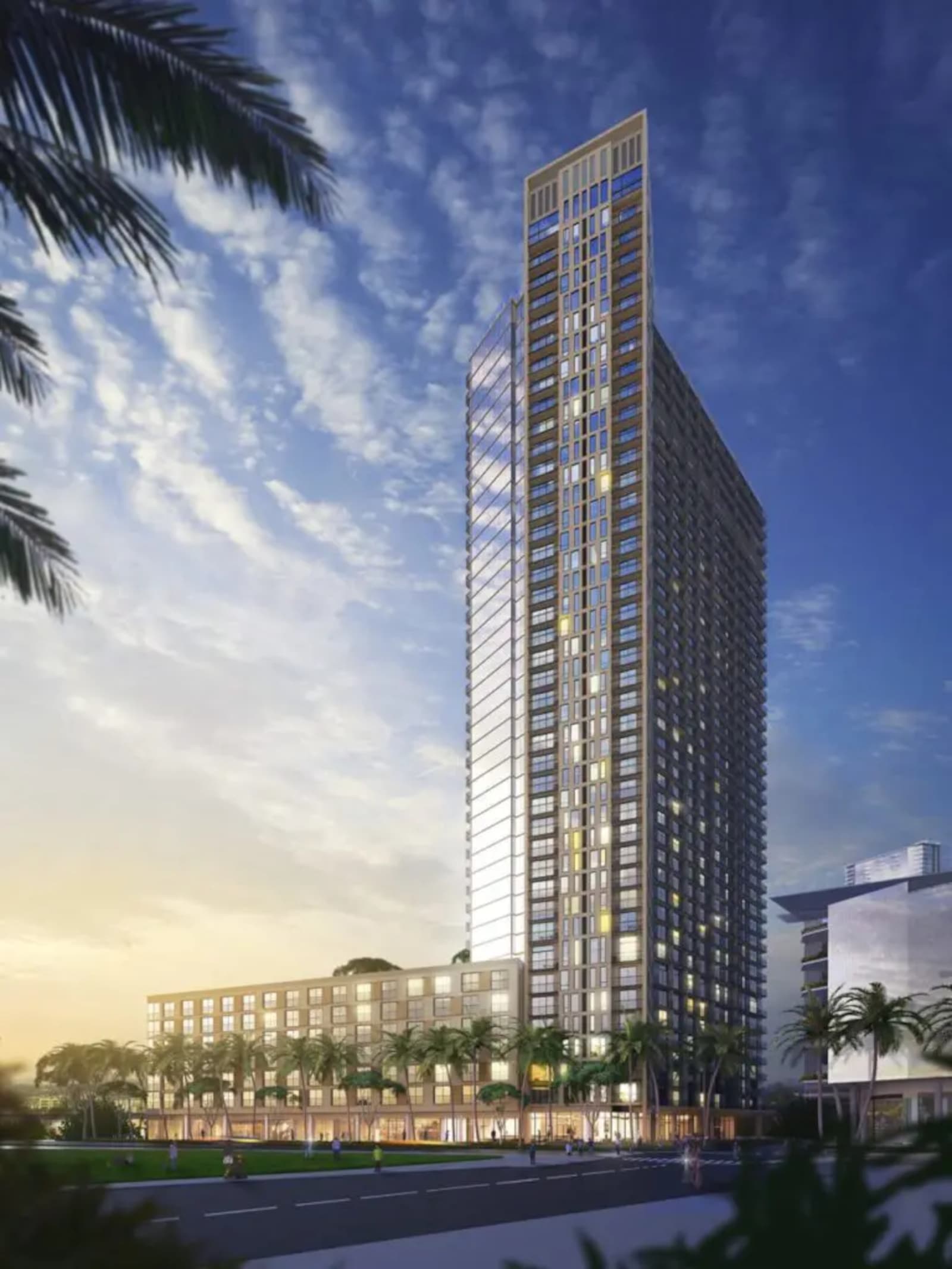 Click here for more information on Aalii and Aalii Condos For Sale!
'A'ali'i is a Condo Tower in the Ward Village neighborhood between downtown Honolulu and Waikiki. Right in the urban core of Honolulu, these new condos are in the perfect place for foodies to explore the vast diversity of restaurants in the hip Kakaako area. Set in the pedestrian-friendly neighborhood of Ward Village, walking it off will never be an issue.
751 Units Across 42 Stories
Studio To 2-Bed Floor Plans Plus Penthouse Units
Completed Fall 2021
Prices Starting From The $500,000s
---
---
Waiea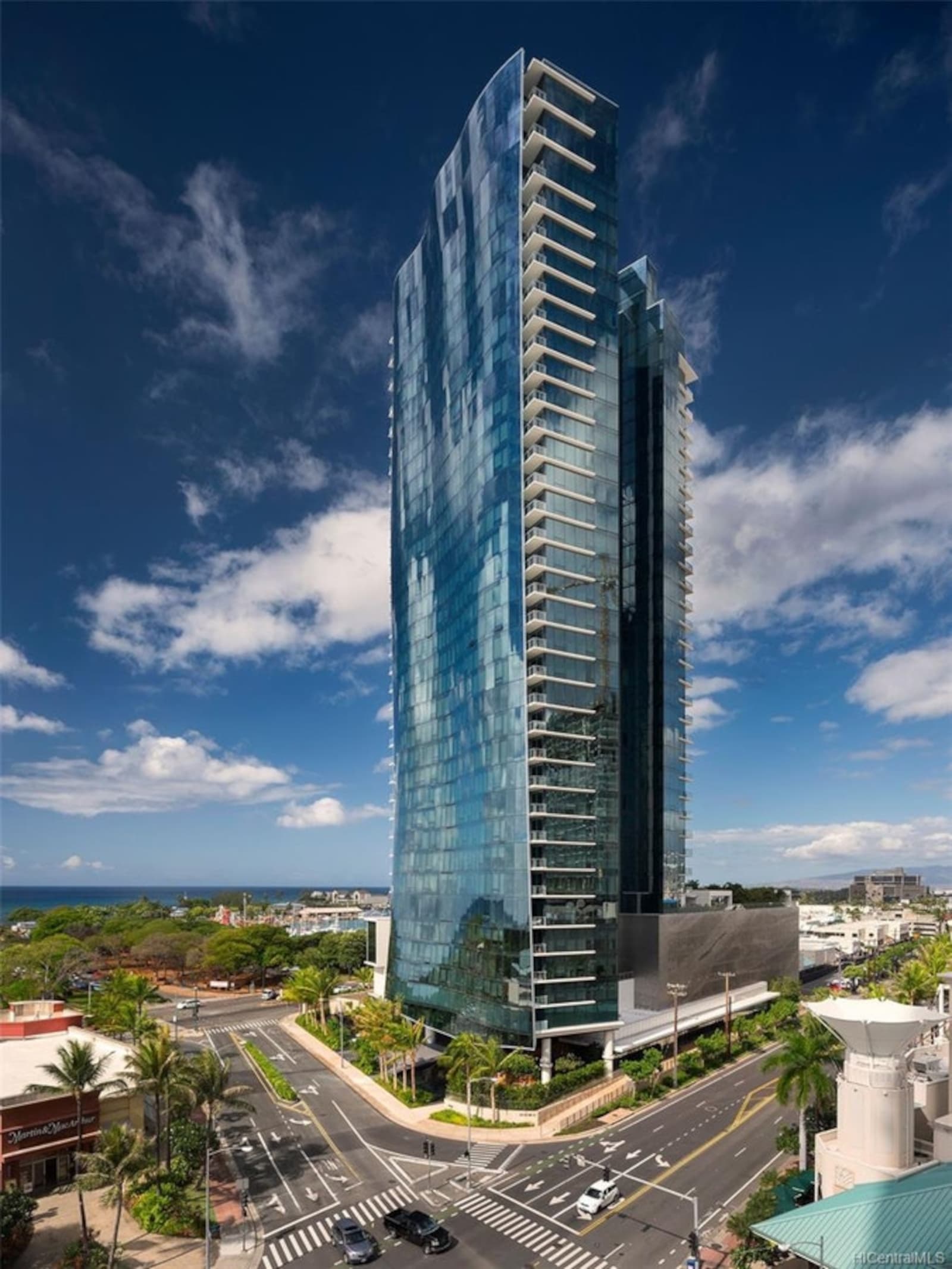 Click here for more information & Waiea condos for sale!
Waiea is a luxury condo tower, the first completed in the Ward Village neighborhood of Honolulu, Oahu. Completed in 2016, this gorgeous high-rise is the crown jewel of the neighborhood. Waiea has half the number of units in other towers, granting a private feel for residents. Just an easy 1-minute walk from the front doors are the golden sands of Ala Moana beach.
171 Units Across 36-Stories
Studio To 3-Bed Floor Plans
Completed In 2016
Prices Starting From $2,000,000
---
---
Anaha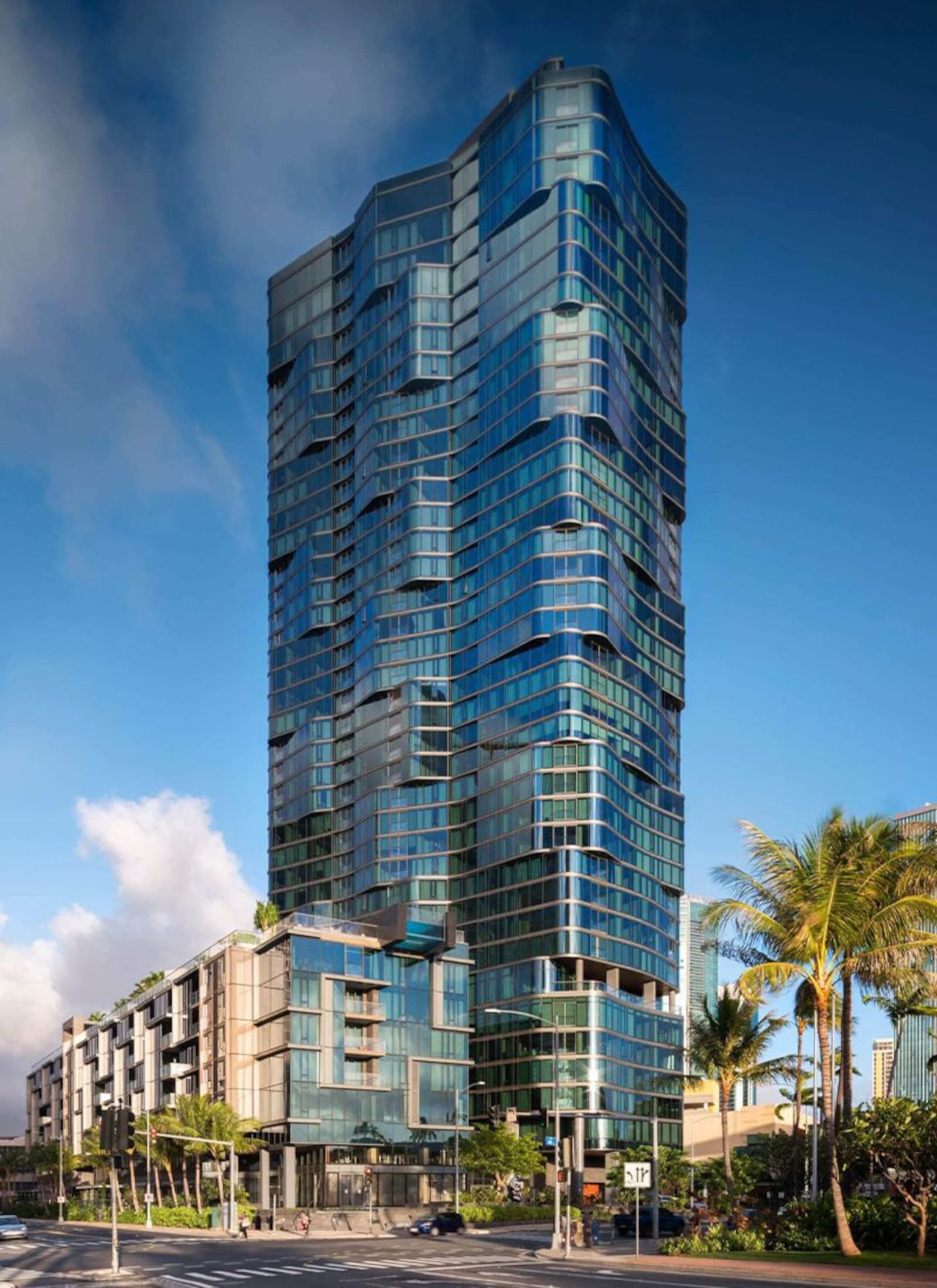 Click here for more information & Anaha condos for sale!
Anaha is an award-winning luxury condo tower located in the Ward Village neighborhood of Honolulu, Oahu, Hawaii. This luxury condo tower offers the perfect mix of urban core and island lifestyles - and does so with a gorgeous architectural design. Anaha means "reflection of light," and features a unique rolling glass design intended to evoke imagery of light glinting off the Pacific.
311 Units Across 38-Stories
Studio To 3-Bed Floor Plans Plus Penthouse Units
Completed in 2017
Prices Starting From $2,000,000
---
---
Aeo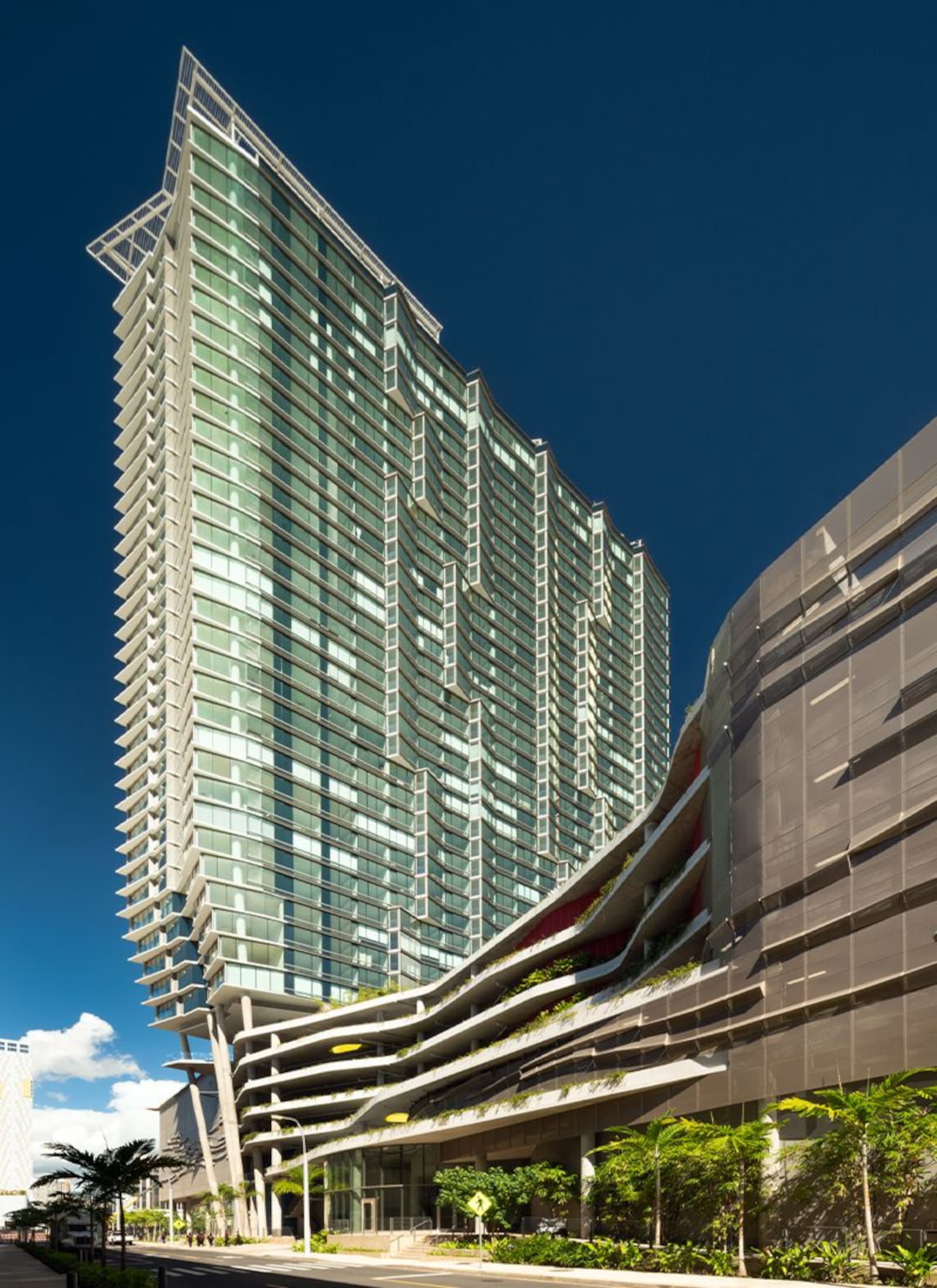 Click here for more information & Aeo condos for sale!
Ae'o is a residential condo tower constructed in the Ward Village neighborhood of Honolulu, Oahu, Hawaii. Located in Kakaako, this community is right in the urban core. Ae'o has a Whole Foods Market incorporated directly into the tower - a popular destination throughout Kaka'ako. Residents have exclusive covered access to the store from the parking structure, with 1-2 parking stalls depending on floor plan.
466 Units Across 40-Stories
Studio To 3-Bed Floor Plans Plus Penthouse Units
Completed In 2018
Prices Starting From $800,000
---
---
Ke Kilohana Condo Tower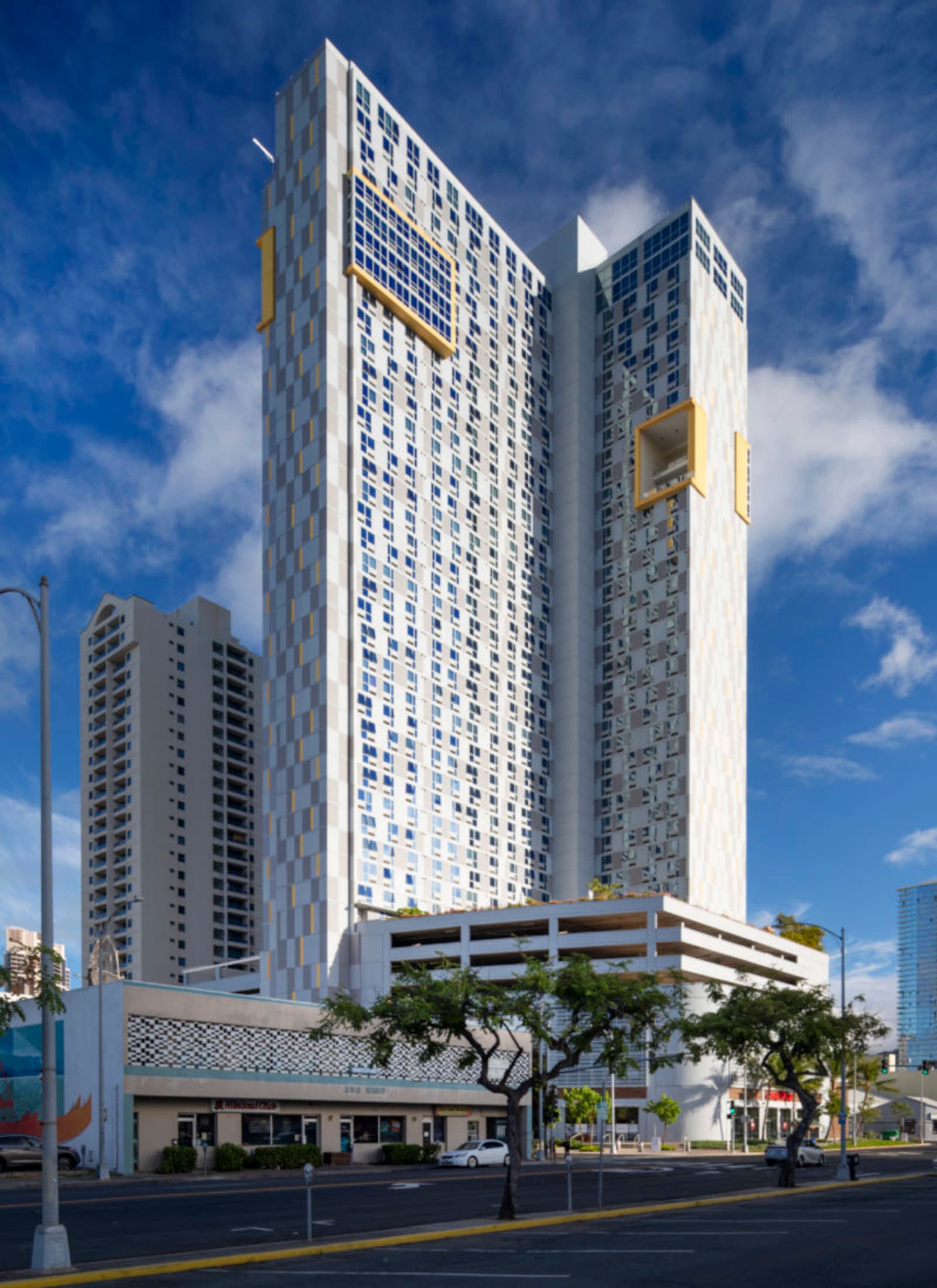 Click here for more information & Ke Kilohana condos for sale!
Ke Kilohana is a residential tower largely dedicated to reserve housing. Meant for both work and play, this tower has everything needed to feel right at home. Designed as mixed-use, its residents have access to a movie theatre, music studio, modern fitness center, dog run, and more. The ground floor of Ke Kilohana is a 23,000 Sq Ft Longs Drugs, providing a convenient pharmacy to the neighborhood.
424 Units Across 43-Stories
1-Bed To 3-Bed Floor Plans Plus Penthouse Units
Completed In 2019
375 Reserved Housing Units, 49 Open Market
---
---
More Information About Ward Village
Featuring three distinct shopping districts, Ward Village is a master-planned community with over 130 stores, 40 restaurants and eateries, and a 16-screen movie theater. The pedestrian-friendly community includes five shopping malls and hundreds of condos spread across 60 acres in Honolulu.
Keep reading to learn more about the boutiques, shops, and restaurants locals enjoy in Ward Village.
East Village
The Diamond Head side of Ward Village features two shopping malls and dozens of retailers and restaurants.
Specializing in charming clothing and accessories for babies and children, Hopscotch is a local favorite for young parents. You'll find a wide variety of handmade items and local brands, all offered under one roof.
With a delicious menu focused on healthy foods and fresh juices, Nalu Health Bar & Cafe is the perfect place to pause and refuel during a day of shopping. Try a sandwich, wrap, or açaí bowl, or grab a juice or coffee to go.
Mahina is an on-trend women's boutique with a curated collection of island-focused, fashion-forward designs. Think breezy, resort-style staples that will make you feel like you're on an elegant vacation.
If you are one of the many people who work remotely or run your own business, BoxJelly may be the perfect place for you. As Hawai'i's first co-working space, they offer monthly memberships as well as meeting space for non-members. With an emphasis on community, BoxJelly offers much more than temporary meeting space.
Serving up classic dishes from recipes that have been in the family over 60 years, Kamitoku Ramen is a local favorite and a must-try.
Kamake'e Corridor
Centrally located in Ward Village, Kamake'e Corridor features a movie theater, Whole Foods Market, and dozens of chic boutiques and restaurants to enjoy.
This award-winning Korean barbecue restaurant is one you will never forget. Using only the finest Japanese Wagyu beef, Han No Daidokoro has a devoted patron across the globe just waiting to dine with them again.
Serving espresso drinks made from beans grown and roasted in Hawai'i, Island Brew Coffeehouse will become a favorite place to meet a friend of grab coffee on your way to work.
Chef Peter Merriman is credited with pioneering the farm-to-table cuisine movement in Hawai'i over 30 years ago. Dine at his restaurant and enjoy innovative, fresh dishes from the world-famous chef's imagination.
West Village
Home to the beloved Kaka'ako Farmer's Market, West Village includes the area surrounding Ward Avenue and includes casual restaurants, gourmet eateries, home furnishing stores, and essential retailers.
To find original, one-of-a-kind furniture and design pieces from South East Asia, Bali Aga is the place to be. With an elegant, curated collection of designs, you might have trouble choosing just one item to bring home.
Local, unprocessed honey is offered at Hawaiian Rainbow Bees. The family-owned and operated business sources honey from over 1,500 hives located on the islands. Their bestsellers include lehua honey, macadamia nut honey, rainbow blossom honey and a special hot sauce with Hawaiian honey, all sold in their signature tiki bottles.
Every Saturday morning from 8:00 to 12:00, the Kaka'ako Farmers Market takes place in Ward Village. Local vendors offer fresh, locally-grown fruits and vegetables sourced from Hawai'ian farms, as well as various food stands, special crafts, coffee, flowers, and more. It's the perfect place to grab a fresh-squeezed juice or a local coffee and wander with a friend. Enjoy the best produce in the world and meet your neighbors while you're at it!
To learn more about living in Ward Village, contact our office anytime to find out how we can help!
Between the current towers, there are around 3,000 condo units either move-in ready, under construction, or about to begin construction. The price for a residential unit in one of these towers can range from $500,000 for a studio to well over $10,000,000 for penthouse units. With so many units, it's impossible to list them all here.
Contact Us About Ward Village
We specialize in helping buyers purchase in Ward Village and the surrounding areas while providing a complete concierge service through our decades of experience as top-producing agents in the area. We'd love to help! Have a question? Need more information about the community lifestyle before you make the leap? Want to talk about your plans? Reach out at 1-(808) 698-6100 or fill out the form below and we'll get back to you as quick as we can.
Ward Village Condos For Sale
July 6, 2022
$1,629.42
Avg. $ / Sq.Ft.
$1,097,450
Med. List Price