Our Kaka'ako - A Hip Urban Island Lifestyle In Honolulu
Our Kaka'ako is a vibrant community of urban island living developed by Kamehameha Schools', south of Downtown Honolulu and northwest of Ward Village. Increment I of the neighborhood has completed, comprising 1,336 residential units and 50,000+ sq ft of open space. Increment II is expected to break ground as early as 2023, and the first residential project for Increment II is expected to finish in 2026.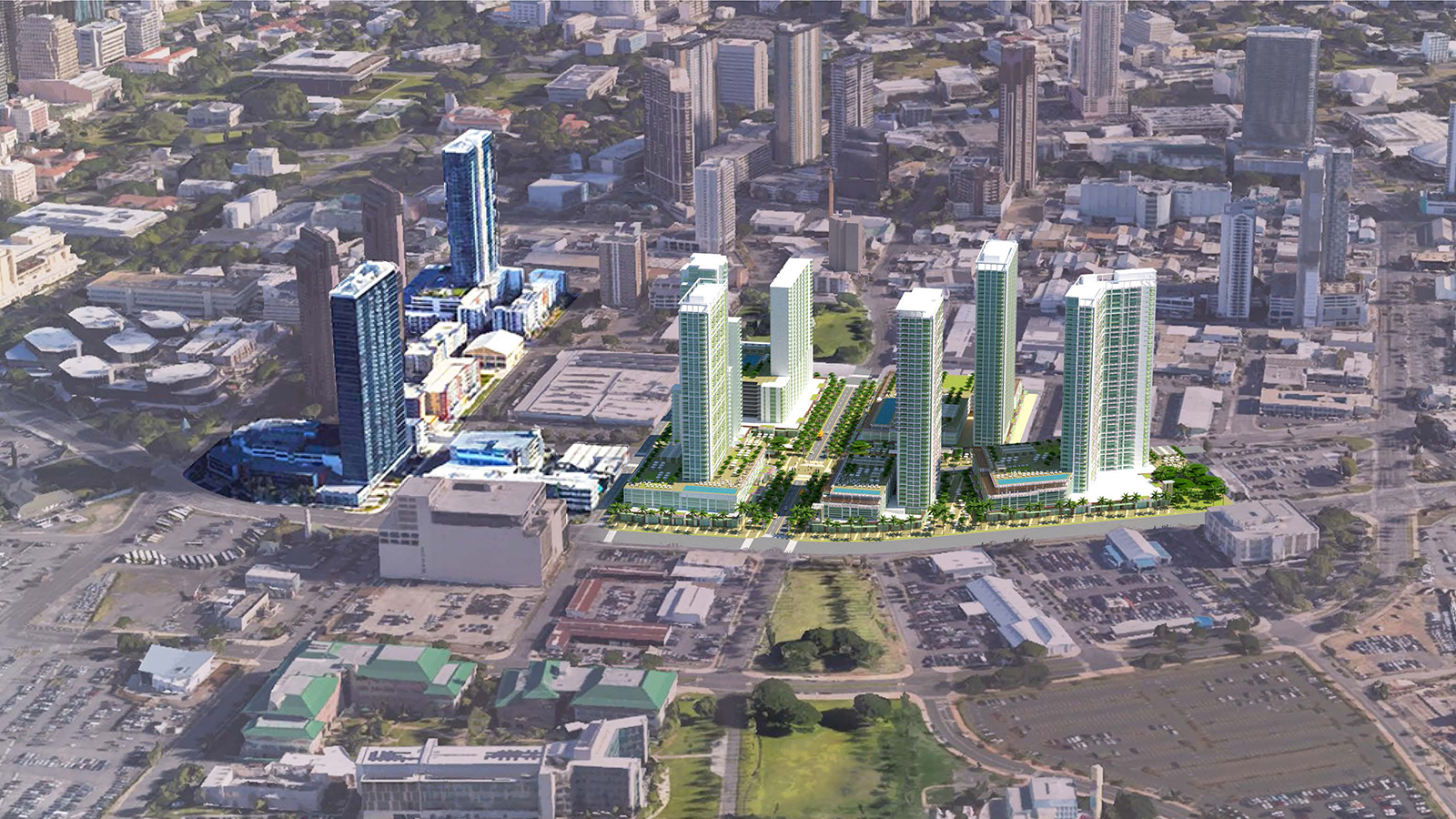 Aerial shot from Makai (ocean) side
Disclaimer: This image was created by the developers of the neighborhood, who we are not associated with. Towers on the righthand side of the above image are renderings of future projects in Our Kakaako that are part of Increment II and have not yet begun construction. These plans may change at any time.
The housing available ranges from low-rise residences to high-rise towers, with lots of inviting green spaces and unique retail and dining experiences.
---
Our Kaka'ako Condo Towers
Select A Tower For More Information
More Information About Our Kaka'ako
Our Kaka'ako is aimed towards building a progressive community that will encourage the evolution of the island culture in a sustainable neighborhood. This neighborhood is being developed as a mixed-use, mixed-income neighborhood with a variety of housing options right in the urban core. With walkability and alternate forms of transport encouraged, this is the perfect spot if you work downtown.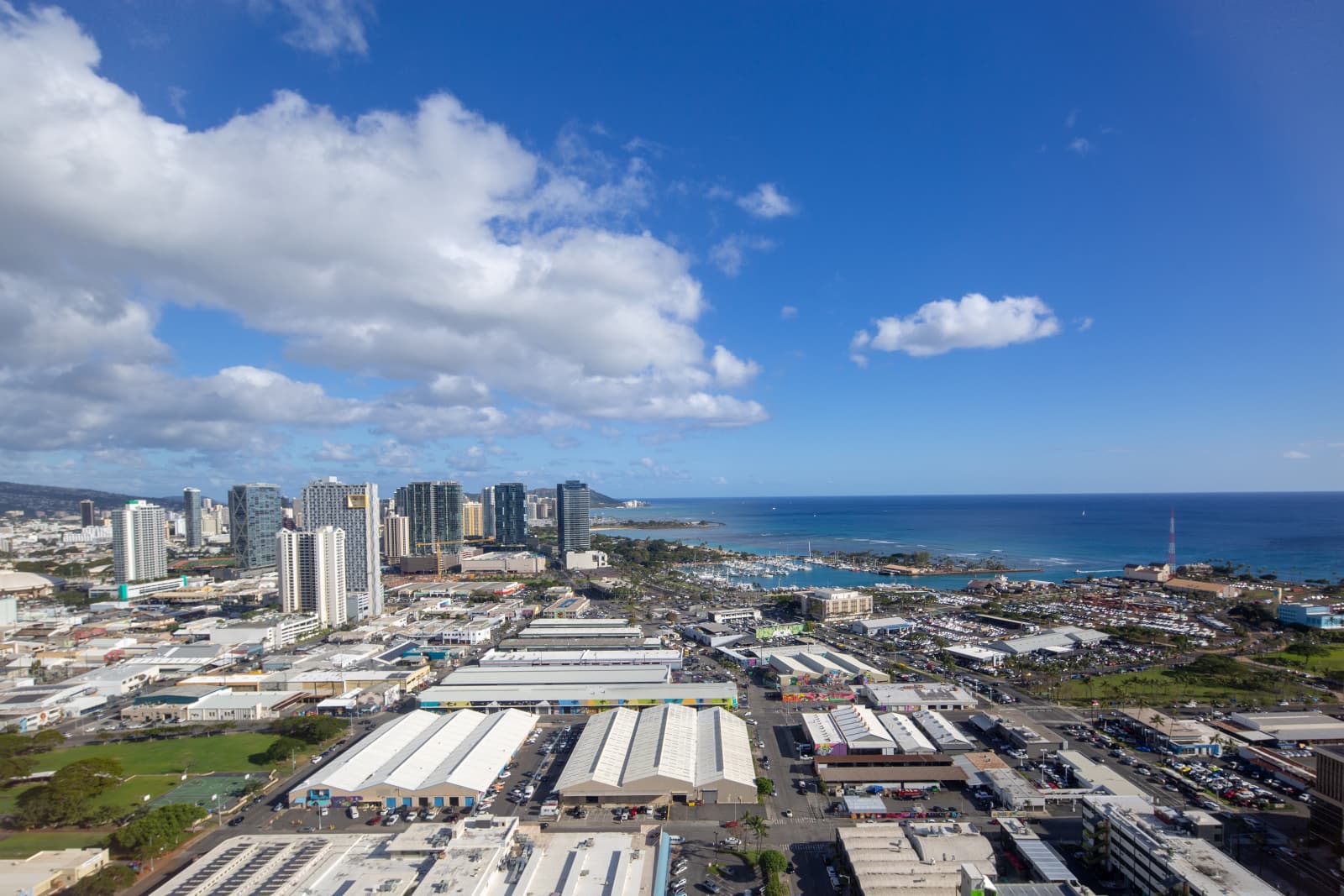 With over 50,000 sq ft of open space and a neighborhood built around walkability, residents have access to a wide range of unique restaurants, bars, and local breweries. SALT At Our Kaka'ako is an entire city block comprising 85,000 Sq Ft of specially selected retail, restaurant, and mixed-use space.
You may never want to leave - but if you do, the golden sands of Ala Moana beach park are only a mile and a half away.
A Neighborhood Built Around Walkability
Our Kaka'ako is on south Oahu, between downtown Honolulu and Kewalo Basin Harbor.
This entire neighborhood is built with walking in mind. Not only do most of the towers themselves hold amenities of their own - the neighborhood is full of unique boutiques, shops, and open spaces. Built with roots in Hawaiian cultural values, Our Kaka'ako is a popular place to live & visit.
Urban Core
SALT At Our Kaka'ako is one example of what Kaka'ako has to offer. SALT won the 2018 Shopping Center Of The Year Award (SCOTY) and hails itself as "Honolulu's epicenter for local culture, food, shopping, and innovative events." Comprising 85,000 square-feet of retail, restaurant, and mixed-use space, you could spend hours perusing your options and admiring the art.
It's not just local options nearby, though - matching with Hawaii's incredibly diverse population, there are all kinds of stores and restaurants. Right across from Keauhou Lane is H-Mart Kaka'ako, the only Hawaii location of this popular Korean-American supermarket chain. They carry specialty goods imported from South Korea, Japan, and more.
This whole area is full of a wide variety of diverse restaurant options. It truly is a foodie's paradise, where you can eat a different cuisine every day of the week and then hit your favorite brewery. Aloha Beer Company is locally owned and has this fun industrial feel to it and a neat outdoor patio area with hanging lights.
Island Lifestyle Opportunities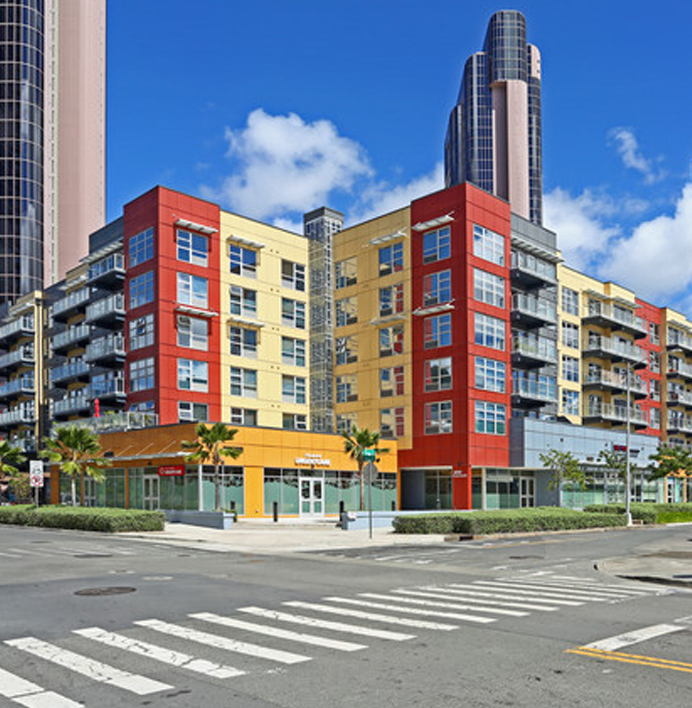 If you'd rather make dinner at home - the Kaka'ako Farmers' Market is a great way to support the local economy. It carries food, health and wellness items, pet items, items from local artisans, and more. The vision of this market is to create a supportive environment for local businesses to help improve community health and cultural awareness.
There are so many opportunities to get out and about in the great outdoors in this area. Right around the corner is Mother Waldron Playground as your first option. A bit further on is Kaka'ako Waterfront Park - it doesn't have a sandy beach but does have a theater and a promenade. Don't fret, Ala Moana Beach Park and its golden sand beach is only a 15 minute walk away - just past Kewalo Basin Harbor.
About Our Kaka'ako
Our Kaka'ako is a 29-acre community that encompasses nine city blocks and was approved in 2009. Four blocks have been completed, while Kamehameha Schools and its developing partners are in the planning stages for the remaining five blocks. Proudly declaring itself to be the emerging epicenter of progressive island living, Our Kaka'ako is a vibrant community rooted in Hawaiian cultural values.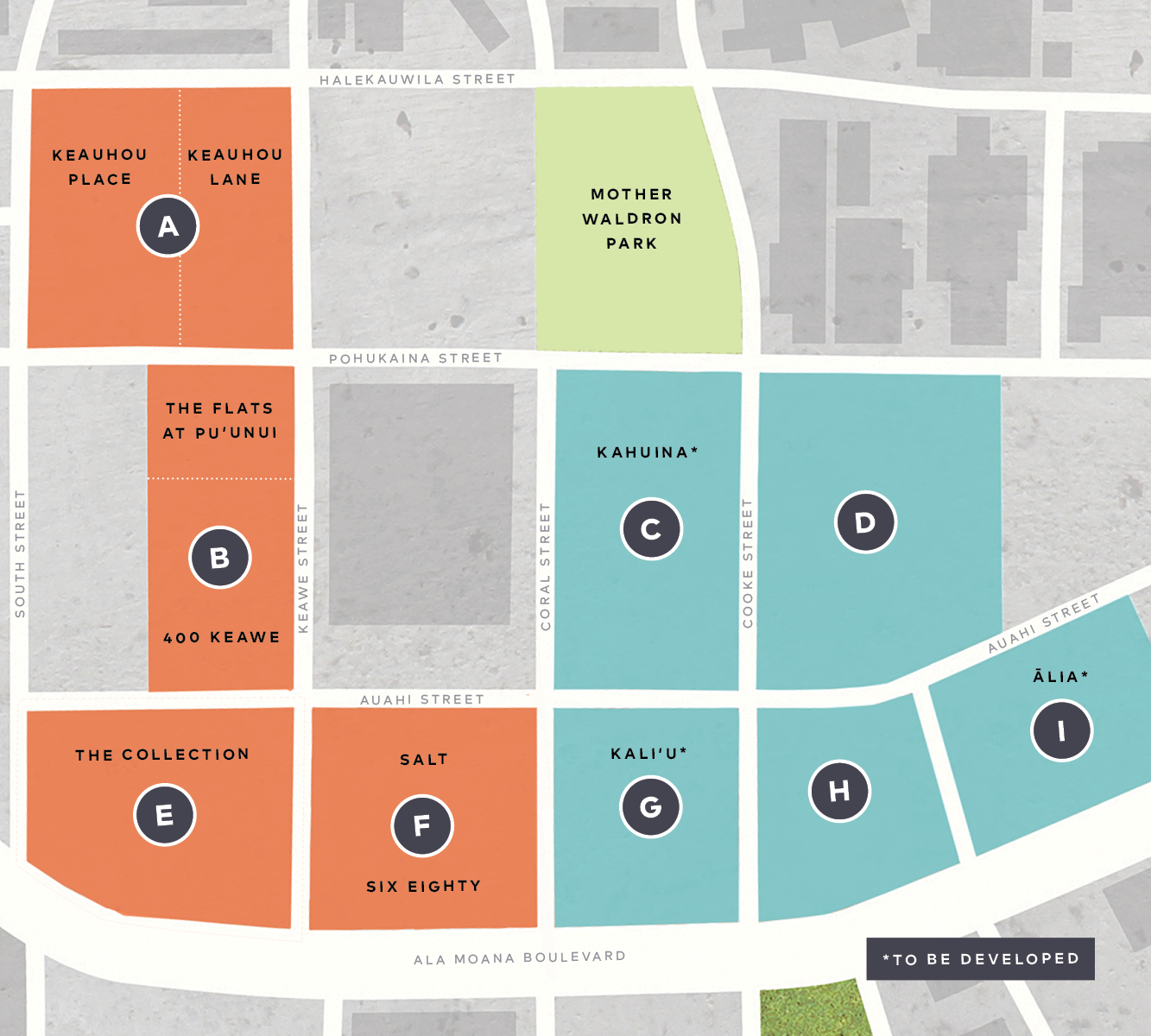 Disclaimer: This image was created by the developers of the neighborhood, who we are not associated with. Blocks C, D, G, H, and I in this image are part of Increment II in the Our Kakaako master plan and have not yet begun construction. These plans may change at any time.
There are currently just over 1300 residential units in this mixed-use, mixed-income neighborhood. Increment II aims to provide additional affordable, workforce, and market-priced housing, in addition to more retail areas, open spaces, broad sidewalks, and public art. This hip and trendy neighborhood has just about everything so you never need to leave.
Kamehameha Schools Private Trust
Kamehameha Schools is a private trust endowed by the will of Princess Bernice Pauahi Bishop, the last royal descendant of King Kamehameha I. The trustees of the estate are instructed to use the land to educate her people and preserve their culture. About 1,500 acres are dedicated to commercial property, including 29 acres in Our Kaka'ako.
The neighborhood is being developed in conjunction with various guest developers, such as Stanford Carr in Keauhou Place.
What Kind Of Homes Are Available At Our Kaka'ako?
The homes in Our Kaka'ako range from affordable housing with income limits to one-of-a-kind urban townhomes. The development of the neighborhood is happening in two increments. Increment I is fully developed, featuring a total of 1,336 residential units over multiple residential buildings. Increment II is expected to complete its first residential project in or around 2026.
The six properties that are currently completed are Six Eighty, The Flats at Pu'unui, Keauhou Lane, Keauhou Place, The Collection, and 400 Keawe. To help keep residents fed and happy, SALT At Our Kaka'ako provides 85,000 Sq Ft of retail, restaurant, and mixed-used space right inside the neighborhood - and includes plenty of local options!
Kaka'ako - An Urban Core Experience With Island Life Mixed In
Are you ready to live in walking distance of both the urban core and a golden sand beach?
Kaka'ako features the experience of life in the big city with an aim to bring residents the island lifestyle. Living here means walking or using a Biki Bike to go to the Kaka'ako Farmers Market in the morning, Ala Moana Beach in the evening, then Downtown Honolulu or Waikiki for the evening. If you don't feel like travelling that far - Kaka'ako and its neighboring district of Ala Moana are full of wonderful shopping and eating opportunities.
Contact Us About Our Kakaako
We specialize in helping buyers purchase in Our Kakaako and the surrounding areas while providing a complete concierge service through our decades of experience as top-producing agents in the area. We'd love to help! Have a question? Need more information about the community lifestyle before you make the leap? Want to talk about your plans? Reach out at 1-(808) 698-6100 or fill out the form below and we'll get back to you as quick as we can.
Our Kakaako Condos For Sale
October 3, 2023
$1,077.64
Avg. $ / Sq.Ft.