Nauru Tower | Kaka'ako Condos For Sale & Tower Information
Nauru Tower is a classic luxury condo tower in Honolulu, located across the street from Ala Moana Beach Park on Ala Moana Blvd. It is older than many other towers in the area, completed in 1992 by Nauru Phosphate Royalties. Nauru Tower features a bold half-circle design, which grants gorgeous views but can make interior decorating a challenge. The entrance to the tower has a dramatic arrival atrium court and an expansive lobby with a ceiling that nears 20 feet.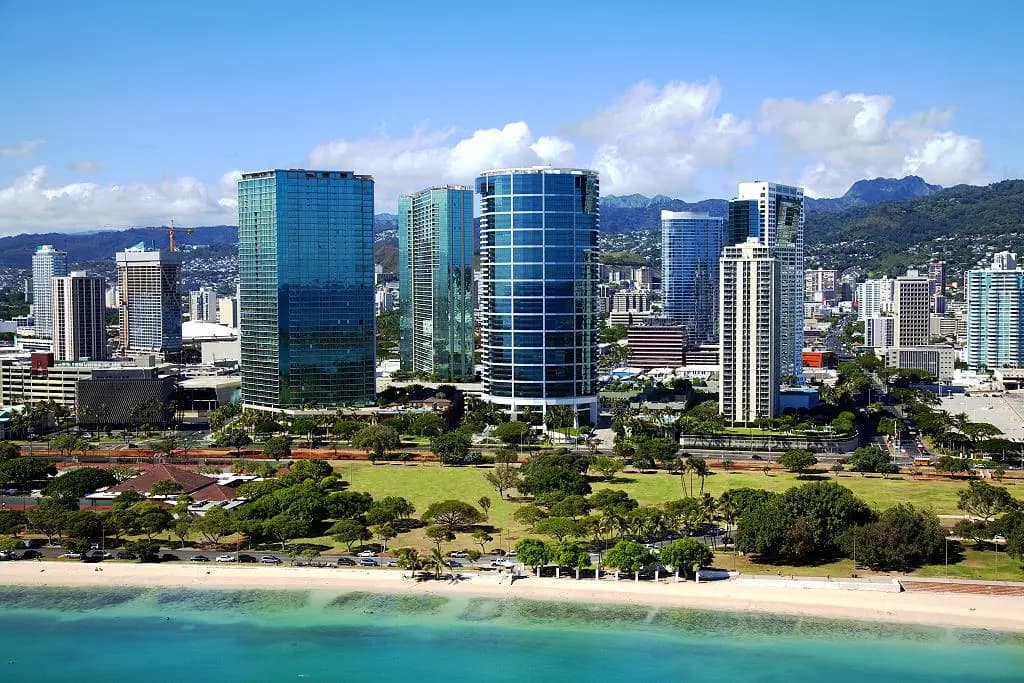 Nauru Tower has a prime spot on the front-row of Kakaako - granting residents easy access to the Ala Moana Beach and Beach Park just across the road. The first few floors of the tower are occupied by commercial spaces. On either side, shopping centers offer easy access to a variety of shopping and dining options.
Building Information
1330 Ala Moana Blvd, Honolulu, HI 96814
44-Story High-Rise Residential Tower
314 Units in 1-Bed to 3-Bed Floor Plans
Pet friendly, with verification from tower management
Where Is Nauru Tower?
Nauru Tower is a first-row tower in the Kakaako corridor, between Ward Village to the west and Ala Moana to east. Its location directly on Ala Moana Boulevard means that its views are virtually guaranteed into the future - no more towers can be built between Nauru Tower and the ocean. It also makes it great for recreation of any kind - shopping, dining, or a trip to the beach are all just minutes away by foot.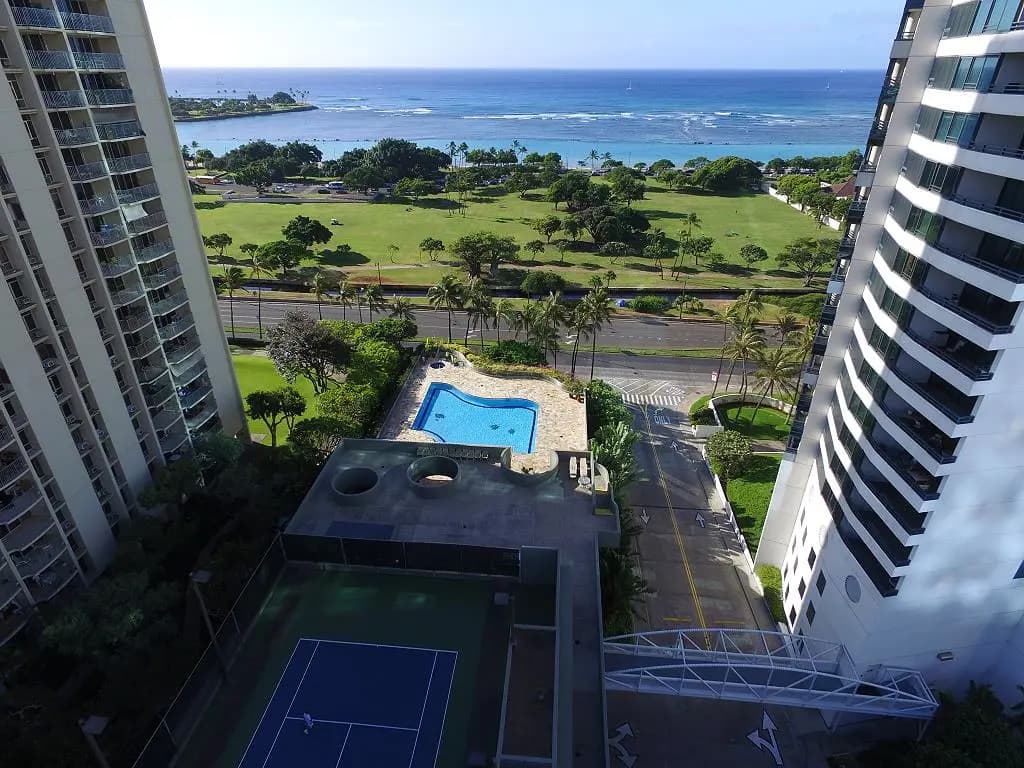 A short walk to the east lies the Ala Moana Shopping Center in Ala Moana - the world's largest open air shopping center. Whether the shopping trip is for groceries or for recreation, this shopping center is sure to please. But if it doesn't - just a short distance to the west is the Ward Village Center with even more options.
Directly across the street from Nauru Tower is the Ala Moana Beach Park and Beach - a mile of beautiful sand that ends with Magic Island, a man-made peninsula popular for social events.
About Nauru Tower
Nauru Tower is a 44-story luxury condo tower that holds 314 units in a unique half-circular design that maximizes views. It was completed in 1992 by Nauru Phosphates Royalties and has been hailed as one of Oahu's finest architectural gems. The construction of the tower involved an unconventional time-saving solution that resulted in each 15,000 Sq Ft floor only taking four days to finish. On completion it contained 314 units in 1-bed to 3-bed floor plans.
On the wall of every bedroom in Nauru Tower is a panic button that connects residents with the Nauru Tower security office - a unique feature that isn't often seen elsewhere
Nauru Tower - Resident Amenities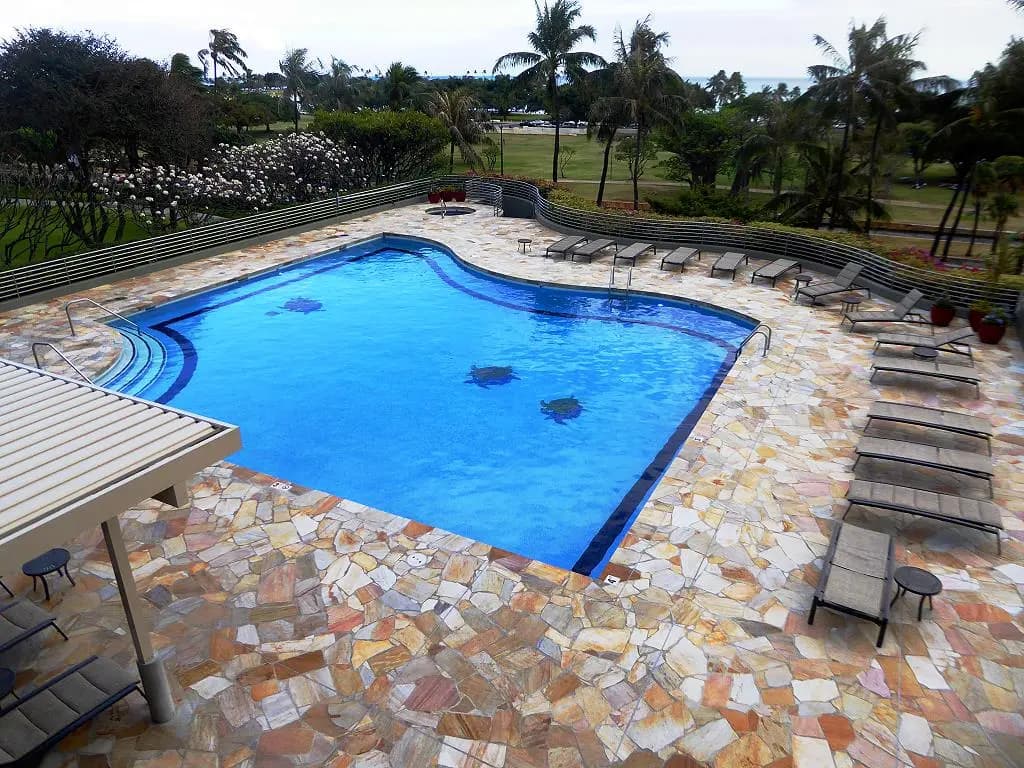 Atop the parking structure, Nauru Tower features a 5th floor pool deck and a 7th floor picnic deck. The latter underwent a total upgrade in 2015 to include private cabanas with gas BBQ grills, offering residents a place to hold a party or just enjoy the ocean views. There are six elevators available to those living in the tower, plus a seventh service elevator.

Nauru Tower Amenities
Swimming Pool
Dual Hot Tubs
BBQ Grill
Tennis Court
Dining Pavilion
Developers - Nauru Phosphates Royalties
Nauru Tower was developed as an investment by the Nauru Trust, which was established by the people on the island of Nauru to offset the future loss of their natural resource exports.
Nauru Tower - Condo Units
Units in Nauru Tower are still known for luxury, with floor to ceiling windows and unobstructed views in most units. As it was completed in 1992, the units may seem dated and more difficult than average to decorate. When it was finished there were a total of 314 units in a variety of floor plans. Many of the units include a tiled foyer to welcome guests, and all units in Nauru Tower feature a panic button in bedrooms that connects residents with the tower security office.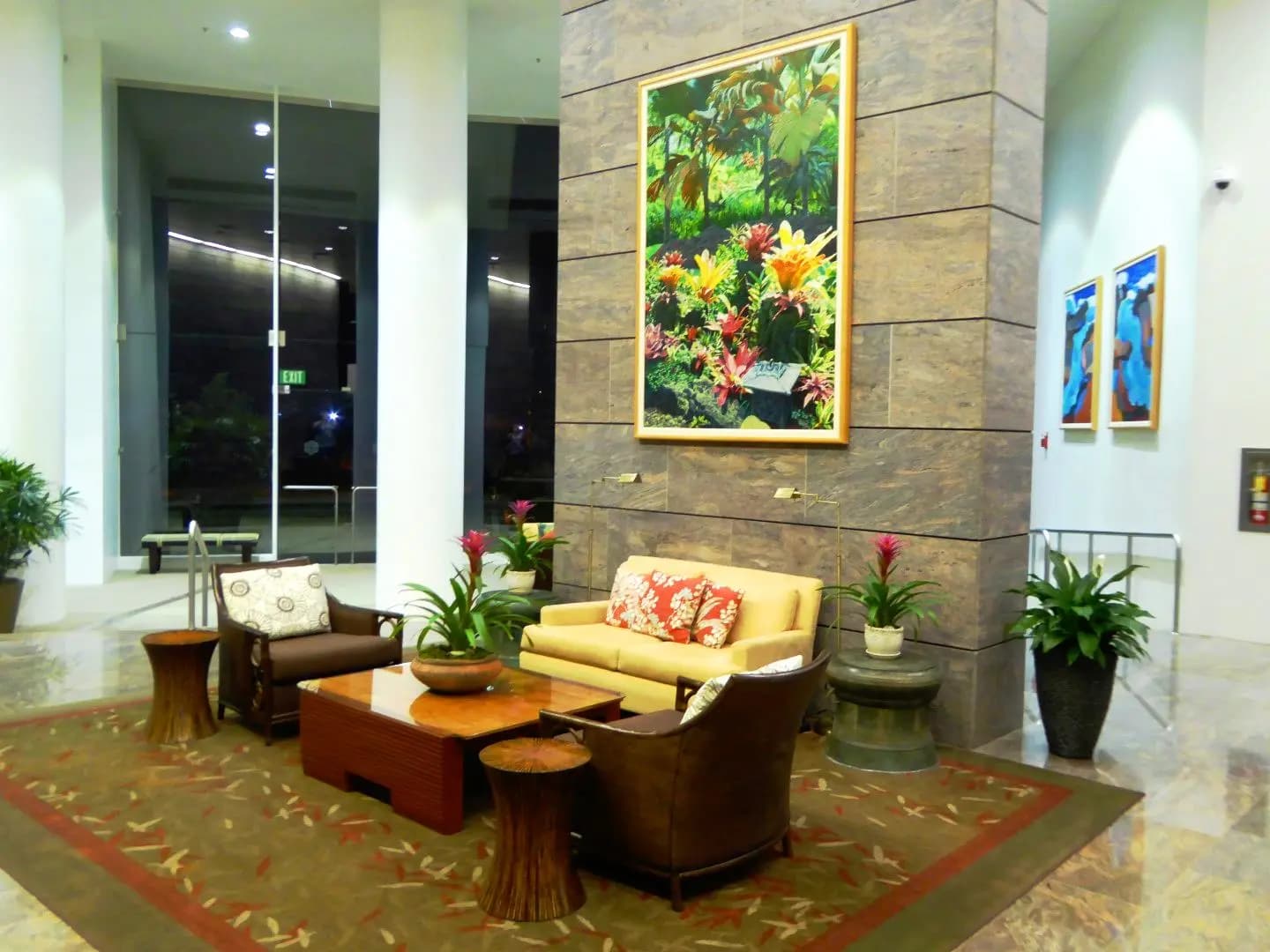 As this tower was completed in 1992, all units are currently on the secondary market and may have been modified by previous owners.
Contact Us About Nauru Tower
Think Nauru Tower is the perfect place to buy a condo? Need more information about the area or the units before you make the leap?
We specialize in helping buyers purchase condominiums on Oahu while providing the complete concierge service. Reach out at 1-(808) 698-6100 or fill out the form below to request a consultation and we'll get back to you as quick as we can. We have decades of experience assisting with buying in condo projects - and we love putting that experience to work helping people get settled in their perfect Oahu home.
Nauru Tower Condos For Sale
September 24, 2023
$1,340,000
Med. List Price