Keauhou Place | Kaka'ako Condos For Sale & Tower Information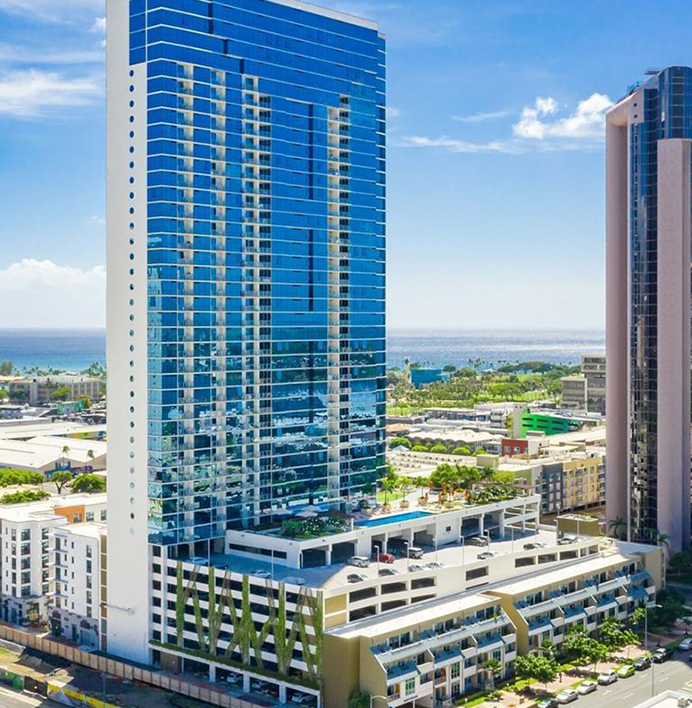 Keauhou Place is a condominium complex that completed construction in 2017 in the Kakaako area of Honolulu. It is composed of a 43-story condo tower that contains 388 units, plus a 42-Ft low-rise townhome complex that contains 35 units. The bottom floor of Keauhou Place has commercial space, offering residents easy access to popular shops and restaurants. The project was developed by Stanford Carr as a part of the larger Our Kakaako neighborhood.
Our Kakaako is being developed to feature walkable streets as part of Kamehameha Schools' vision for a new urban neighborhood. Keauhou Place is located in block A of the project, a central hub location with numerous entertainment options surrounding it. On the same block and directly to the east lies Keauhou Lane, a mid-rise apartment complex with commercial space.
Building Information
555 South Street, Honolulu, HI 96813
43-Story High-Rise Residential Tower
388 Units in 1-Bed to 3-Bed Floor Plans
42-Ft Low-Rise Complex
35 Townhomes in 2-Bed to 3-Bed Floor Plans
Pet friendly, with verification from tower management
Where Is Keauhou Place?
Keauhou Place is located in the Our Kakaako neighborhood, a vibrant urban island community between downtown Honolulu and Kewalo Basin Harbor.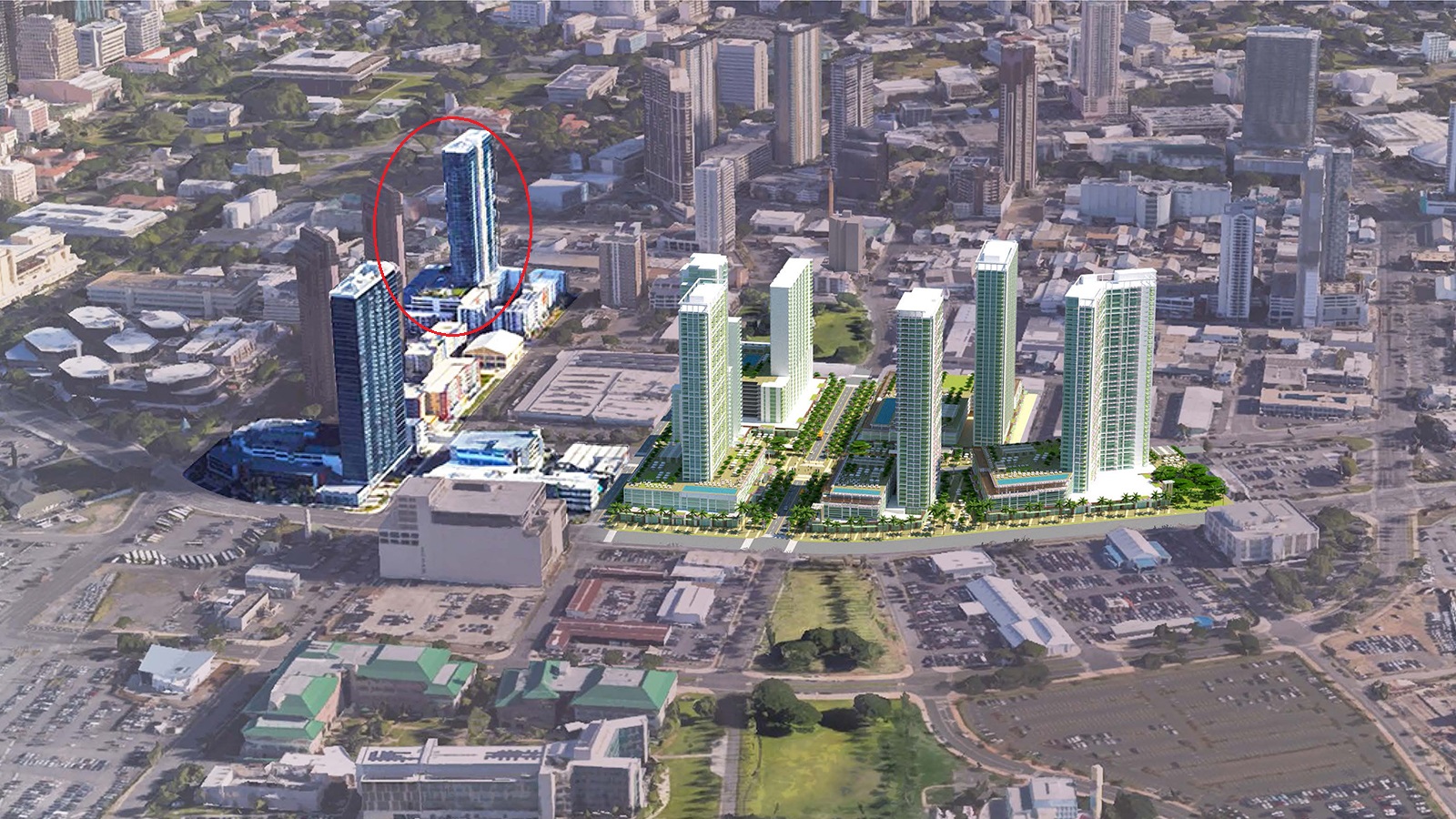 Keauhou Place circled in red
Disclaimer: This image was created by the developers of the neighborhood, who we are not associated with. Towers on the righthand side of the above image are renderings of future projects in Our Kakaako that are part of Increment II and have not yet begun construction. These plans may change at any time.

The neighborhood is being developed as mixed-use, with a wide range of unique restaurants, bars, and local breweries accessible by foot. Just across the street is H-Mart Kaka'ako, the only Hawaii location of a popular Korean-American supermarket chain.
Half a mile to the south of Keauhou Place is SALT at Our Kakaako, over 80,000 Sq Ft of retail, restaurant, and entertainment options over a full city block. You can spend hours just perusing the options and admiring the art.
About Keauhou Place
Keauhou Place is a magnificent 43-story tower and 42-ft townhome complex developed by Stanford Carr in the Our Kakaako neighborhood. Directly to the east on the same block is Keauhou Lane, a mid-rise apartment complex with commercial space.
The tower in Keauhou Place contains a good mix of unit sizes, with every unit except penthouse units featuring a lanai. It contains 388 condo units in 1-bed to 3-bed floor plans, with most containing a lanai. Around the base of the tower, there are 35 townhomes that come in 2-Bed and 3-Bed options.
Keauhou Place - Resident Amenities
Keauhou Place has a resident amenity deck on the 8th floor that contains a pool, BBQ area, garden space, and more.
Keauhou Place Amenities
Swimming Pool
Jacuzzi
Fitness Center
BBQ Area
Common Room
Garden Space
Developers - Stanford Carr
Stanford Carr is a development firm that was established in Honolulu in 1990. They strive to develop quality master-planned communities, distinctive neighborhoods, and provide the community with more affordable housing opportunities. Keauhou Place is their attempt to deliver on that as part of the Our Kakaako master-planned neighborhood.
Keauhou Place - Condo Units
Keauhou Place consists of a 43-story tower with 388 units and a 42-Ft low-rise complex with 35 townhomes.
There are 388 tower units that come in 1-bed to 3-bed floor plans. They are broken down into 133 one bed units, 215 two bed units, and 40 three bed units, ranging from 567 Sq Ft to 1442 Sq Ft. All tower units except penthouses have a generous lanai. Ceilings in the units are 8'6" and up.
The townhome complex contains 35 units in 2-bed and 3-bed floor plans.
Contact Us About Keauhou Place
Think Keauhou Place is the perfect place to buy a condo? Need more information about the area or the units before you make the leap?
We specialize in helping buyers purchase condominiums on Oahu while providing the complete concierge service. Reach out at 1-(808) 698-6100 or fill out the form below to request a consultation and we'll get back to you as quick as we can. We have decades of experience assisting with buying in condo projects - and we love putting that experience to work helping people get settled in their perfect Oahu home.
Keauhou Place Condos For Sale
September 24, 2023
$1,006.91
Avg. $ / Sq.Ft.