What Is A Good Base Income For Living In Hawaii
Posted by Scott Startsman on Tuesday, May 2, 2023 at 8:41:34 AM
By Scott Startsman / May 2, 2023
Comment
Hawaii is an island paradise in the true sense of the word. There is an abundance of beautiful beaches, vibrant landscapes, and breathtaking scenery. Access to nature is unrivaled. You could be surfing in the morning and hiking in the afternoon. With perfect weather all year, you could be outside living life to the fullest every single day.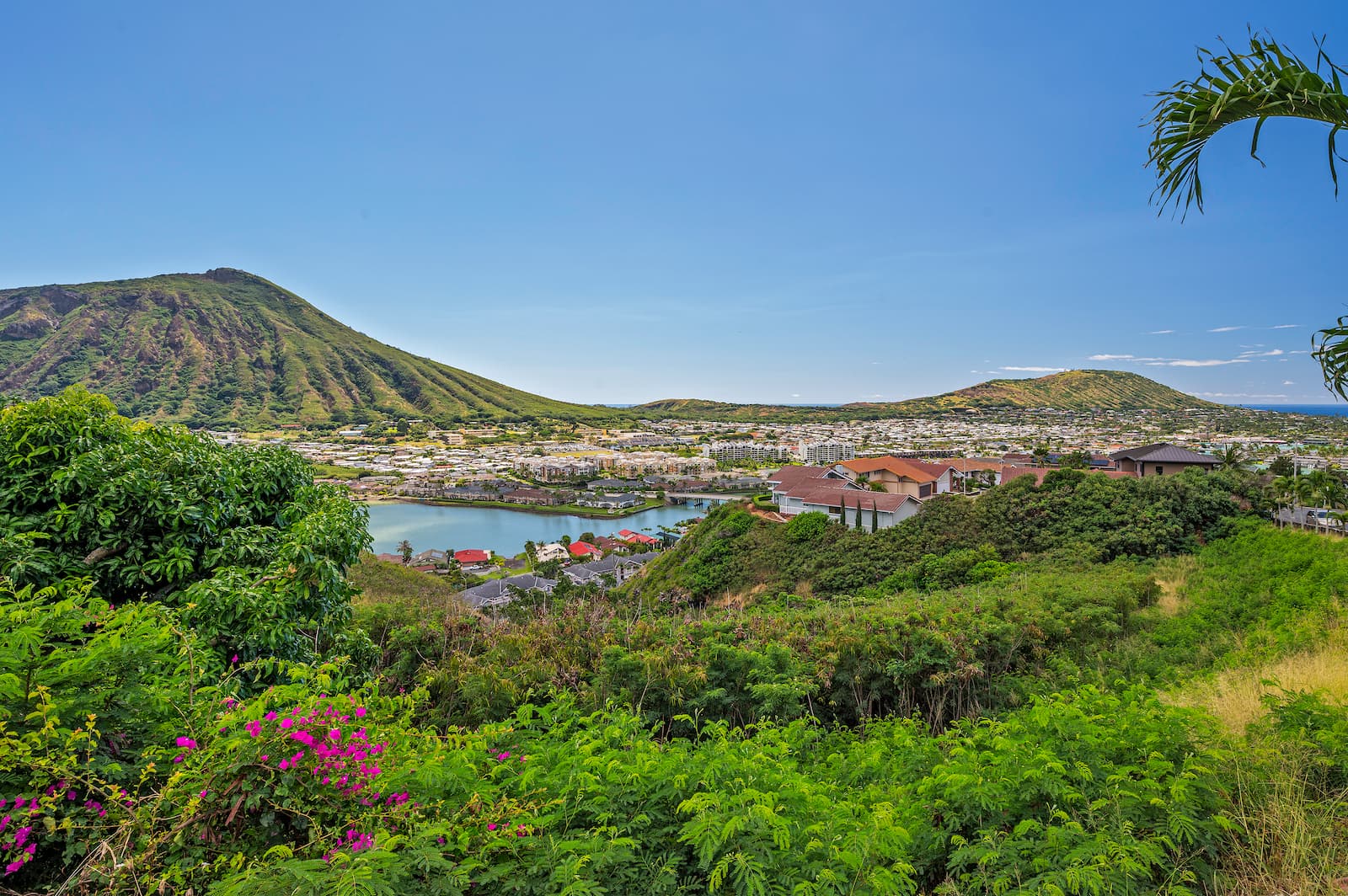 Most people planning a move to Hawaii are surprised to find out that the cost of living on the islands is higher than on the mainland. This is due to several reasons, including the geographical location of Hawaii, since a lot of things need to be shipped in. However, the elevated lifestyle that Hawaii provides you more than makes up for the higher cost.
Let's take a look at what is a good base income to live here. Since Oahu is the economic epicenter of the state, that's where you'll find the best job opportunities and where we are located.
Average Salaries in Hawaii
Much like anywhere else in the country, the average salaries in Hawaii will depend on the industry and the type of role that you're in. This is obviously not going to be a consideration if you're moving to Hawaii to work remotely since your compensation is already settled.
Related: Working From Paradise - Remote Working From Home In Hawaii
If you're looking to take up employment when moving here, it would be best to research the industry average salary in Hawaii. This will help you understand what the earning potential here is for the field that you're interested in. You can then figure out if, with the higher Hawaii cost of living, that average salary will be enough for the kind of lifestyle you want to have.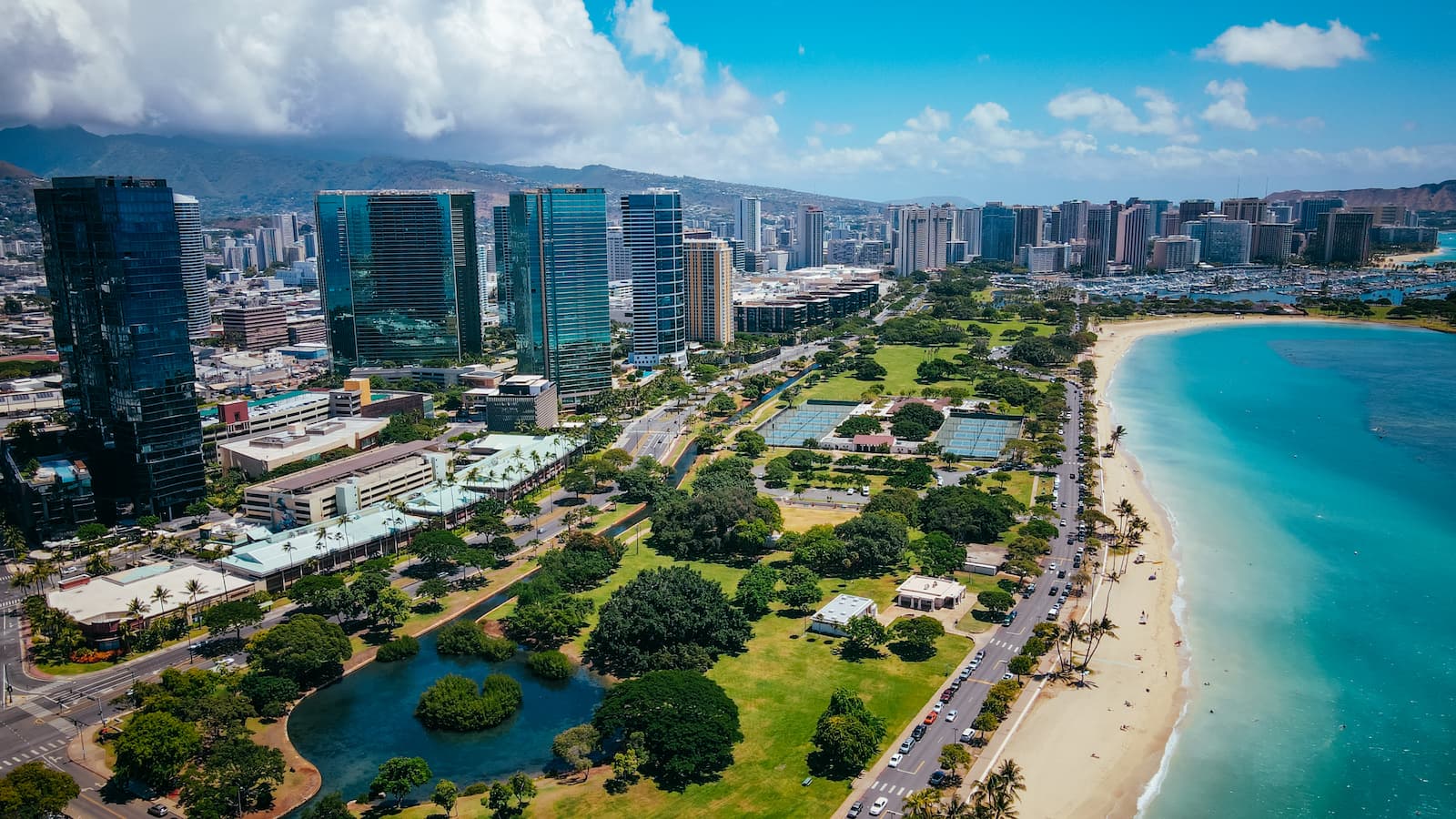 Consider the estimates from the U.S. Bureau of Labor Statistics to get a sense of what the minimum income in Hawaii is for your industry. These estimates are based on data collected from employers in all industries across the metropolitan and non-metropolitan areas in Hawaii.
For example, jobs in the healthcare industry have an annual mean wage of $113,370. This includes registered nurses, dentists, pharmacists, cardiologists, surgeons, etc. Occupations in the healthcare support industry such as nursing assistants, orderlies, pharmacy aides, veterinary assistants, and more have an annual mean wage of $37,870.
Related: Buying Your First Home in Hawaii
In management occupations that include CEOs, operations managers, sales and marketing managers, etc the average annual mean wage is $110,500. Those in legal occupations such as lawyers, judicial law clerks, judges, and paralegals can expect an annual average mean wage of $86,300. The annual mean wage is $73,370 for construction and extraction occupations that include stonemasons, construction equipment operators, boilermakers, electricians, etc.
Those in the art and media occupations such as producers and directors, graphic designers, musicians and singers, etc can expect an yearly mean wage of $61,820. In educational occupations, the mean wage for teachers, tutors, teaching assistants, etc is $58,960.
What Is a Good Base Income?
The answer to this question depends on your lifestyle, family size and the industry that you're in. Typically, a single person or couple with an income of $60,000-$80,000 per year can live a comfortable lifestyle in Hawaii. I would say this is probably the entry threshold to being able to live in Hawaii and in particular on Oahu without stressing to much about making ends meet. Obviously the more the better and an income of $100,000 a year and up allows for you to live in some of the nicer newer condo towers and some of the nicer parts of the island and have a good qualifty of life in Hawaii.
Related: Living in Hawaii on a Single Income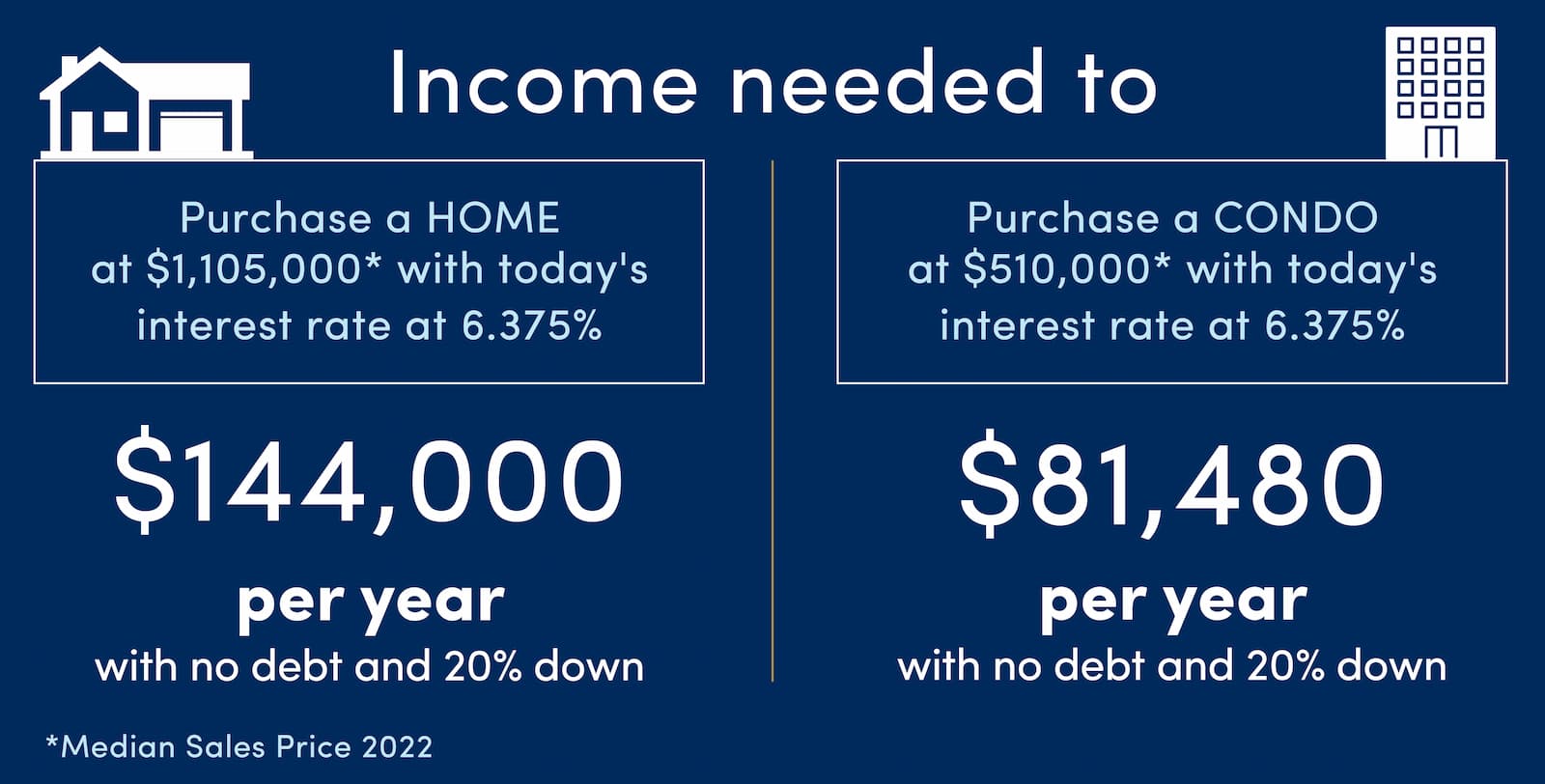 A family of four would be looking at a minimum annual income of $90,000+, though how far that income can be stretched depends on several factors, such as the kind of house being bought, the children going to private school, children's activities, etc.
You would need a higher income if you want to move to a more affluent area. You would need an income of $120,000 or more if you wanted to live in home and live a good quality of life with the family. If money is no object, the sky's the limit in Hawaii when it comes to luxury properties and keeping up an elevated lifestyle.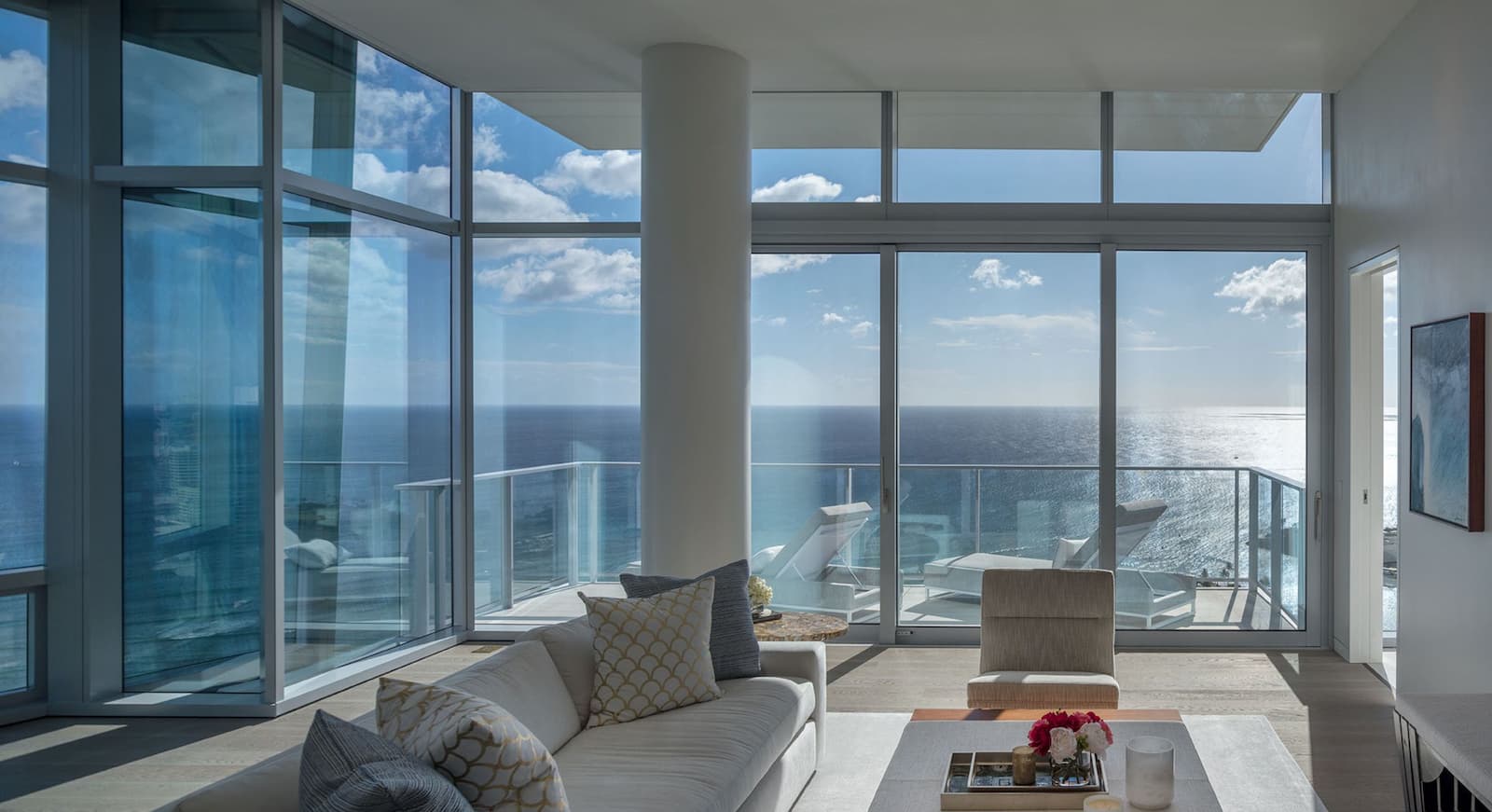 The 2023 median sales price of a condo on Oahu is $510,000. To purchase a condo at the prevailing interest rates of 6.375%, you'd need an income of $81,480 with 20% down to qualify for that condo. The median price for a single family home is $1.105 million and requires an income of $144,000 with 20% discount. Since 65% of the housing inventory is either condo or townhouse, this is a great affordable way to get into housing on Oahu.
Popular Oahu Neighborhoods
Cost Of Living In Hawaii
You might have some concerns about the higher cost of living. Indeed, your core expenses on housing, groceries, and transportation will be higher. However, there's also so much to do here for free. Access to nature costs nothing. There are no private beaches and with almost perfect year-round weather, you're never stuck indoors.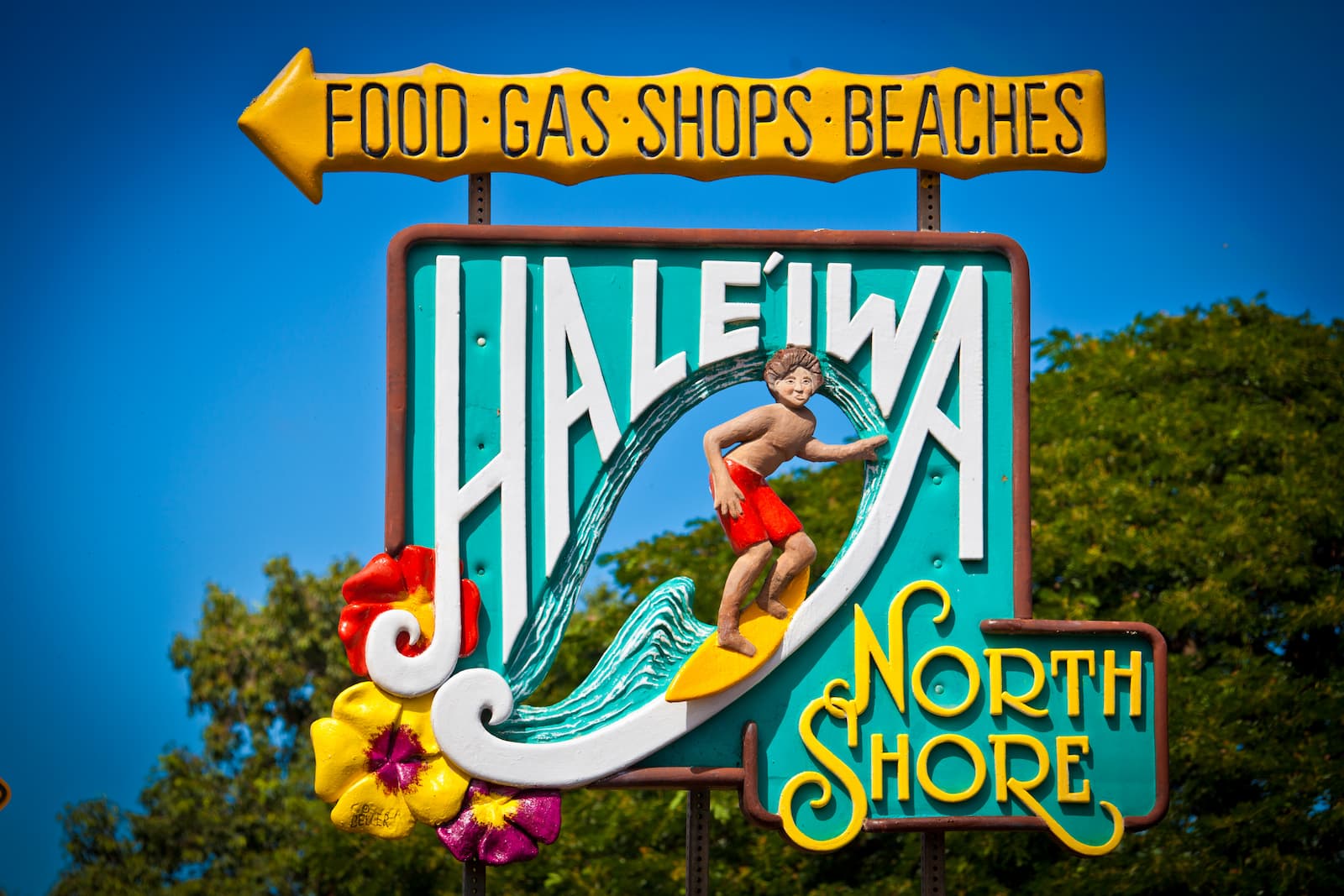 Year-round moderate temperature also frees you from having to buy expensive cold weather clothing. Since you won't be dressing in layers, you won't need as many types of clothes, thus reducing one of your mainland expenses, particularly if you're coming from a place that tends to get very cold like New York, Boston, Seattle, etc.
Our Cost of Living in Hawaii guide provides a lot of great information about how much things cost here and the income you'd need to maintain a comfortable lifestyle. It helps put things in perspective when you compare the different expenses to the mainland and try to get a sense of the kind of lifestyle you can have in Hawaii.
Finding Happiness in Hawaii
Though the high cost of living can be a deterrent, the demand for housing in Hawaii is strong and people who move here find happiness in Hawaii. For everything that it provides you, Hawaii is well worth the money. From the incredible scenery to plentiful outdoor activities, it's a holistic living experience unlike any other.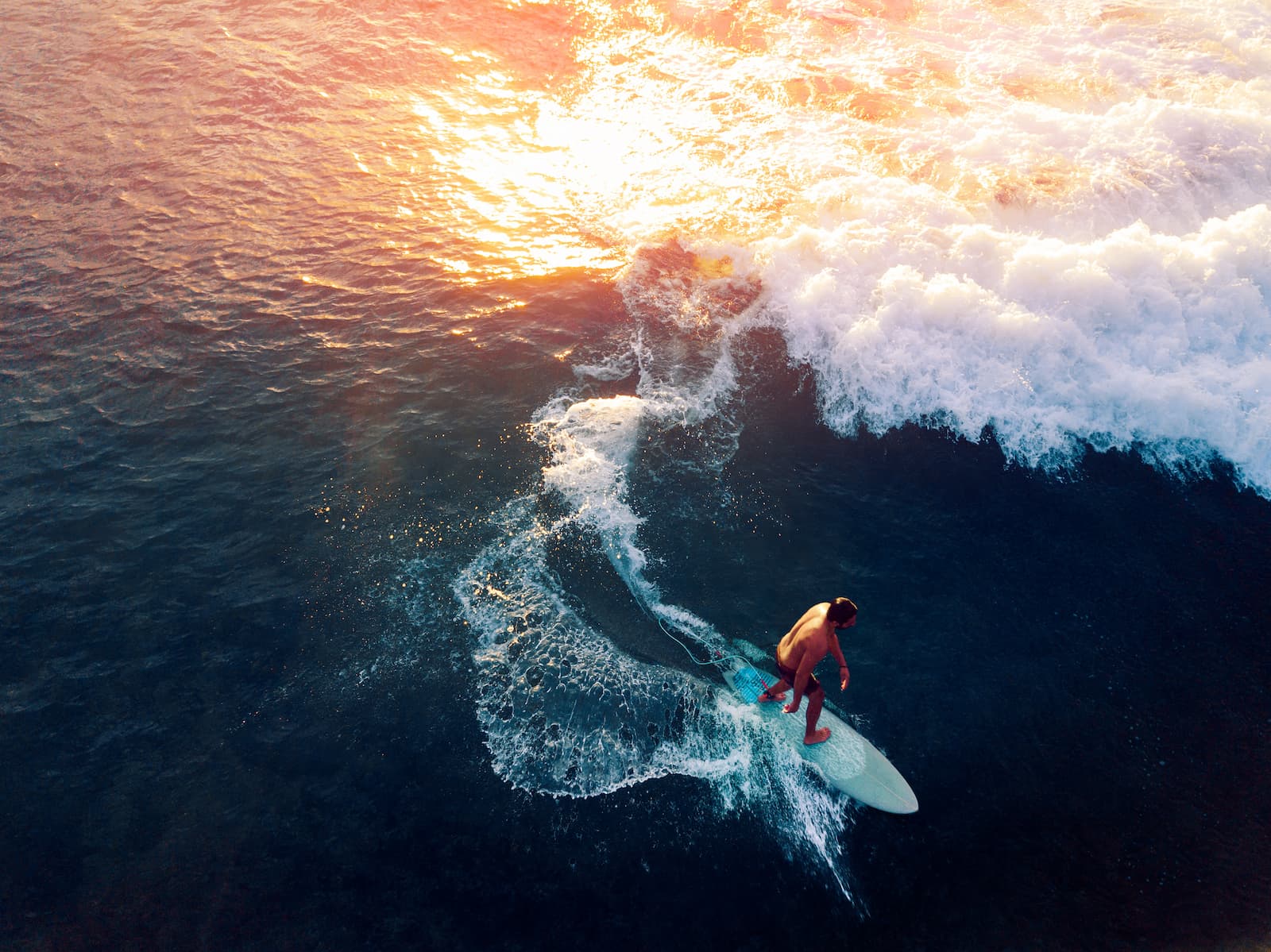 The relaxed island lifestyle is also a major draw for those who are looking for a change from the hustle and bustle of the mainland, and if you are open to new experiences, Hawaii is a melting pot of cultures that gives you plenty of opportunities to learn more about other communities and widen your culinary palette.