Top 10 Luxury Condos In Honolulu
Posted by Scott Startsman on Thursday, July 6, 2023 at 2:15 AM
By Scott Startsman / July 6, 2023
Comment
Welcome to the epitome of opulence in paradise! Honolulu, the vibrant capital of Hawaii, boasts a collection of exquisite luxury condos that redefine upscale living. From breathtaking oceanfront penthouses to meticulously designed high-rise residences, this tropical haven offers an unparalleled residential experience.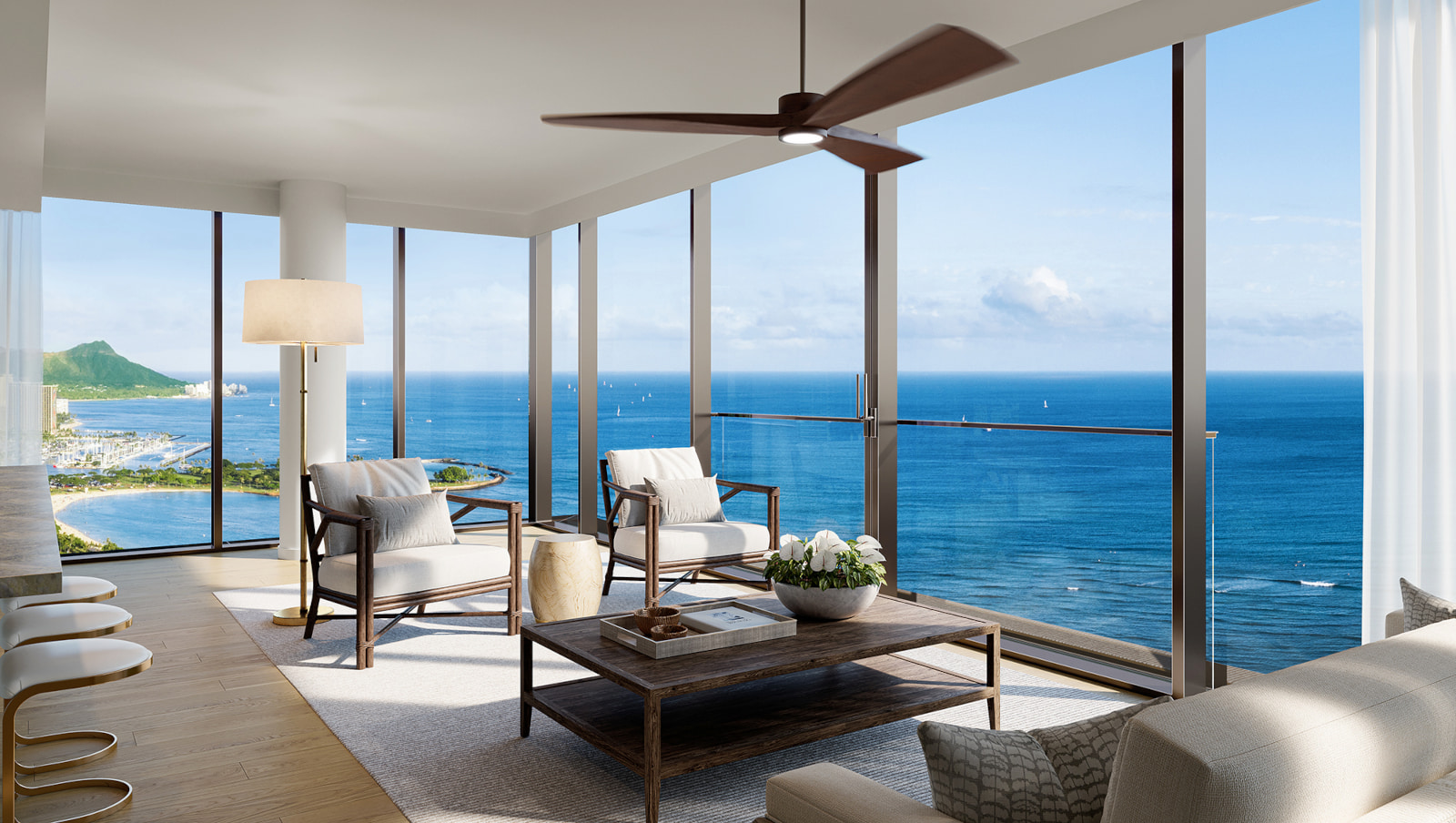 The best luxury condos in Honolulu blend contemporary elegance with the breathtaking natural beauty that surrounds them, providing discerning individuals with a harmonious sanctuary in the heart of Hawaii. Embark on a journey where modern sophistication meets tropical allure, as we have a look at Honolulu's most prestigious and sought-after condo residences.
Park Lane
Park Lane completely reimagines the idea of a luxury condo development. Spread across 6 acres, it's like a high-rise condo tower turned on its side so it doesn't feel like a condo high-rise at all. The unique design also makes the units more private. Some even have garages with a private entrance to the unit. Given the international client base with nearly half of the owners being non-owner occupant, the Park Lane condominiums provide residents with an unmatched private and discrete living experience.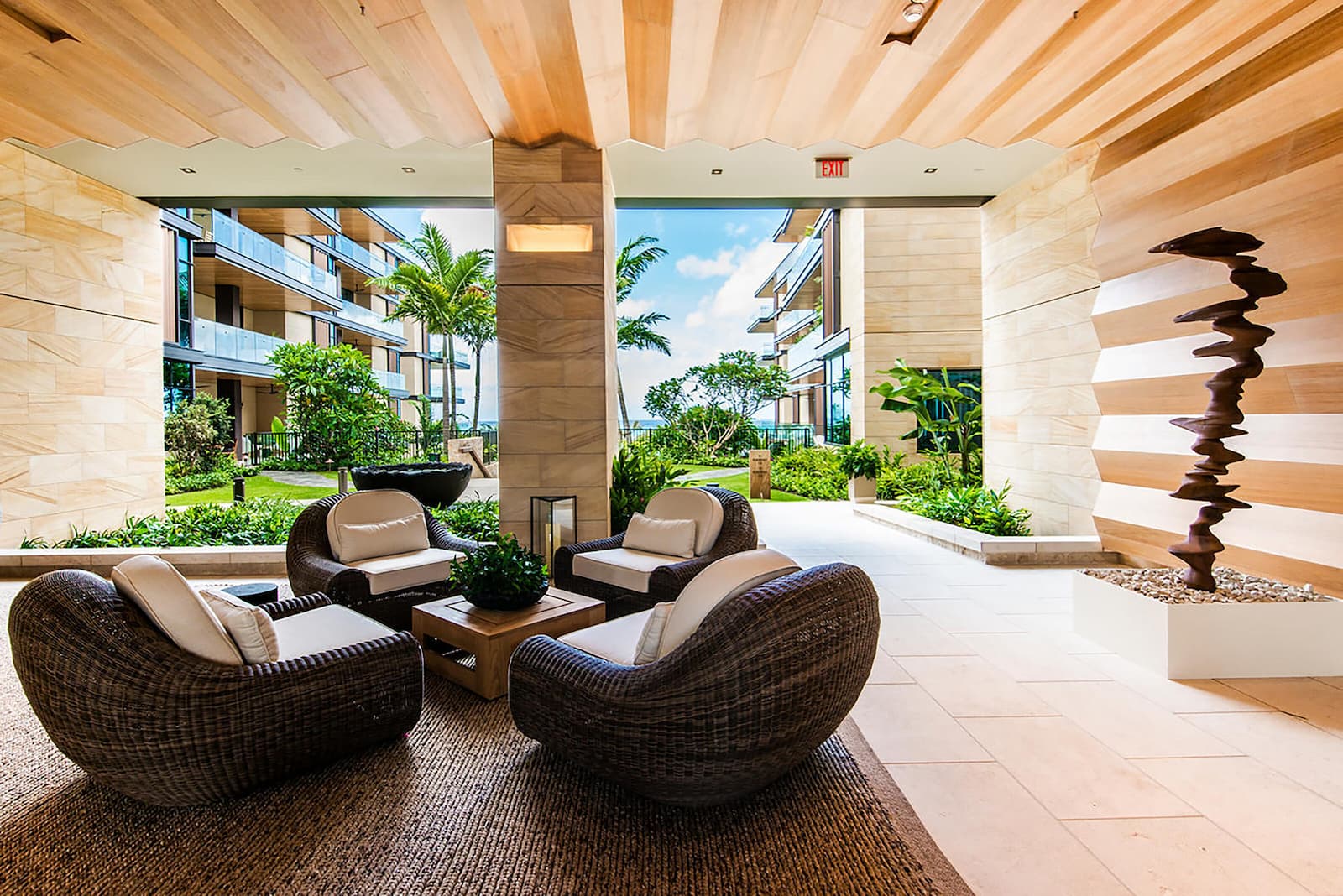 The exceptional front-row location on Ala Moana Boulevard places Park Lane directly across from the Ala Moana Beach Park and its year-round calm waters on the inner reef are perfect for swimming, stand-up paddling, and lazy beach days, while the outer reef provides for plenty of surf spots to catch south shore waves. Enjoy direct access to the Ala Moana Shopping Center through a private elevator and enjoy high-end shopping and dining without having to drive or take a taxi.
The entire community has a resort-like feel with manicured lawns and courtyards, lush greenery, and thoughtful landscaping that enhances privacy. The ultra-luxury amenities at Park Lane Ala Moana are second to none. From the club lounge, private wine bar, dining lounge, and movie theater to the swimming pool, private guest suites, and cabanas with BBQ grills, all of it is at your disposal with top-notch service from the staff.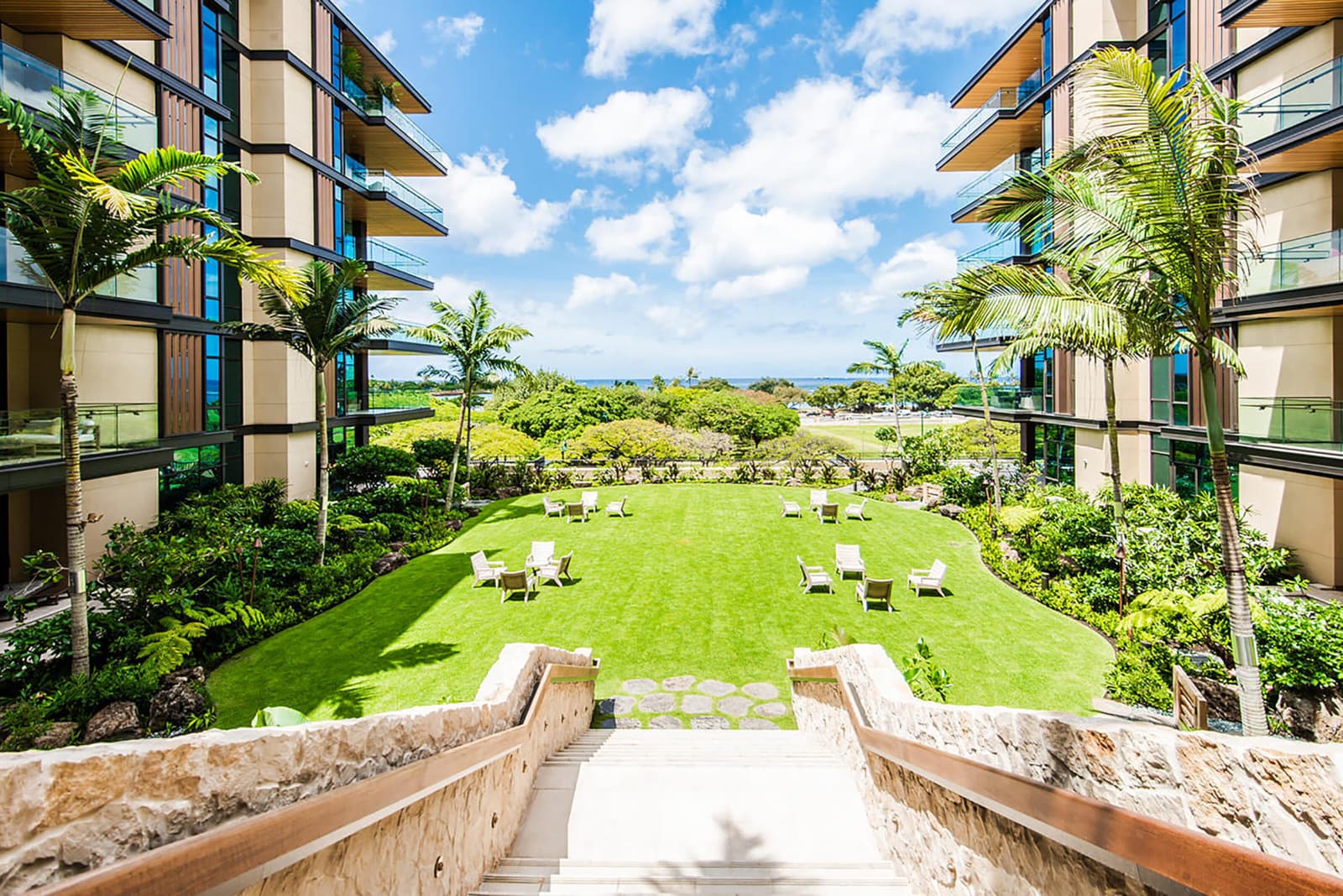 Round-the-clock security ensures that you take advantage of everything Park Lane has to offer with absolute peace of mind With full-time concierge staff on-site, your every need will be taken care of, enabling you to maximize your time doing what you love the most.
Park Lane's dedicated staff is legendary among Hawaii luxury condo developments for their exceptional housekeeping, concierge, valet, maintenance, and security services. The service standards are second to none. It's proactive, unintrusive, and discreet. .
Waiea
Waiea's striking glass elevation makes it the centerpiece of Ward Village. It was developed to be the anchor luxury property in the neighborhood with privacy and prestige in mind. Since it has half the number of units compared to other towers in Ward Village, you'll find fewer people moving in and around Waiea, allowing for more discreet and private living. Fronting Ala Moana Beach Park and Kewalo Harbor, Waiea provides unobstructed views of the Pacific Ocean and Diamond Head and down to the Waianae mountain range.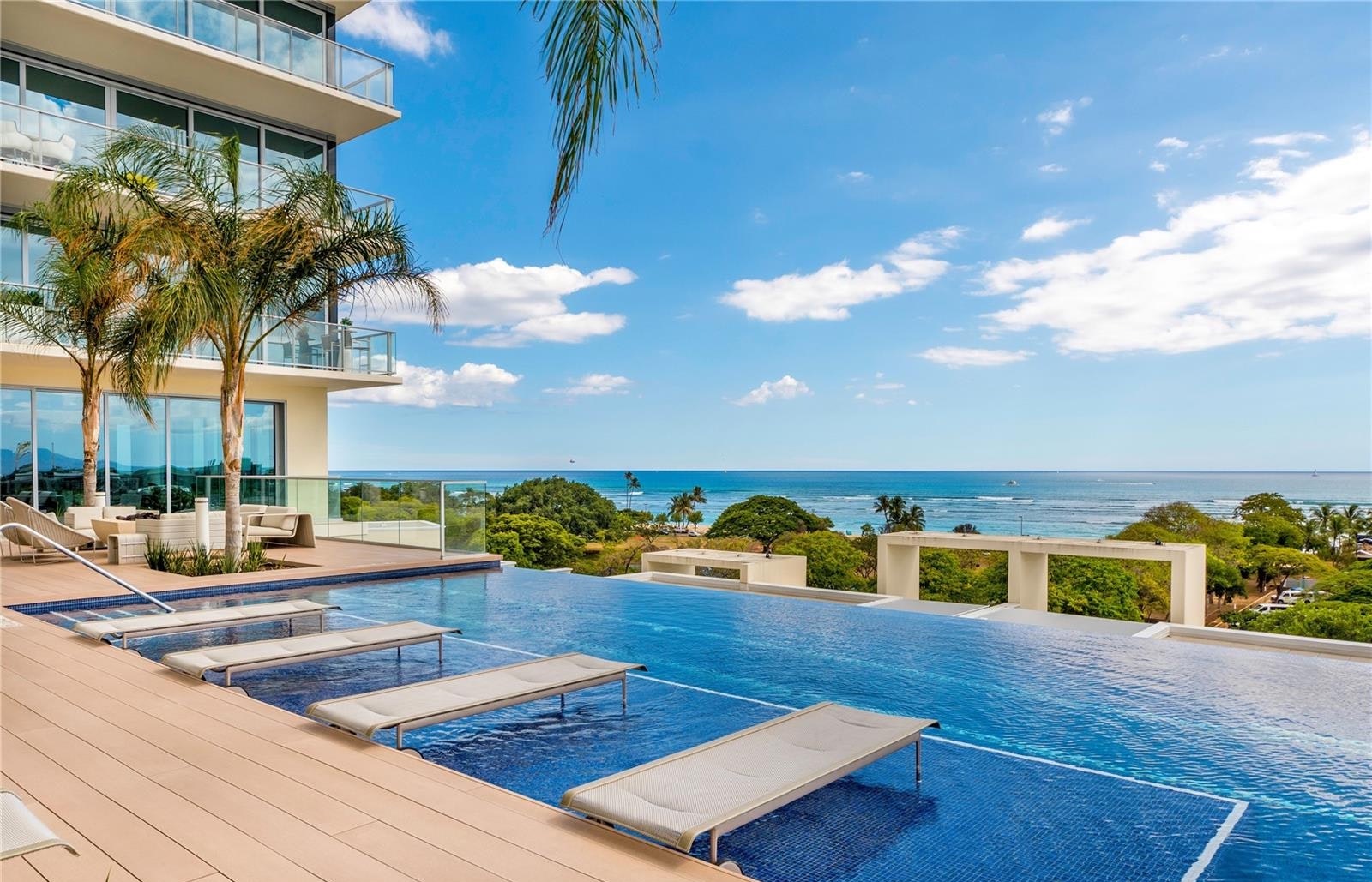 The luxury condos in Waiea feature 9' 6" ceilings and interiors designed by Ingrao Interiors. Premium materials including onyx walling, hardwood, and stone flooring have been used extensively. You also get a complete suite of Miele kitchen appliances. All units have an outdoor lanai so you can enjoy gorgeous views and soak up the sun all year round.
The top-notch amenities include an ocean-view infinity-edge pool, fitness center, treatment rooms, poolside cabanas, dog park, movie theater, catering and chef's kitchen, bar, quiet lounges, and more. You'll also have 24/7 access to the concierge service and resident specialists who deliver a curated and bespoke living experience.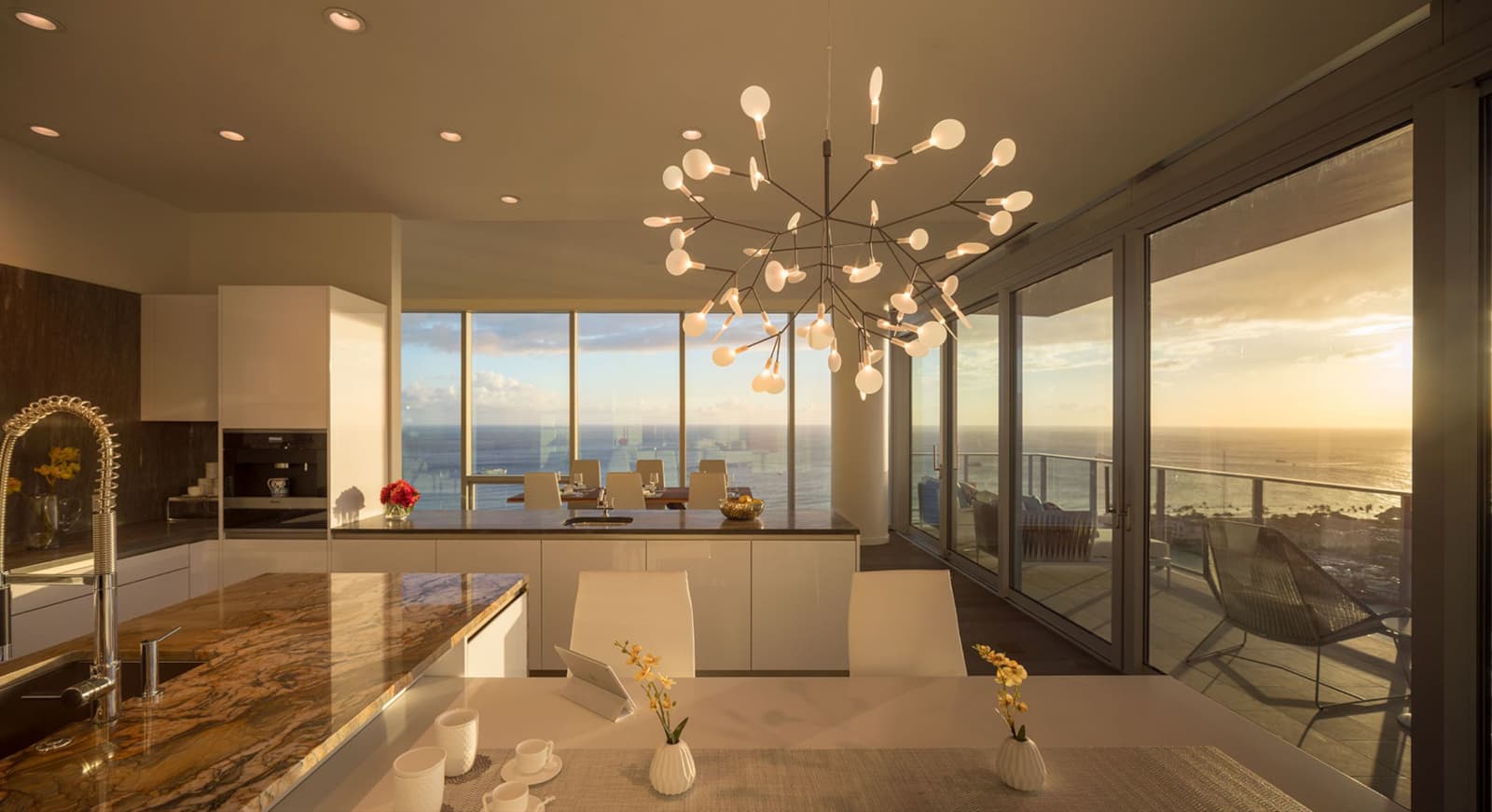 The concierge service is particularly noteworthy as it proactively takes care of your needs. Whether you need to make reservations, have packages delivered, groceries brought up to your unit, essentials laid out for the perfect relaxing day by the pool or the BBQ set up, the highly trained staff are always glad to do everything they can to make your life easier.
Steps from the beach and a short walk away from the Ala Moana Center, you'll always have things to do. Check out SALT at Our Kaka'ako for some of the best dining options in the city. The Kaka'ako Farmers' Market is minutes away, too. No wonder these are highly regarded as being among the best Hawaii luxury condos.
Related: New construction towers in Kaka'ako

Kalae (In-Development)
Kalae is a new development ultra-luxury project with a front row location in Ward Village. Slated for completion in 2026, the design inspiration comes from vintage Hawaiian architecture blended with modernity, emphasizing sharp and clean lines. The prime location will provide unobstructed ocean views over Kewalo Harbor while Victoria Ward Park is merely steps away.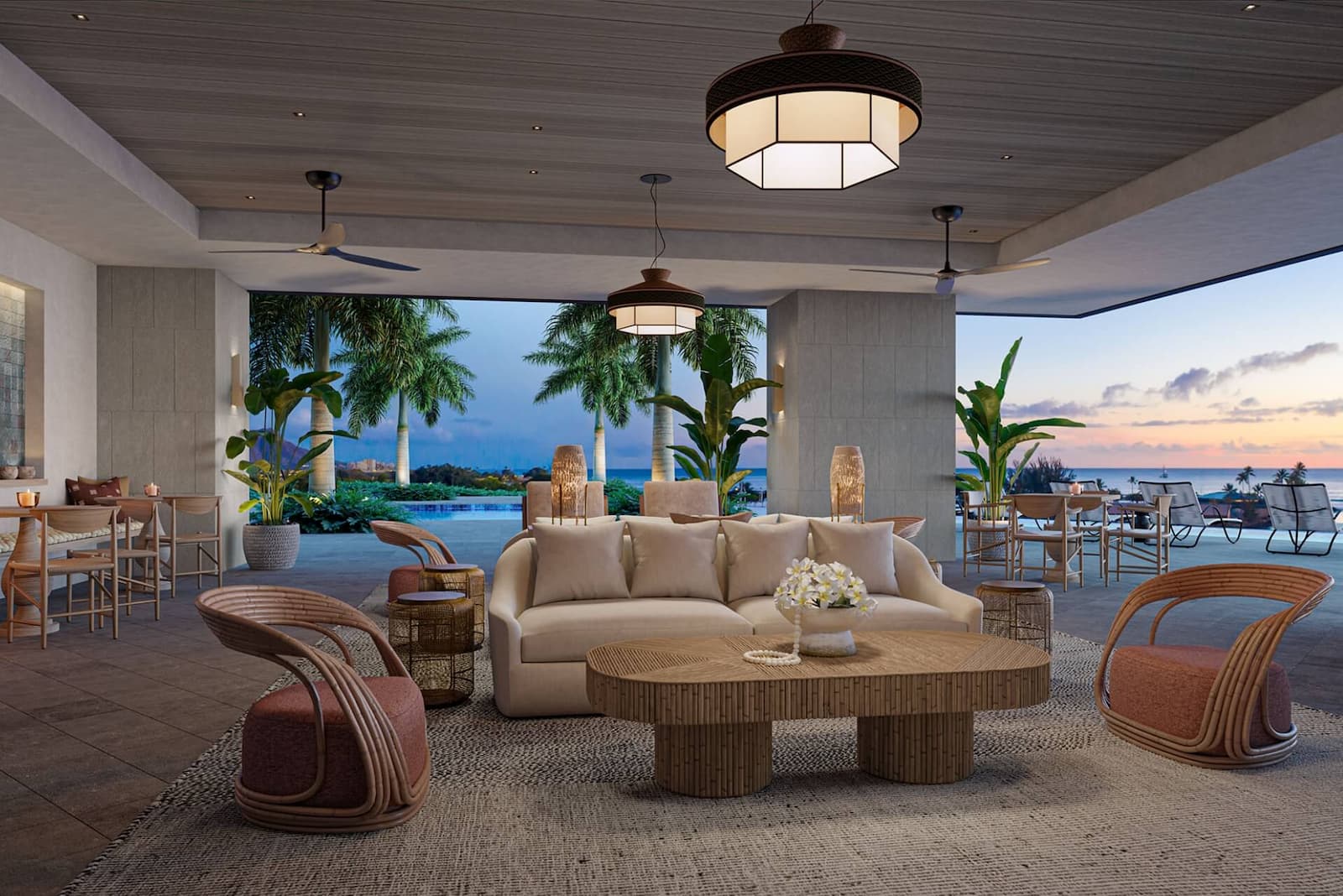 The residences at Kalae are designed to maximize views of the ocean vistas along the southern shore of Oahu that you'll be able to soak up through the floor-to-ceiling windows. The living rooms feature Juliet balconies while the open kitchen, living, and dining areas invite moments of reflection and family connection. An integrated workspace can also be configured within the units, perfect for remote working. Premium materials will be used extensively to deliver a truly luxurious living experience.
Amenities include four ground floor pavilions, perfect for intimate or large gatherings with friends and family in upscale surroundings. Beyond the exclusivity of the owner's lounge, you'll also have access to the resort-like pool, the 25-meter lap pool, spa, great lawn, personal training rooms, guest suites, BBQ areas, and more. Expect top-notch service from the staff with discretion and privacy.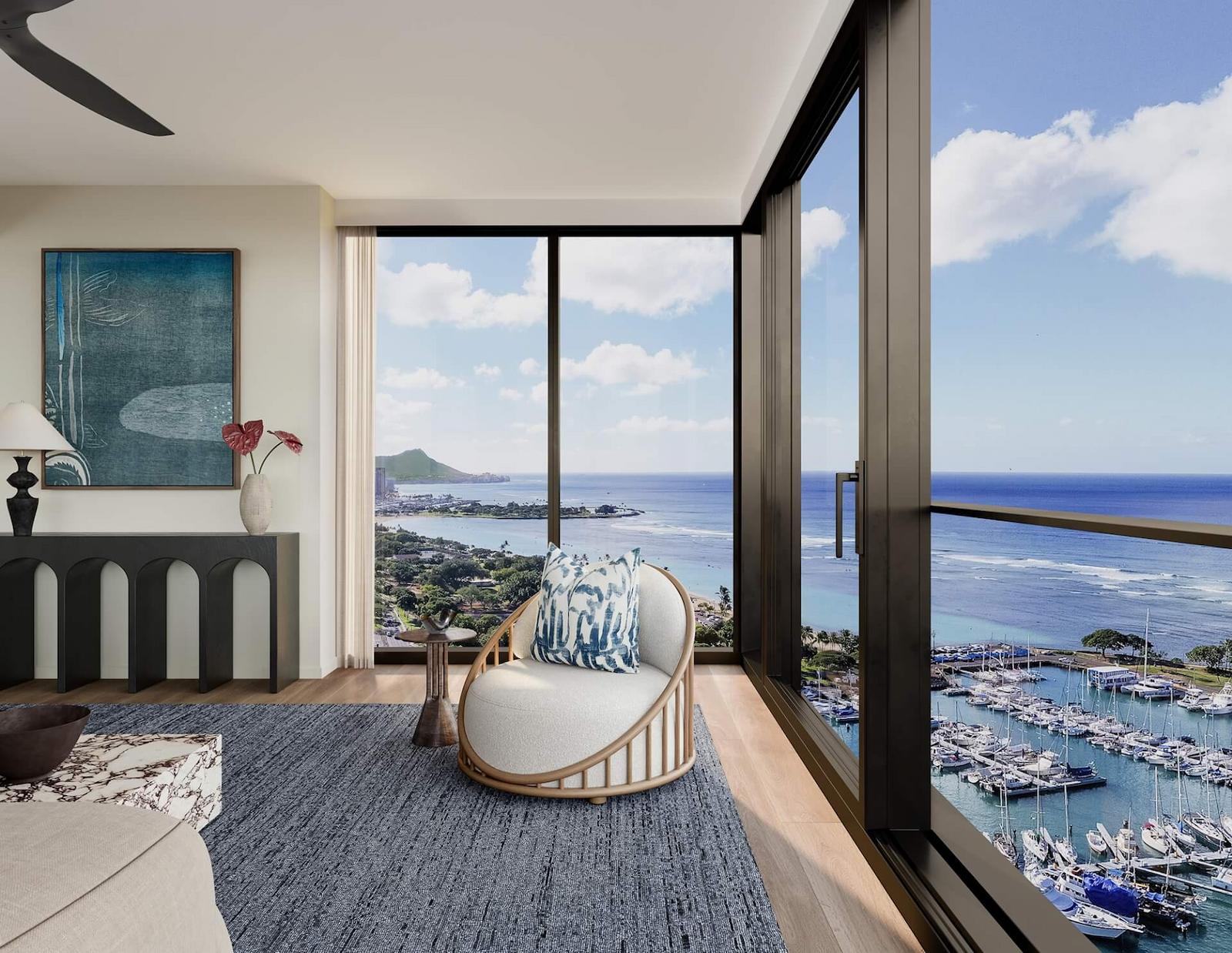 You'll enjoy a serene and luxurious lifestyle at Kalae with easy access to the best that Oahu has to offer. The Ward Village neighborhood is pedestrian-friendly and has plenty of boutiques and brand-name shops and restaurants. Beyond Ward Village, the Ala Moana Shopping Center and SALT at Our Kaka'ako with their wealth of retail and culinary experiences remain easily accessible. Ala Moana Beach Park is also a short walk away.
Alia (In-Development)
Alia is a new luxury condo project in Kaka'ako with a lot of pedigree. Its developer, The Kobayashi Group, is also the force behind the ultra-luxury Park Lane and One Ala Moana projects. It's a front-row project so no other building will come up on the ocean side and block your views. Alia is located in the Our Kaka'ako master-planned community and sits on the border of Ward Village.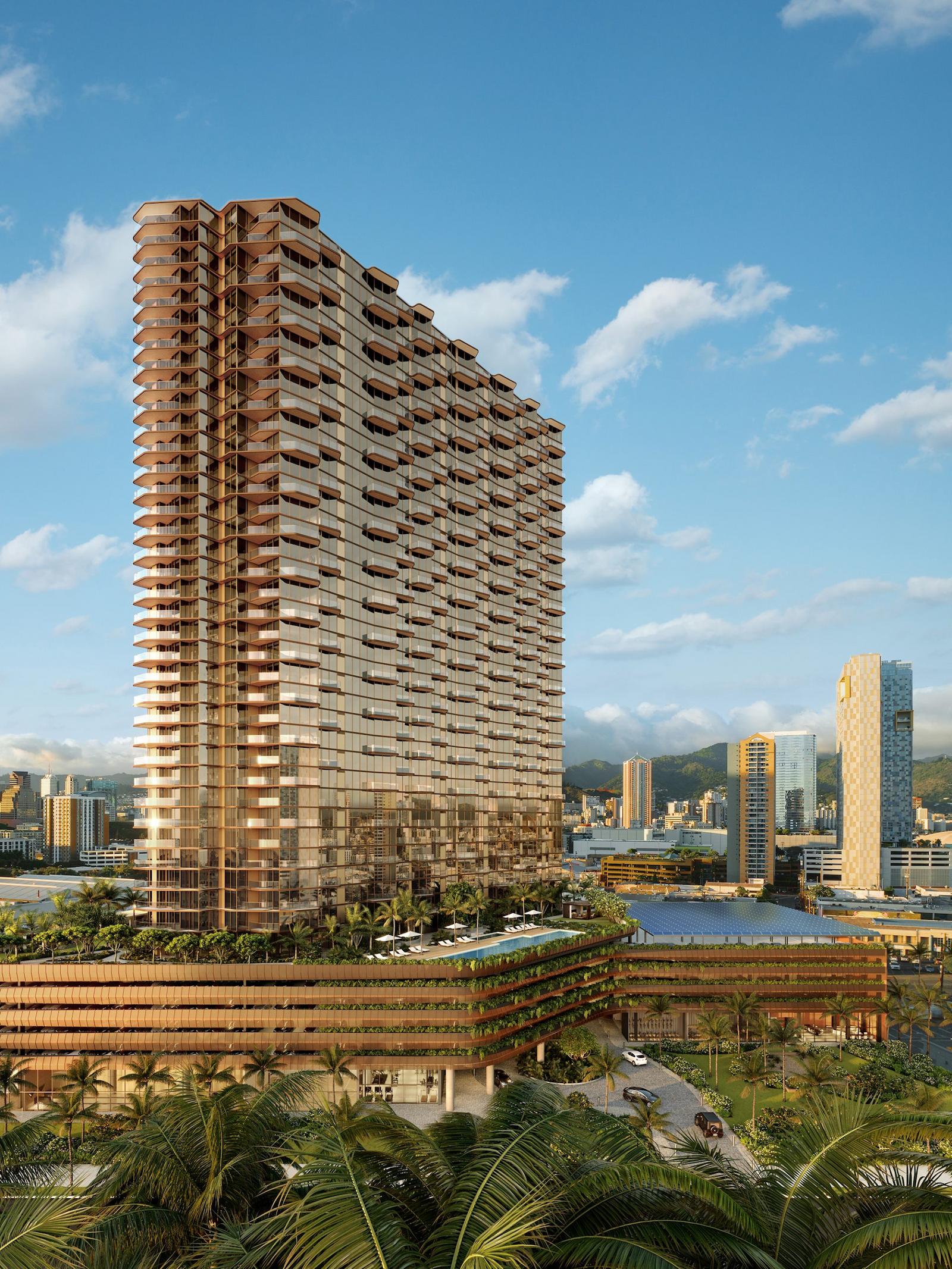 The units in Alia ooze luxury with the Duchateau European white oak wood flooring in the living areas to the exclusive Italian porcelain flooring. The high-volume ceilings and floor-to-ceiling windows make the units bright and airy while providing panoramic ocean views. Most units also feature a lanai, offering a unique indoor-outdoor living experience.
The lavish amenities have been conceived with your health and wellness in mind. Alia residents enjoy access to landscaped walking paths, garden nooks, two infinity pools, a gym, a bowling alley, a movie theater, and more. Sustainability and power efficiency are at the heart of Alia. It's unique among the luxury condos in Hawaii for the significant use of photovoltaic technology to reduce common electricity consumption and also shade units from the sun to improve comfort.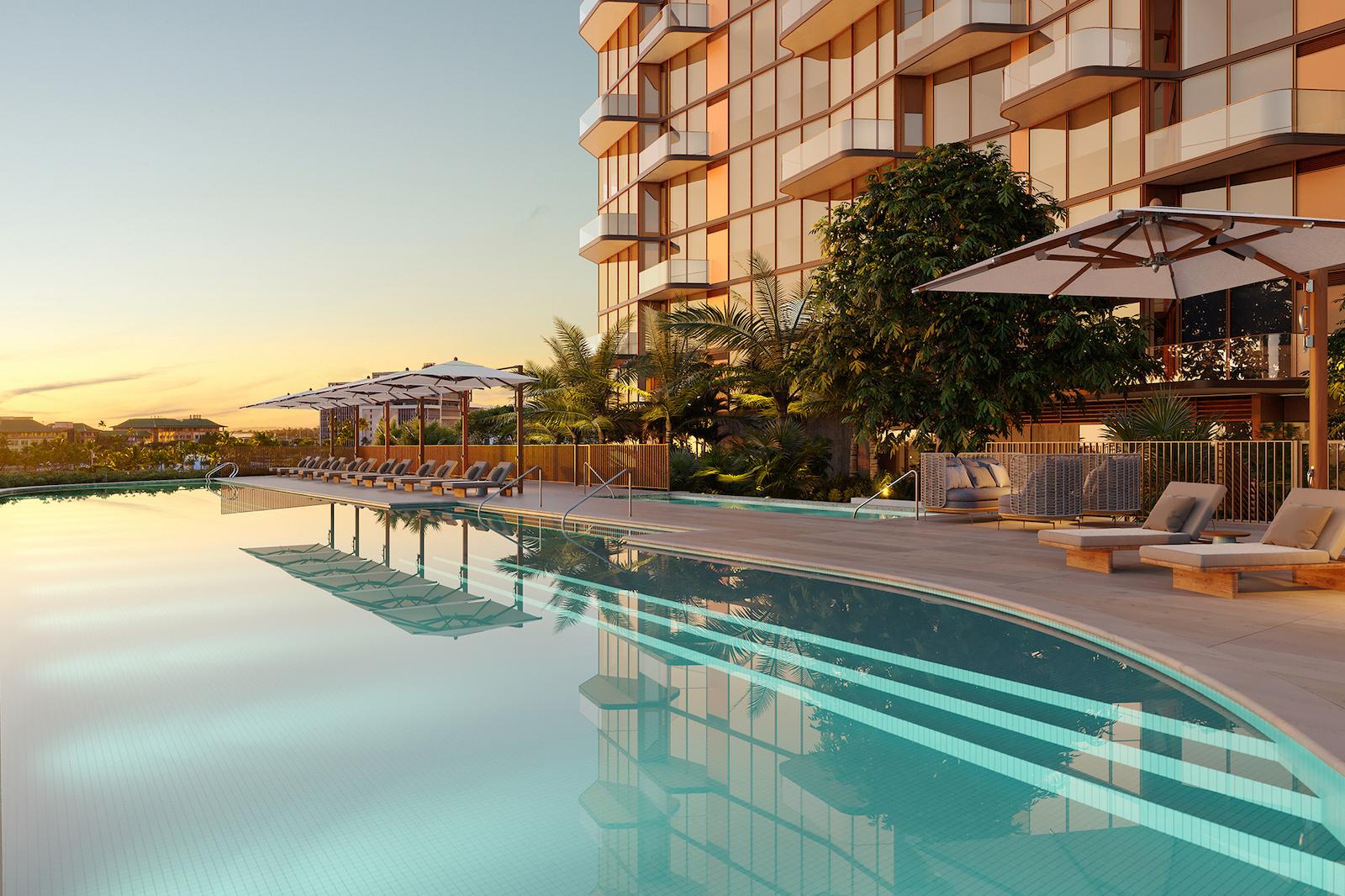 The lifestyle at Alia will be the perfect blend of luxury and convenience. You'll be close to most of what you need while also being close to the ocean. Ward Village, with its 30,000+ sq ft of commercial space and community amenities, is at your doorstep. SALT at Our Kaka'ako offers a whole block of neighborhood places with boutiques, brand shops, mixed-use spaces, and more.
Related: History of Kaka'ako
Hokua
Hokua remains highly regarded for its luxury condos in Honolulu. It's widely considered to be the benchmark for all Hawaii luxury condos that came after it. The gorgeous design mimics a wave with the units at the "peak" providing envious 180° ocean views. Since Hokua was built before stricter protected view corridor guidelines were implemented, no other tower like it can be built again. Its first row location fronting Ala Moana Beach Park ensures that you enjoy unobstructed views of the Pacific Ocean.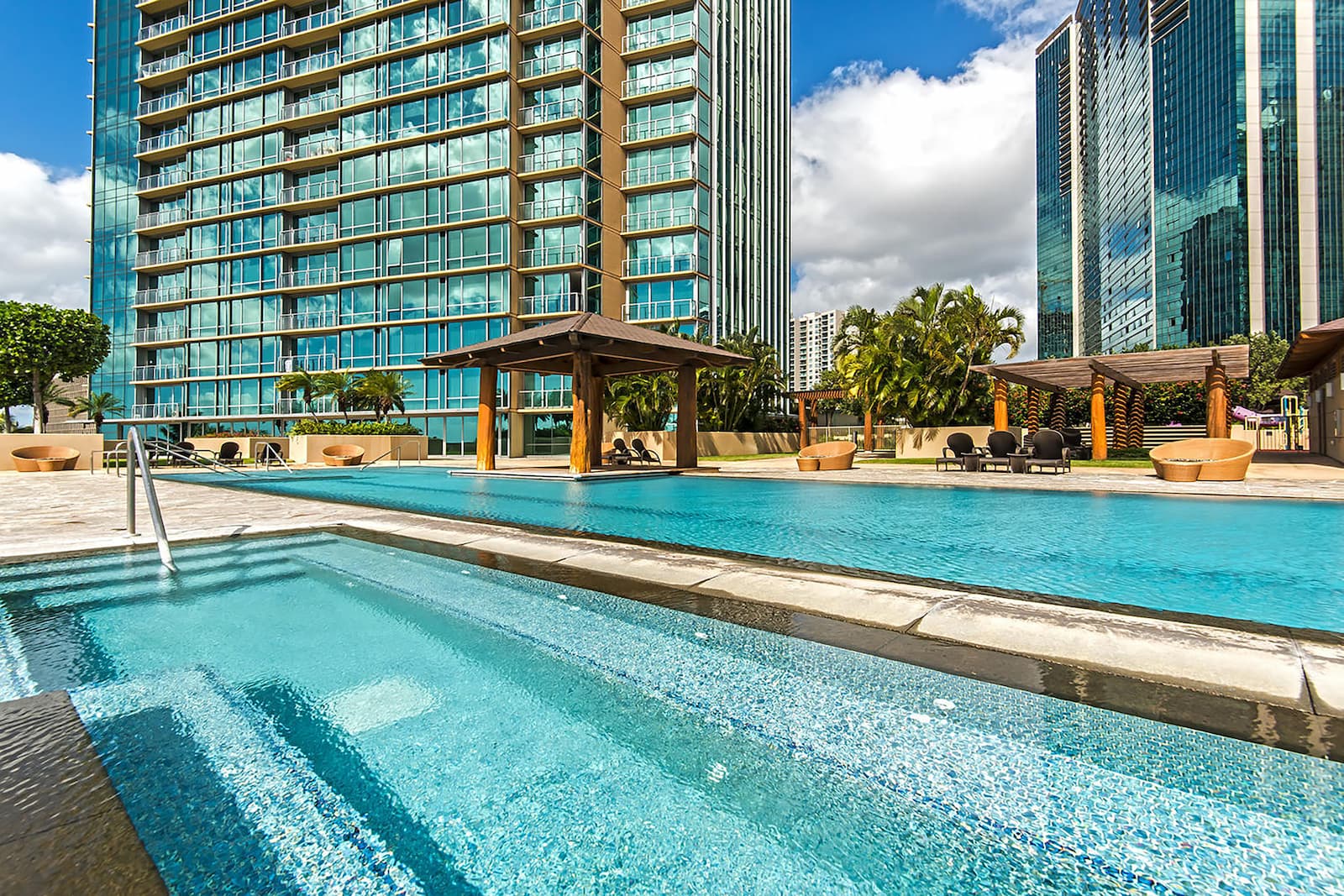 The timeless design and premium materials have helped Hokua retain its status as one of the most desirable Hawaii luxury condos. From the large, expansive layouts to the high ceilings, and panoramic ocean views, the units at Hokua remain highly sought after. The building's design is wider than other residential towers and runs parallel to the ocean. This unique placement, no longer possible due to new development guidelines, provides excellent views of the Ala Moana Beach Park and the Pacific Ocean.
The third-floor recreation deck has all of the amenities that you can expect from a modern luxury building. Host parties of 25+ people at the BBQ cabanas, take a dip in the large infinity pool, break a sweat at the world-class fitness center with ocean views, or dust off those tennis skills at the private court. All this, and much more, is at your disposal with professional and friendly staff that residents consider to be a part of their family.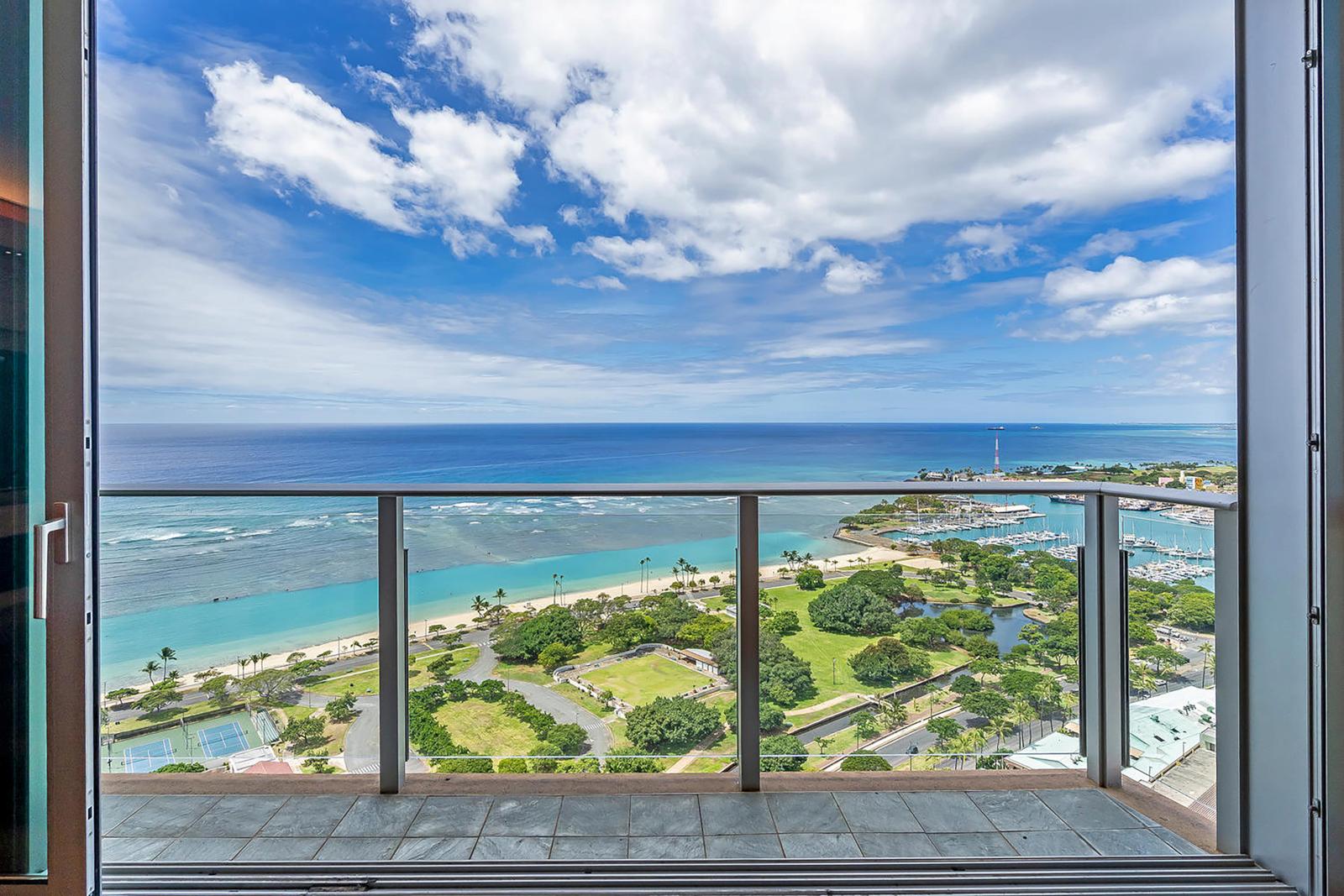 Don't just admire the golden sand beach of Ala Moana Beach Park from your windows. Just a short walk across the street and you can go swimming, sunbathing, or playing on the beach. It's the perfect sanctuary from the hustle of city life. Pack a picnic and head to Magic Island to catch the sunset. If you're after some retail therapy, the Ala Moana Shopping Center is one block away with its exciting collection of local and global brands.
Victoria Place (In-Development)
Victoria Place is one of the exciting new luxury developments coming up in Ward Village. It has a prestigious "front row" location on Ala Moana Blvd and thus provides the best unobstructed views and proximity to the ocean. The tower sits right next to Victoria Ward Park and Kewalo Harbor. Utmost privacy is guaranteed by the private gated entry from Auahi Street.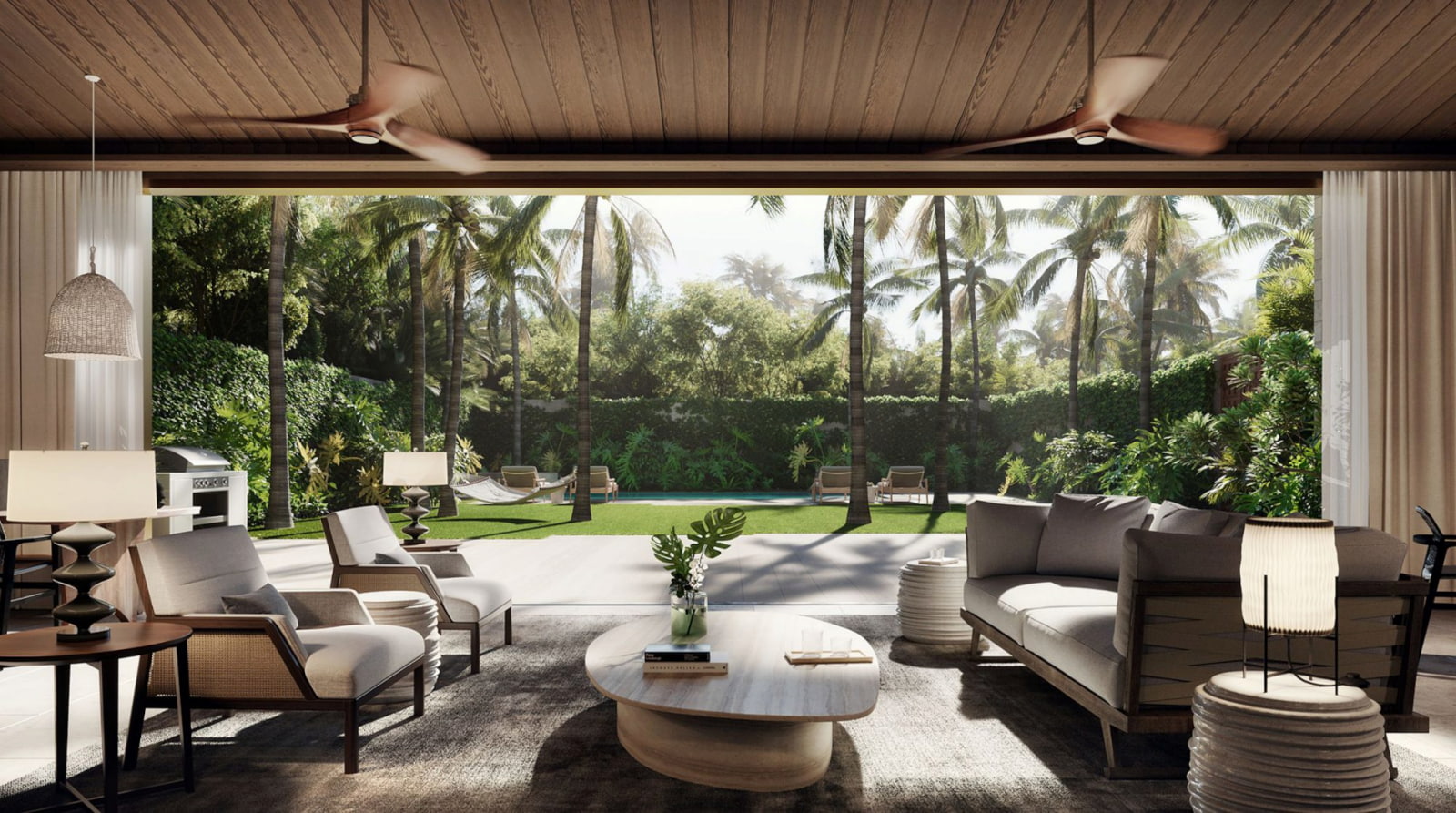 The classic design identity of Victoria Place evokes vintage Hawaii, an homage to Victoria Ward, the kind host that was known for her hospitality and dedication to local culture, and after whom this tower is named. Firmly in the ultra-luxury category in Ward Village, the units at Victoria Place have been designed to blend elegance with luxurious comfort. Most units have 9' ceilings with premium appliances, custom materials, and luxury fixtures.
The multi-level amenity spaces include a palm garden, guest suites, Lauhala Pool House, sunset infinity pool and spa, sunset lawn and lanai, lap pool, fitness center, movie theater, treatment rooms, chef's table and kitchen, wine room, and more. The on-site resident manager and concierge services will cater to your needs swiftly.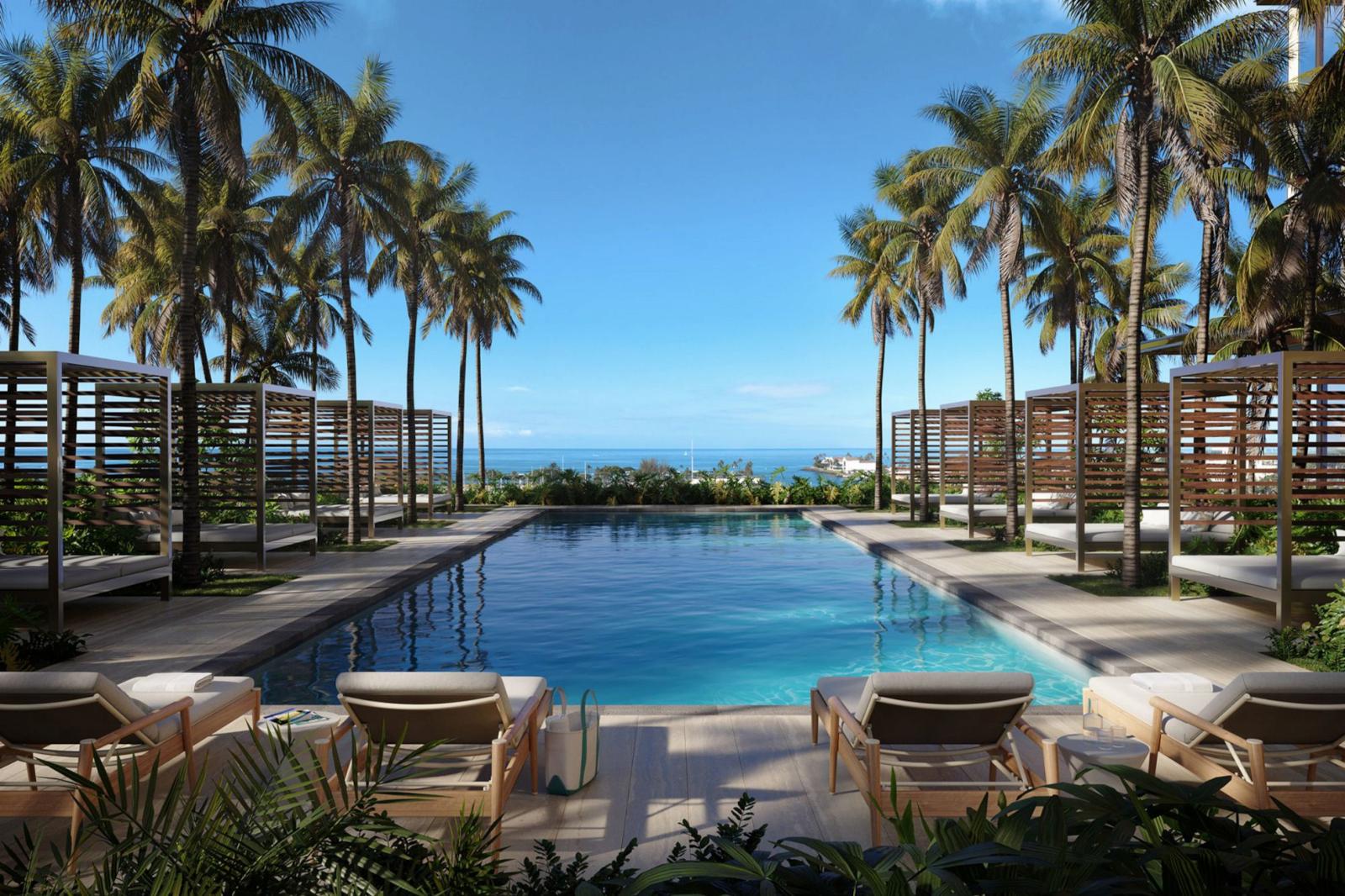 Live in the lap of luxury while being minutes away from the Ala Moana Beach and all that Ward Village has to offer. There's luxury shopping, high-end restaurants, and nightlife venues nearby. This is the perfect blend of island living in the urban core.
Related: What are New Development Projects on Oahu and how do they work?
Anaha
Anaha is another luxury residential condo tower in Ward Village. This award-winning tower has a unique rolling glass architectural design that makes it stand out in the entire district. It's located on the east side of Ward Village, at the intersection of Auhi and Kamakee St, providing the perfect blend of the urban core and island lifestyles.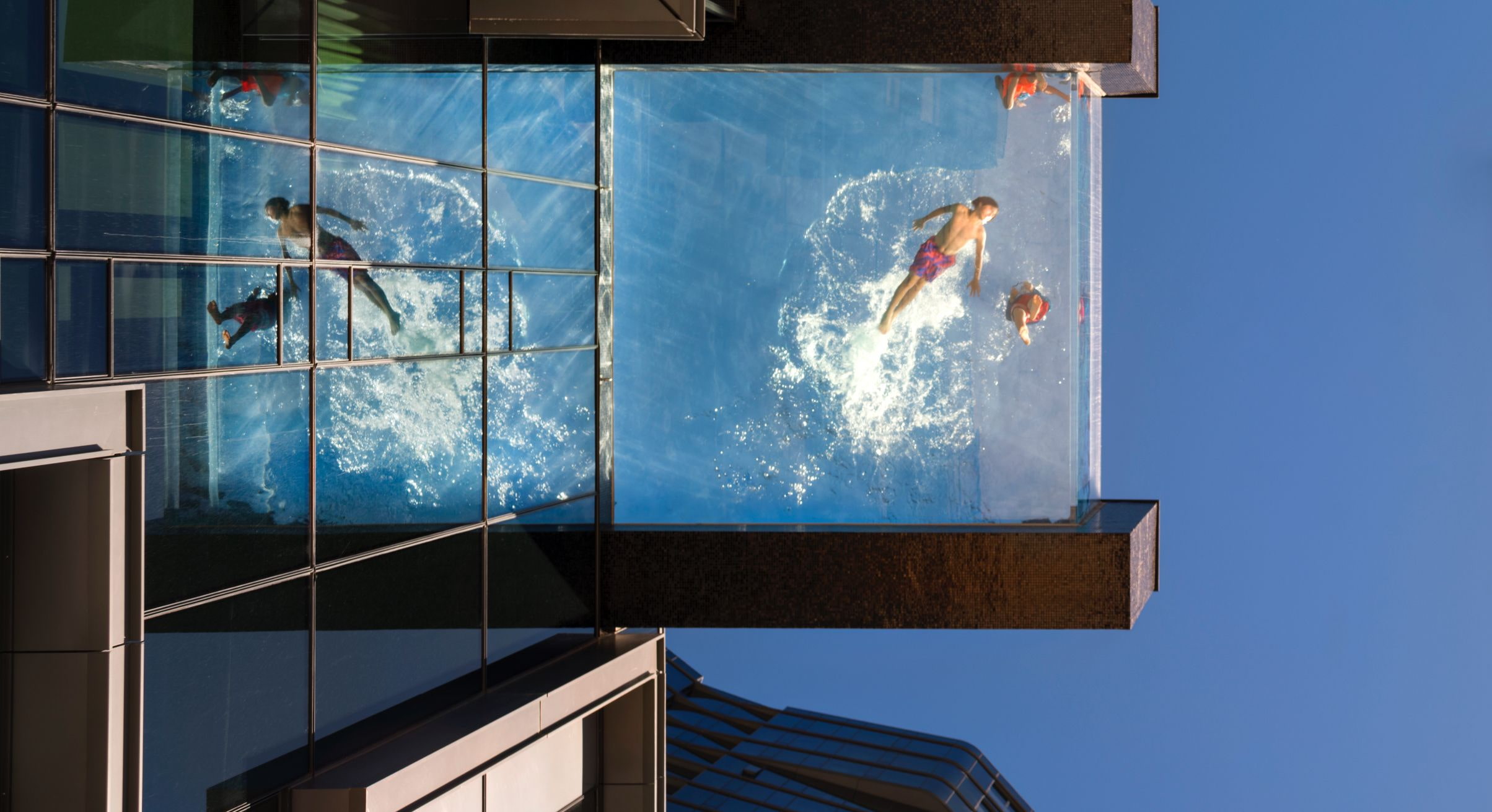 The bright and airy units at Anaha have soaring 9' ceilings with hardwood floors in the kitchen and living room. Premium wool carpeting in the bedroom elevates the living experience even further. All units have LED lighting, power efficient air conditioning, and double-glazed floor-to-ceiling glass windows.
You'll enjoy over an acre of amenity spaces at Anaha and that includes a striking glass-bottomed pool that juts out over the plaza below. You also have a catering kitchen, fitness pavilion, whirlpool spa, BBQ cabanas, volleyball court, tennis court, and more at your disposal. This is in addition to the guest suites and dog park. 24-hour on-site security and resident manager are there to look after your security and well-being. Its concierge services are highly regarded. Package deliveries are swiftly whisked up to your units, groceries delivered to you for the ultimate convenience, and even minor household chores like replacing light bulbs done with a smile.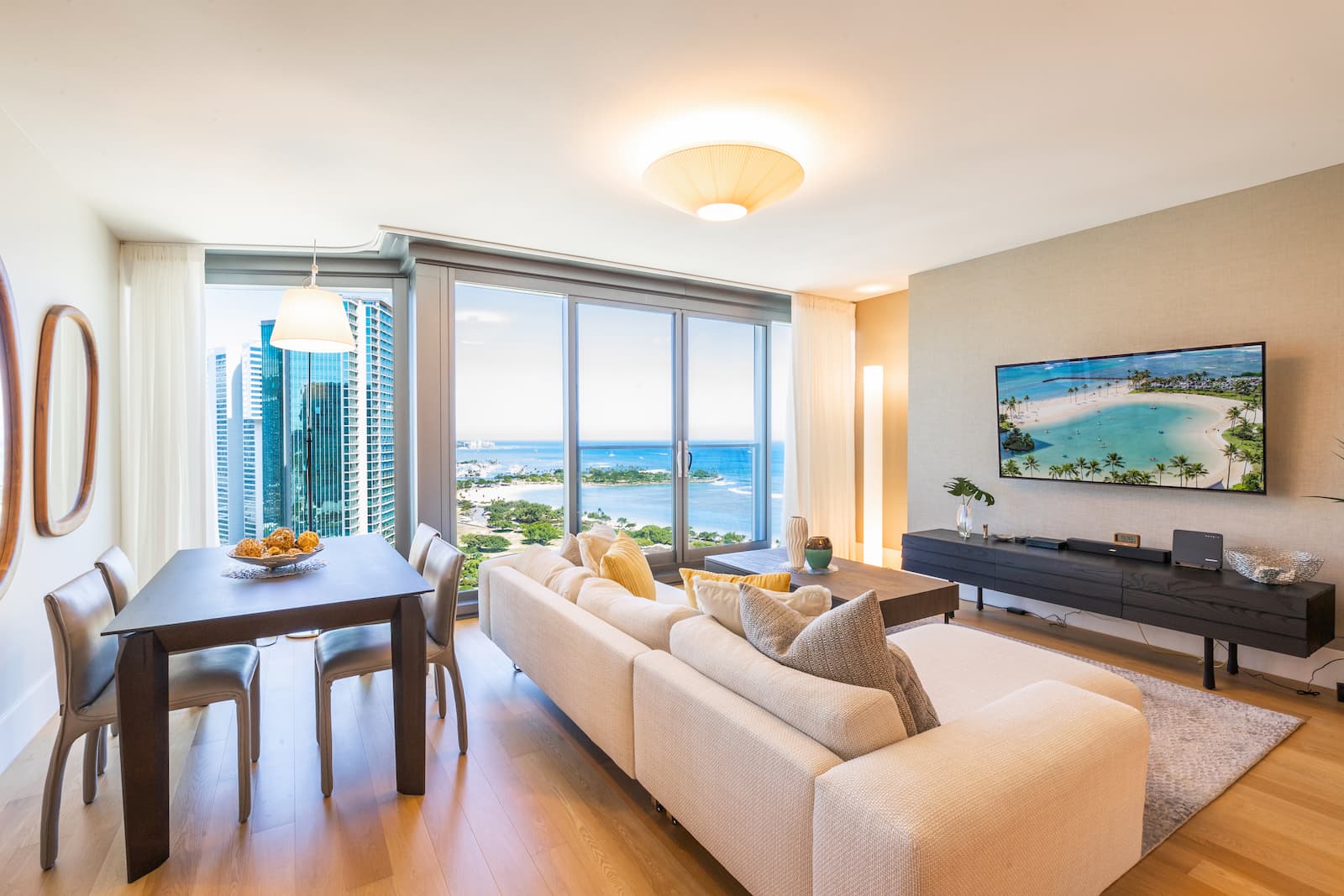 If your lifestyle is all about feeling at one with nature, then you can't go wrong with Anaha. It's a short walk to the golden sands and lush gardens of Ala Moana Beach, easily accomplished in 2 minutes on the wide, pedestrian-friendly walkways of Ward Village. Ward Entertainment Center is just across from you, so nights out will always be exciting. Walk a bit further to the east and Ala Moana Center with its 350+ shops and restaurants await you.
Related: The Ward Village Master Plan
One Ala Moana
If luxury living adjacent to the largest open-air shopping center in the world is what you're after, then you can't go wrong with One Ala Moana. The glass facade of this 23-story luxury condominium tower reflects Hawaii's beautiful skies and ocean while also providing residents of both wings with great ocean views. It's been built with privacy in mind as access to the other wing is only possible through the amenity deck. The elevators in One Ala Moana provide direct access to the Ala Moana Center.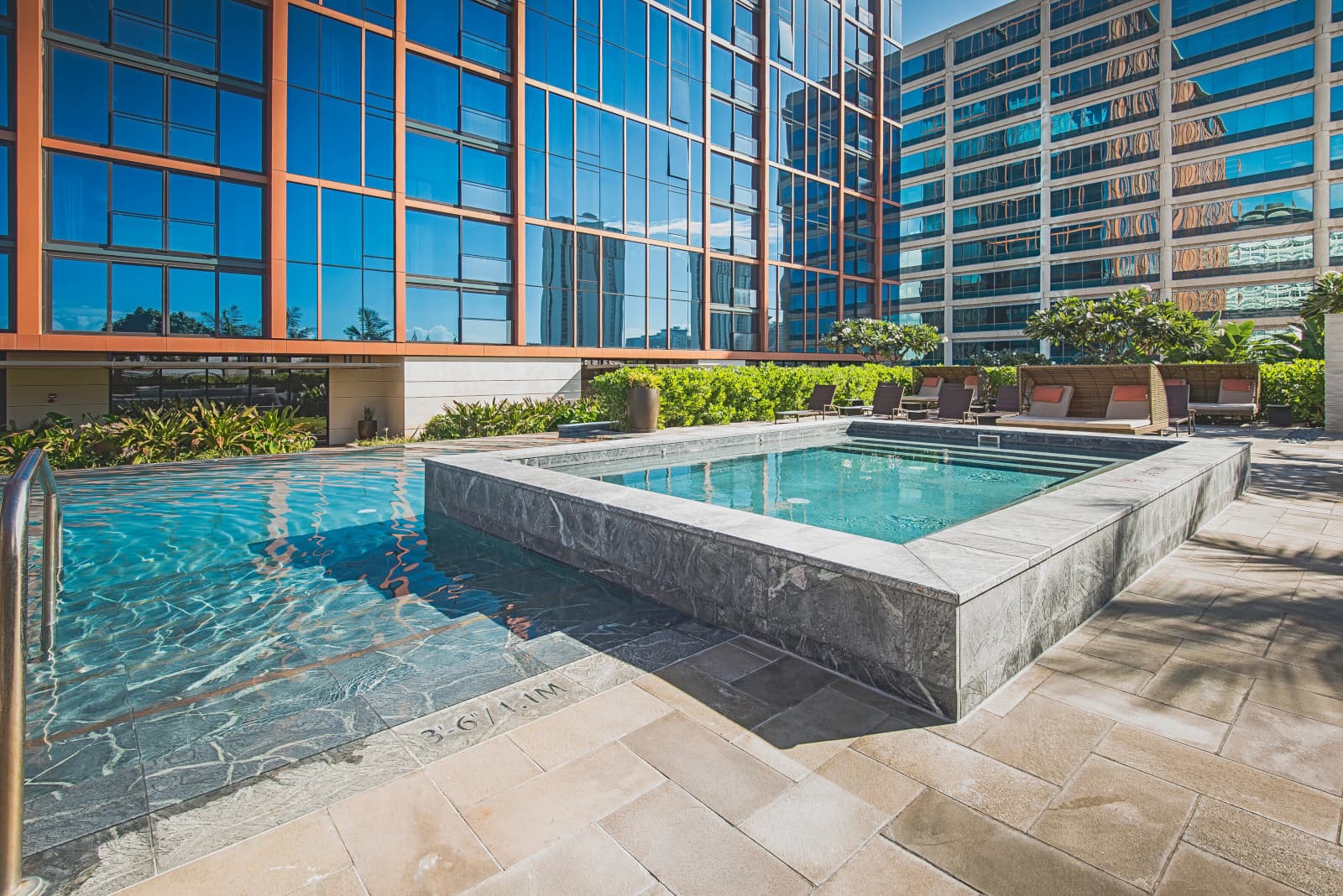 Units are spread across two sections, the east-facing Diamond Head Wing and the west-facing Ewa Wing. Almost all units in both wings have ocean views and the higher you go, the better your views will be. The soaring ceilings, high quality materials, and elegant design enable these units to deliver true luxury living.
The amenity deck on the 6th floor will be your quiet yet luxurious retreat. Since the tower is in a more isolated location than others in the area, you get a quieter atmosphere with lower street noise. The amenities are all top-notch and backed by wonderful staff. There's a pool, hot tub, gym, movie theater, guest suites, wine tasting room, massage room, kids playground, and more.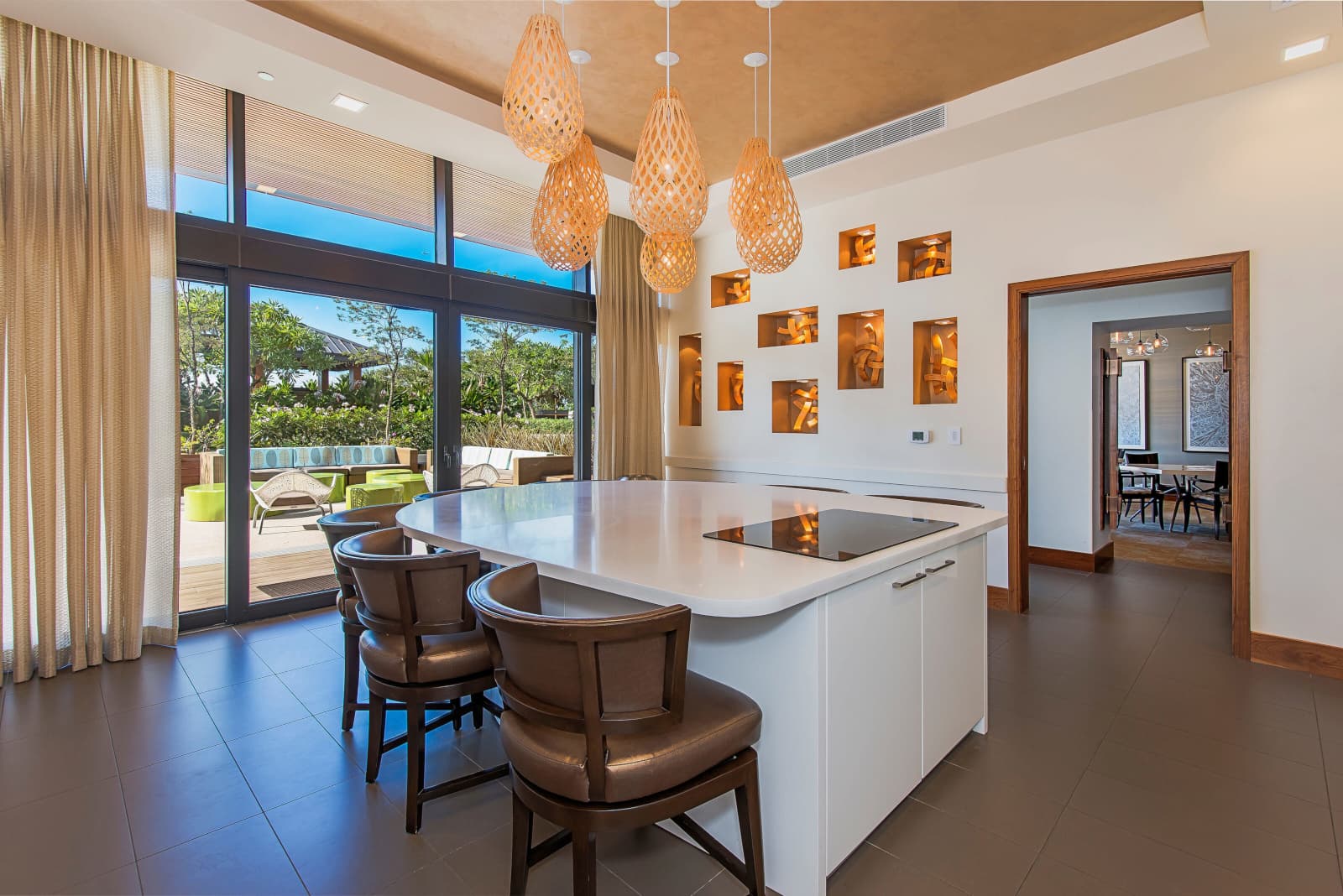 The private elevator access to Ala Moana Center makes it super easy to access all of the retail and dining experiences that it has to offer. Waikiki is just a short walk to the east so you'll never be short of amazing nightlife and dining options. You're not far from the beach either as the Ala Moana Beach Park is situated on the other side of the shopping center.
The Park Ward Village (In-Development)
Envisioned as an anchor for the neighborhood, The Park Ward Village fuses mid-century design with island modernity. It's particularly focused on the health and wellness of residents with facilities and services that enable you to lead a more fulfilling life. Designed during the pandemic, The Park Ward Village prioritizes your well-being by ensuring that you can spend long periods in comfort without having to leave the tower.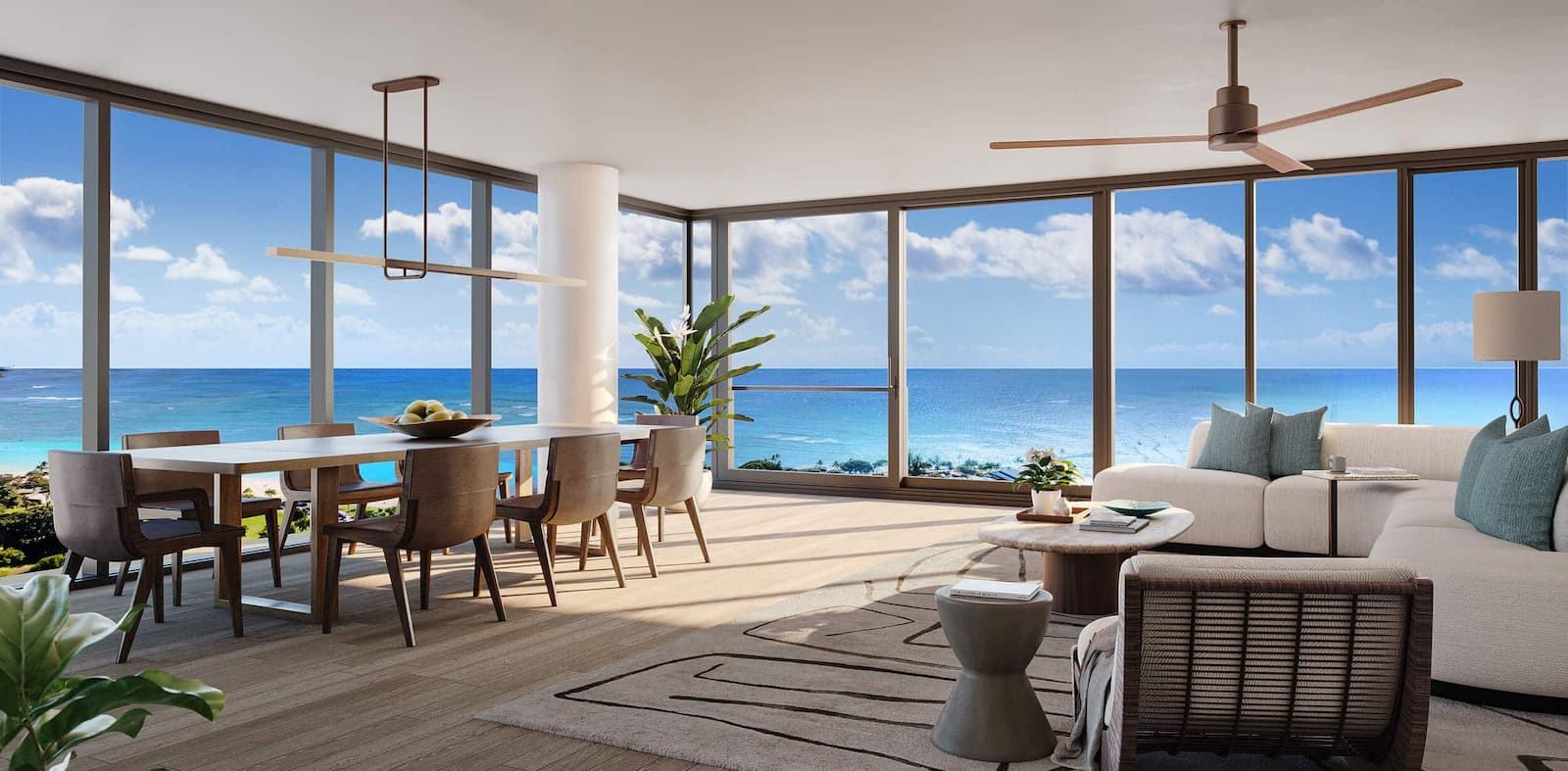 The graceful and elegant units at The Park Ward Village have an open kitchen, living, and dining areas that allow for seamless living. Oak wood flooring adds a touch of class while the privatized, residence-specific air-conditioning system is the perfect post-pandemic home improvement. Expect world-class appliances, fixtures, and finishes in all units that can be configured in a light or dark color scheme.
The Park Ward Village offers an amenity deck that's twice as large as the other Ward Village towers and will be the largest amenity deck in the state. There will be so many activities for you to do without having to leave the tower. Soak in the ocean views from the private lanai or book a clubroom, basically a home without a bedroom, to entertain guests. The club-style amenity deck essentially becomes an extension of your home. Additional amenities include BBQ cabanas, Mauka Lawn, fitness pods, pickleball and tennis court, lap pool, walking pool, Makai Lawn, guest suites, and more.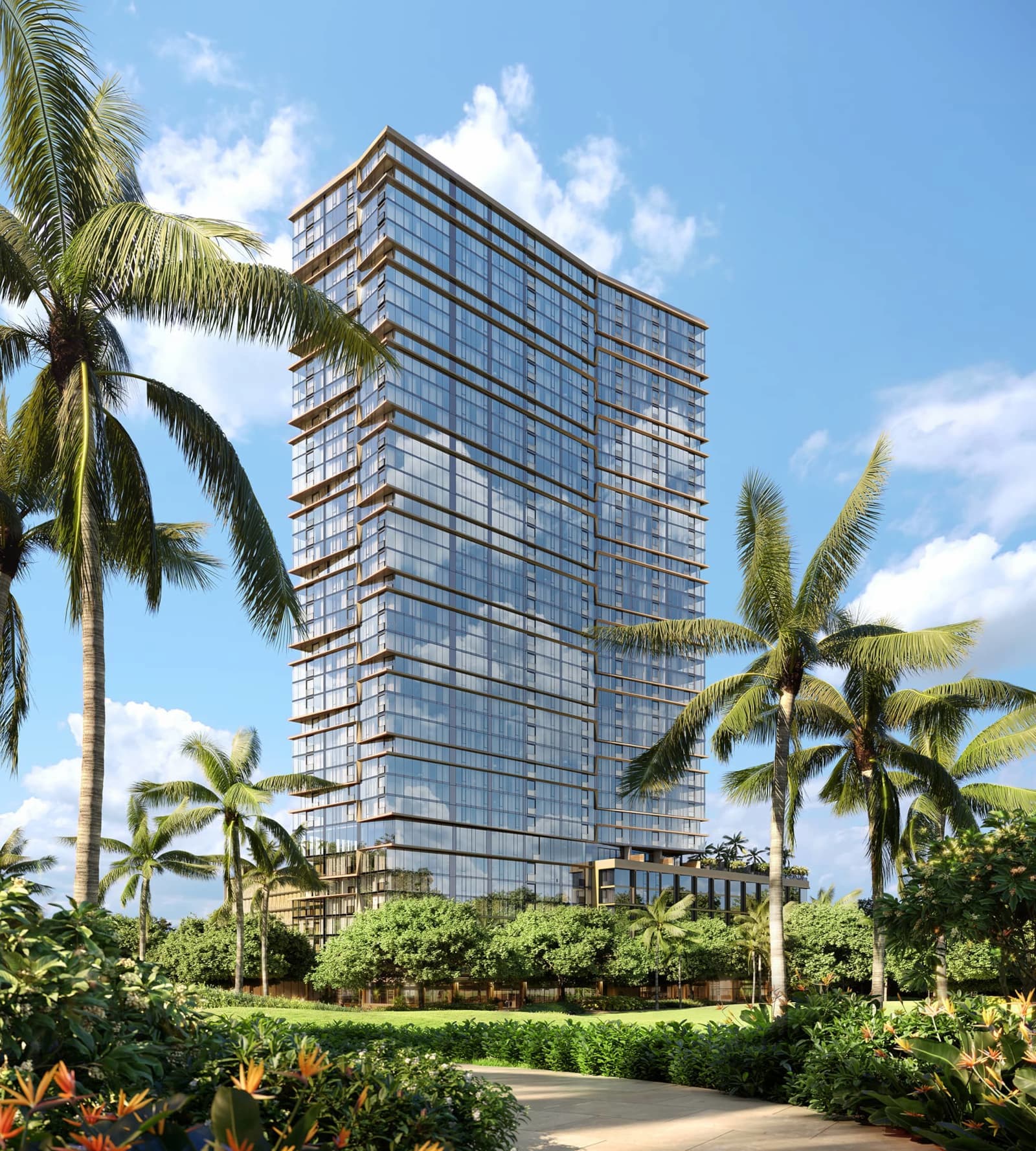 This is urban core living at its finest. A shaded pedestrian promenade takes you to the beautifully landscaped 3.5-acre Victoria Ward Park. The new Auahi Street Promenade allows for easy walkability throughout the community. Experience a unique community vibe as you walk through the block as the tower acts as the new town square of the neighborhood. The Ala Moana Beach Park is just minutes away so your days can start with a leisurely stroll in the gardens and end with a sunset on the beach.
The Residences At Mandarin Oriental (In-Development)
Mandarin Oriental is a highly regarded hotel brand with luxurious properties across the globe. Some of these properties also include residences. This 37-story structure is an iconic addition to the Honolulu skyline with 125 hotel rooms and 99 luxury serviced condo units, called The Residences at Mandarin Oriental. These will be some of the most prestigious Hawaii luxury condos. It's located on the corner of Kapiolani Blvd, merely a mile away from the Honolulu Symphony and Blaisdell Center, with many other activities being within walking distance. Waikiki Beach is just around the corner and Ala Moana Shopping Center is just out the main doors.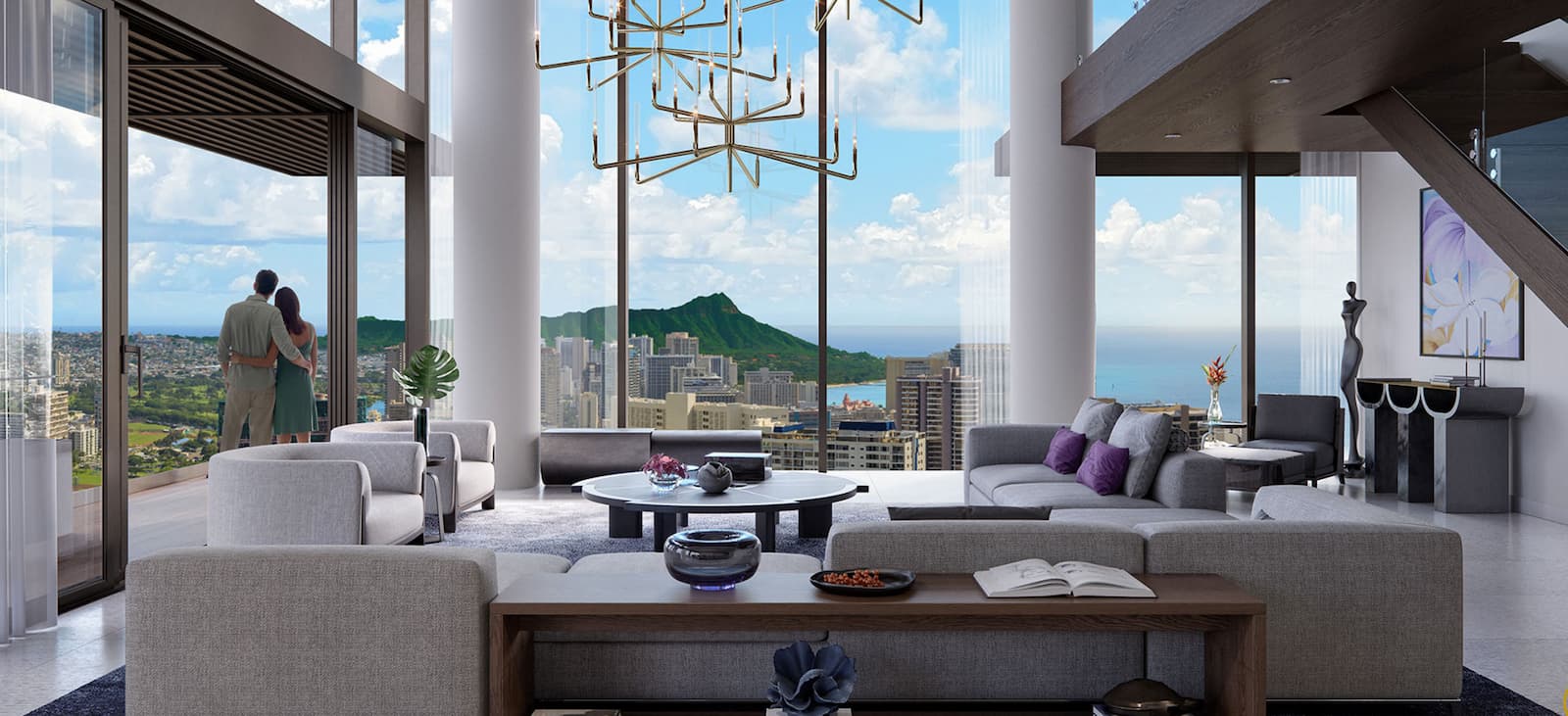 The condos within The Mandarin Oriental are called The Residences. Expect 5-star hotel quality services and amenities with Michelin-star restaurants, in-residence dining, 24-hour concierge services, and more. You'll have access to a dedicated team of full-time valet, maintenance, housekeeping, and security staff trained by Mandarin Oriental.
Aside from access to the hotel's amenities, there's an indoor-outdoor amenity deck on the ninth floor that's only for residents. This landscaped terrace is set against the beautiful Honolulu backdrop with a swimming pool, cabanas, outdoor fire pit, movie theater, peloton studio, club dining room, and more.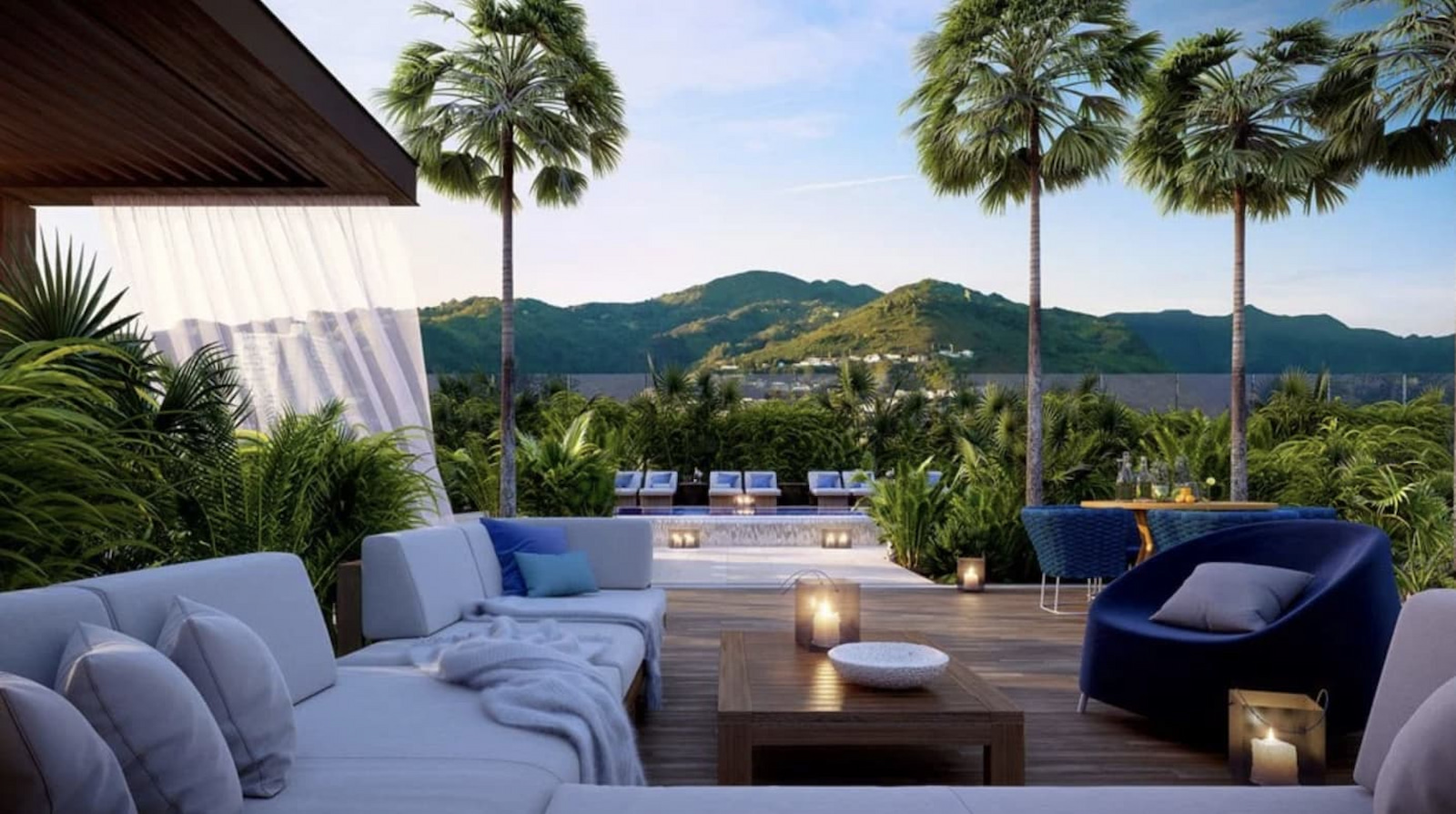 Designed by Dianna Wong, an internationally acclaimed designer, the residences are the pinnacle of luxury with stunning interiors, kitchens, and Lanai balconies. Enjoy sweeping mauka-to-makai views from the floor-to-ceiling windows in an ultra-luxury development that prioritizes your comfort, privacy, and security. Luxury condos in Honolulu don't get better than this.
Related: Pros & Cons Of Buying In New Development Projects On Oahu
Ready to talk? Request a luxury condo consultation below!
Interested in buying a Hawaii luxury condo? We have decades of experience helping people find the best luxury condos on Oahu - and we'll love putting that experience to good use for you! Reach out at 1-(808) 698-6100 or fill out the form below to request a consultation and we'll get back to you as quickly as we can.