Top 5 Honolulu Condos To Buy For A Vacation Home
Posted by Scott Startsman on Saturday, May 7, 2022 at 1:30 PM
By Scott Startsman / May 7, 2022
Comment
Buying a vacation home in Hawaii is the dream for a lot of people and with good reason. This is as close as you can get to paradise on Earth. With its year-round idyllic climate, Hawaii has long been referred to as the "Paradise of the Pacific" with an abundance of breathtaking mountains, waterfalls, beaches and tropical rainforest.
Honolulu attracts people from the mainland and indeed across the globe who are looking to buy a second home in Hawaii. Located on the island of Oahu, Honolulu has everything to support the modern lifestyle. From world-class shopping and entertainment, high-end dining to lush greenery and pristine beaches, it offers something for everyone.
Why Buy A Condo For Your Second Home?
Condos are increasingly being preferred by people looking to buy a second home in Hawaii. That's largely due to the existing and upcoming high-rise developments situated in thriving neighborhoods that provide luxurious units complete with great amenities. Depending on your requirements, you can get everything from a small studio unit to ultra-luxury penthouses with panoramic views of the ocean.
Convenience is another reason why more buyers are picking up condos in Hawaii as a vacation home. Some barely visit for a few weeks in an entire year and appreciate not having to worry about the hassle of property maintenance and upkeep. They can also avoid the added expense of hiring a property management company to look after everything when they're not in residence. (We do offer a concierge service to check on your unit, make repairs and stock your refrigerator prior to coming on vacation.)
Property maintenance costs can add up and for many, this is a factor that makes the idea of buying a second home untenable. From having a handyman on call to handle minor and major repairs to needing gardeners for landscaping. Turning up at your vacation home after a year only to find it looking like a shack in a jungle isn't really a great way to kick off that much needed vacation.
Looking to buy a second home in Hawaii? Check out our services!
You don't need to worry about any of that with a condo. Just lock it up and walk away once you're ready to head home. No need to hire resources to check up on the state of the property continuously.
Honolulu Urban Core, Kakaako and Ala Moana Condos
A lot of development is taking place in the Urban Core of Honolulu. Kaka'ako and Ala Moana in particular are being transformed into the ultimate lifestyle destinations with a special focus on amenities, walkability and amazing retail experiences.
We specialize in finding clients their dream second home in Hawaii. I have put together a list of the Top 5 condos in Honolulu to buy for a vacation home based on the lifestyle you might want to consider. Here are a few of the luxury condo towers you should consider and why.
1. The Collection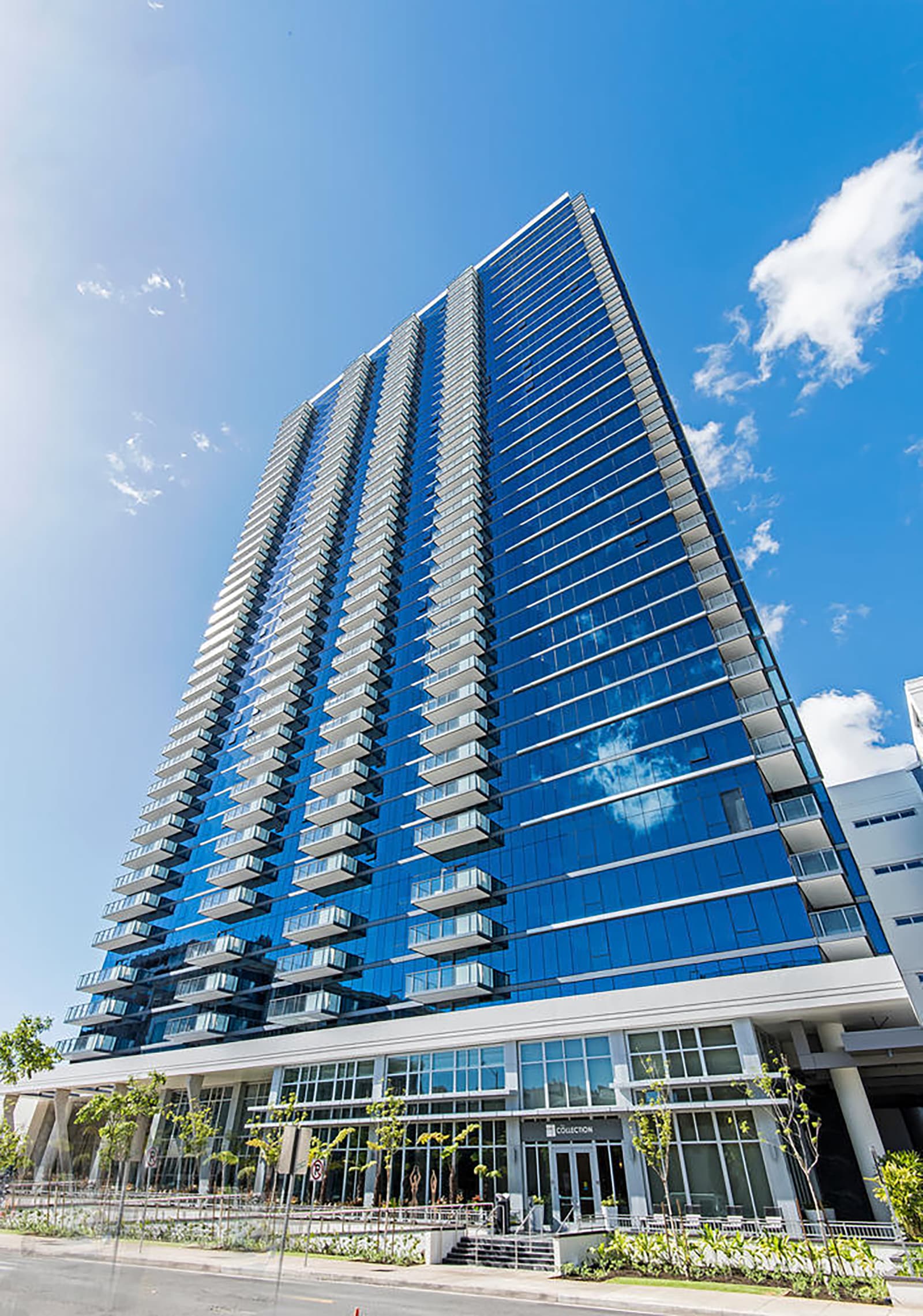 Located in Our Kaka'ako, The Collection offers some of the most desirable condos in the area. Perhaps the biggest draw for buyers is the fact that It's an affordable "front row tower," meaning it's on the front row of development with a clear view of the ocean. There won't be any tower coming up in the future that could block the view, so you can rest assured that the breathtaking views will not be hampered.
Its prime location on Ala Moana Blvd is hard to beat as the downtown business district and the Ala Moana Center are all easily accessible, putting you in close proximity to leisure and retail outlets. The H Mart is right next door and SALT, the bustling hub for chefs, artists and entrepreneurs, is practically right outside the elevators.
The amenities at The Collection are second to none. From the pool that looks out over Honolulu Harbor to the covered BBQ cabanas, a fully equipped fitness center, outdoor theater, yoga room, and more, you'll have it all within property lines.
Click here to see condos available for purchase in The Collection
Click here to see more information about The Collection
2. Anaha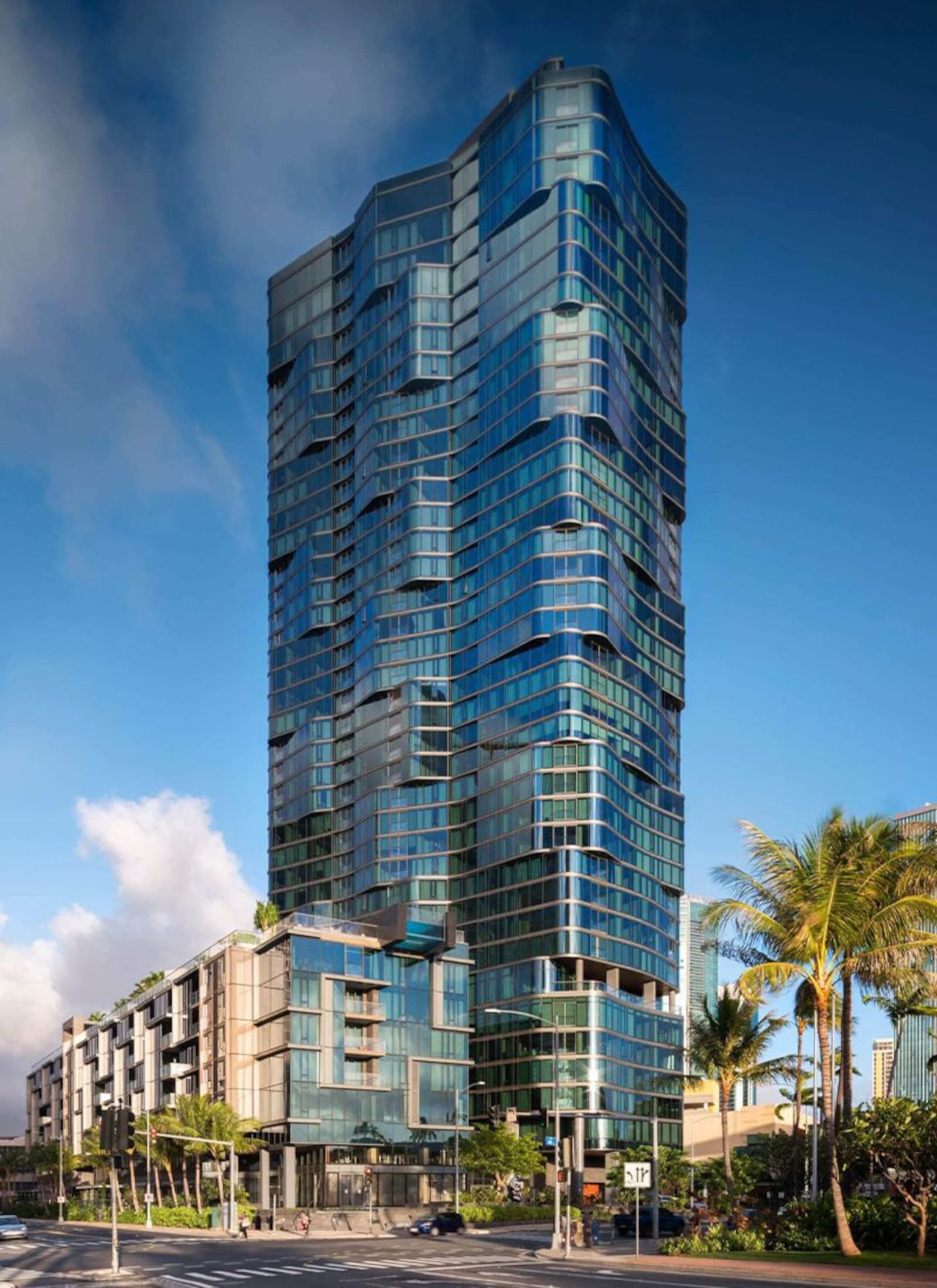 With a rolling glass façade, Anaha is without a doubt one of the most beautifully designed luxury towers in Hawaii. The Howard Hughes Corporation is developing this entire 60 acre community called Ward Village as a pedestrian-friendly neighborhood that fuses urban luxuries with the freedom of island living.
The commercial and living spaces seamlessly gel together in Ward Village. Tier 1 towers are closest to the ocean and provide the ultimate luxury with the utmost privacy with no commercial spaces. The second row strikes the perfect balance between units, commercial spaces and amenities. The third row has density with more units in the towers and everyday commercial outlets.
If being active, having an abundance of great amenities and service are important to you, then Anaha is an excellent choice. Anaha has the largest amenity and recreation deck in the state. With over an acre of amenity space, you don't even have to leave your building for most of your daily activities. A glass bottom lap pool 75 feet high over the plaza, fitness center with treatment rooms, dining room with chef's table, tennis court and much more are all at your disposal. The high-end concierge service is always on hand whenever you need assistance. Step outside and over 15,000 sq ft of retail space welcomes you with leading restaurants, boutiques and curated experiences.
Click here to see condos available for purchase in Anaha
Click here to learn more about Anaha.
3. Park Lane
Park Lane in Ala Moana offers high-end and ultra luxury units designed around the concept of private residential resort living. Instead of high-rise condos, the architects and designers had a vision to develop what are essentially private estate homes surrounded by a manicured lush green environment that stretches from the ocean to the mountains.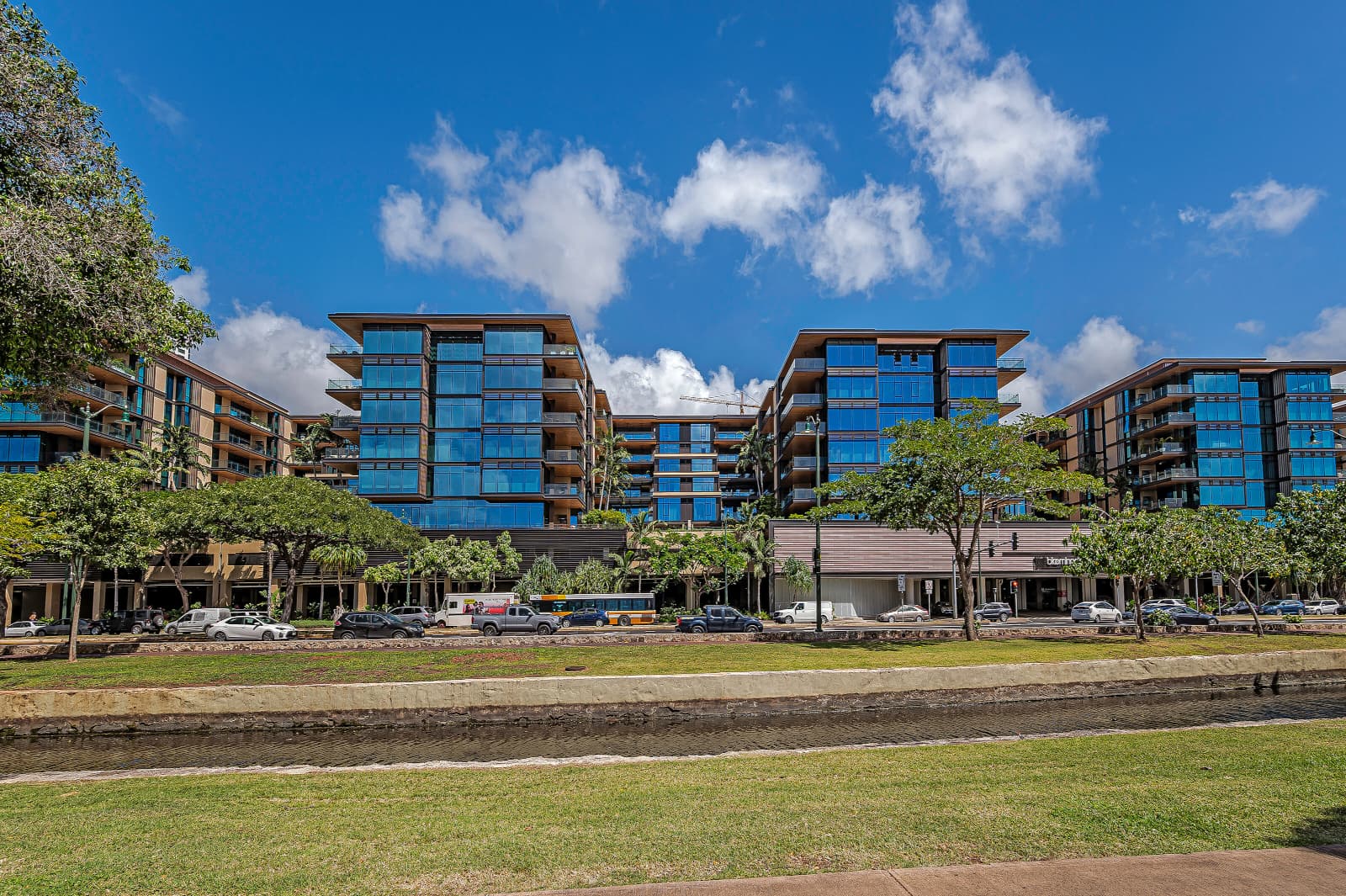 The striking Great Lawn provides plenty of space to experience nature in addition to smaller and more intimate outdoor spaces, living here is not unlike living in a grand estate, all while having access to the best amenities. Units have views over Ala Moana Beach Park and the ocean. They have generous floor plans and are finished in exquisite materials. Some units even have private pools.
The Park Lane is attached via private elevator to Ala Moana Shopping center, the world's largest outdoor mall, that has every luxury retailer you can imagine. Ala Moana Beach is a stone's throw away and your Residential Services team can help set up the perfect beach day. The amenities on offer include a gated dog park, club lounge with lanai and fire pit, spa areas, outdoor whirlpool, massage and treatment rooms, landscaped cabanas, to name a few.
Click here to see condos available for purchase in Park Lane
Click here to see more information about Park Lane
4. The Symphony
Situated in the rearmost side of Kaka'ako, The Symphony has tranquil and serene environs away from the clamor of Kaka'ako. A condo at The Symphony will be perfect for you if you enjoy concerts, plays and off-Broadway musicals as this luxury high-rise is located right next to the Neal S. Blaisdell Center. Access to world-class entertainment can literally be steps away from your second home in Hawaii.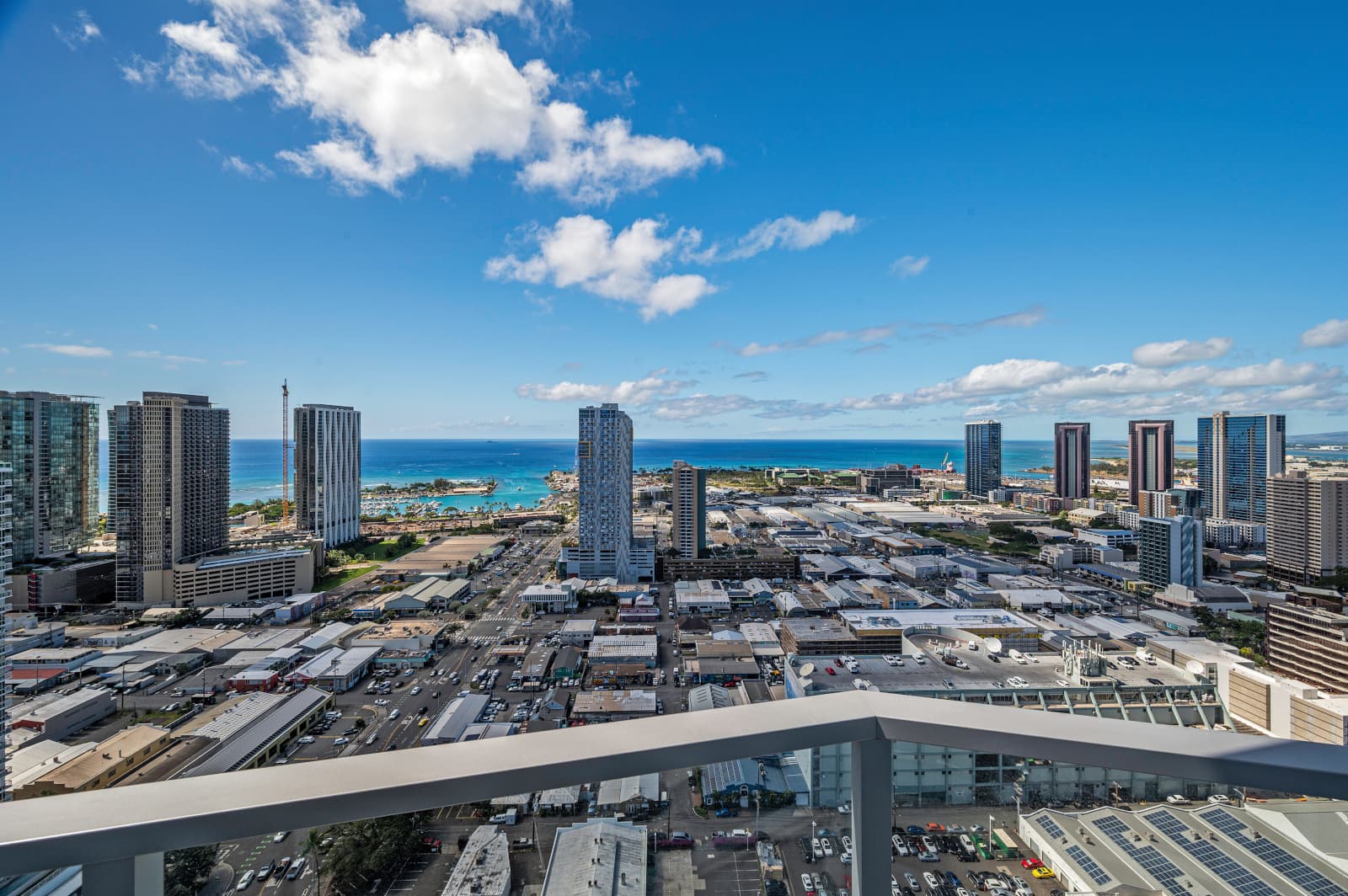 The units at The Symphony are very well designed with good-sized floor plans. Every room provides incredibly beautiful mountain and city views through the extraordinary floor-to-ceiling windows. The interiors have been given an elevated and upmarket feel through the use of sleek lines complemented by striking wood and glass finishes.
Residents have access to a variety of amenities that include a fitness center with sauna, movie theaters, outside infinity pool, jacuzzi spa, EV charging stations, etc. The retail spaces include an exotic car dealership, restaurants and boutiques. There are also a number of shops and restaurants right across the street.
Click here to see condos available for purchase in The Symphony
Click here to learn more about The Symphony Honolulu
5. Sky Ala Moana - Renaissance Residences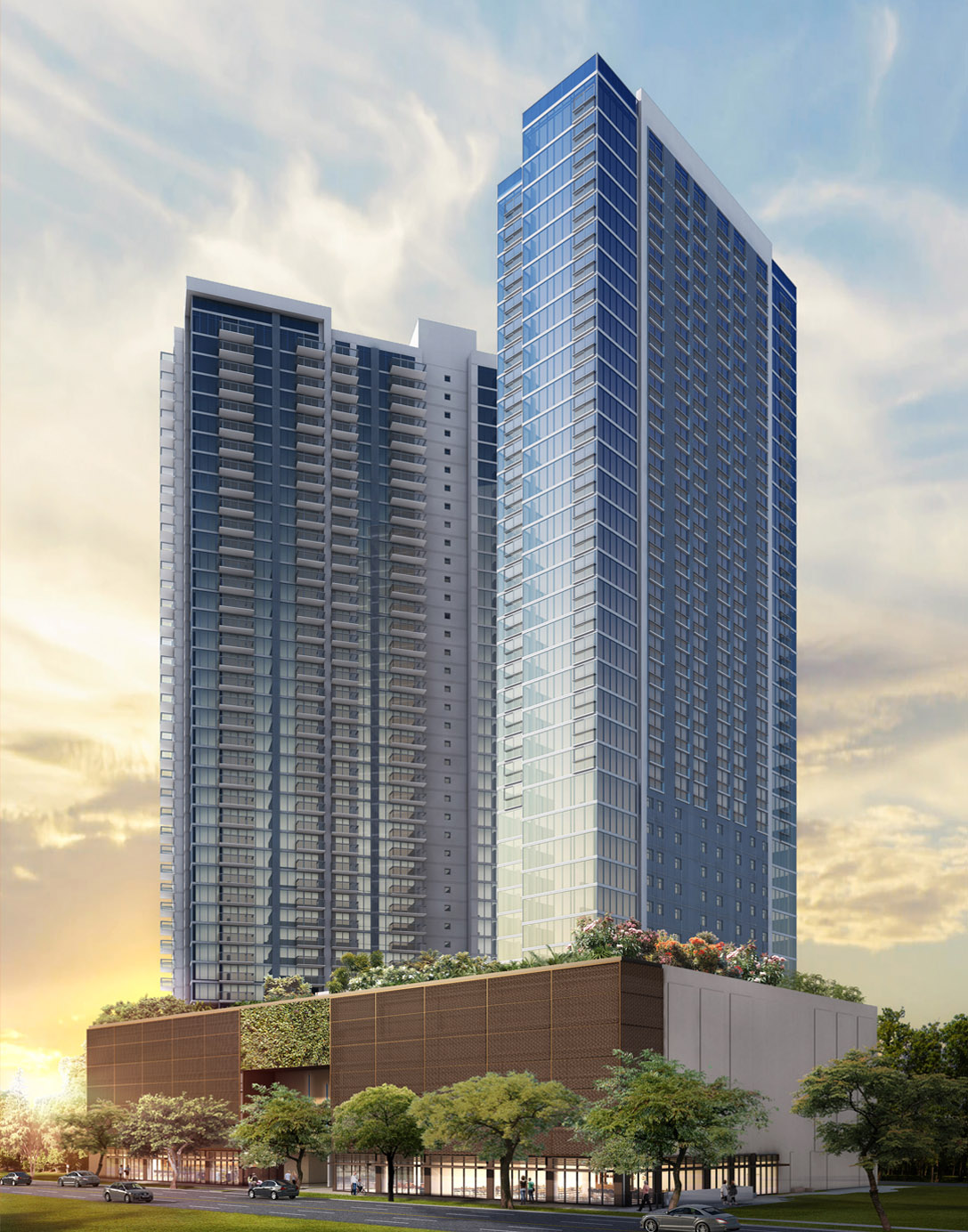 For a completely different experience I threw in a new development, condo hotel option for you. Sky Ala Moana is a mixed-use development that's estimated to complete construction in 2023. Spanning across two luxurious towers, Sky East will house the Renaissance Honolulu Hotel & Spa on the lower floors and the Renaissance Residences on the top ten floors. Sky West holds residences only that have already been completely sold out.
Experience condo living with hotel amenities at the Renaissance Residences. Dubbed Sky Terrace, the amenity deck will be one of the largest in Honolulu. Situated directly across from the Ala Moana shopping center, you'll have easy access to restaurants, shopping and entertainment venues.
A condo at the Sky Ala Moana effectively doubles as a Hawaii investment property. Regardless of whether you have a studio or 1 bedroom, you can put it in the hotel rental pool when you're not in residence. You can easily block it off and use the condo as your second home in Hawaii for as long as you want, while always having the option to release it to the hotel pool when you leave.
Click here to see condos for sale in Sky Ala Moana
Click here to see more information about the Sky Ala Moana - Renaissance Residences.
The above post contains information concerning projects that have not yet been completed. The information is subject to change at any time by its developers, who we are not affiliated with. Images used on this page are the property of the developers and may not accurately represent the completed project. All information is subject to verification.
Contact Us
Interested in learning more or buying a unit in any of these Top 5 condos in Honolulu? Reach out to me, Scott Startsman, Realtor Associate, through the contact form below. You can also send me an email at [email protected] or give me a call at 808-698-6100. Let's get you your dream vacation home in Hawaii.