Your Guide To Private Schools In Oahu, Hawaii
Posted by Scott Startsman on Friday, September 17, 2021 at 2:21 PM
By Scott Startsman / September 17, 2021
Comment
Planning on moving to Oahu with your family?
No home should be chosen until your child's educational future is secure.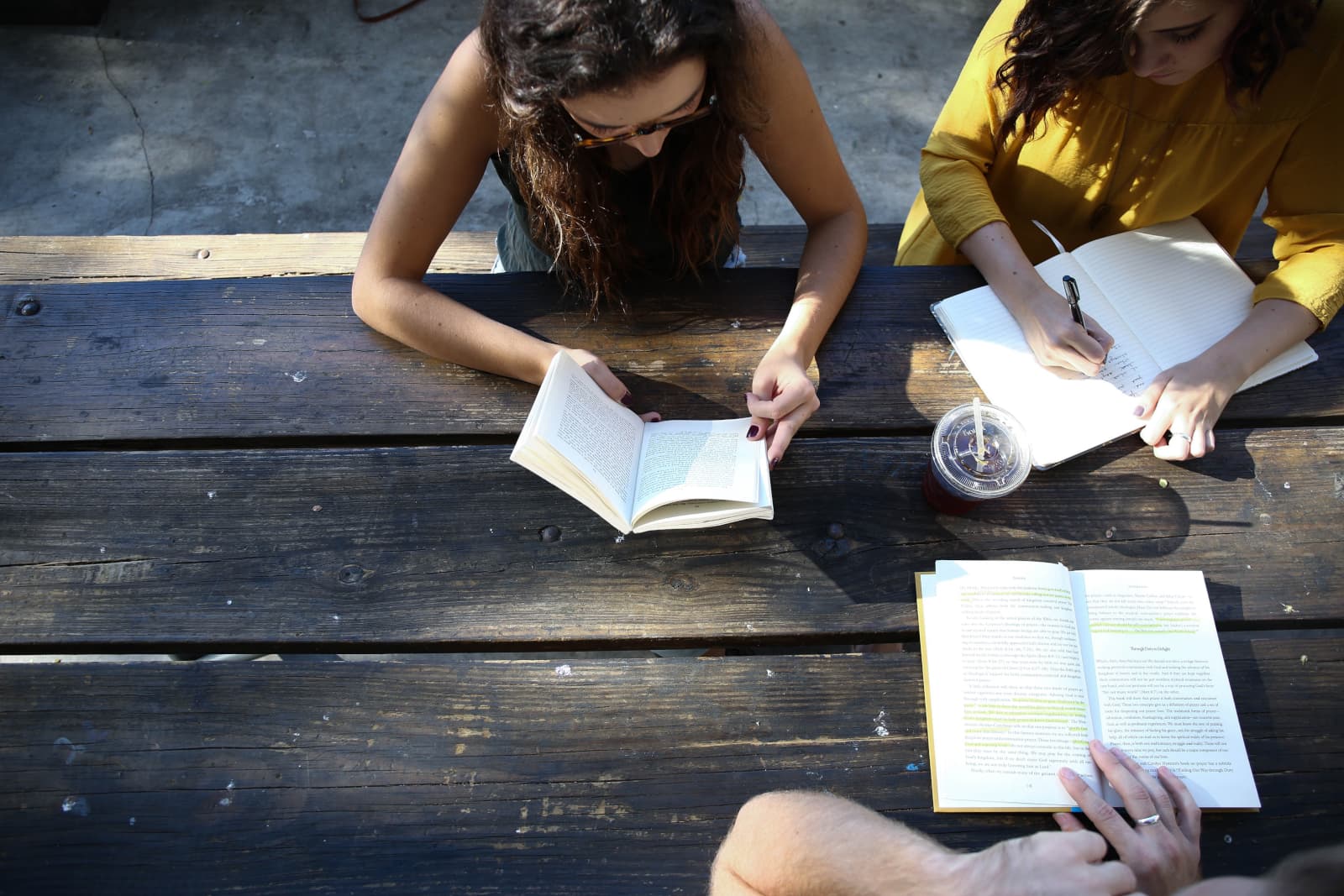 Your children deserve the best, so make sure the school they go to is up to snuff. Luckily, Hawaii is home to some of the best private schools in the country.
Today I am specifically going to be focusing on private schools on Oahu, as well as the neighborhoods surrounding these schools. Which private school works best for you really comes down to one question - what kind of lifestyle do you want for your family? The community around your home is as much a part of your home as the building itself. If you spend all your time commuting, you can lose out on that.
Related: What Is The Best Hawaiian Island To Live On?
If your family loves the water but wants to stay near the city, Le Jardin Academy or Trinity Christian School in Kailua might be the match. If you're a family of shopaholics that need to be near the urban core, 'Iolani is a world-renowned K-12 private school in Honolulu. I'll be running over the best private schools for a few different kinds of communities to help you choose.
If you're ready to make the leap and get help with your move to Oahu, reach out and give me a call!
Private School Tuition Costs on Oahu
These are the current private school tuition costs on Oahu in 2023. For Punahou, Iolani, and Mid-Pacific you're looking at an annual tuition of $30,480, $28,250, and $28,611 respectively. Expect the tuition to be in the $5,000 - $11,000 range for Kamehameha, $16,000 - $19,000 for Maryknoll, and $15,000 - $19,400 for the Hawaii Baptist Academy.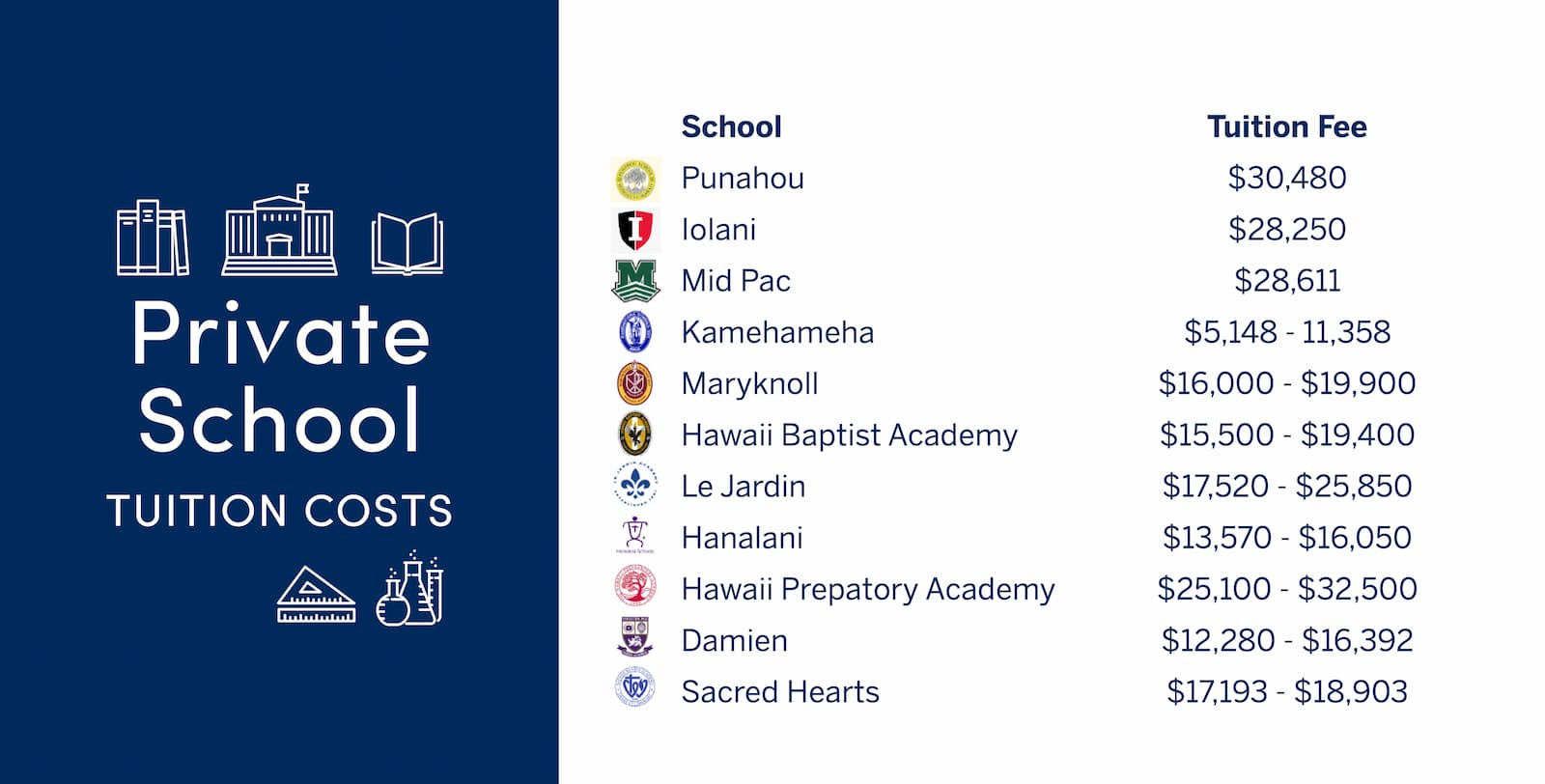 If you're looking to send your children to Le Jardin, expect the tuition to be in the $17,000-25,000 range, $13,000 - $16,000 for Hanalani, $25,000 - $32,500 for the Hawaii Preparatory Academy, $12,000 - $16,000 for Damien and $17,000 - $18,900 for Sacred Hearts.
Urban Core Private Schools - Honolulu
Honolulu has it all - a densely packed urban core, boutique shopping and dining opportunities, wide open suburbs, and some of the best private schools in the United States.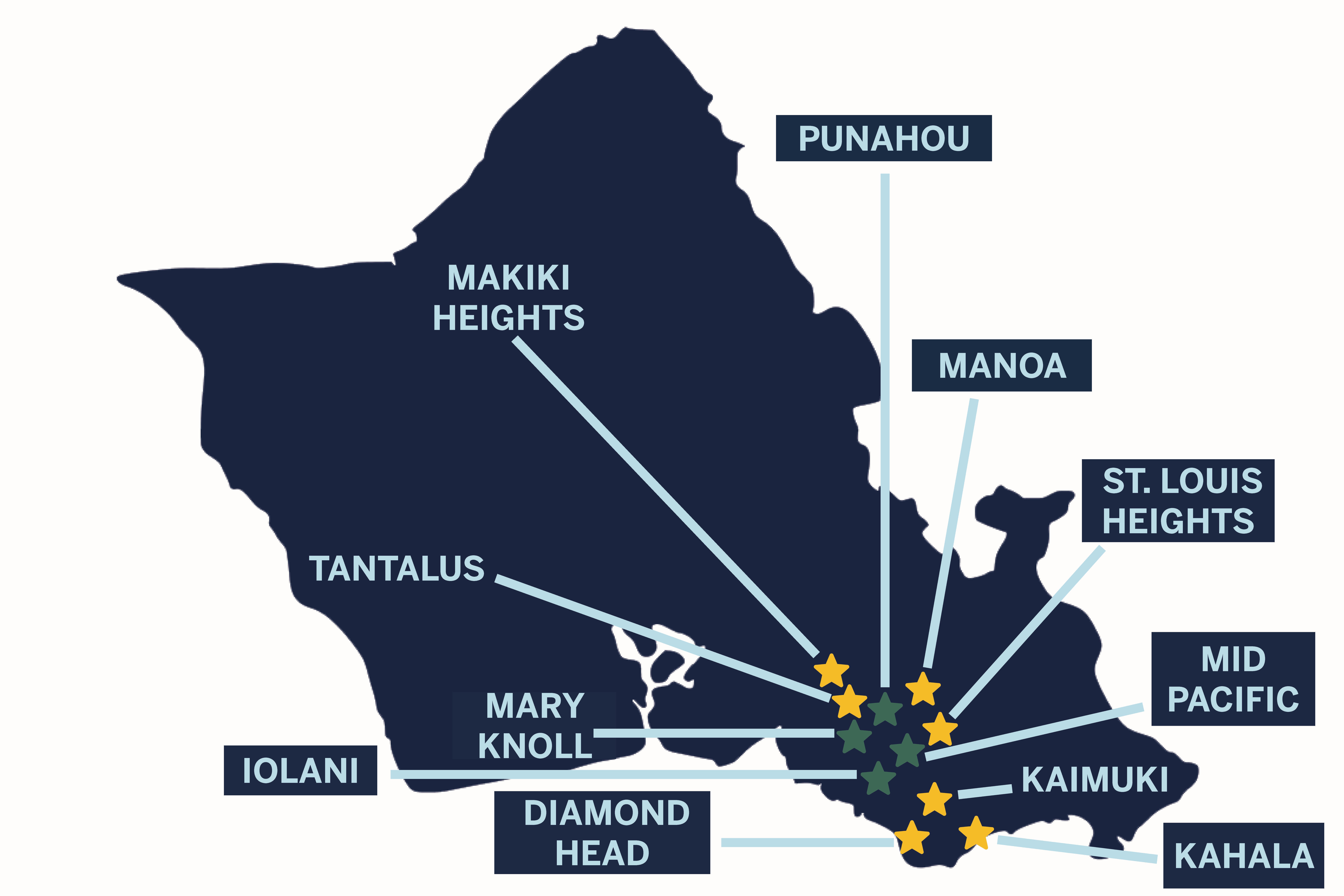 The neighborhoods here are no different. Whether you desire a private ridge community like Makiki Heights, or the luxuriousness of the greatly coveted Kahala - Honolulu has the cream of the crop to choose from. My personal favorite is Diamond Head, where I live. Since there are so many neighborhoods, I'll highlight a few around each school.
Punahou
Punahou School is one of the country's largest private schools, with an enrollment of over 3,700 students. Over Punahou's 180 years, it has produced many notable graduates. These ranks include former president Barack Obama, teen golf phenomenon Michelle Wie, Olympians, and more. By all rights, it seems to live up to its claims of encouraging students to unlock their highest potential.
The primary mission of Punahou is to prepare students for a changing world. Renovations over recent years have transformed significant amounts of the campus into cutting-edge learning environments and sustainable facilities with indoor and outdoor spaces. Education at Punahou isn't just about the core subjects - it prepares the students for careers of the future by teaching students to be adaptable and innovative.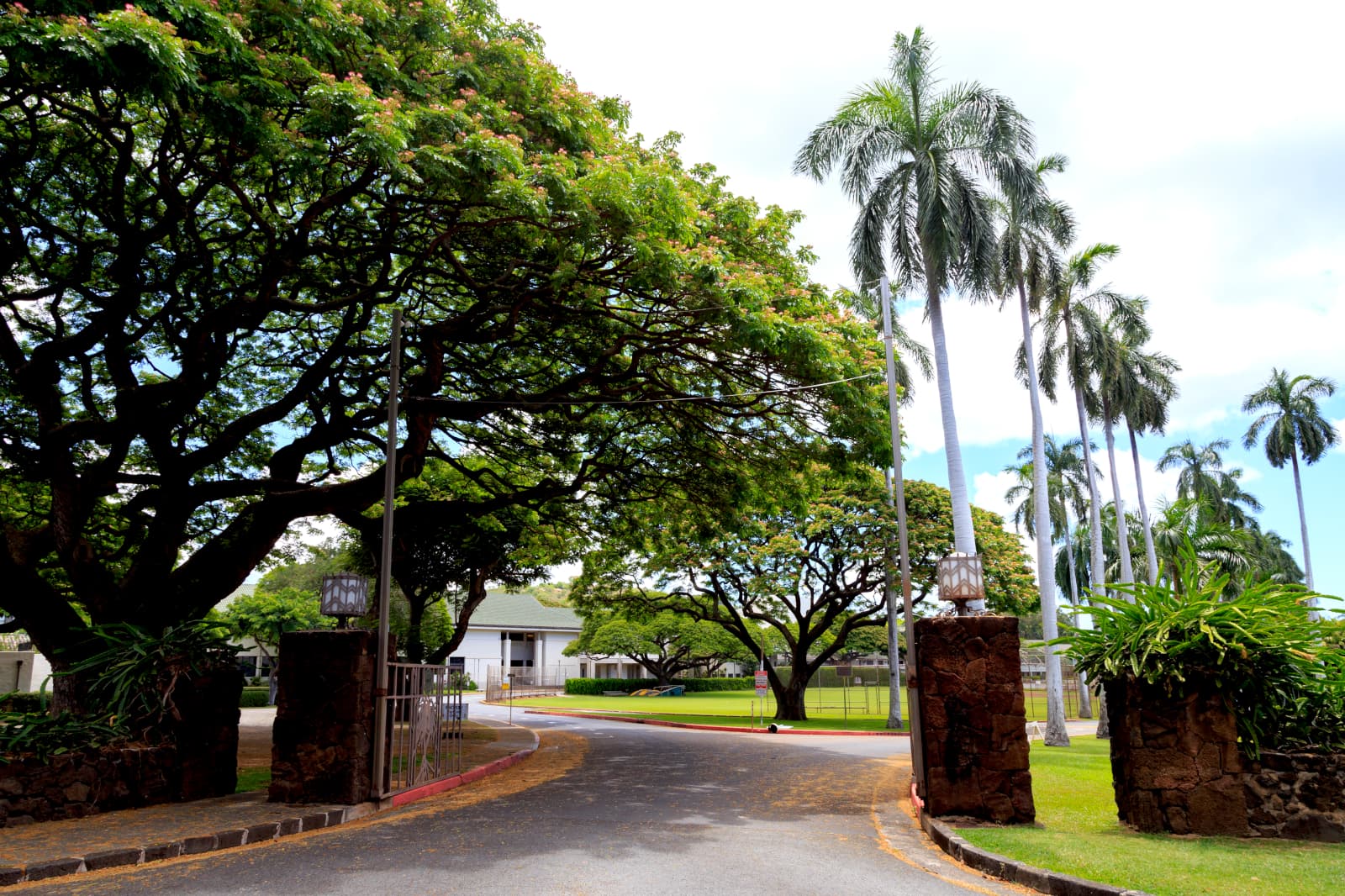 Punahou is located at 1601 Punahou Street in Manoa, Honolulu. The most convenient neighborhood for Punahou would be Manoa, a cool valley neighborhood with magnificent views set at the base of the Ko'olau mountain range. Just a little bit further away is Makiki Heights - just a little over a mile from the school and right around the corner from where Barack Obama grew up.
'Iolani
'Iolani recruits its teachers from across the world, bringing a wealth of experience united by their love of children and excellence in education. Although 'Iolani is related to the Episcopal Church, there are no restrictions on religious background or gender. The only requirements are scholastic ability, good character, and promise of leadership.
More than 2,000 students of diverse backgrounds attend K-12 classes at 'Iolani, working through a curriculum that prepares them for college. At the same time, the religious, athletic, extracurricular programs broaden their minds and allow them to enter the world with a sense of personal worth and responsibility to mankind.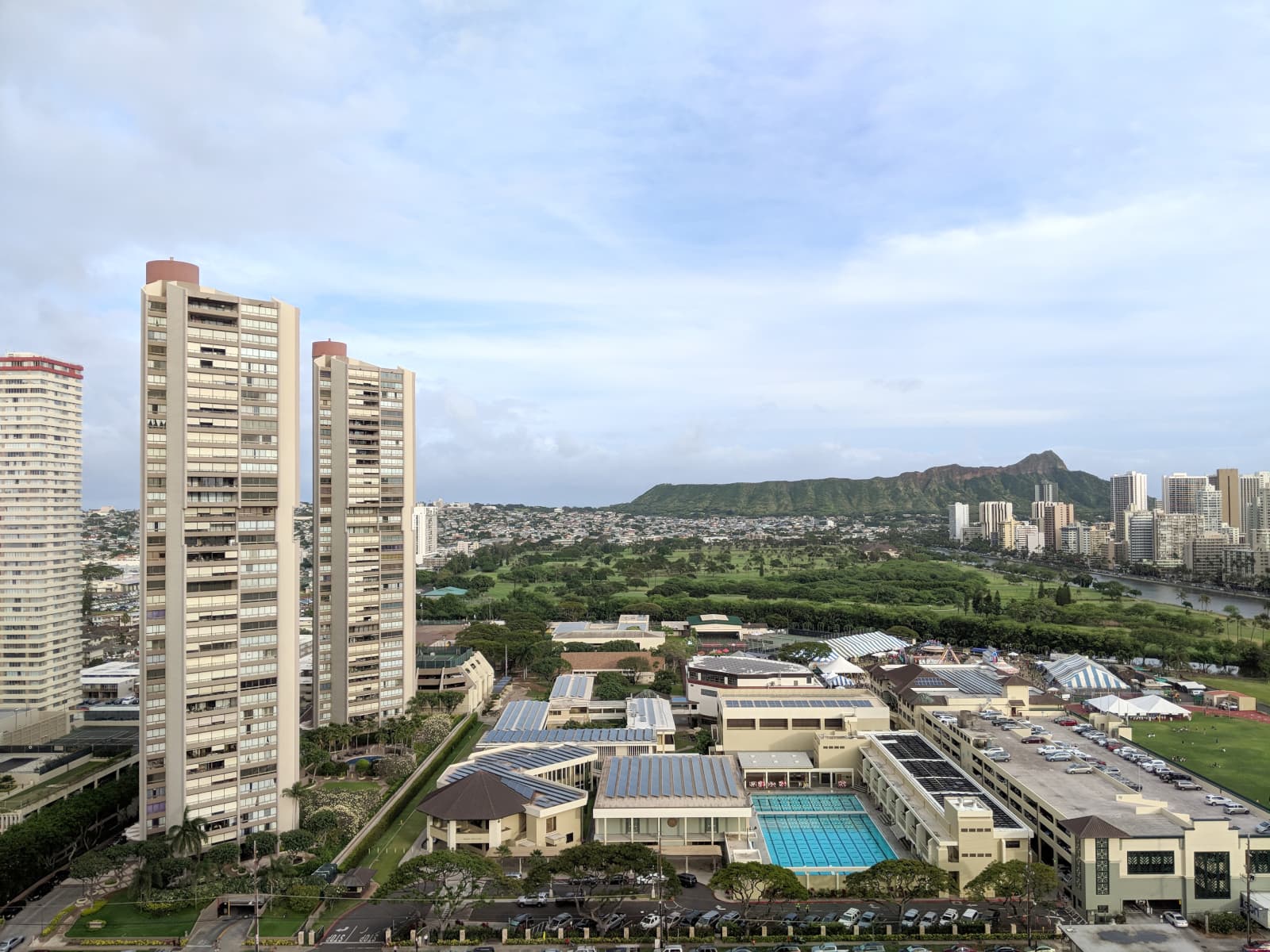 'Iolani is located at 563 Kamoku Street in Honolulu, just north of Waikiki. There are a few neighborhoods within a 10-20 minute drive of the school. Diamond Head is one of the closest and also one of my favorites, offering a lifestyle unlike any other. Kaimuki is an adjacent neighborhood filled with charming older homes. On the other side of Diamond Head is Kahala - the 'Beverly Hills of Hawaii.'
Just 10 minutes away are two more options - Manoa, a lush valley community, and St. Louis Heights, a ridge community.
Mid-Pacific Institute
Mid-Pacific Institute has a rich history of providing a challenging and developmentally-appropriate curricular continuum. Mid-Pacific Institute is one of Hawaii's most innovative schools, embracing evolving technological platforms with state-of-the-art equipment. At the same time, it cultivates artistic and individual expression in its students, pushing them to their limits in a safe environment.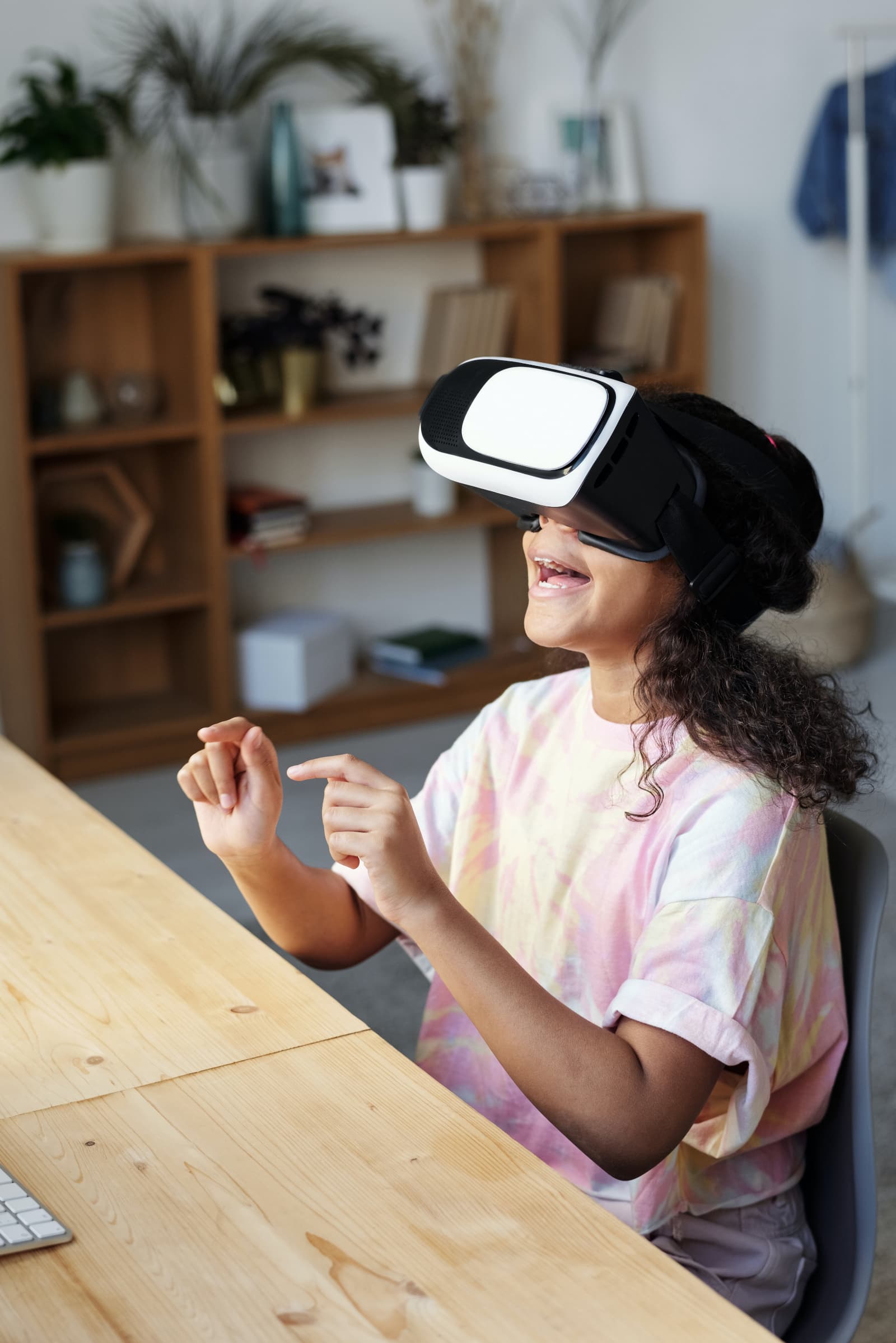 Mid-Pacific Institute is a private school for Pre-K-12 founded on Christian values in 1908. The school today is recognized for multiple innovative programs including:
International Baccalaureate Diploma Programme
Mid-Pacific Exploratory Program
Mid-Pacific School of the Arts
Immersive Technology Program
The campus consists of 43 acres at 2445 Ka'ala Street in Manoa Valley, Honolulu. The school is at the mouth of Manoa, a lush valley neighborhood, and surrounded by ridge neighborhoods to the east and west. To the east is St. Louis Heights, while to the northwest lies Tantalus and to the west lies Makiki Heights.
Beach Town Private Schools - Kailua
When talking about beach communities on Oahu that have good private schools nearby, one immediately leaps to mind: Kailua.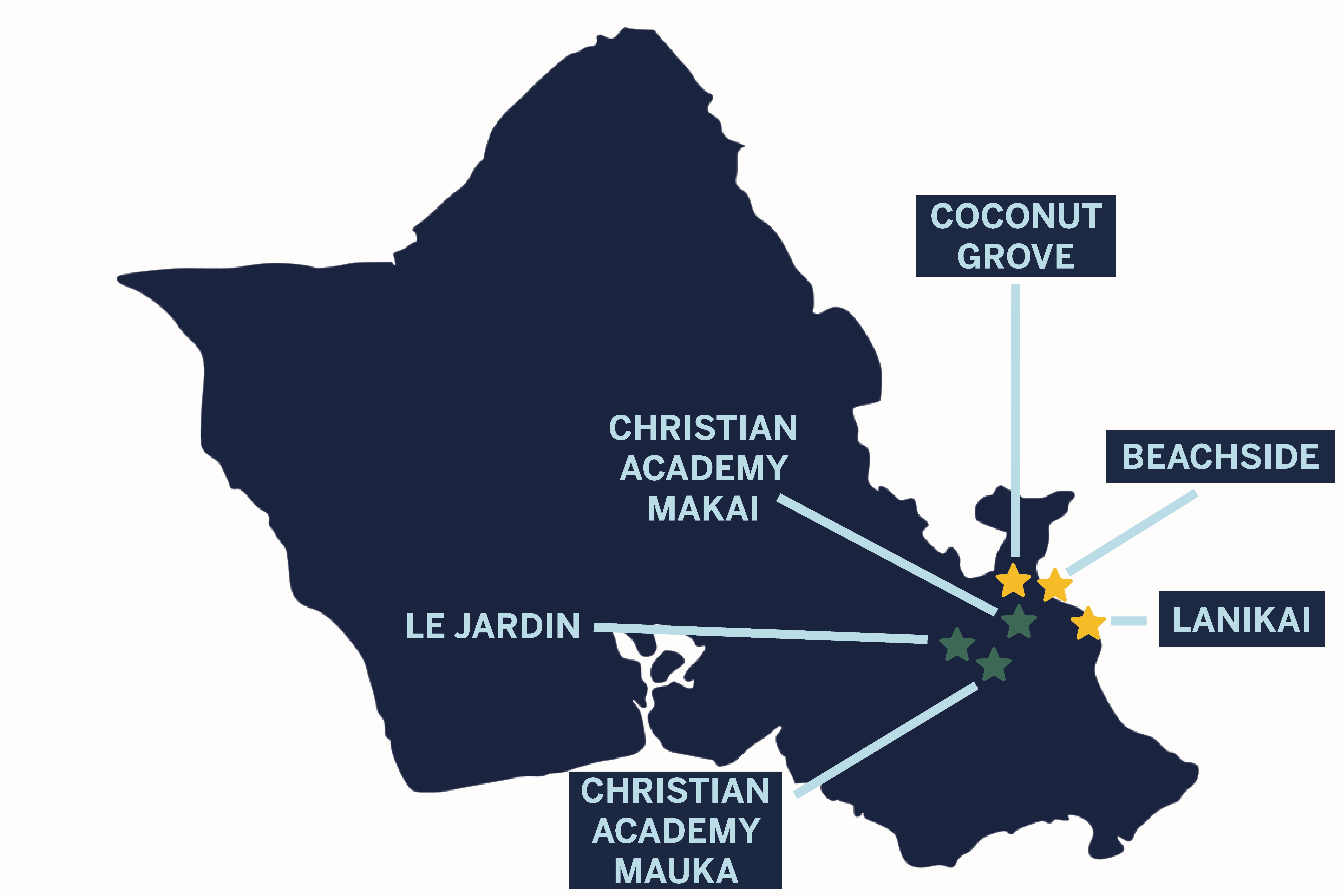 Kailua is a town of around 38,000 people, known around the world for its beautiful beaches. Kailua Beach Park is one of these, minutes away from Kailua and winner of Top Beach in 2019 by Dr. Beach. It tends to have smaller waves and steady winds, making it ideal for swimming, kayaking, and other water sports. If you're feeling adventurous, there are two small offshore islands that can be reached with effort.
Within Kailua there are two neighborhoods that really distinguish themselves. The first, Lanikai Kailua, is a small neighborhood of about 500 homes that has a focus on exclusivity through simplicity - unmistakably high-end, but with less of a focus on extravagance. The second neighborhood, Beachside Kailua, is one of the most desirable areas within the entire town.
Related: Your Guide To Moving To Hawaii With Pets
Le Jardin Academy
Le Jardin Academy (LJA) was originally founded in 1961 as a single-room preschool.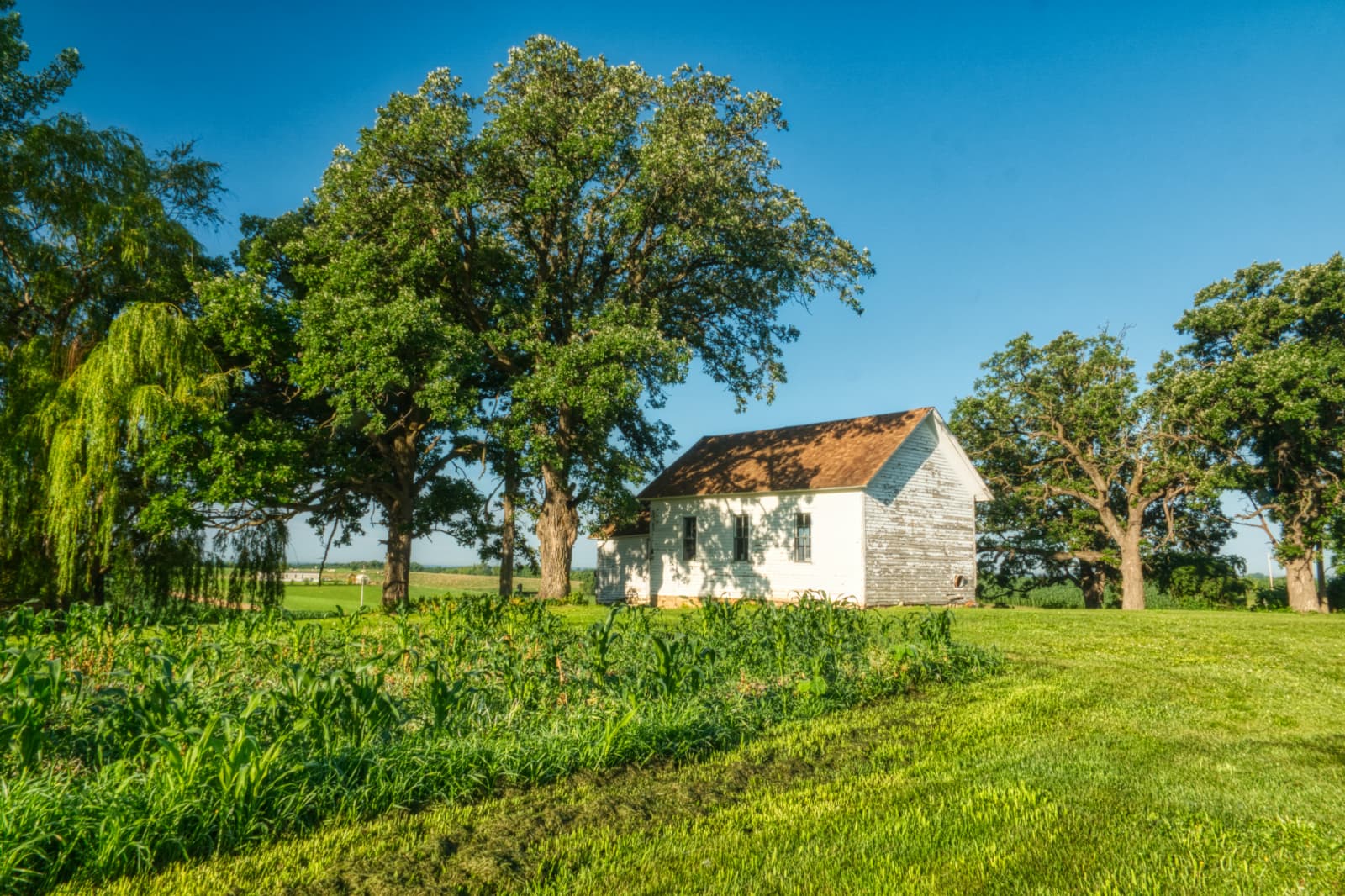 Since then, they have grown into a leader in world-class education. LJA is known as the premier PK-12 private school for the windward community, and strive to develop knowledge, responsibility, and care in every student that passes through their doors.
LJA has an average 1:8 faculty to student ratio, ensuring every student has the aid needed to reach their full potential. Students are provided with an education that consists of three programmes united under the International Baccalaureate philosophies and approaches for an internationally recognized education. Recent graduates of LJA show this, with 93% attending a 4-year college.
Le Jardin is located at 917 Kalaniana'ole Hwy, about 10-15 minutes from Kailua and about 30 minutes from the Diamond Head and Kahala neighborhoods in Honolulu.
Trinity Christian School
Trinity Christian School is a fully accredited, classical Christian PK-12 private grade school that has two campuses in Kailua, Hawaii. Trinity is the only classical Christian school in Hawaii, utilizing a method of education that matches how children learn naturally. They provide their students with the opportunity to learn a deeper vocation - beyond just getting a next job.
Trinity categorizes preschool and secondary education into three stages that are applied throughout the education.
During preschool through 6th grade, students at Trinity are tasked with the Grammar stage - building a foundation of knowledge. For 7th and 8th grade, the Logic Stage builds on that foundation and teaches students logical thinking, critical reading, and critical writing. From 9th to 12th grade, the Rhetoric stage teaches them how to combine their knowledge and logical thinking to form their own arguments.
Trinity has two campuses, located at 875 Auloa Road & 1110 Kailua Road, about 10-15 minutes each way from Kailua and about 30 minutes from the Diamond Head and Kahala neighborhoods in Honolulu.
West Oahu Private Schools - Kapolei
Kapolei is a planned community in Oahu that takes its name from a volcanic cone.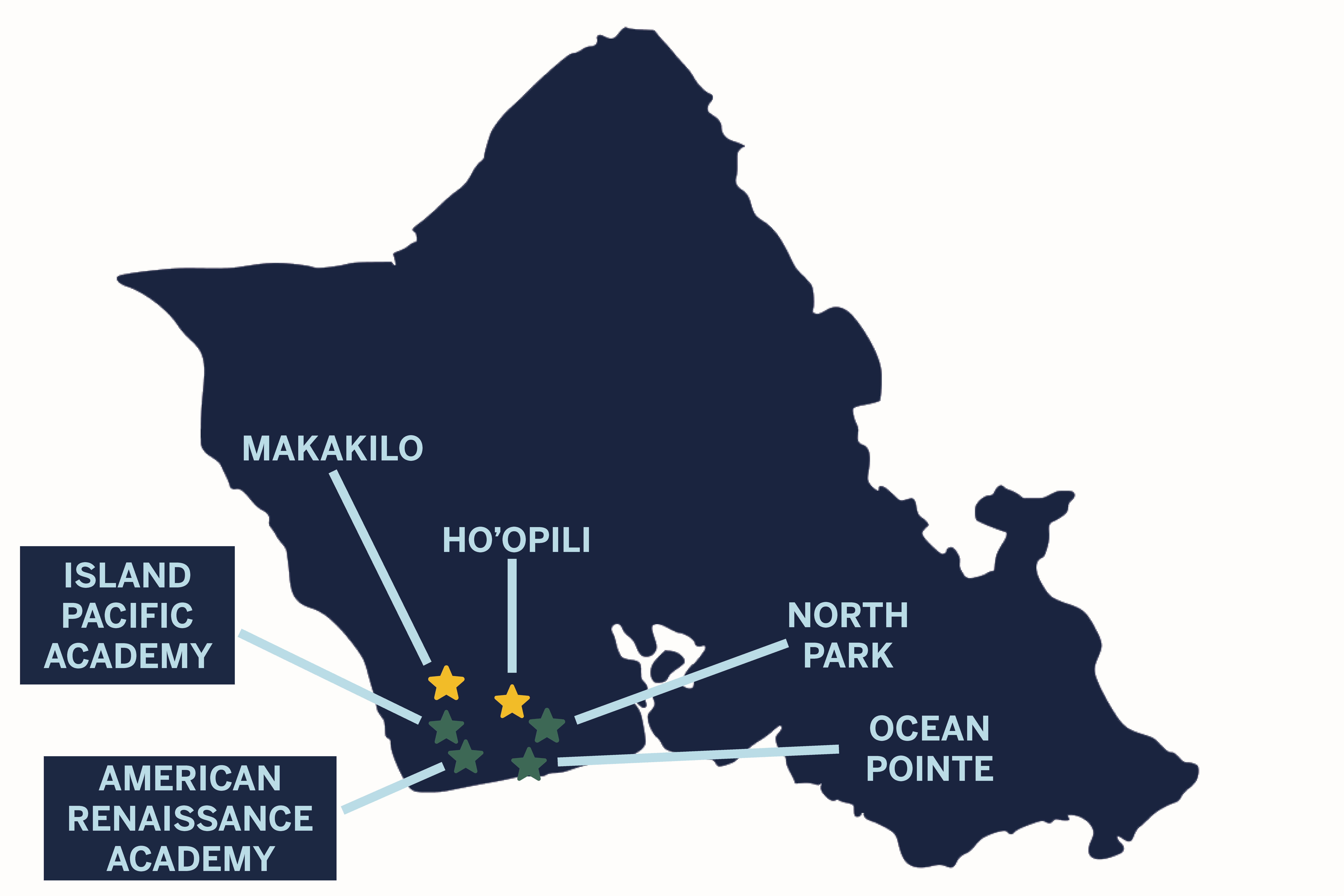 The city is quickly becoming the second urban center of Oahu and is especially popular with military members stationed at the nearby bases. There is currently a project underway to construct a fixed-guideway elevated rail system to connect Kapolei to Downtown Honolulu.
Island Pacific Academy
Island Pacific Academy (IPA) is one of the premier independent K-12 schools in the nation. Students at IPA are encouraged to learn through experimentation, producing imaginative and self-reliant individuals. Critical thinking is nurtured in students, aiding them in the development of fundamental skills necessary to real-world situations.
Island Pacific Academy is located at 909 Haumea Street in Kapolei, Oahu. NorthPark by Gentry and Ho'opili are two new neighborhoods currently under construction nearby.
American Renaissance Academy
American Renaissance Academy is a fully accredited private school founded in 2007 in Kapolei. Their aim is to enable their students to achieve their highest potential and lead the next generation of an evolving society. Students are provided with a comprehensive college-prep education that challenges students while instilling a passion for artistic growth and life-long learning.
American Renaissance Academy is located at 91-1011 Lexington Street in Kapolei, Oahu. NorthPark by Gentry and Ho'opili are two new neighborhoods currently under construction nearby.
Which Private School Is Best?
Which private school is best for your needs is ultimately down to your specific situation. To better identify which school would work best for you and your children, ask yourself - what do you want out of your future community? What kind of daily commute are you comfortable with? A beautiful neighborhood that matches your life is great, but a long commute can affect how you feel about it.
A 30 minute drive each way might sound short at first - but it ends up being two hours in traffic every single day. That's why it's important to account for all the factors before deciding where to move on Oahu. If you're ready to make that next step, contact me, Scott Startsman at 808-291-5441, or email me at [email protected]! I'll help you find a community that fits the needs of your entire family.