Our Kaka'ako Development Plans
Posted by Scott Startsman on Friday, July 28, 2023 at 1:34 PM
By Scott Startsman / July 28, 2023
Comment
Nestled within the heart of the Kaka'ako area of Honolulu lies a burgeoning urban neighborhood that is redefining the approach to sustainable and vibrant city life: Our Kaka'ako.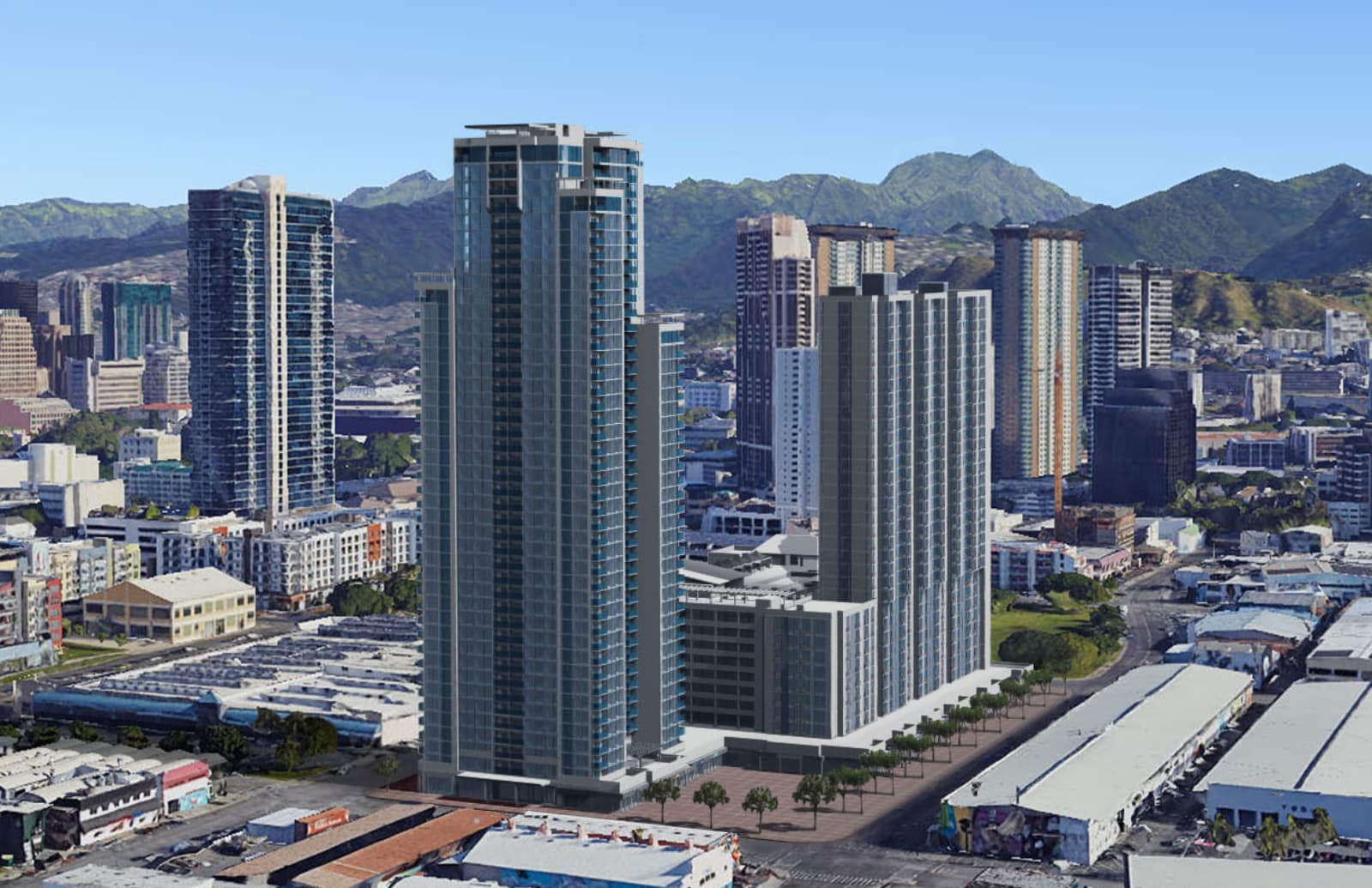 Our Kaka'ako is not just about creating a group of buildings, but cultivating a sustainable community. The Our Kaka'ako Master plan is a pioneering endeavor to transform 29 acres across nine blocks, started in 2009. It seeks to strike a delicate balance between modern city life and the preservation of local heritage, with towers taking on names from the native Hawaiian language.
Our Kaka'ako is being designed and developed by Kamehameha Schools and by guest developers under their invitation. This organization was founded by the will of the last direct descendant of King Kamehameha, Princess Bernice Pauahi Bishop, who desired to create educational opportunities in perpetuity to improve the capability and well-being of those of Hawaiian ancestry.
The commercial assets under Kamehameha Schools help to fund statewide educational programs that serve more than 47,000 learners. Our Kakaako is being developed as a part of that, comprising nine city blocks in the heart of Kakaako.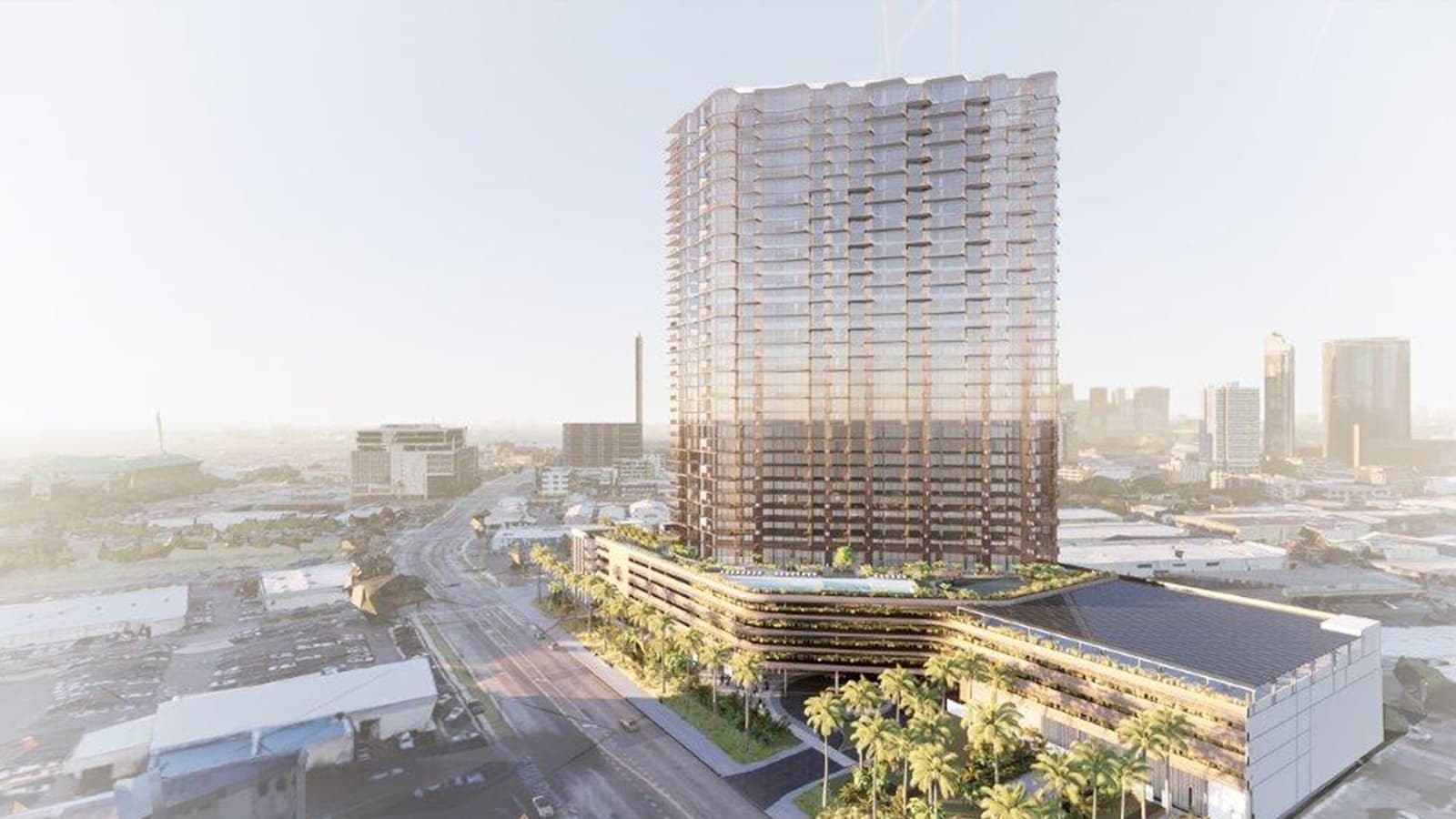 All development plans are subject to change at any time by the developers, who we are not associated with. Images are taken from early development plans submitted for permitting and may not accurately represent the completed project.
Where does Our Kaka'ako fit into Honolulu as a whole?
Our Kaka'ako is a vibrant and lively pedestrian-friendly community within the urban core of Honolulu on south Oahu. To the west lies Downtown Honolulu, while to the east lies Ward Village - another pedestrian friendly master-planned community. Beyond Ward Village and slightly to the south lies Ala Moana and the golden sands of Ala Moana Beach.
Construction In Our Kaka'ako
Construction in the Our Kaka'ako neighborhood covers nine total blocks over two phases of construction, Increment I & Increment II. The overall development plan of Our Kaka'ako calls for the development of a mixed-use, mixed-income neighborhood that has a range of housing options for both owners and renters. Similarly, it aims to feature buildings that range from low-rise residences to high-rise towers.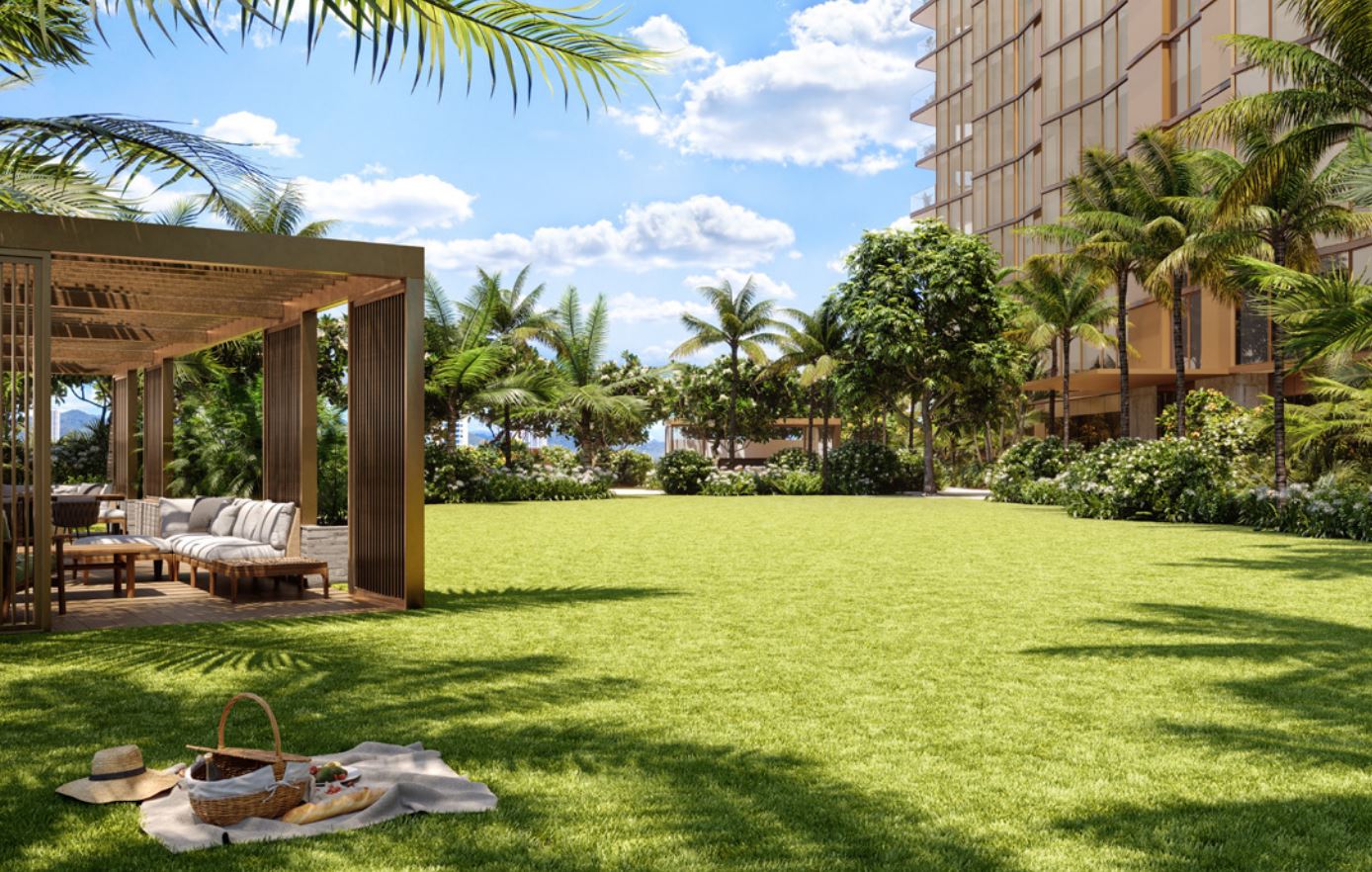 Outside of housing, the development of the Our Kaka'ako Master Plan includes open green spaces, pedestrian walking paths, and unique shopping and dining opportunities.
Construction Phases
Increment I is a now complete phase that represents four total blocks (A, B, E, and F). The completion of this phase brought a total of 1,336 total residential units, with 456 of those being affordable/workplace housing units. Additionally, this phase brought a total of 184,000+ Sq. Ft. Commercial space and 50,000+ Sq Ft open space.
Condo projects completed during Increment I include The Collection, 400 Keawe, and Keauhou Place.
Increment II is an ongoing phase in the Our Kaka'ako Master Plan that is transforming five additional blocks over the coming years. Three of these blocks are currently reserved for projects that are undergoing planning with guest developers, with no announcements yet about the remaining two blocks. Increment II is anticipated to break ground in late 2023, starting with Kahuina - a mixed-use project being developed by Stanford Carr.
Our Kaka'ako Increment I - Condos Completed
Our Kaka'ako Increment II - Condos In Development
Our Kaka'ako Today
Our Kaka'ako of today has offerings to suit every taste and shopping inclination, with many of these can be found in SALT, an 85,000+ Sq Ft. shopping center that spans an entire city block. It holds over 200 specially curated retail, restaurant, and mixed-use spaces and won the 2018 Shopping Center Of The Year Award.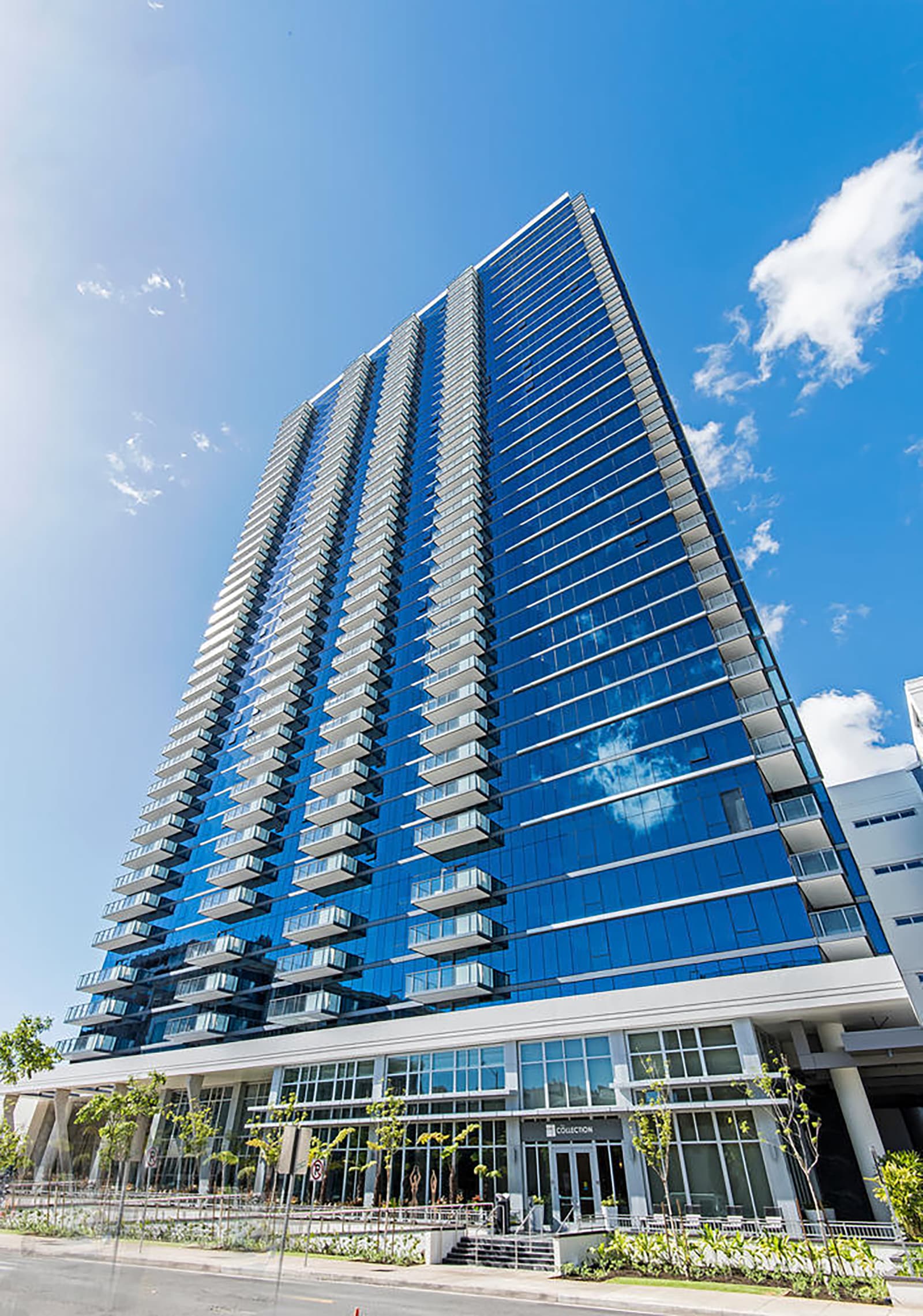 While SALT may hold the largest collection of such, Our Kaka'ako has plenty of selections to choose from. The H-Mart Kaka'ako is one such famous store, loaded with specialty goods imported from South Korea, Japan, and more.
Our Kaka'ako Tomorrow
The visionary Our Kaka'ako Master Plan aims to transform Kaka'ako into a dynamic, mixed-use neighborhood spread over nine city blocks, each with its unique identity. The plan is built upon three pillars: enhancing community life, fostering arts and culture, and promoting sustainability and resilience.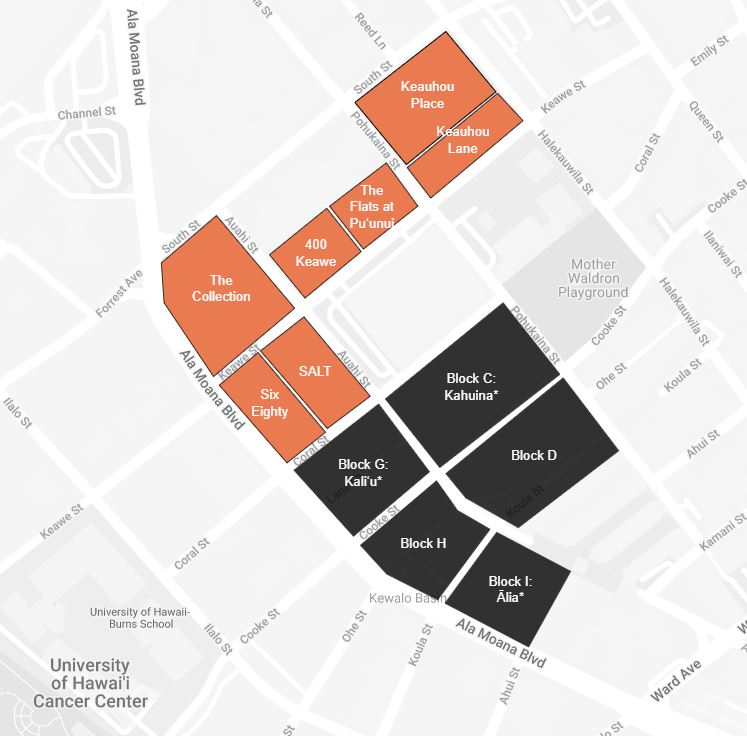 Kamehameha Schools are currently engaging with their development partners in the planning stages for the remaining five blocks (C, D, G, H, I) under the Our Kaka'ako Master Plan. Kahuna (Block C) and Ālia (Block I) are the next two condo towers to be developed, both expected to break ground by late 2023 and finish by summer 2026. Kali'u (Block G) is still pending a solid timeline.
All development plans are subject to change at any time by the developers, who we are not associated with. Images are taken from early development plans submitted for permitting and may not accurately represent the completed project.
Inquire About Our Kaka'ako
Looking to buy a brand new property in Hawaii? We specialize in helping buyers connect with new development projects on Oahu while providing the complete concierge service. Reach out at 1-(808) 435-7754 or fill out the form below to request a consultation and we'll get back to you as quick as we can. We have decades of experience assisting with buying in new development projects - and we love putting that experience to work helping people get settled in their perfect Oahu home.