Oahu Real Estate Market Report For September 2022
Posted by Scott Startsman on Monday, October 10, 2022 at 6:42 AM
By Scott Startsman / October 10, 2022
Comment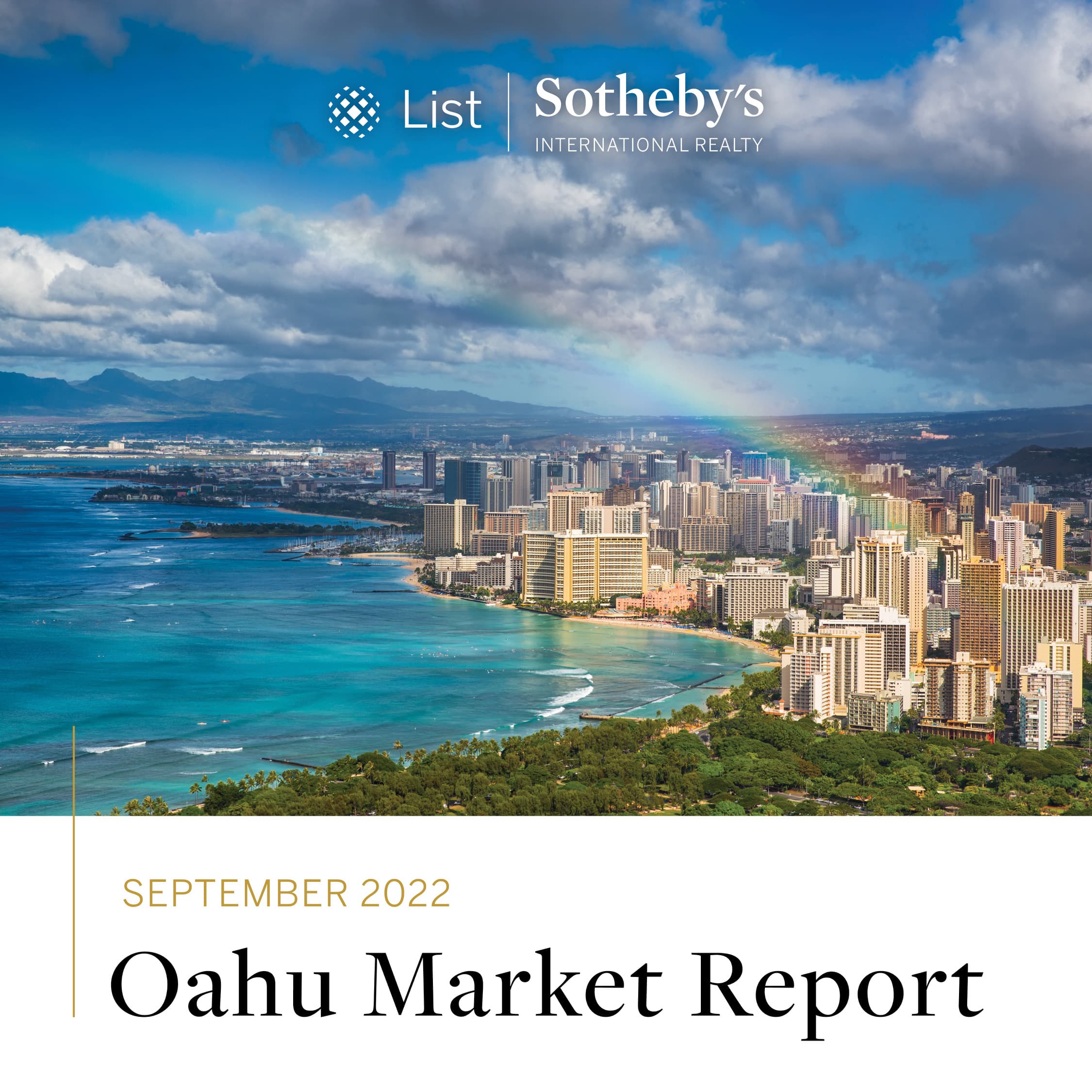 The talk around market stats is centered around The Federal Reserve and their announcement about getting aggressive with tackling inflation. As a result mortgage interest rates have hit 7%, the highest rates have been in 20 years.
As rates head higher it will reduce the number of buyers in the market, as fewer people can afford to buy a home. The higher interest rates go, the fewer homeowners will want to sell their current home with a low 2.5% interest rate and buy a new home with a 7%+ interest rate, as it would increase the monthly cost of their housing. Going forward, I expect sales to decline as fewer home sellers and fewer home buyers will be in the market.
Oahu Single Family Home Market Stats
On the single family home side of things, sales are off 34% from the same month last year as we see continued deceleration in the market. Despite this, median prices are up year to date by 13.9%, Year over year, the median price for September was only up 4.8%, showing the deceleration. However, because of the restricted inventory we are continuing to see sales happen fairly quick at 18 Days on market. That number is off of our historic low days on market from last year, however.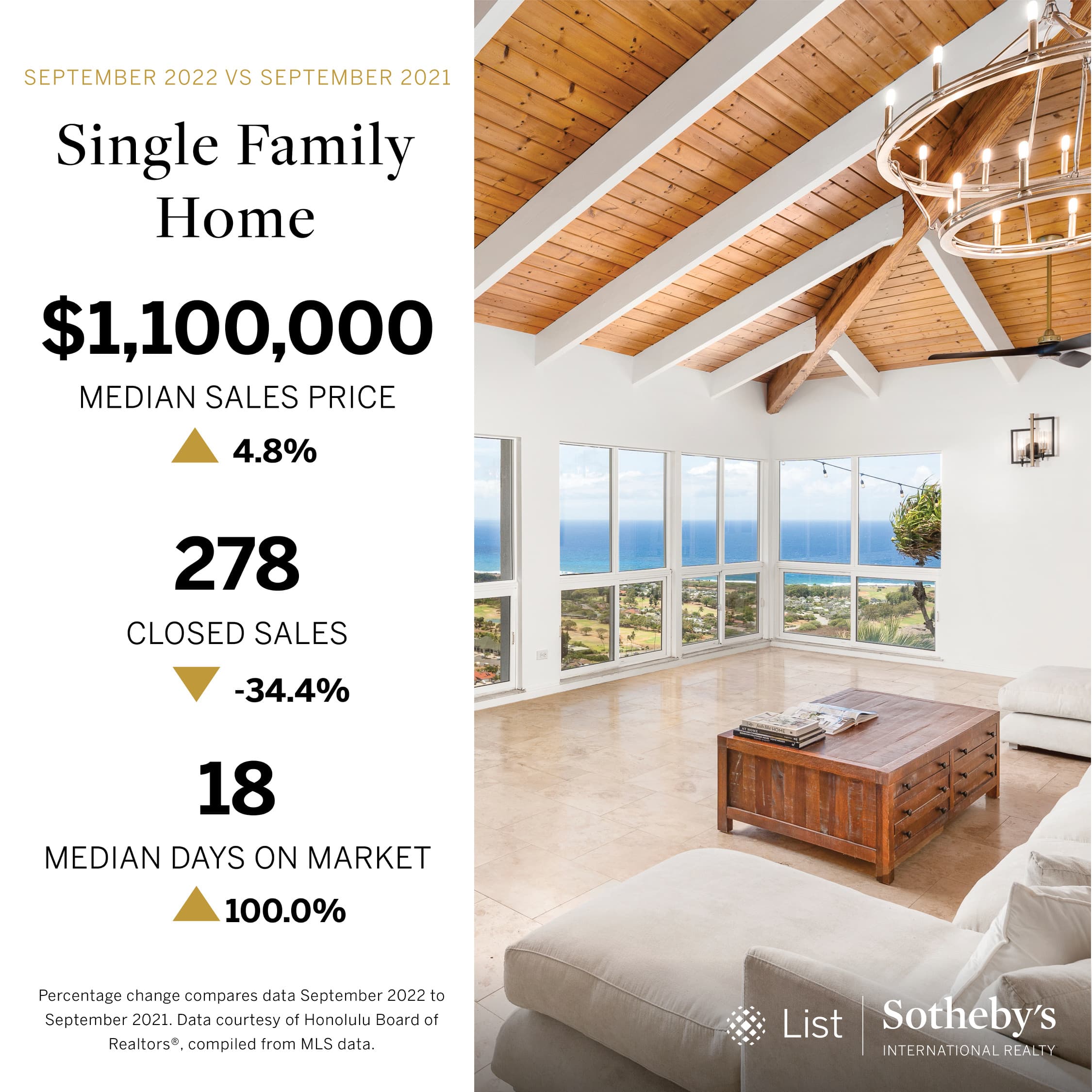 New listing volume is down for single family homes by 26%, with pending sales down by 43.7% - an indicator of what's to come in the next two months market stats. Active inventory has increased only slightly. I do expect inventory to increase, but at the pace we are on, it will be a year or two before we get back to "normal market" or "balanced market" inventory levels.
Oahu Condo Market Stats
Condos are in a much similar position to single family homes on Oahu, but with a less drastic deceleration due to a smaller run-up in 2021. Condo sales are down by 19.3% year-over-year for September 2022, and down 2.4% compared to August 2022. The median sales price for condos has risen slightly to $502,500, an increase of 5.1% in September 2022 compared to a year ago.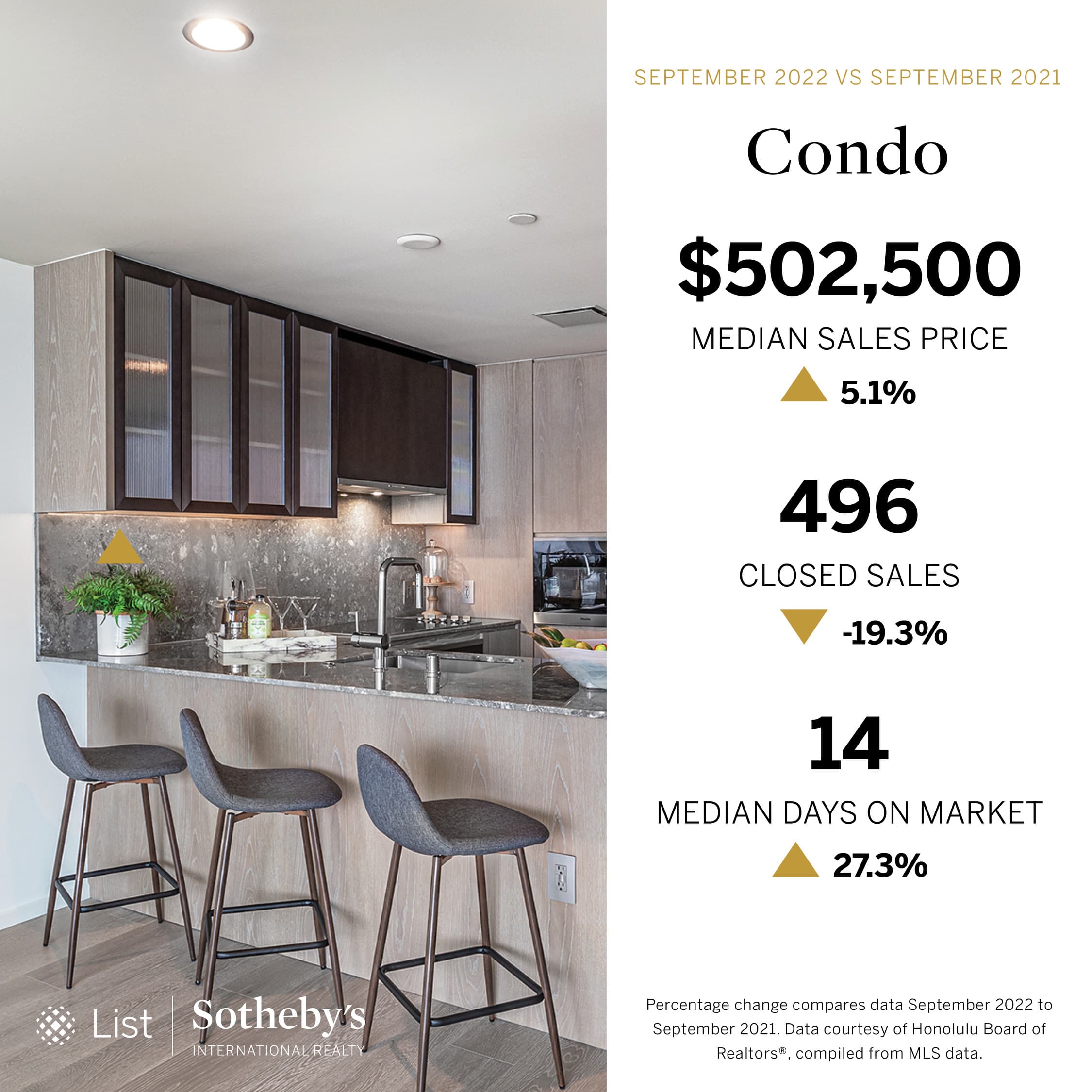 New listing volume is on the decline for condos, down 18.6% compared to a year ago. The median days on the market is slightly up year over year, with condos staying on the market a median of 14 days in September 2022 compared to 11 days in September 2021.
Want to see the full market report? Click here to download the .pdf!