Oahu Real Estate Market Report for March 2023
Posted by Scott Startsman on Friday, April 7, 2023 at 9:57:08 AM
By Scott Startsman / April 7, 2023
Comment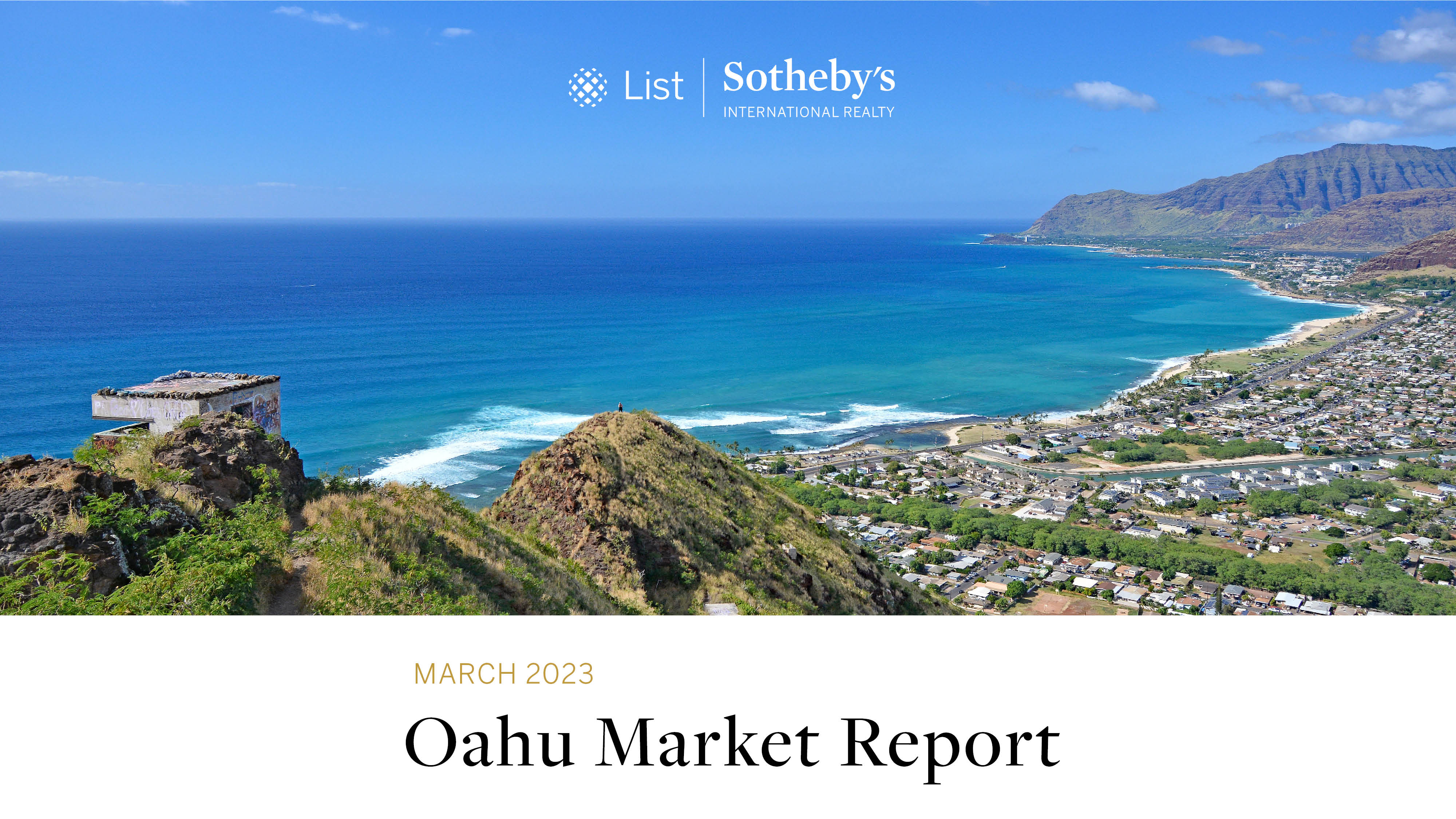 The data from the O'ahu housing market is coming in and confirming what I've felt over the last two months - increased marketplace activity. While yearly sales continued to fall short of 2022 numbers - down 26.5% for single-family homes and 33.9% for condos year-over-year - March 2023 still saw sales of 236 single-family homes and 444 condos.
We are continuing to experience restricted supply, resulting in buyers being more limited in their options. What we're seeing as a result are homes that are fixed up and are, as I call them, shiny objects you see online. These homes are unique, move-in ready, upgraded, and in excellent condition - and usually receiving multiple offers. Meanwhile, homes that need work or renovating are sitting on the market, giving buyers the ability to negotiate.
Want to see the full market report? Click here to download the .pdf!
The Fed first raised interest rates in March of 2022, so data through April will reflect an overly hot market from a period of historically low interest rates. The impact of those higher interest rates is continuing to shift buyers' purchasing power downward. I expect the market to be flat to low (single-digit) pull back in prices for the rest of the year if the economic news continues on the same path. The market will continue to be reactive and reflective of what interest rates do.
Oahu Single-Family Home Market Stats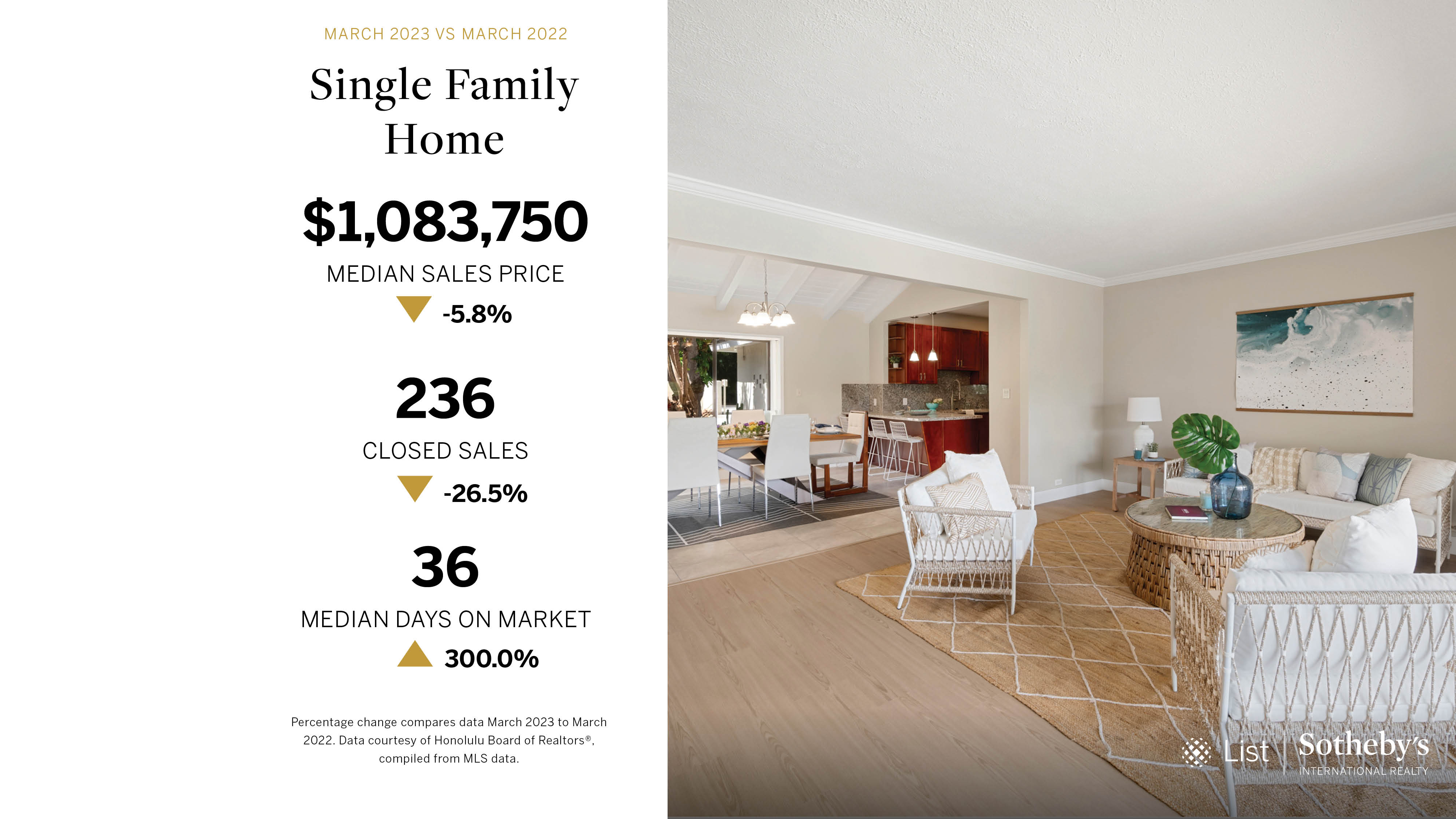 There's been a boost in activity from February to March 2023, with sales rising approximately 36% month-over-month in the single-family home market with 236 closed sales. The median sales price for closed sales of Single-Family Homes in March 2023 was $1,083,750.
The single-family home market is still seeing a significantly restricted inventory that is getting worse. As of December of last year, there were 595 homes available for sale. As of last month, it is now at 545 homes. By comparison, there were over 1600 homes available for sale on the market in 2019, before the pandemic. We are losing available inventory as potential home sellers opt to stay in place and not bring their home on the market.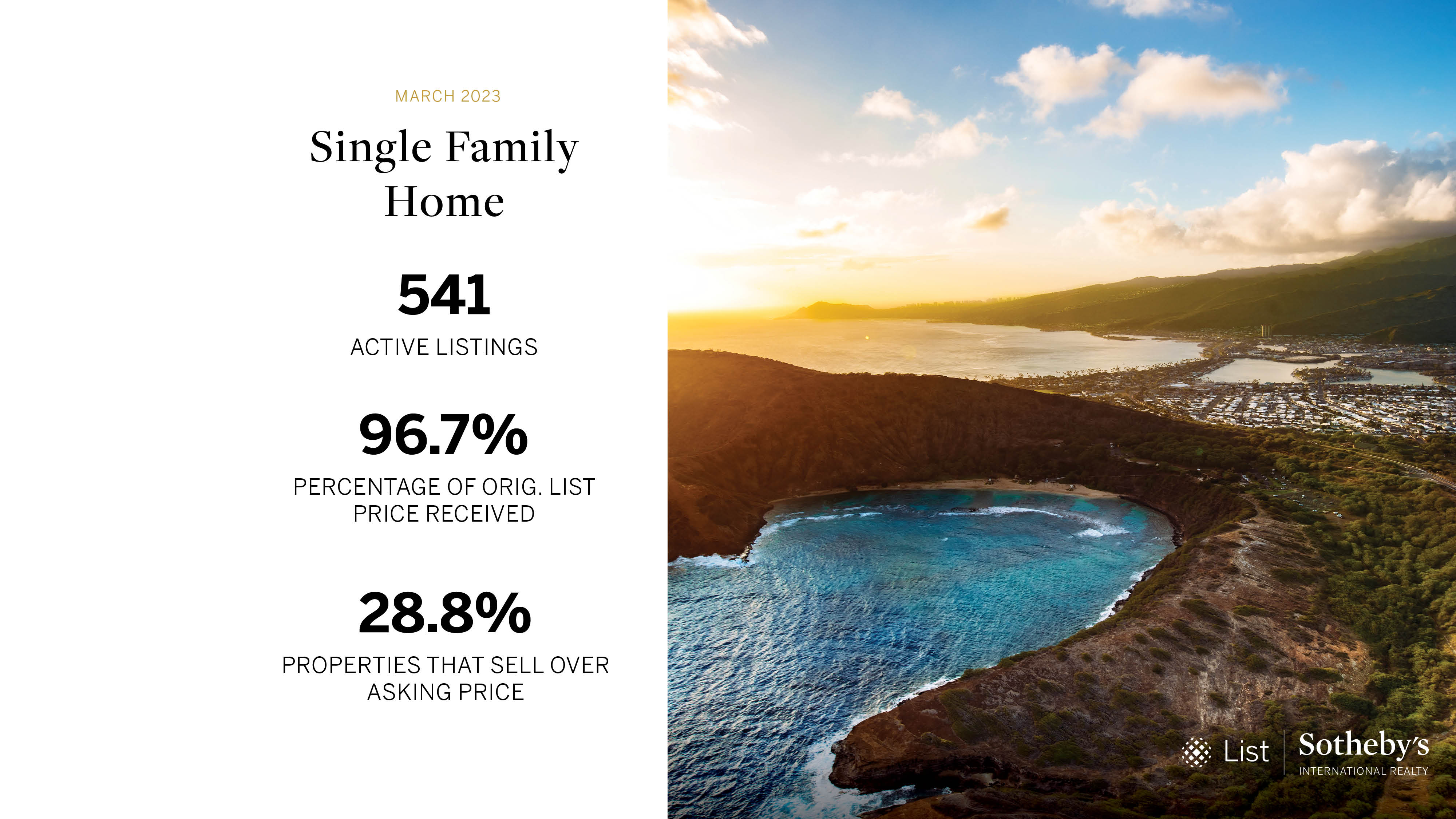 This is resulting in a split market, with more buyers entering the market to purchase a home compared to Q4 of 2022. The common thread among these buyers is that they feel interest rates are leveling out and inflation appears to be decelerating. At the same time, fewer sellers are entering the market as they are unwilling to give up a 2.5% interest rate on their mortgage in exchange for a new home with a rate of 6-7%.
35% of homes sold last month went for their full listed sale price or more. There's plenty of competition among those houses, giving opportunities to sellers that are willing to invest upfront in repairs and renovation.
Oahu Condo Market Stats
More buyers are shifting from single-family home options to more affordable condo options, as we see a median price increase of 4% for condo sales in March 2023. The median sales price for condos in March 2023 was $536,000.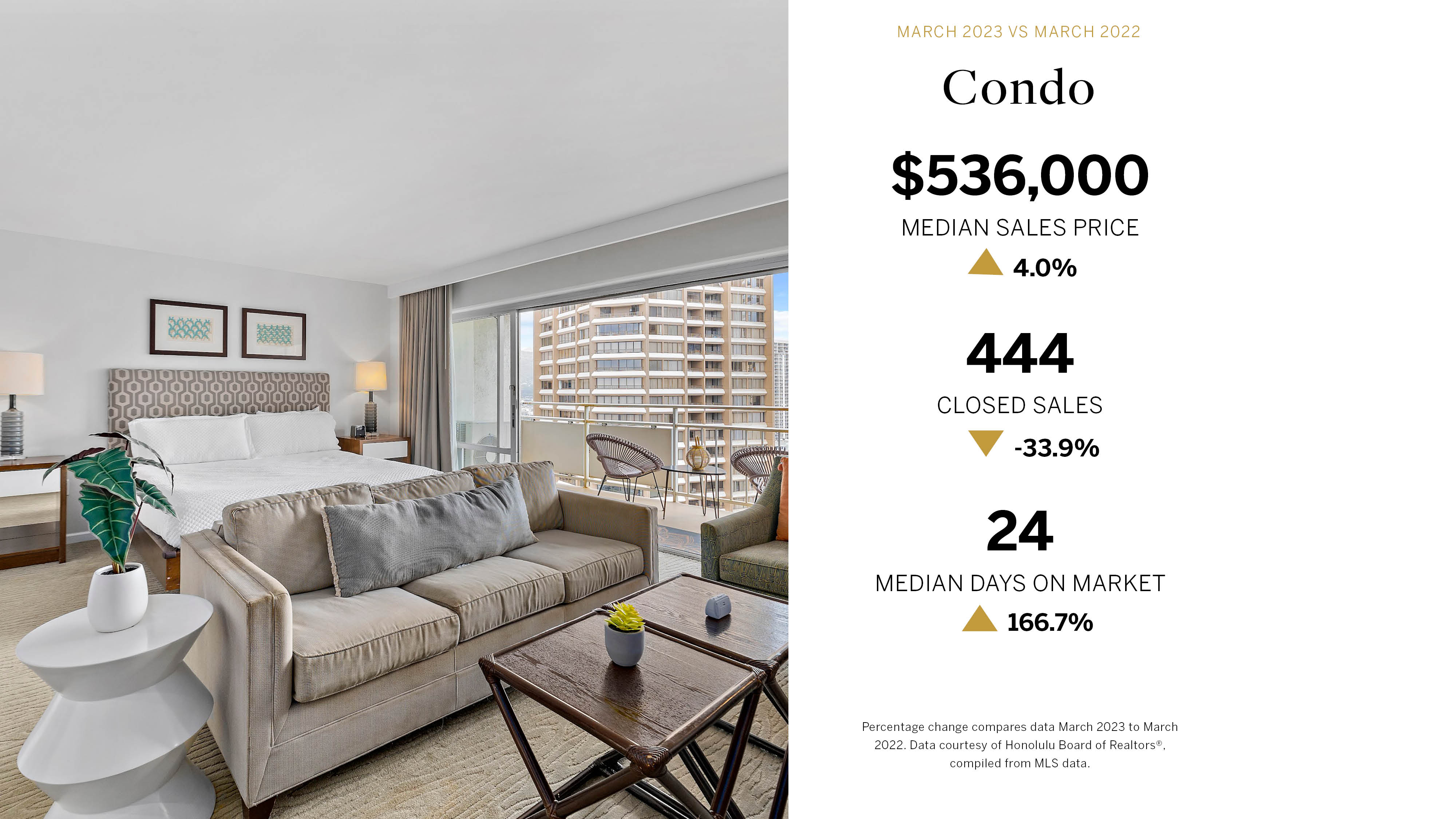 There's been a boost in activity from February to March 2023, with sales rising approximately 36% month-over-month in the condo market with 444 closed condo sales.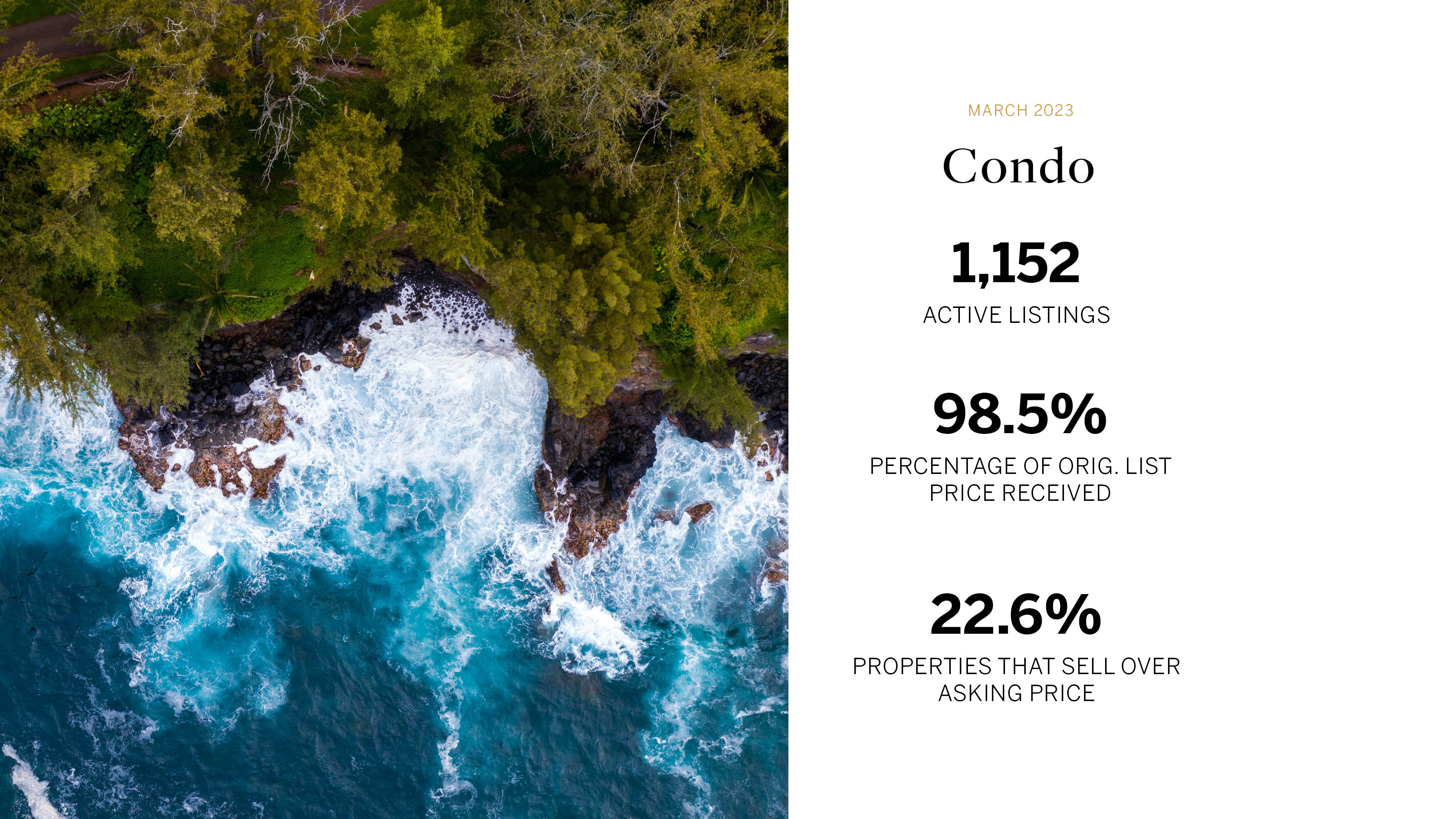 Of those closed condo sales, 41% or more were sold at full list price or more.
Inquire Now
It's important for buyers to bear in mind that each neighborhood, price point, and individual home is basically its own submarket that must be analyzed as such. The Oahu real estate market as a whole is not moving together. If you're ready to discuss your Oahu Real Estate Needs, reach out through the form below.