Oahu Real Estate Market Report for July 2023
Posted by Scott Startsman on Tuesday, August 8, 2023 at 2:24:28 AM
By Scott Startsman / August 8, 2023
Comment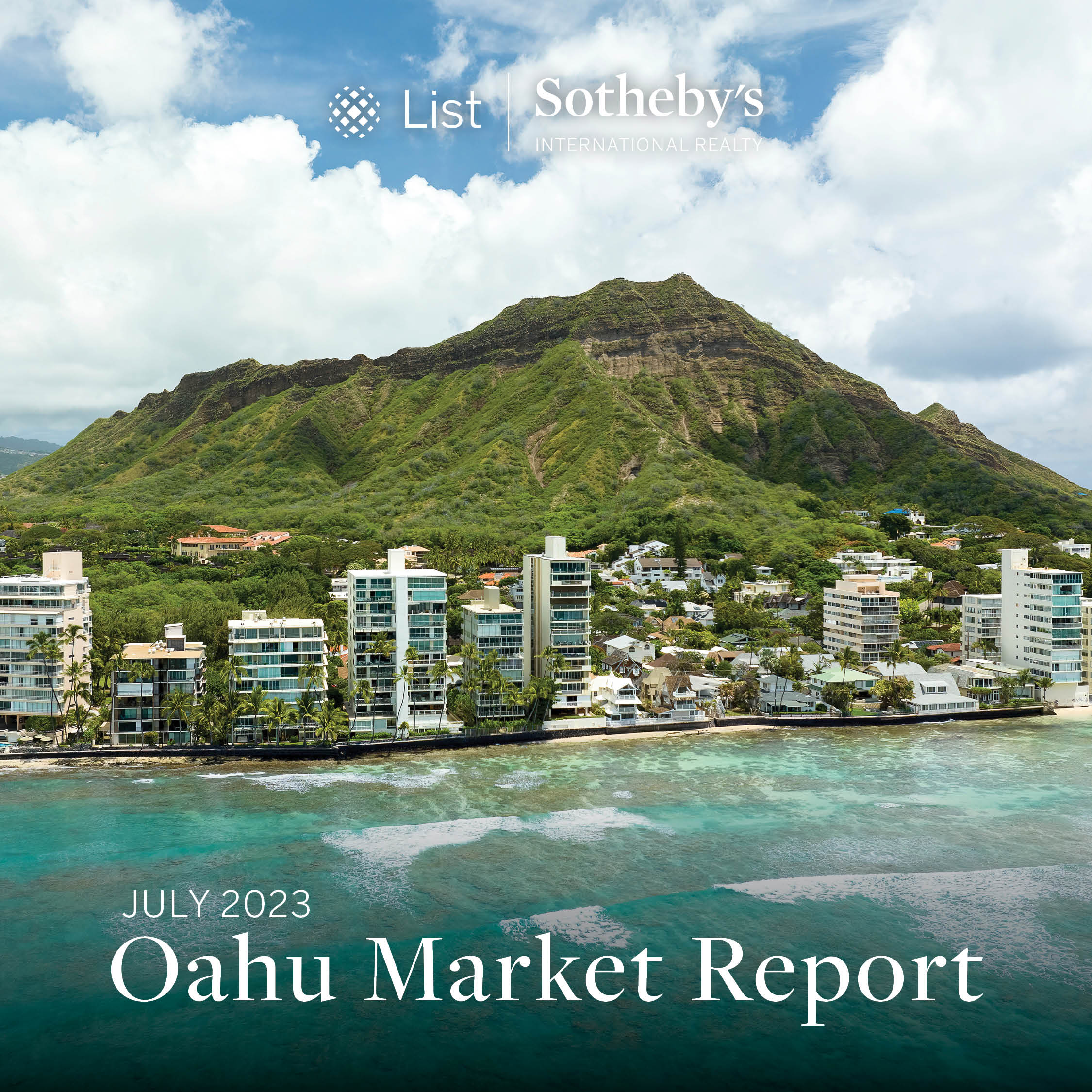 The news regarding the Oahu Market Stats from the past month indicate that this summer's market is activity is up on buyer activity over the last few months, but essentially flat in price when compared to last summer's market.
Additionally, the current active inventory levels remain relatively unchanged. The continuing lack of inventory poses a problem - as new inventory enters the market, it is being absorbed at an equal rate by new buyers. Currently I believe we are at the market's bottom and trending sideways. Exercise caution if interest rates fall, as they are expected to do. We don't yet have a solution for the lack of inventory.
Want to see the full market report? Click here to download the .pdf!
Oahu Single-Family Homes | Market Stats
The median sales price for Single-Family Homes decreased by 1.6% year-over-year, down to $1,090,000 compared to July 2022. Sales have decreased by 28.2% for homes and 18.2% for condos. However, it is worth noting that just a few months ago, sales were down by over 40% for both, so we have seen an increase in the number of buyers over the recent months. There were 247 pending sales during July 2023, with contract signings for the month up 6.9% from June 2023. Approximately 53% of sales closed in July 2023 did so at the full asking price or more, down from 65% during the month of July 2022.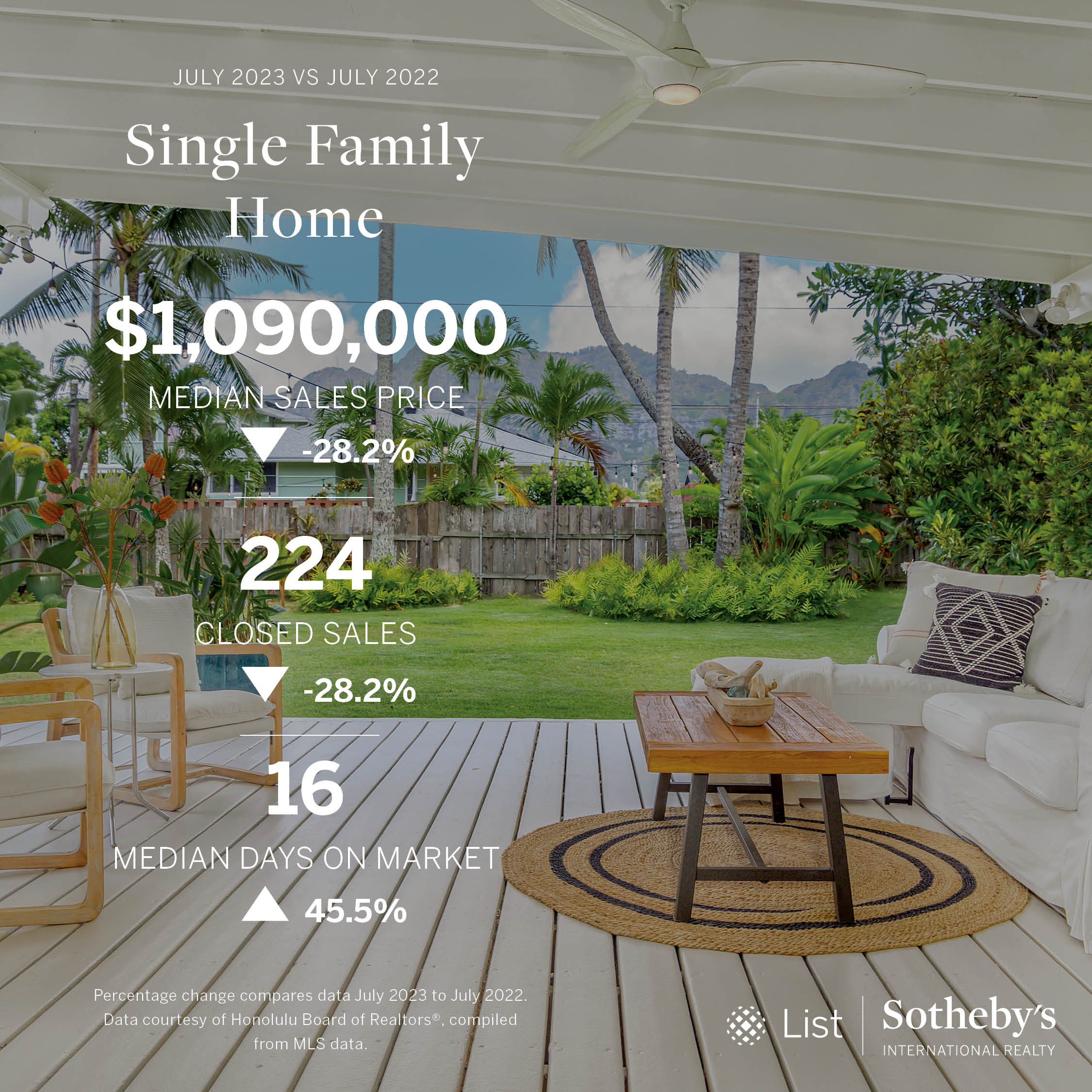 Homes spent a median of 16 days on the market during July 2023, up from 11 days in July 2022. New listings dropped 28.8% year-over-year, with closed sales similarly dropping by 28.2%. The Ewa Plain, Waipahu, and Pearl City areas saw an increase in contract signings with growth rates of 18.5%, 18.8%, and 13.3%.
The Oahu single-family home market ended the month of July 2023 with a slight growth in active inventory year-over-year, up 2.6% from July 2023 but at 590 homes actively available for sale that is off by over 60% compared to pre-pandemic levels.
Oahu Condos | Market Stats
The median sales price for Oahu Condos stayed stable at $500,000 year-over-year. Closed sales saw a decline of 18.5% compared to July of the previous year, though contract signings saw a slight month-over-month increase of 1.4% from June 2023 to July 2023.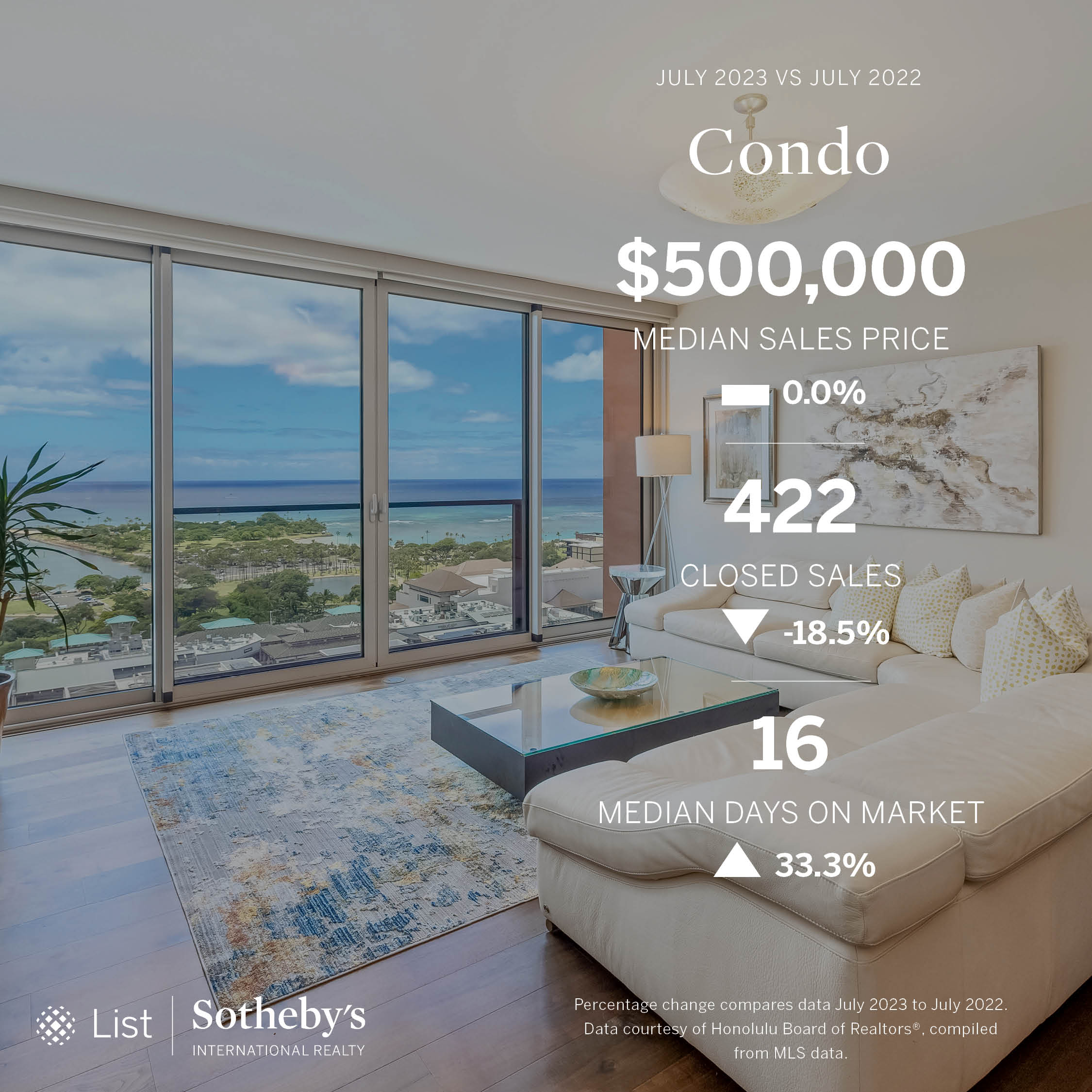 Condos spent a median of 16 days on the market during July 2023, a slight increase compared to July 2022. About 47% of closed sales received the total asking price or more, down from 60% of closed sales in July 2022. The Leeward region experienced a significant increase in contract signings year-over-year, 92.3%. While the Ewa Plain region pending sales were stable year-over-year, there was a rise of 38.2% compared to June 2023.
The Oahu condo market ended the month of July with an increase of 9.9% in active inventory compared to July 2022.
The lack of inventory is going to be a consistent problem going forward for quite a while. Activity on the buy side has started to increase compared to earlier months. When interest rates begin to dro, affordability for buyers will increase. This will encourage more buyers to enter the market, increasing buyer demand. Consequently, it will create more competition for buyers, meaning many could find themselves in multiple offer situations more frequently. As a result of this process playing out across the market, we could see a corresponding rise in prices.
Inquire Now
If you're considering buying or selling a home or condo in Oahu, now is the time to get in touch. Remember - this post and the information on this website are no substitute for personalized advice. Our team of experienced real estate professionals is ready to guide you through the process and help you make the most of the current market conditions. Contact us today to get started!