Oahu Real Estate Market Report for January 2023
Posted by Scott Startsman on Friday, February 10, 2023 at 11:18:22 AM
By Scott Startsman / February 10, 2023
Comment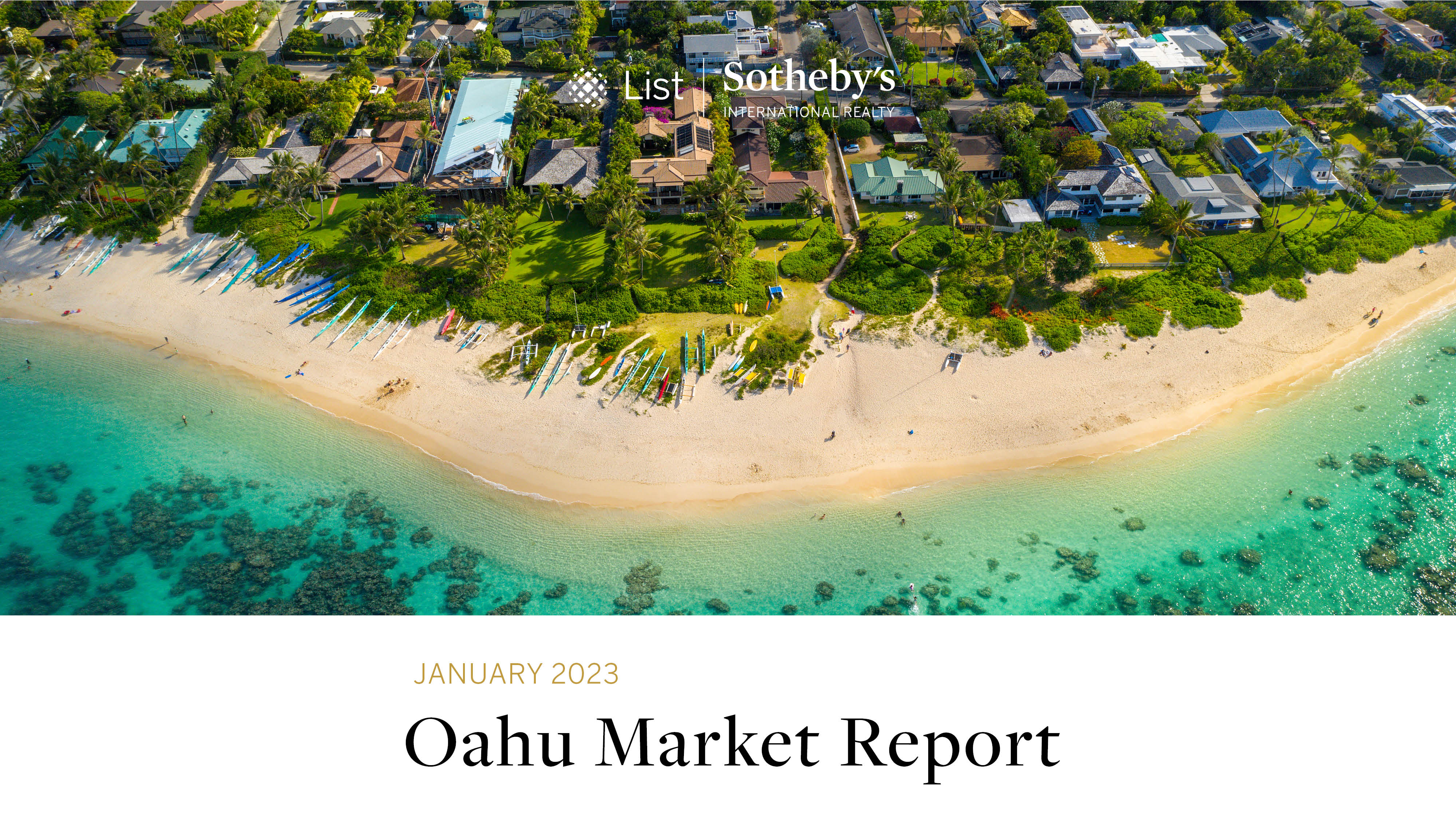 With one month of data so far, 2023 is starting off with a slow January. Interest rates have dropped some, and it appears the FED is starting to get inflation under control. One month is too small a dataset to draw conclusions, however. I expect numbers to be in line with a sideways to single digit price appreciation. The market will move forward based on what interest rates do, so we shall see how it goes.
Want to see the full market report? Click here to download the .pdf!
Oahu Single-Family Home Market Stats
The single-family home market, which had been reaching $1,000,000 or more in median sales price for 17 consecutive months, ended January with a median sales price of $970,000 - a 7.6% decrease compared to January 2022. Pending sales increased slightly after the holiday season, however, contract signings decreased year-over-year by 15.2%.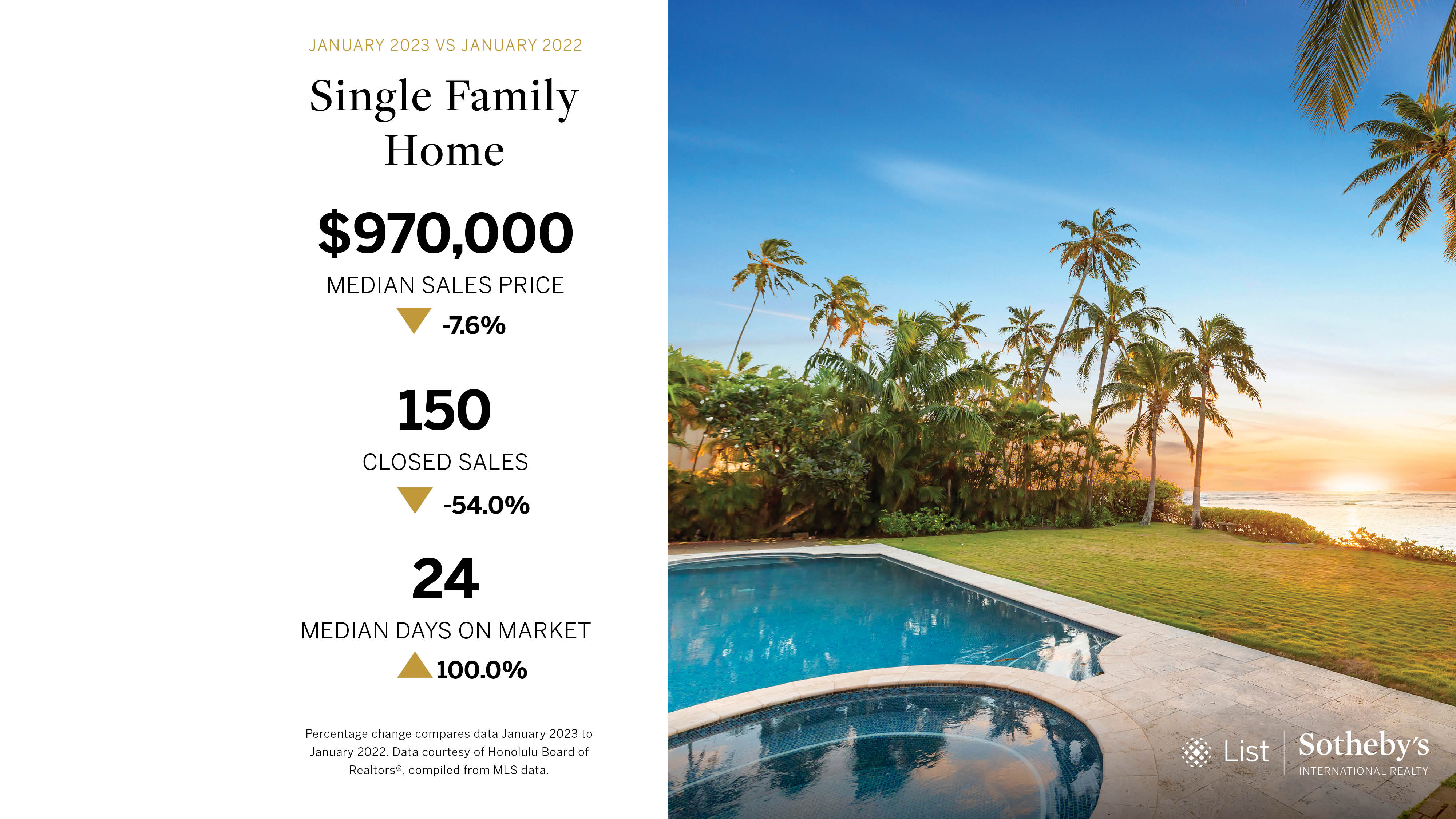 Mortgage rates are up 2.5 points compared to the previous year, contributing to an increase in inventory as buyers gain more footing in negotiation. No regions across O'ahu saw positive sales growth for single-family homes. Keeping steady year-over-year, Kāne'ohe saw 16 closed sales and Pearl City saw 14 closed sales. On the other end of the spectrum, the 'Ewa Plain experiencing the most significant decrease of 70.7%.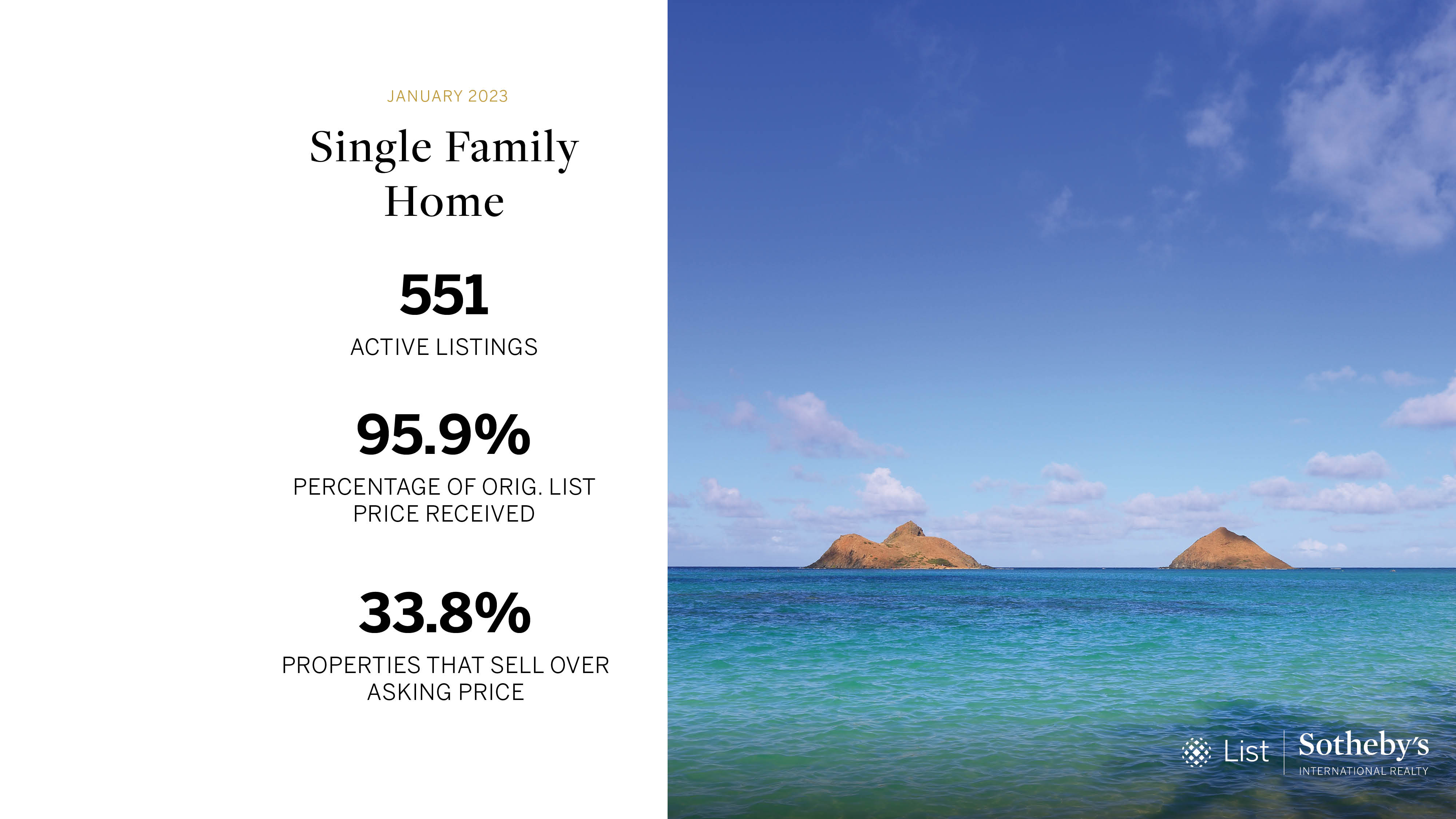 In January 2023, properties spent a median of 24 days on the market, roughly double the median days on market for single-family homes the previous year at 12 days.
Oahu Condo Market Stats
Similar to the single-family housing market, the condo market also saw a dip in median sales price - declining 2.9% year-over-year to $495,000. Most sales in the condo market came out of the Metro Honolulu region, though even this area saw a 48.1% decline in closed sales compared to the prior year. Central Oahu also saw a significant decline in closed sales, around 60.4% lower than the previous year. The $100,000 to $199,999 price range for condos saw a modest bump in closed sales, up 26.7% year-over-year.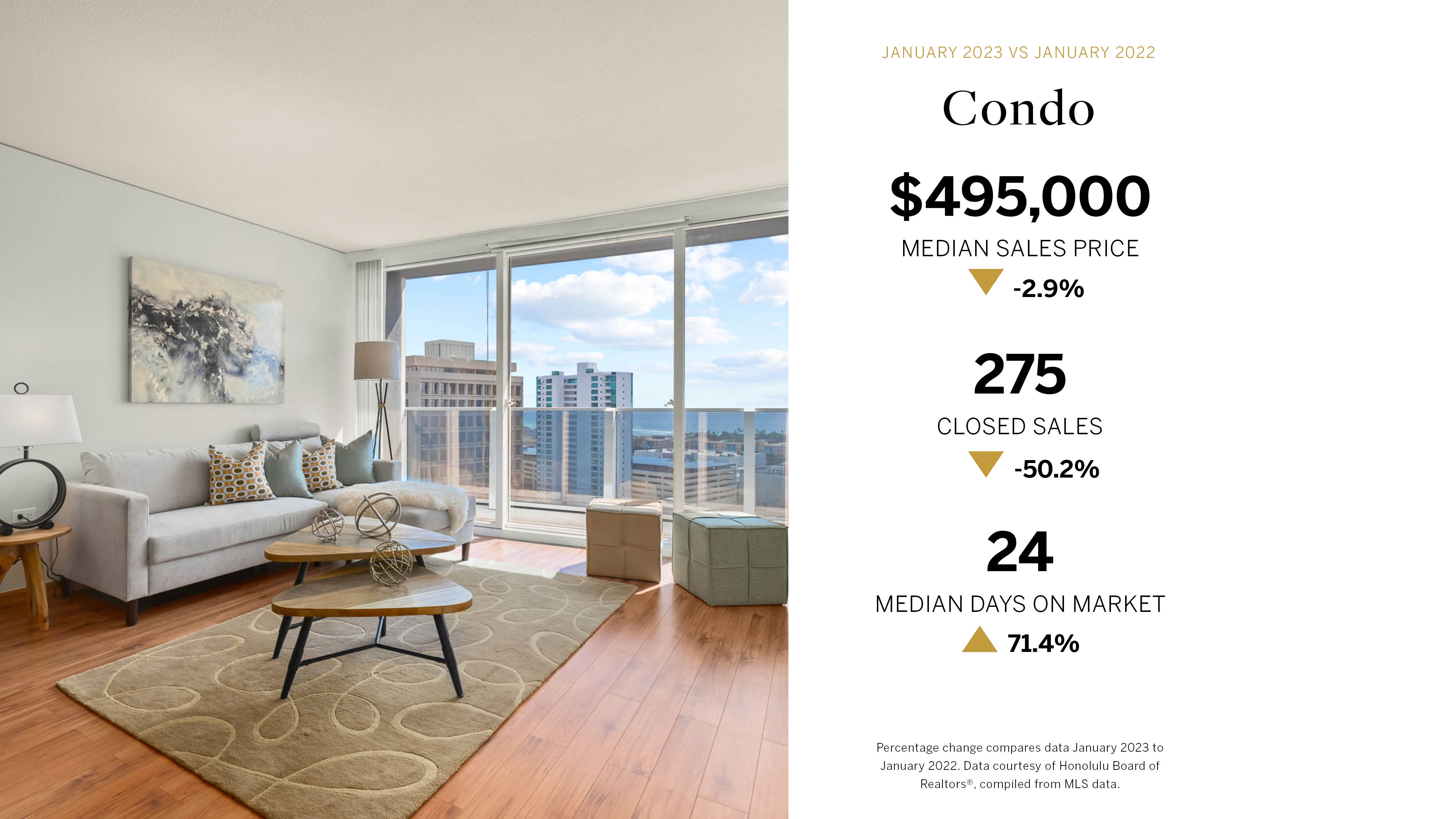 The largest drop in sales occurred in the $500,000 to $599,999 price range, down 63% compared to the previous year.
During January 2023, condos across the board saw an increase in active inventory of 23.7% when compared to the previous year. Units in the price range of $200,000 to $399,999 saw a decline of 12.7% in active inventory year-over-year, while every other price segment saw an increase.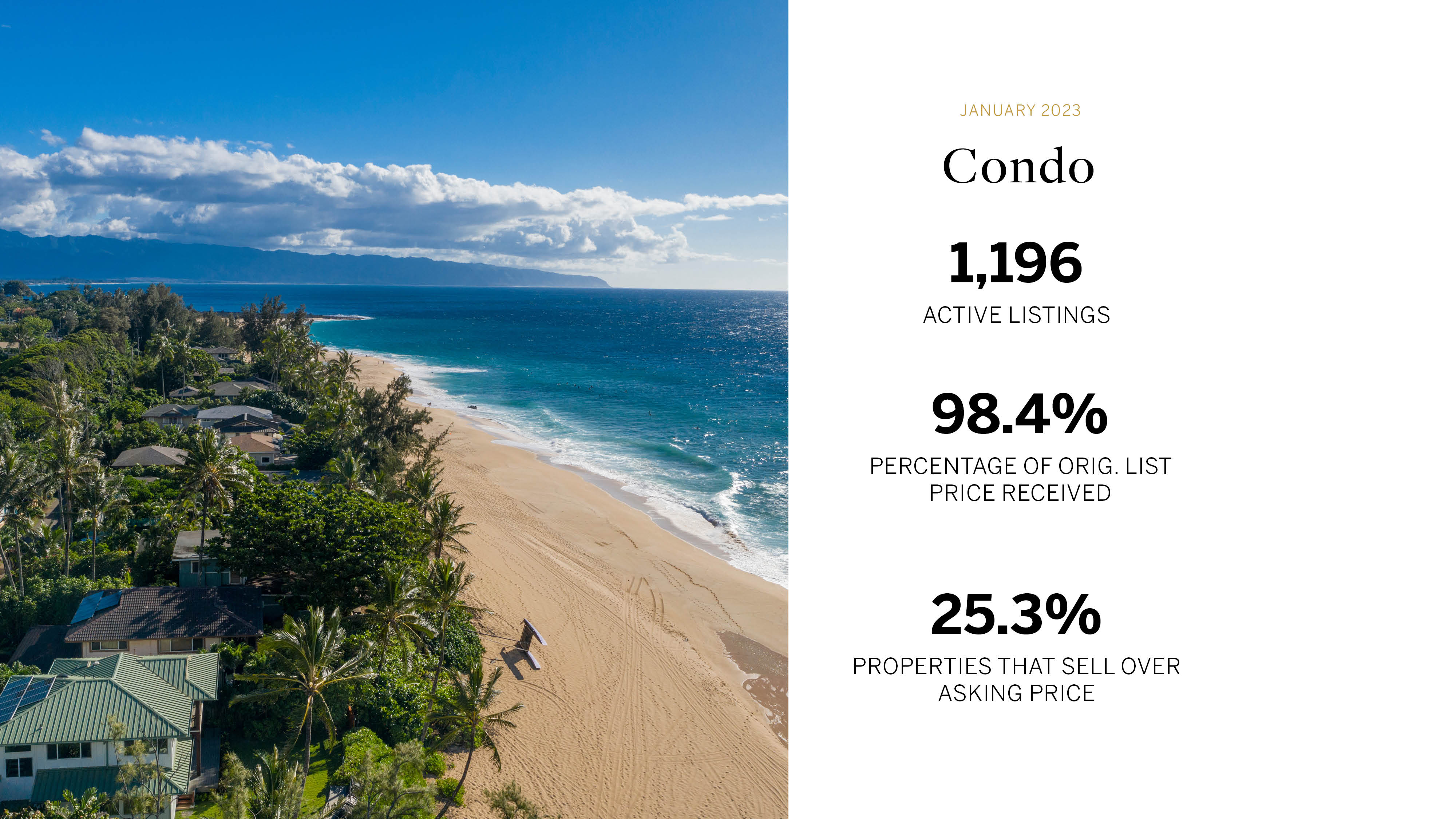 Like Single-Family Homes, new condo listings during January 2023 spent a median of 24 days on the market - up from a median of 14 days the year before.
Reach Out Now - Request A Consultation