Kapahulu New Home Construction & Renovation Project
Posted by Scott Startsman on Wednesday, September 22, 2021 at 10:55 PM
By Scott Startsman / September 22, 2021
Comment
New Home Construction Projects Oahu
I love that feeling of seeing my development projects come alive. From doing the land use and zoning analaysis for highest and best use, to design and then moving from pen and paper to a tangible home in the physical world, to providing jobs and being able to influence architecture in the community and contribute to adding housing for the community, it's such a rewarding experience.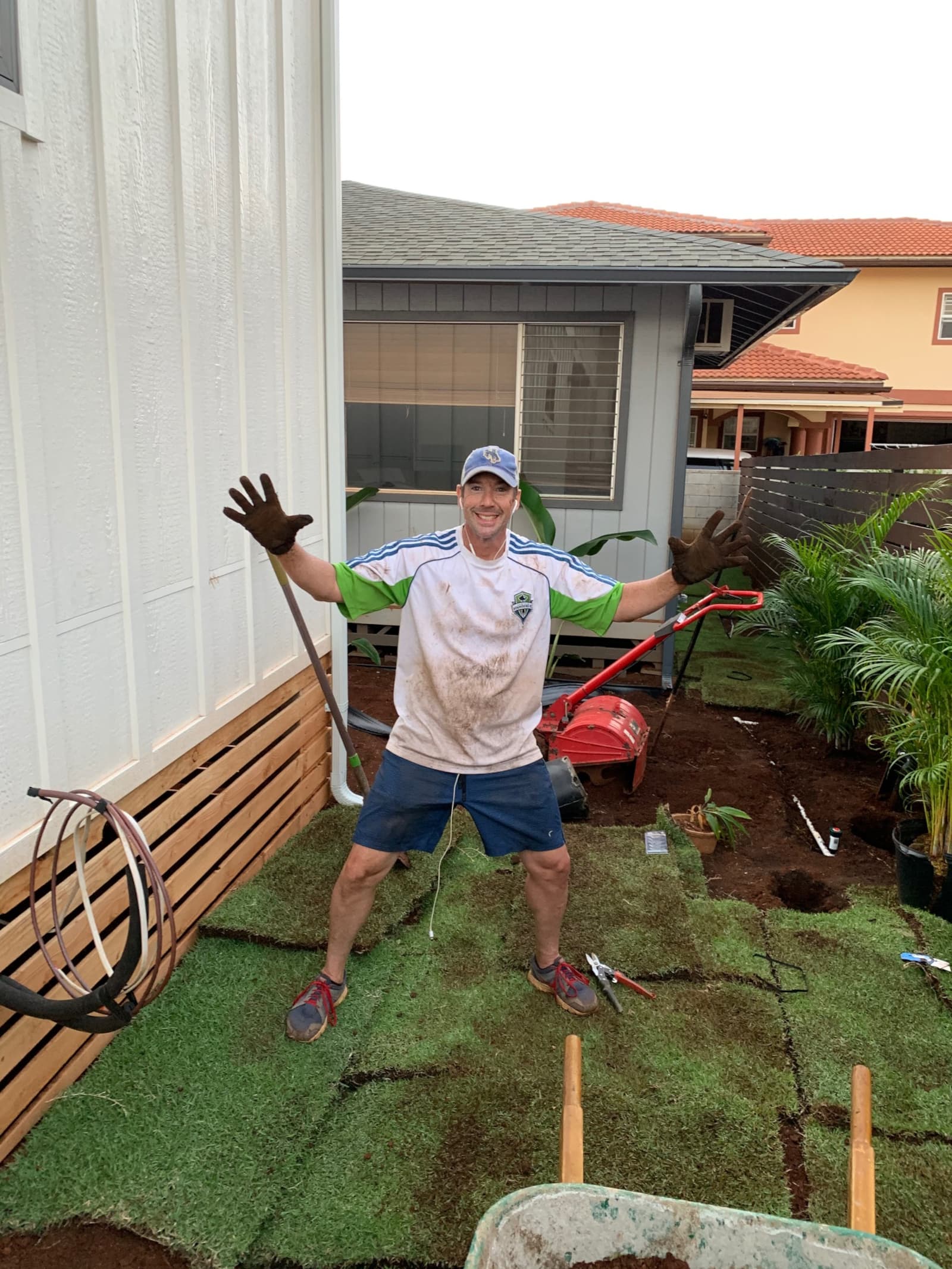 My latest development project is a two home property in the Kapahulu neighborhood of Honolulu and was a multiple phase development project that was a combination of a home renovation and then a tear down and rebuild. The property was bought from hoarders, making it a fun visionary challenge - but also a great learning experience. The smaller home was renovated, while the larger home was renovated at the same time for temporary purposes and then torn down later and rebuilt from the ground up.
The building in front is a 3-Bed, 3.5-Bath home with a 2-Car garage. Usually called an "ohana" in Hawaii real estate, the smaller house in the back has 2-Bedrooms, 1-Bath and a 2-car carport. The property is in a super convenient location near Diamond Head and Waikiki, with easy access to all the conveiences that the Honolulu urban core have to offer and was built to serve as a long term (6+ months) rental, so I had to find a balance between over designing it (costs) for a rental but doing enough to try and influence the direction of architecture in the neighborhood.
The Kapahulu project went through multiple phases before arriving where it is today.
Phase I - Acquisition
The property was acquired during the first phase of this project from a couple of hoarders. Before any kind of renovation work could be done, it had to be cleared out, deep cleaned and taken down to the bones in some areas. There were boxes, clothes, toys, and all manner of other things piled up to waist deep. It took a lot of time and intensive labor getting it stripped down. In the end, it took around 6 rolloffs to haul off everything from the property just to get to a blank canvas for us to start getting it renovated.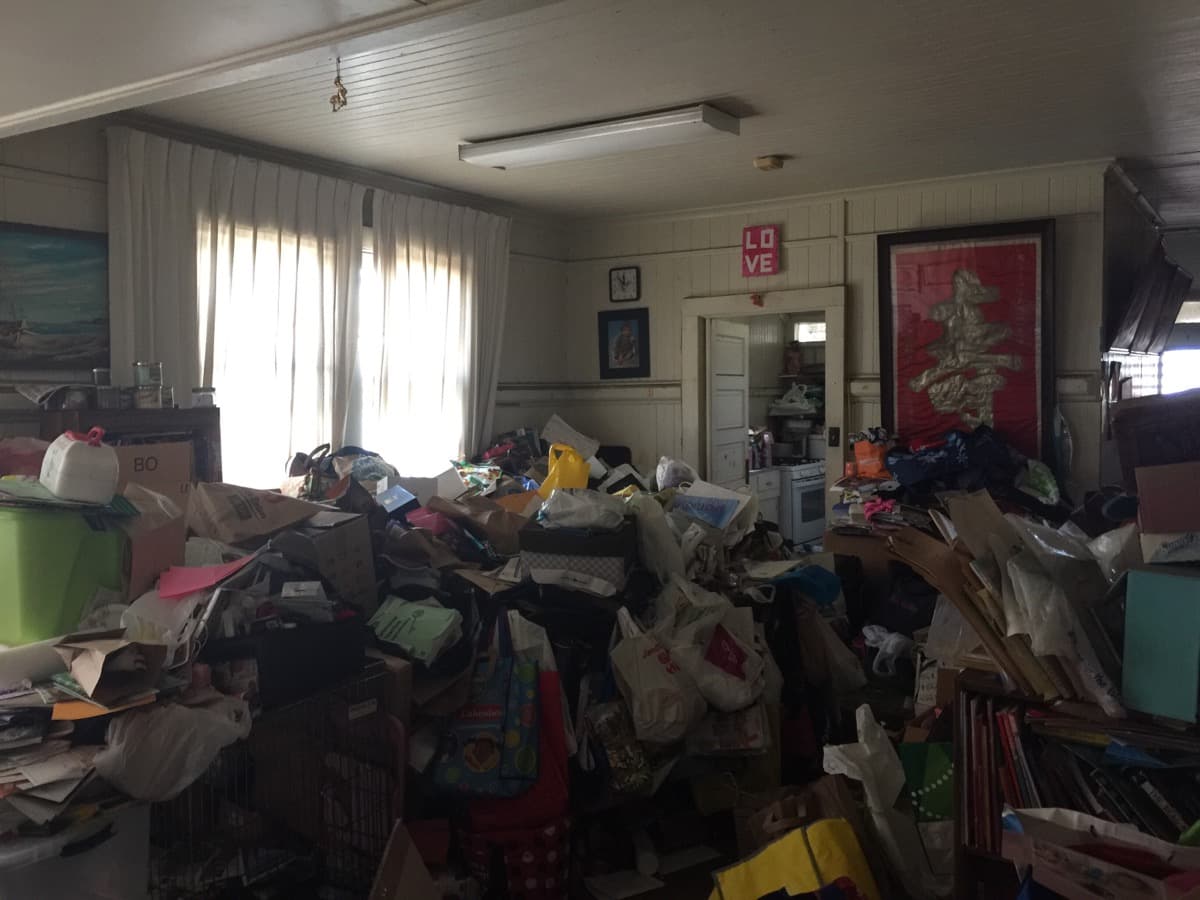 I wasn't quite sure at this point exactly what I wanted the end result to be and look like, but I knew the location had a lot of potential and I knew the property zoning and land use to where I had a pretty solid idea. It's so close to Waikiki and Diamond Head, and the vibrant Kapahulu Avenue is just a couple of streets over, so it was exciting to build in this established community of older homes. Before the property could meet its full potential though, there had to be a fair amount of thought, planning and analysis.
I needed time to do design and permitting and a full-blown repositioning of the property to its highest and best use. To hold it over until then, both buildings received renovation work allowing them to be rented out during the planning stages of the rebuild. I was also in the middle of another two home project.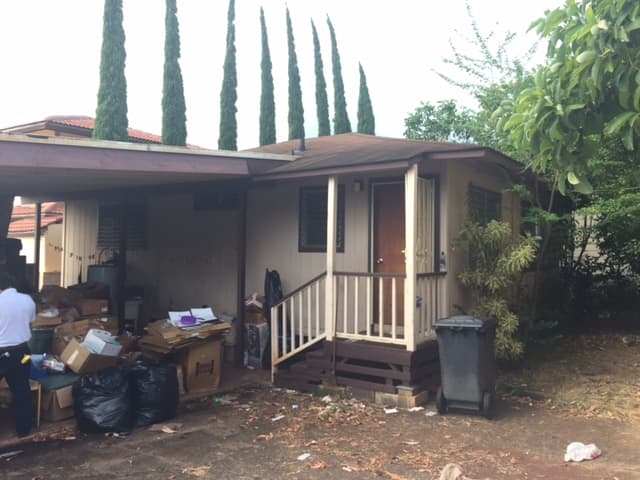 The ohana, built in 1988, received permanent upgrades that were retained.
Phase 2 Design & Permit Acquisition
While the property was being rented out I started working with my architect and drawing up plans to demolish and rebuild the front house.
I wanted to build something that influences the neighborhood with a modern look, made of modern materials without going overboard. In the process, I tried to include a host of modern features to really show off what's possible for this established neighborhood.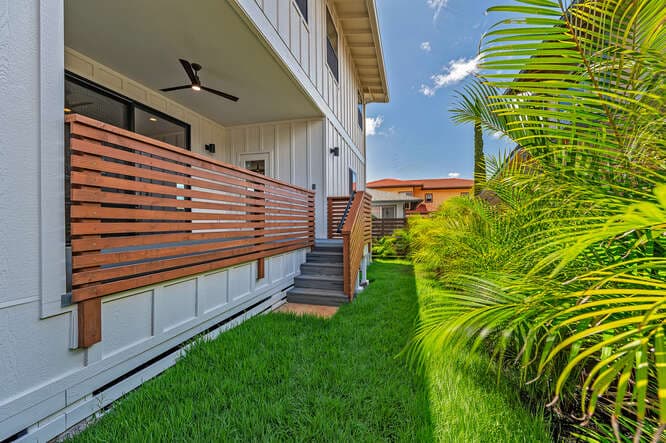 High on my list of priorities was privacy. To that end, I planned for professional landscaping - with Hawaiian Ti, Torched Ginger and Areca palms along the fence and driveway. This serves the dual purpose of beautifying the property and helping keep out unwanted eyes. The front and back buildings are designed away from each other for seclusion from each other to keep the occupants from treading on each other's toes.
For the interior I wanted a wide, open floor plan that welcomed you into the home, in doing so, I implemented an open design with 9-foot ceilings and large windows to properly light up the space and allow for more trade-wind airflow. The first floor has European laminate throughout, with a grand kitchen that is home to a large kitchen island and gas range.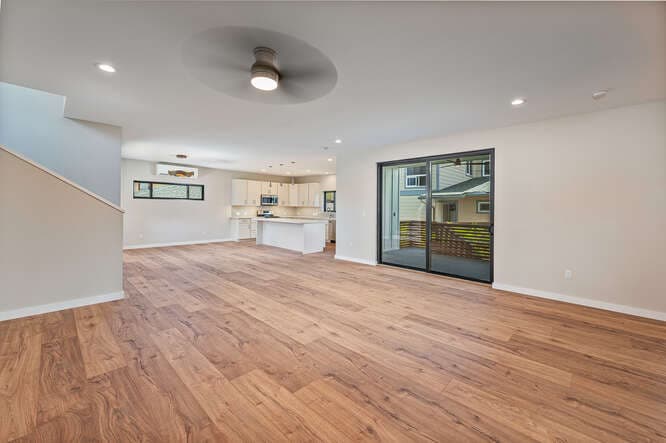 During the design process I tried to maximize energy efficiency as well. The design was to take advantage of the natural air flow and trade winds. It's got great ventilation and I went the extra mile on the insulation, and added a radiant-barrier, R-30 insultation in the ceiling and reflective energy efficient metal roofing to help keep energy costs lower.
Phase 3 - Construction
After the permits came back, the front property was fully demolished and rebuilt. I started the construction work 2 days before the start of the pandemic and shutdown of the State of Hawaii - good timing as it worked out in the end. I narrowly avoided the spike in material costs and the delays of a backlogged system.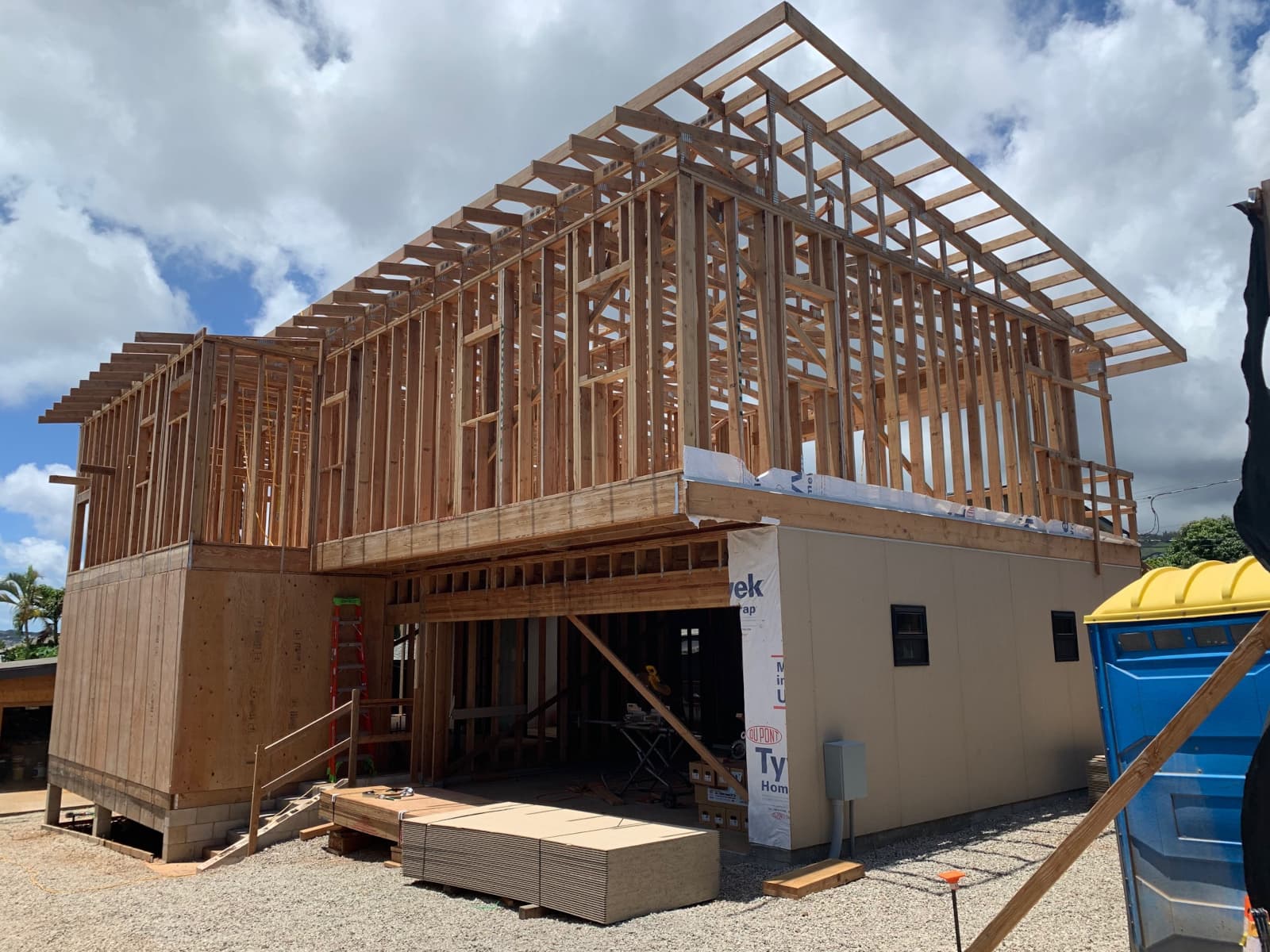 The new home is 2-stories with over 1,000 Sq Ft of living space on either floor and an interior garage.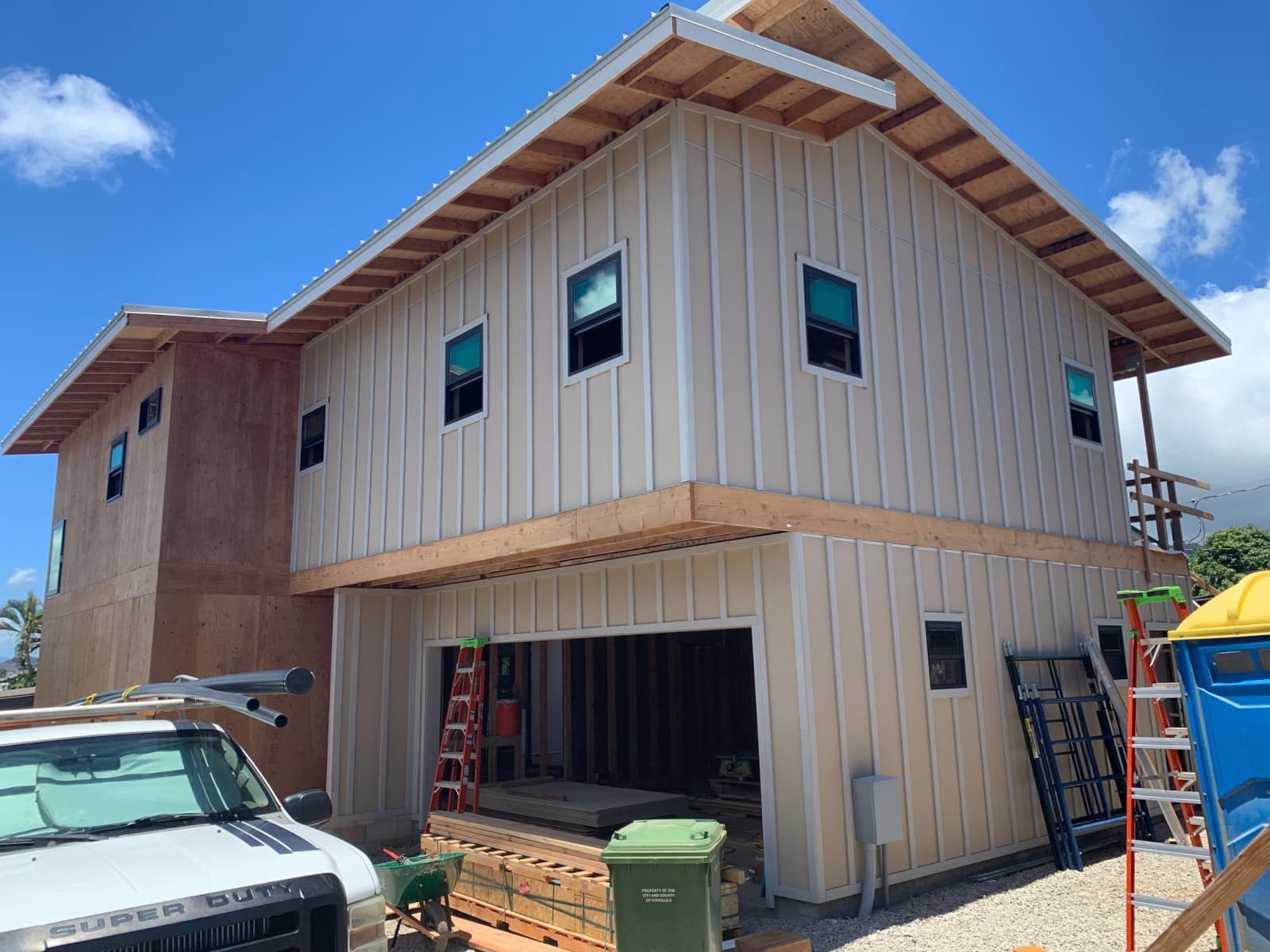 The exterior is a mix of Trespa wood siding and a light colored board and batten style, with a split-shed roof to finish it off. These combine to show off a nice modern look with straight, clean lines. I wanted to influence and move the architecture in the neighborhood with the design, while implementing a few nicer features.
The end result? A property that I hope can give occupants a nice comfortable space to live and the neighbors in the area some new ideas on what they might consider for their home design. The project took about 3 years from acquisition to completion of the new home. I made sure that the property had modern features to befit new construction. It also allows for ample parking on the proeprty so someone can comfortably live on the property and have guests over without spilling over out onto the public streets. Being respectful to the community from a density standpoint is something that I believe is important, esp in this day and age of "monster homes" in the area.
My Background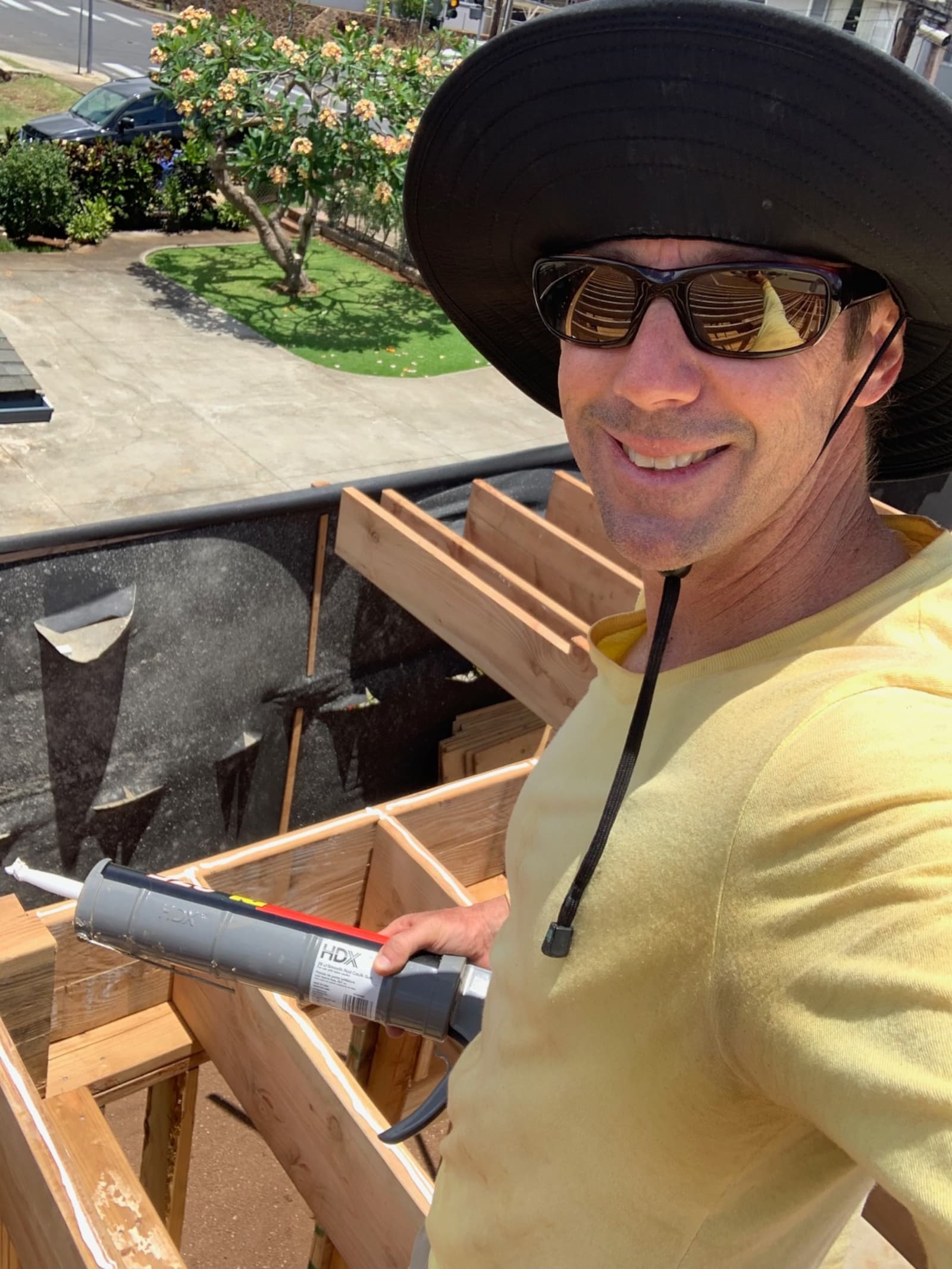 My passion is being able to teach people the finacial aspects and benefits of real estate and help make my clients money through real estate. I bought my first investment proeprty when I was 23, have been investing since and have been a top producing Realtor on Oahu since 2003 having done over 400 transactions island wide. Starting my development company was a natural progression for me. I first started working on home and condo renovations in 2007, but I didn't start working on new home construction until around 5 years ago. It makes me a better, more knowledgable Realtor for my clients and allows me to bring the land use, zoning, and construction knowledge and experience to better help my clients in buying, selling and investing. I have become a Realtor that can bring a more wholesitc advisement approach for my clients from A-Z.
From designing on paper, to applying for permits, to putting up the walls - it's a long process with lots of hick-ups and surprises, and each project is different and unique. Seeing it come together as I move through the steps is an incredibly satisfying accomplishment.
I like high-quality builds. Not just for the moment, but for years down the line. The standards for both building and types of materials have improved significantly so that we can build more diverse and better quality homes. I love to see people bringing new product and design ideas to Oahu. If you're looking to buy new development real estate on Oahu give us a call at 1-(808) 435-7754 or fill out the form below.
We've got decades of experience to draw from, so we know how to keep an eye out for you.