Cost Of Living In Hawaii | 2023 | Your Handy Guide
Posted by Scott Startsman on Saturday, April 17, 2021 at 10:13 PM
By Scott Startsman / April 17, 2021
Comment
Cost Of Living In Hawaii - The Cost To Live In Paradise
Hawaii is a paradise - and its Cost Of Living Index matches that. The state is made up of eight major islands. I'm based on Oahu, right outside the state capital of Honolulu. Hawaii is full of gorgeous views, fresh ocean air, and warm golden sand beaches. Some of the most coveted homes in the world reside here, with areas like Kahala being called the "Beverly Hills of Hawaii."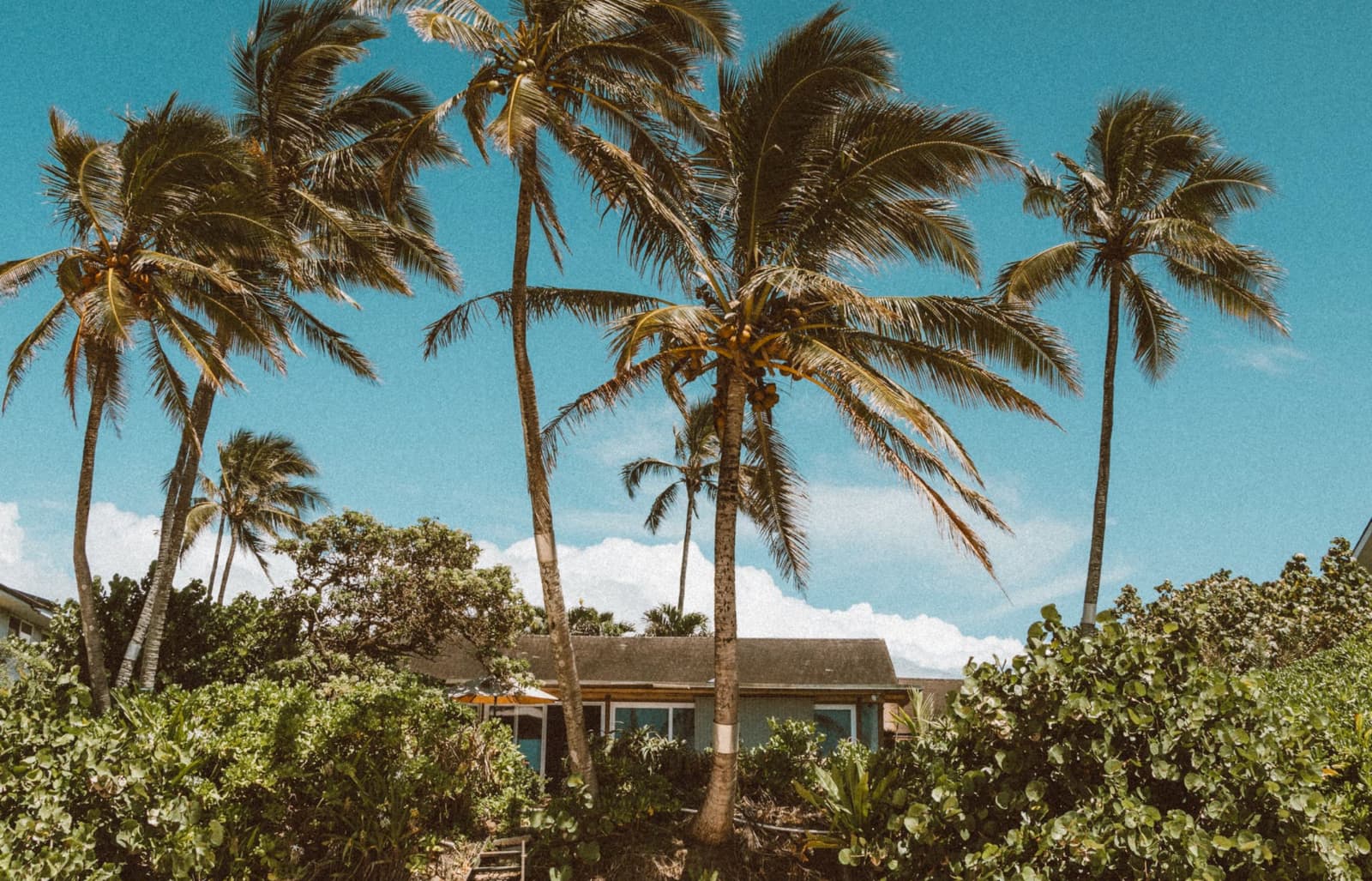 This comes at a price, though. Because of limited real estate and needing to ship goods from the mainland, Hawaii has a cost of living index of 193.3 as of February 2023. Living in Hawaii requires the understanding that living here costs more than living on the mainland. Having a budget and a plan for dollars spent is a good idea, as you can save greatly by understanding how the costing works here in Hawaii. If you keep that in mind and stay open to the cultural differences, paradise has a place for you.
The first step to living here is being well informed on what your future costs will be. Below, I break down a few of the most important factors to consider in cost of living.
Cost Of Housing In Hawaii
Hawaii has a housing score of 313.5 - which is to be expected, given the state's location. The single-family home median price on Oahu through the beginning of 2023 was $1.105 million and over $510,000 for condos. When compared to Seattle, Washington, this could be seen as a modest upgrade, coming from New Mexico, the price of homes and what you get for the money may give you sticker shock.
Related: Click here to check out the latest market stats!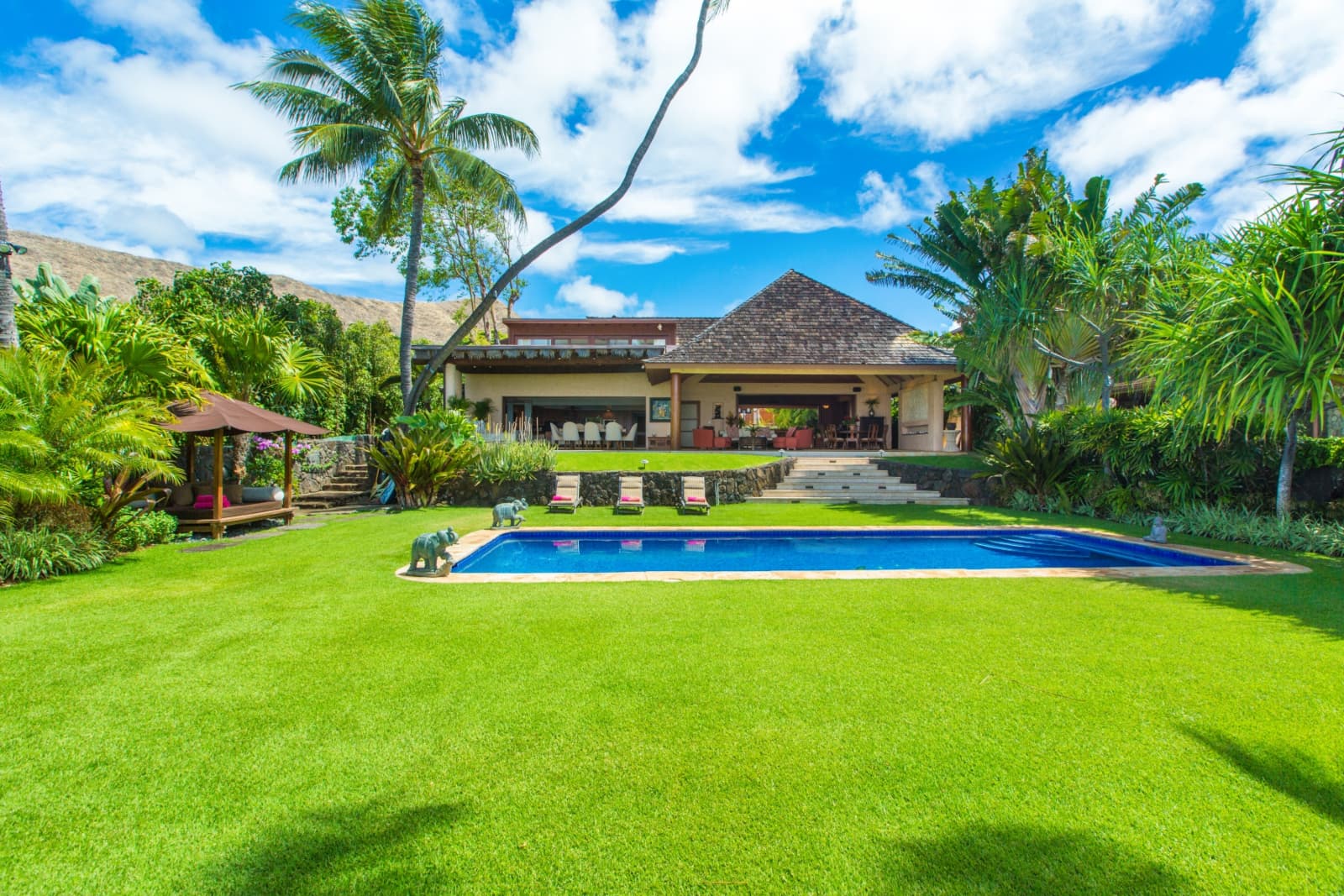 The main difference between a home here and on the mainland is the amount of space that the money buys you. Hawaii homes tend to be smaller, with yards and open spaces at a premium and condo living in Honolulu is very common for many.
What you get in exchange though is a life unlike any other. Some of the most luxurious and breathtaking homes in the world are in Hawaii. One such example is Kahala - world renowned as the 'Beverly Hills of Hawaii.' Right next door is Diamond Head - another luxurious neighborhood offering wide open streets and a family friendly community at the base of the Diamond Head crater.
Related: Should I Buy A Home Before Moving To Hawaii?
One of the latest up and coming areas on Oahu is Ward Village - 60 acre Master-Planned Community built with pedestrian access in mind. The main theme of Ward Village is blending luxurious condo living in the Urban Core of Honolulu with the Island Lifestyle that Hawaii offers. These condos are perfect for low maintenance, high amenity living - as either a first or second home.
Average Income In Hawaii
The Department of Housing and Urban Development (HUD) Guidelines released in 2022 show the median family income for a 4 person family in Hawaii is $114,250 total, with $156,700 median family income for metro areas and $91,400 for non metro areas. The breakdown by county is below.
Hawaii Median Family Income By County
Honolulu County - $113,300
Kalawao County - $137,200
Maui County - $95,900
Kauai County - $107,000
Hawaii County - $101,100
A single individual making $60,000 per year can lead a comfortable lifestyle in Hawaii, assuming you're employed and have health insurance through your employer. With an annual income of $80,000, you can even begin considering some of the more expensive areas. Couples with an income ranging between $80,000 - $120,000 will find it sufficient for living in Hawaii, but that also depends on if and how many children you have, whether they're being sent to public or private school, and the activities they participate in.
Check out our detailed post on What Is A Good Base Income For Living In Hawaii to get a better sense of how far your dollars can go here.
Average income required to purchase a home or condo
​​Based on the median single-family home price of $1.105 million on Oahu, you'll need an average income of $144,000 to purchase a median priced home. An income of $81,480 will be required to purchase a condo based on the median price of $510,000. These estimates are based on the prevailing interest rate of $6.375% and assuming that the transaction is made with 20% down and little debt.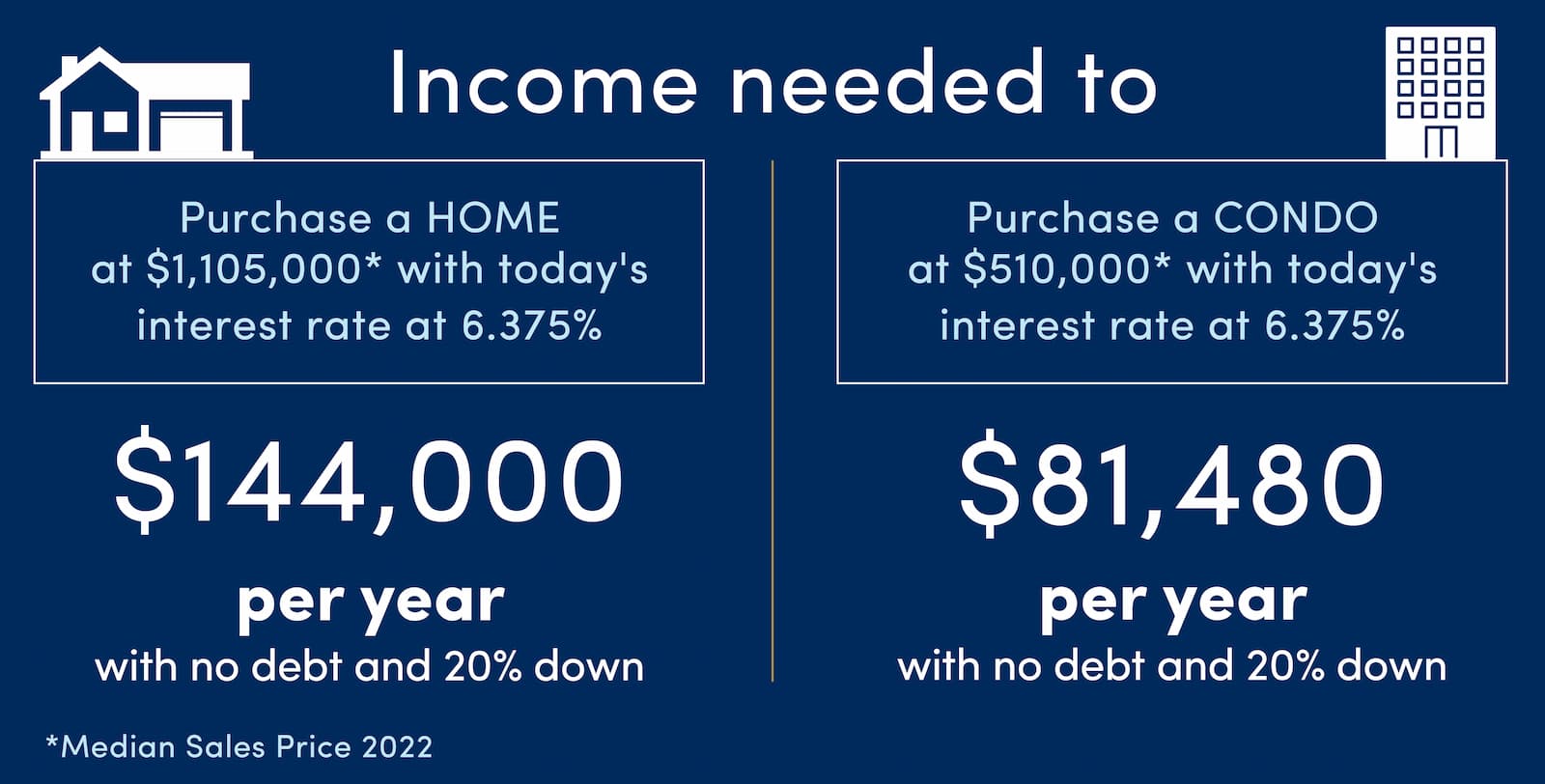 Cost Of Groceries In Hawaii
Hawaii has a grocery score of 152.3, reflecting the island's remote nature. While Hawaii is host to locally grown fruits, vegetables, and island grown coffee, we can't grow enough to supply everything we need. Most of the island's supplies need to be brought in, making Hawaii the most expensive state to buy groceries.
What I like to do is have a membership to Costco and a few other stores and check around to save on costs. For example - a loaf of White Bread at Times, a local grocer, is $6.99 normally but only $4.89 on sale. At Costco, you can get a 2-Loaf 45 Oz pack of White Bread for $9.82 - thus costing you $4.41 per loaf.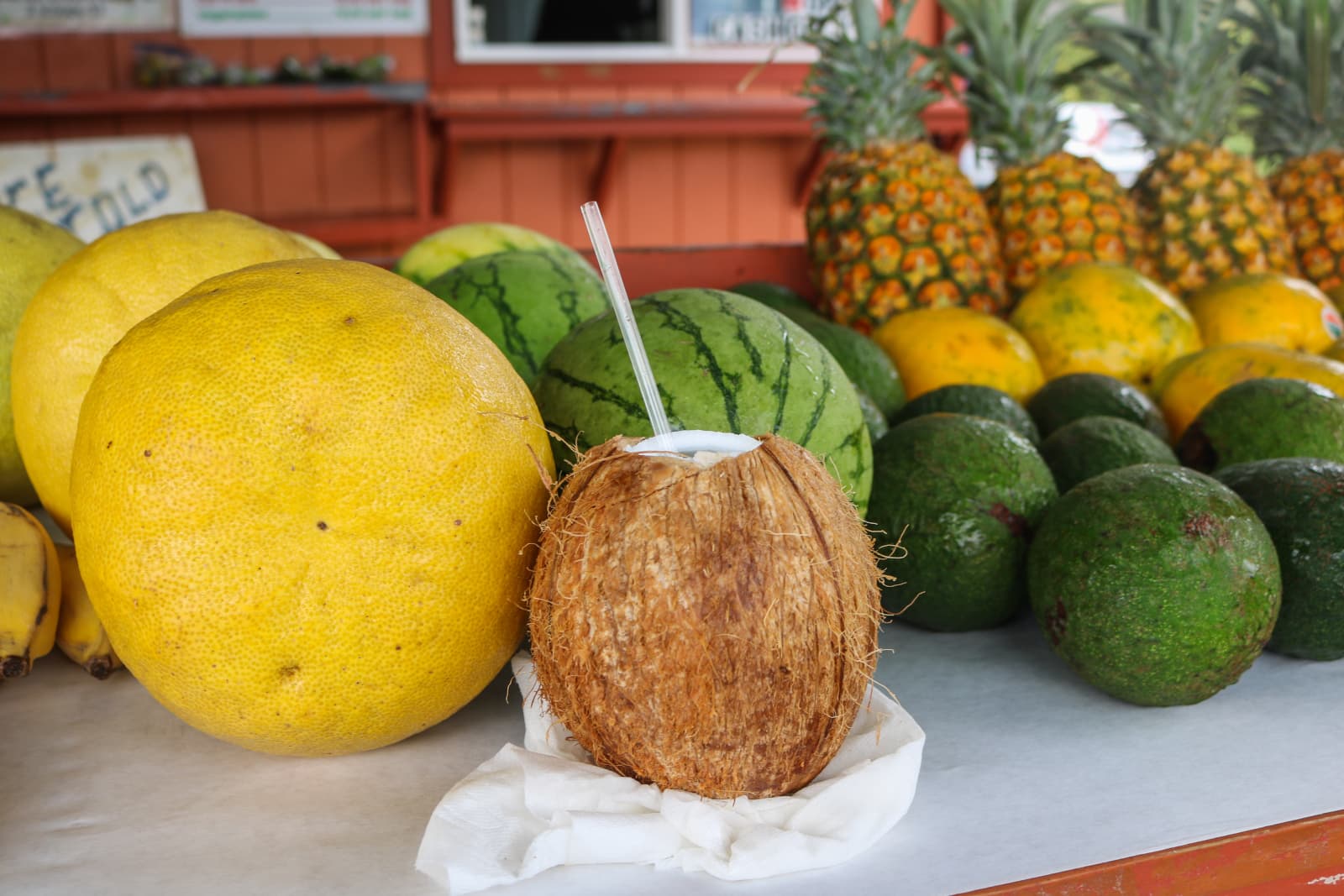 To give you a better idea of grocery costs on Oahu, I checked the prices of a few key goods at several stores and averaged them out. The table below is accurate as of March 2023, reflecting prices in Honolulu (not including sale prices).
| | | |
| --- | --- | --- |
| Product | Average Price | Price Per Unit |
| 24 Oz White Bread | $4.97 | $0.207 Per Oz |
| 24 Oz Wheat Bread | $5.43 | $0.113 Per Oz |
| 1 Gallon of 2% Milk | $7.72 | $7.72 Per Gal |
| 89 Oz Orange juice | $8.63 | $0.096 Per Gal |
| 12 Count Large Grade A Eggs | $5.89 | $5.89 Per Dozen |
| 1 Lb Bananas | $1.34 | $1.34 Per Lb |
| 1 Lb Tomato | $3.56 | $3.56 Per Lb |
| 1 Lb Romaine Lettuce | $3.08 | $3.08 Per Lb |
| 1 Ct Avocado | $2.50 | $2.50 Per Unit |
| 1 Lb Chicken | $5,85 | $5.85 Per Lb |
| 1 Lb Boneless Ribeye Steak | $17.75 | $17.75 Per Lb |
To check out more grocery prices and find out more about how I grocery shop with a plan, you can check out my video below on grocery shopping tips.
Cost Of Dining Out In Hawaii
Eating out in Hawaii is something I love to do. Since Hawaii is a cultural melting pot of Asian, mainland and Pacific Islander influences, you have a ton of different culinary options at your fingertips in all price ranges. Eating out will typically cost more than on the mainland since food items are more expensive because most of it has to be shipped into the State.
Hawaii is also a global tourist destination so there are plenty of amazing culinary restaurants, but those experiences can come with high prices. The average cost of breakfast in Hawaii in moderate to middle priced restaurants is $9 to $18, lunch at about $12 to $30 and dinner will cost $15 to $40. High-end or resort restaurants can double these prices for the food experience alone.
Cost Of Utilities In Hawaii
Hawaii has a Utilities score of 158.4 - significantly down from 184.6 in second quarter 2021. As of 2022, the average electric bill in Hawaii is $402.30, but I primarily serve clients on Oahu that tend to be towards the higher end of the pay scale. As such, I've broken down the costs you might see in those areas as of February, 2023. While utility prices have increased in general across the mainland, Hawaii's have stayed relatively stable.
The price of electricity in Hawaii is much higher in contrast to the mainland, costing between $0.32/kWh and $0.44/kWh. This is a little over double the national average of roughly $0.165/kWh. Homes in Hawaii typically use 515 kWh per month which is around $165 but in the areas I service, homes have an average usage of between 1400 and 1600 kWh. This puts the electricity bills between $450 and $515. I've even had clients with substantial electricity use with bills around $1,700 or more per month.
Related: Hawaii Utility Costs - Adding Up The Cost Of Living In Hawaii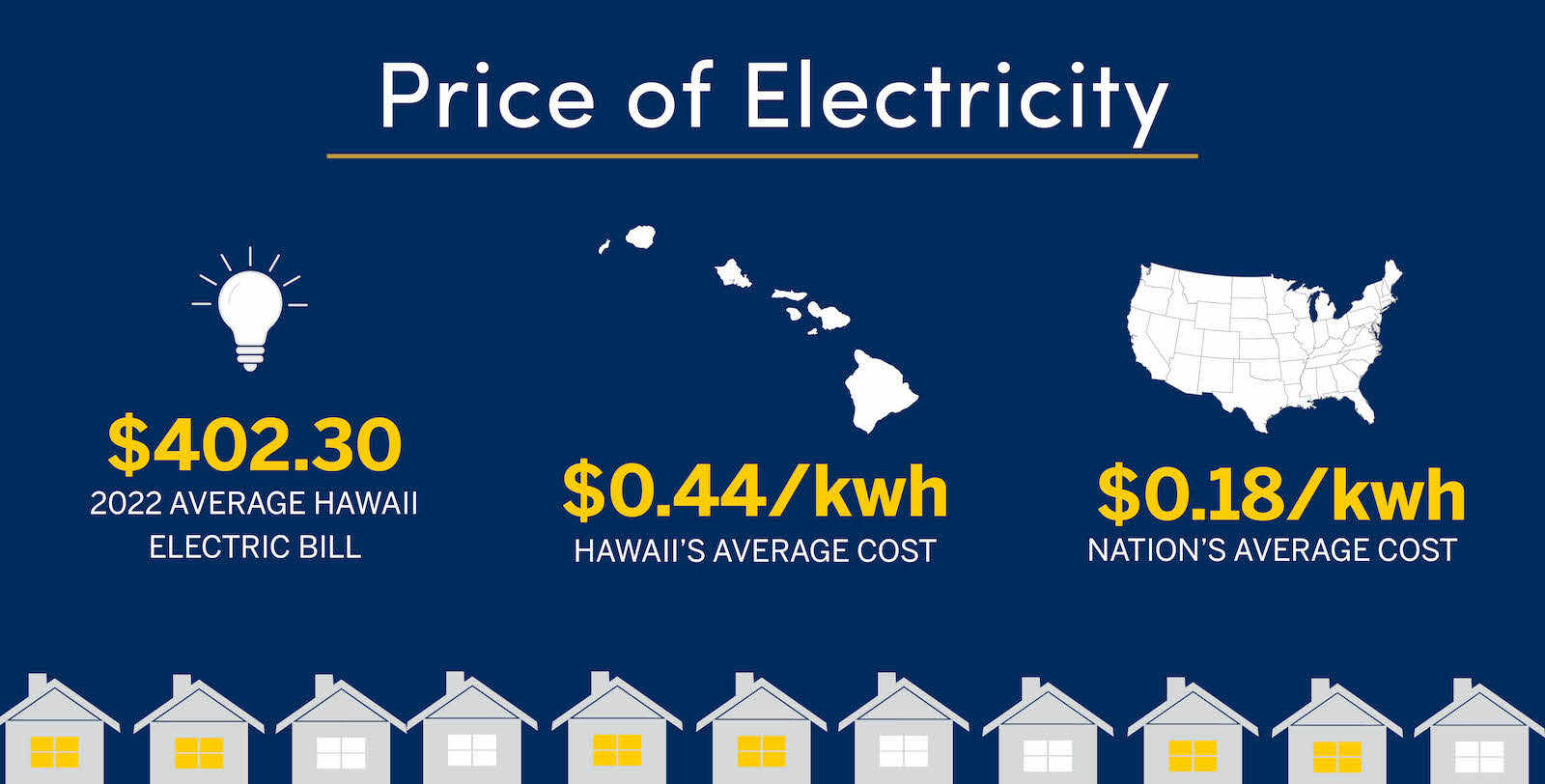 Natural gas is another area that comes at a premium compared to the mainland, coming in at around $225 to $250 per month, depending on the type of property and the amenities installed. Expect the average monthly cost to be around $150. Water and sewage bills combined for a property with a pool and nice landscaping can run between $200 and $240.
Your cable and internet expenses will largely be dictated by where you live on the islands. In Honolulu, packages for fiber optic internet connections start at $39.99 for speeds of up to 300 Mbps, with cable TV packages starting at $59.99 per month. Pricing and availability tends to vary by neighborhood as you get further out so it's important to check this for every home you look at.
If you're a remote worker, rest assured that the internet on the island won't let you down. Since our temperatures are very moderate throughout the year, you don't even have to worry about losing access to the internet to severe weather events like an ice storm.
Your utility bills are going to cost roughly $1,000 to $1,200 per month. There are multiple ways to reduce these prices significantly. For example, you can install solar panels on your roof to reduce long-term electricity costs. Solar water heaters and other energy saving appliances can also be reduced to limit your electricity usage.
Taxes In Hawaii
Taxes in Hawaii primarily consist of Income, General Excise (Sales), and Property Taxes.
Sales tax in Hawaii
There is no sales tax in Hawaii, rather the state charges General Excise Tax (GET) at 4%. County governments can impose a surcharge on the state GET. The City and County of Honolulu has a 0.5% surcharge, making the effective GET rate 4.5%. The General Excise Tax is charged on all goods and services, unlike a sales tax that is usually only charged on goods.
Income tax in Hawaii
Income tax rates in Hawaii remain unchanged in 2023 with the marginal rates ranging from 1.4% to 11% depending on the tax bracket. For example, a single filer with income of $150,000+ and married filing jointly with income of $300,000+ are taxed at 9%.
See the table below for the tax brackets and their marginal tax rates.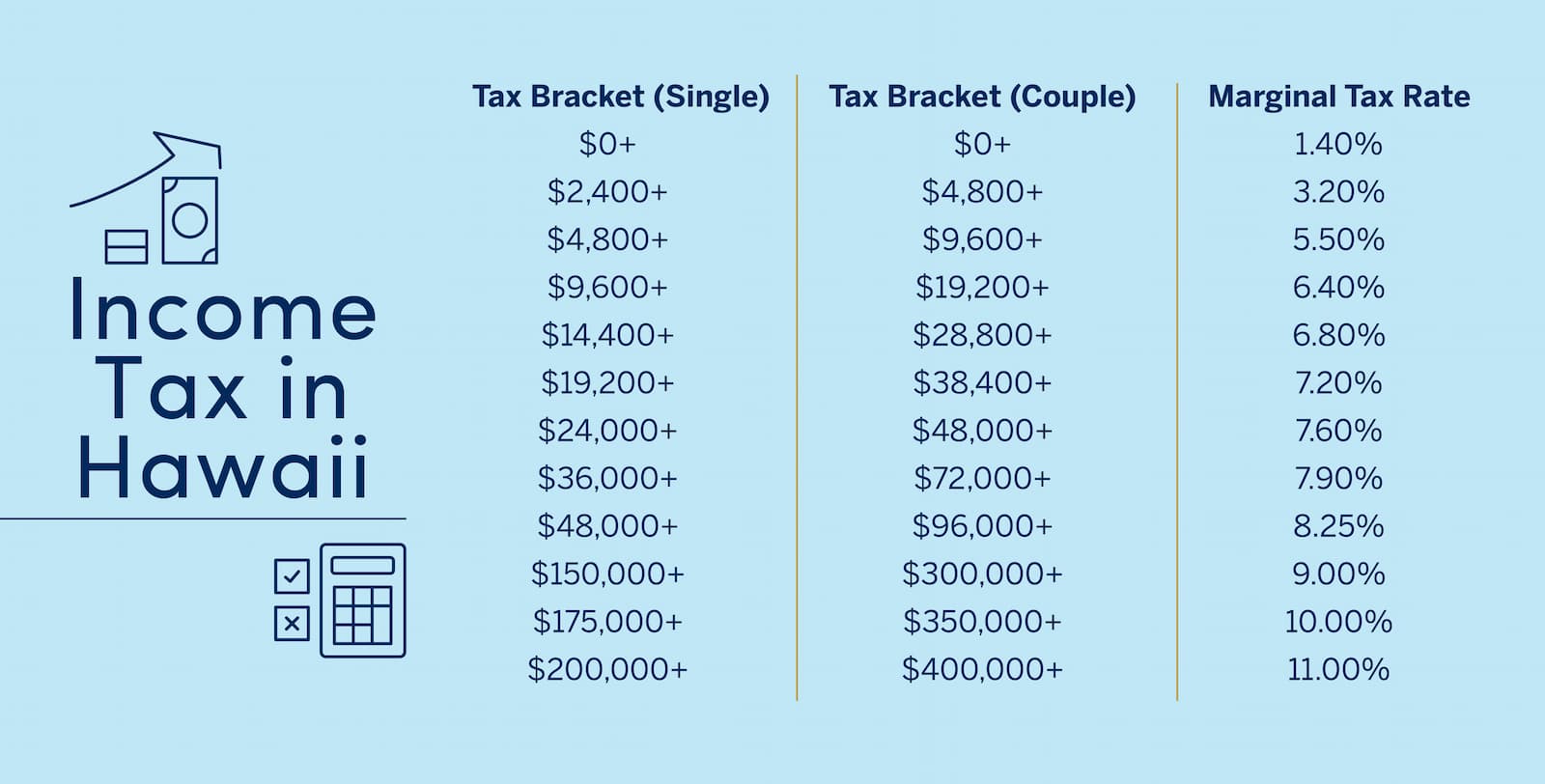 Property tax in Hawaii
Property taxes in Hawaii are calculated by dividing the assessed value of the property by the prevailing property tax rate. The taxes are increasing in Honolulu as the city has increased the assessed values overall. Keep in mind that the taxes are reassessed every year based on their new values. Tax rates differ across Maui, Kauai, and Hawaii counties.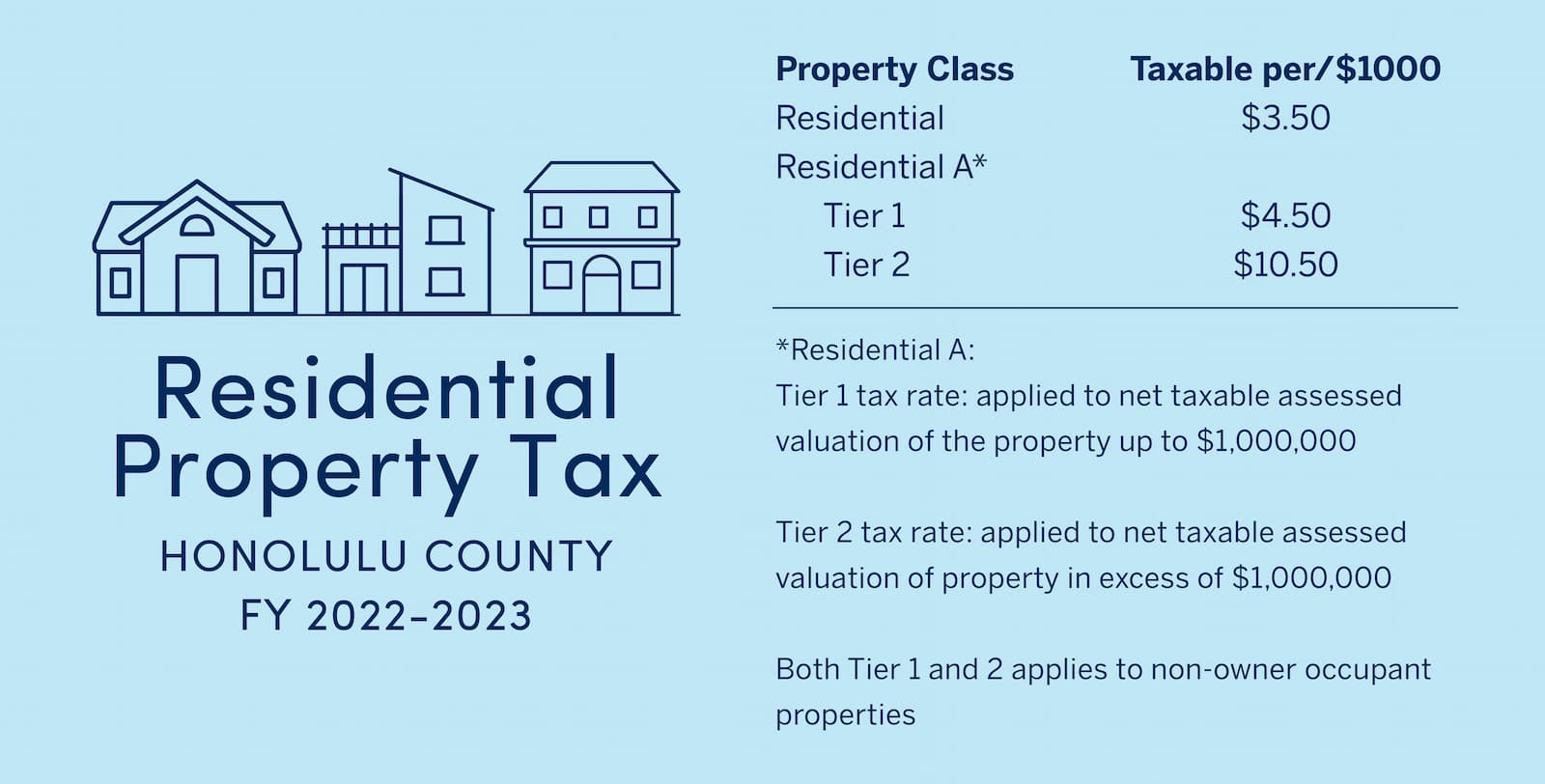 On Oahu, through June 30, 2023, owner-occupant residential property tax rate is $3.50 per every thousand dollars of assesed value, so if your home in Hawaii is your primary residence and the tax assessed value on that home is $1,000,000, then your property taxes for the year would be $3,500. If your home was assessed at $500,000 then your proeprty taxes would be $1,750. It's possible to claim a homeowner's exemption if the property is your primary residence. Owners below the age of 65 get a $100,000 exemption and those above it get a $140,000 exemption which would help further reduce your property taxes.
Residential A category are for non-owner occupant properties. Residential A category properties with assessed values of up to $1,000,000 are taxed at $4.50 per every thousand dollars of assessed value. Every thousand dollars of assessed value over the $1 million is taxed at $10.00 or 1%. Assuming your property is assessed at $2 million, you'll pay $4,500 in property taxes on the first $1,000,000 of assessed value and $10,000 on the second million for a total annual tax of $14,500.
Education
Hawaii has great educational institutions for your children. The private schools on Oahu are particularly noteworthy while there's also a great selection of public schools. The average private high school tuition in Hawaii ranges from $12,280 to $30,480. Check out our guide to private schools on Oahu for a more in-depth look. Like the mainland, public education is generally free.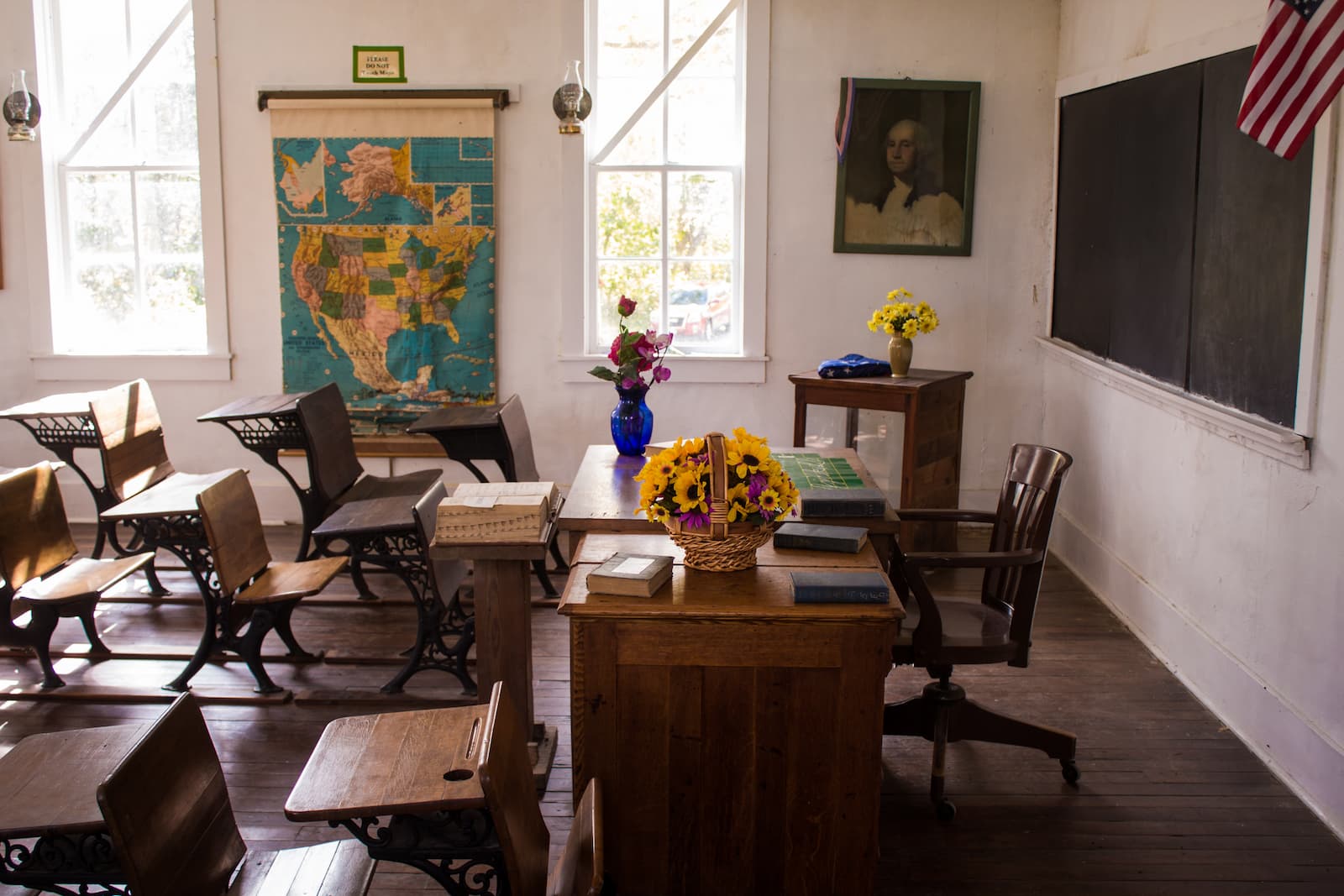 College tuition and fees vary significantly from campus to campus. The actual costs also depend on the program and residency. The average tuition costs for the University of Hawaii are $7,584 for in-state and $20,544 for out-of-state students.
Transportation
Transportation is a significant monthly cost for residents in Hawaii as the state has some of the highest gas prices in the country. That's due to its remote location as all of the gas has to be shipped in. The current average gas prices in Hawaii for Regular, Mid-Grade, Premium, and Diesel are $4.894, $5.106, $5.354, and $6.033 respectively.
TheBus is Oahu's primary public transportation system with other options such as shuttle services also available. It's not a massive system like you'd find in a major city but it gets the job done for shorter distances. Gas may be expensive in Hawaii but distances are smaller so you'll be driving less here compared to the mainland. So unless you're putting in a lot of miles driving around the island, which you'll realistically have no need to do, the higher gas prices are offset by fewer miles driven.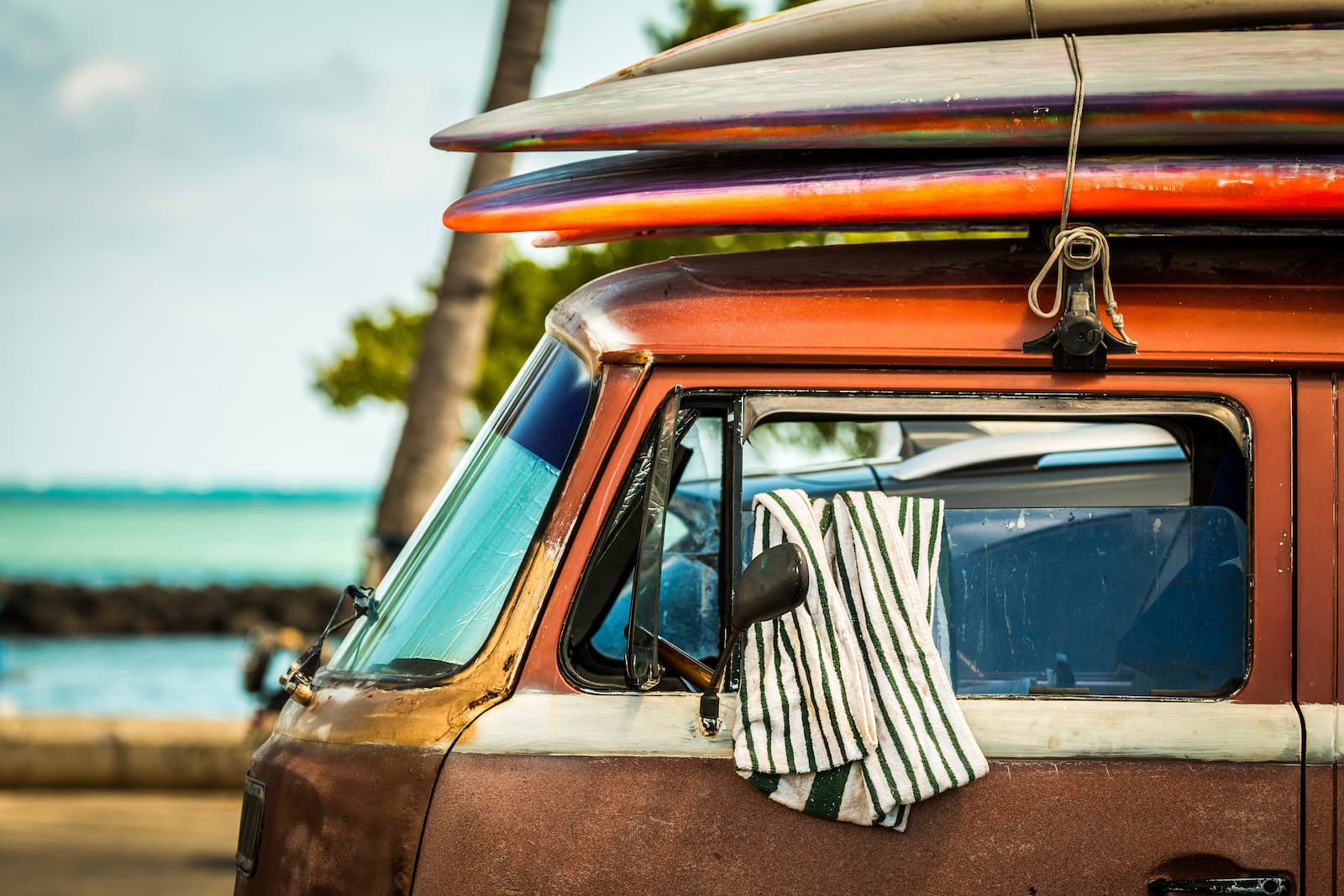 Distances aren't significant here but traffic remains a reality. Commuting during rush hour will require some patience but it will largely depend on where you live and where you're driving to. That's going to have an impact on what you spend on gas so take that into account as well.
Insurance
Homeowner's insurance will be a recurring expense but well worth it as it's going to cover damage from fires, natural disasters, theft, and other eventualities. Expect to pay around $450 per year for a $250,000 baseline dwelling policy. Your final premium will vary based on several factors but given the state's average annual cost of $372 for $250,000 coverage, there likely won't be much deviance from this range.
Healthcare insurance is a necessity and all employers are required to provide prepaid health care coverage to their eligible employees in Hawaii. This will typically include full-time employees and potentially some part-time employees as well. Check with your organization about eligibility. If you don't have coverage through an employer, you're able to purchase an individual health plan during the annual Open Enrollment period, with the average plan costing $400 per month. A family of three, consisting of a couple and a child, can expect to pay $1,225 per month on average for health care coverage.
Example of modest condo living expenses
It can be feasible to live a modest lifestyle in Hawaii and to enjoy all that the state has to offer without breaking the bank. The following is an example of the expenses that an individual or a couple with no kids can reasonably expect. Assuming that you're buying a median-priced $510,000 condo with 20% down at 6.375% and use air conditioning. a modest lifestyle in Hawaii will incur the following primary monthly expenses of roughly $5,255:
Mortgage: $2,545
Taxes & Insurance: $160
Utilities: $450
Maintenance fee: $600
Groceries and Entertainment: $1,000
Gas: $500
Example of average expenses for a single family home
A comfortable and elevated lifestyle in Hawaii with a family of four would roughly incur a monthly expense of $9,991. This assumes that you're buying a median-priced home for $1.1 million with 20% down at 6.375% and use air conditioning. The estimate includes expenses for kids' activities and dining out.
Mortgage: $5241
Taxes & Insurance: $500
Utilities: $750
Groceries and Activities: $2500
Gas: $1000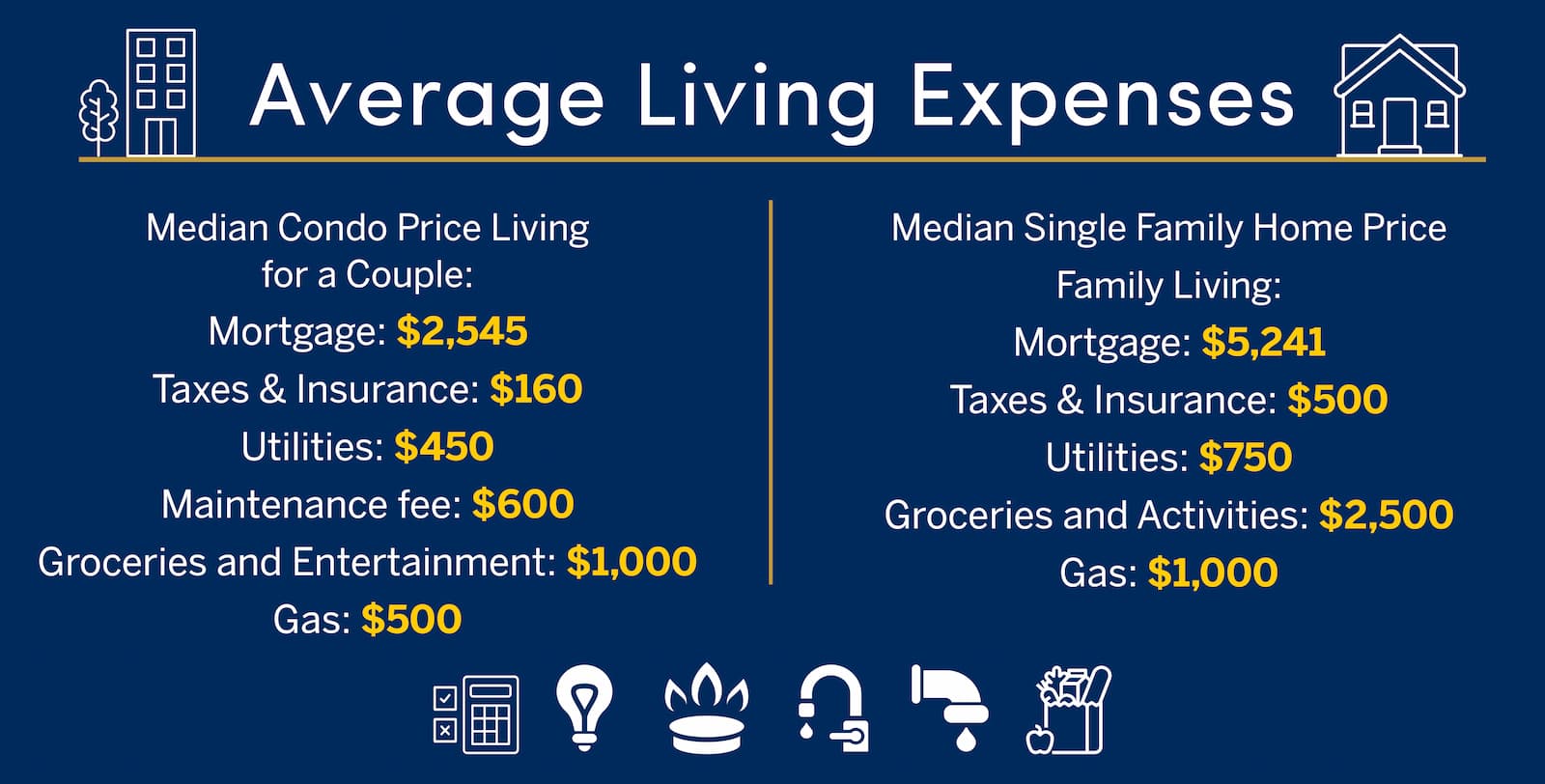 Wrapping Up
Hawaii is paradise. That much is known around the world. Between the gorgeous scenery and the fresh island air, life on the islands is amazing. There isn't a day that goes by for me after all these years that I am not taken aback by some of the natural beauty on a daily basis. The lifestyle is wonderful and relaxed. It's a big reason why I never used my return trip ticket in 1999. The culture encourages meeting new people, caring for your community, and maintaining an active, healthy lifestyle - perfect for raising a family. I've lived here for 20+ years and I love it.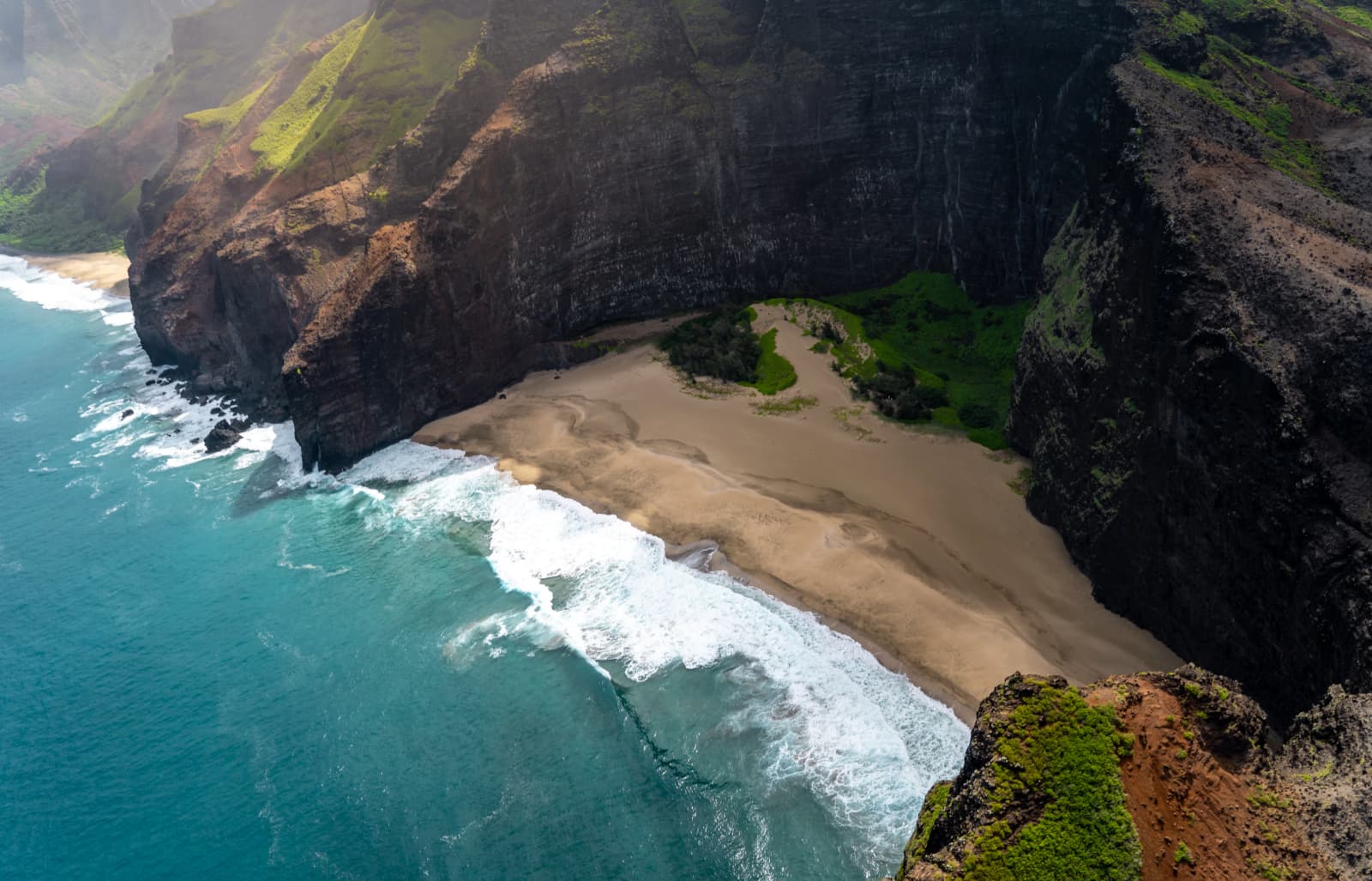 We rank high on various cost of living indexes, but it's for good reason. Hawaii is a paradise like no other, offering gorgeous views, a healthy lifestyle, and a diverse cultural melting pot to those who seek it. It's just about as close as you can get to living in a foreign country without a passport. If you are aware of the costs and spend your money with intent, you can easily do well here.
When you're ready to take the plunge and start getting ready to move to Oahu - contact me, Scott Startsman, at 808-427-0867 or email me at [email protected]! We have 2 decades of experience helping individuals, families and corporations make the move and successfully integrate into the community. Learn more here or inquire below.