Cost Of Living In Hawaii | 2022 | Your Handy Guide
Posted by Scott Startsman on Saturday, April 17, 2021 at 10:13 PM
By Scott Startsman / April 17, 2021
Comment
Cost Of Living In Hawaii - The Cost To Live In Paradise
Hawaii is a paradise - and its Cost Of Living Index matches that. The state is made up of eight major islands. I'm based on Oahu, right outside the state capital of Honolulu. Hawaii is full of gorgeous views, fresh ocean air, and warm golden sand beaches. Some of the most coveted homes in the world reside here, with areas like Kahala being called the "Beverly Hills of Hawaii."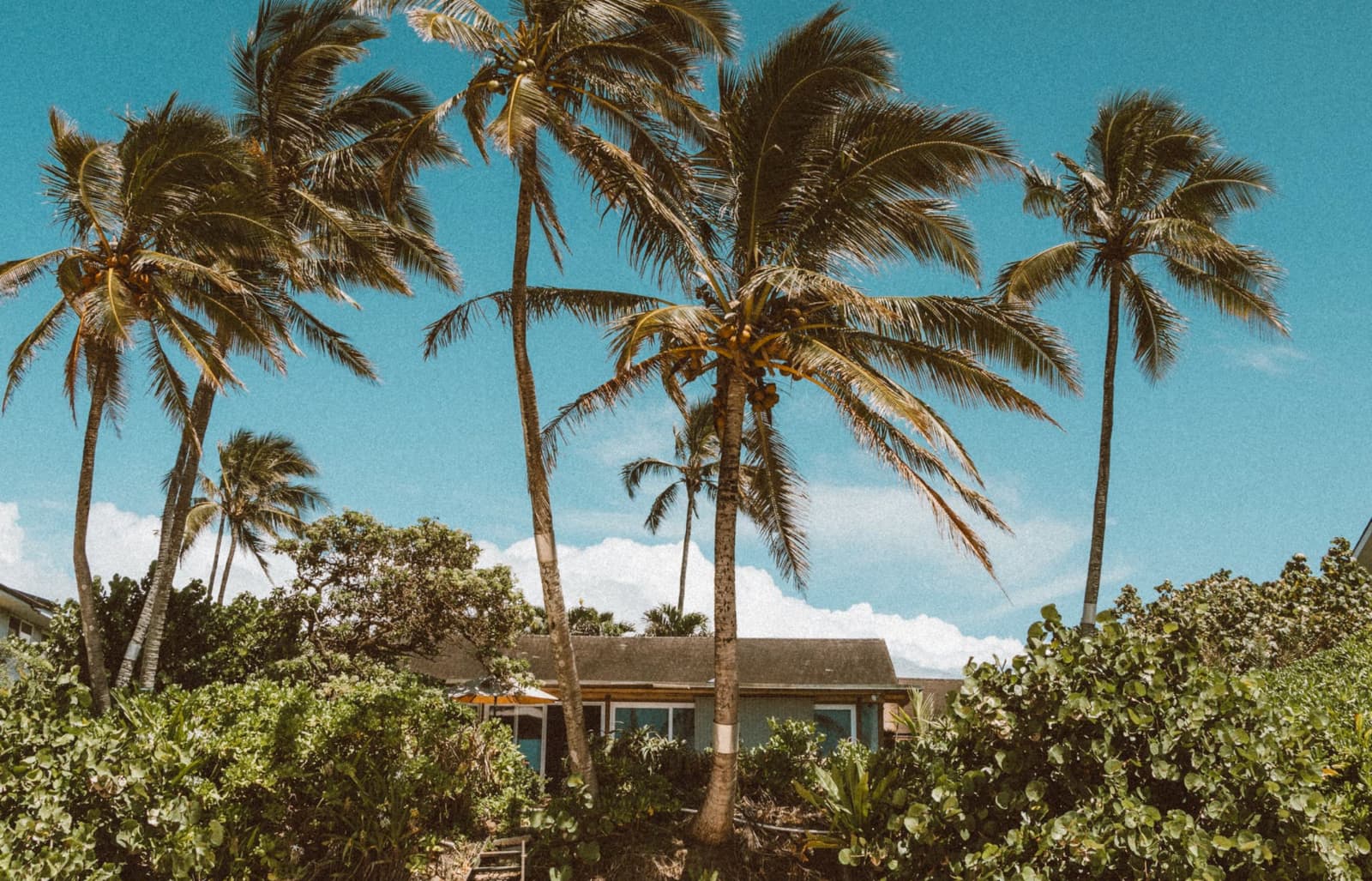 This comes at a price, though. Because of limited real estate and needing to ship goods from the mainland, Hawaii has a cost of living index of 185.6 as of January, 2022. Living in Hawaii requires the understanding that living here costs more than living on the mainland. Having a budget and a plan for dollars spent is a good idea, as you can save greatly by understanding how the costing works here in Hawaii. If you keep that in mind and stay open to the cultural differences, paradise has a place for you.
The first step to living here is being well informed on what your future costs will be. Below, I break down a few of the most important factors to consider in cost of living.
Cost Of Housing In Hawaii
Hawaii has a housing score of 312.6 - which is to be expected, given the state's location. It's a paradise unlike any other, with limited space and a relaxed vibe that makes every day feel almost like a vacation. There are certainly deals to be found in Hawaii - but on average, the prices paid here will be higher than the mainland.
Read More: Cost Of Living - Transportation & Commuting Costs
On Oahu, where I'm based, the Median prices for single-family homes and condos in November 2021 was $1,050,000 and $500,000, respectively - up around 20.3% and 19% from November of 2020. When compared to Seattle, Washington, this could be seen as a modest upgrade. Each situation is different, but today's mortgage interest rates can make it much more affordable than it seems at first glance.
Click here to check out the latest market stats!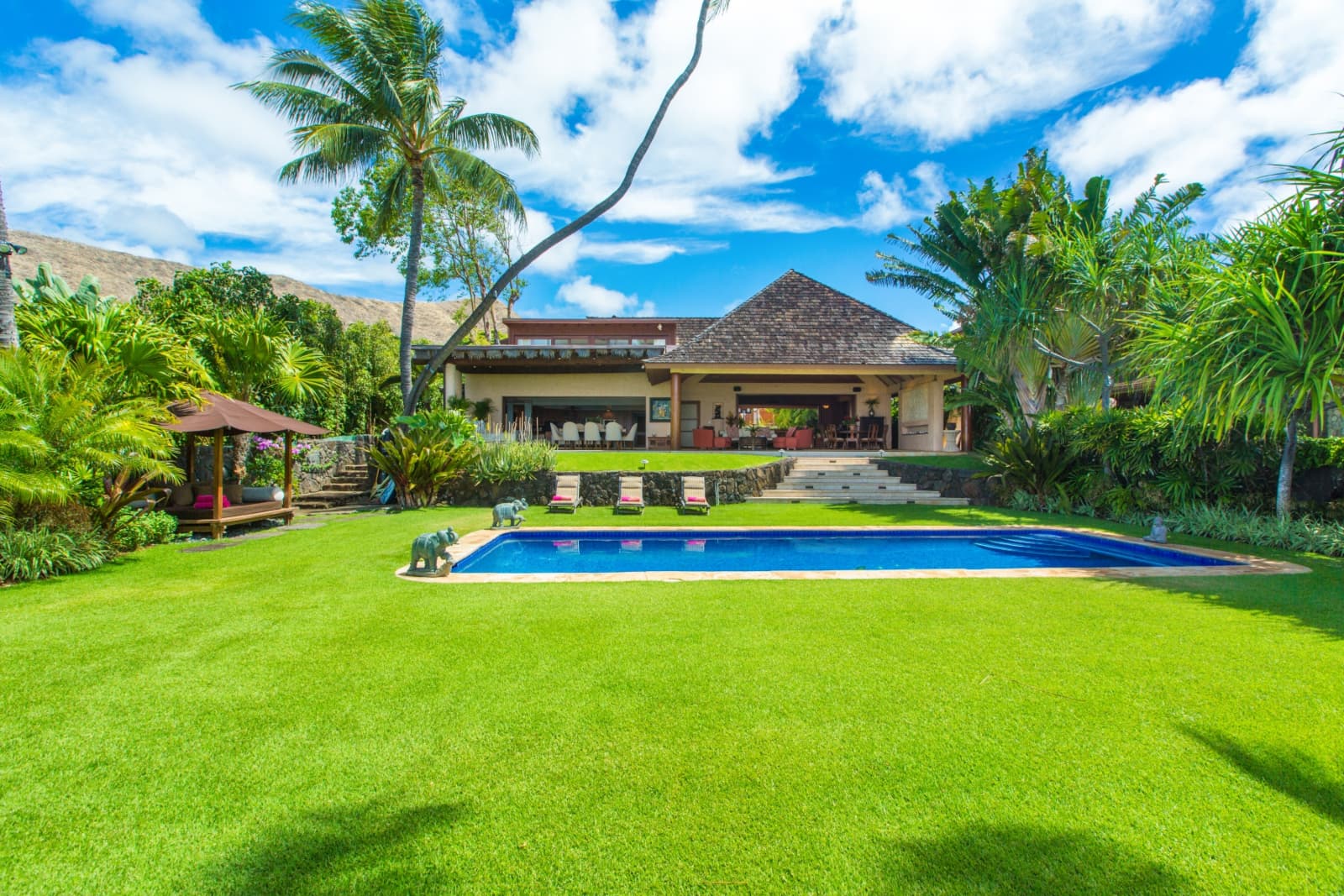 The main difference between a home here and on the mainland is the amount of space that the money buys you. Hawaii homes tend to be smaller, with yards and open spaces at a premium and condo living in Honolulu is very common for many.
What you get in exchange though is a life unlike any other. Some of the most luxurious and breathtaking homes in the world are in Hawaii. One such example is Kahala - world renowned as the 'Beverly Hills of Hawaii.' Right next door is Diamond Head - another luxurious neighborhood offering wide open streets and a family friendly community at the base of the Diamond Head crater.
Related: Should I Buy A Home Before Moving To Hawaii?
One of the latest up and coming areas on Oahu is Ward Village - 60 acre Master-Planned Community built with pedestrian access in mind. The main theme of Ward Village is blending luxurious condo living in the Urban Core of Honolulu with the Island Lifestyle that Hawaii offers. These condos are perfect for low maintenance, high amenity living - as either a first or second home.
Cost Of Groceries In Hawaii
Hawaii has a grocery score of 152.3, reflecting the island's remote nature. While Hawaii is host to locally grown fruits, vegetables, and island grown coffee, we can't grow enough to supply everything we need. Most of the island's supplies need to be brought in, making Hawaii the most expensive state to buy groceries.
What I like to do is have a membership to Costco and a few other stores and check around to save on costs. For example - a loaf of Roman Meal Honey & Oat Bran Bread at Times, a local grocer, is $8.59 normally but only $5.49 on sale. At Costco, you can get a 2-Loaf 48 Oz pack of White Bread for $4.99 - on sale for $3.49.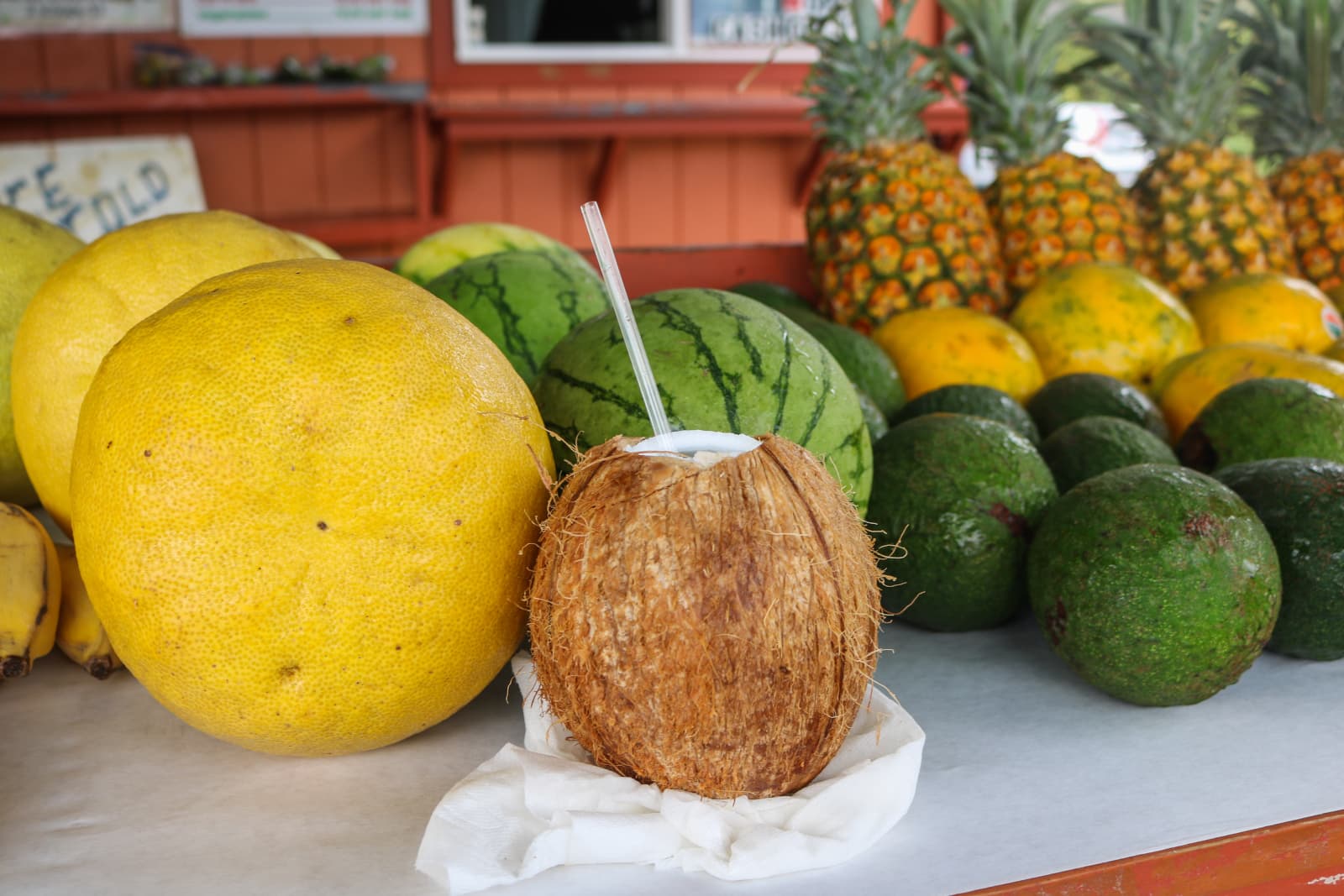 To give you a better idea of grocery costs on Oahu, I checked the prices of a few key goods at several stores and averaged them out. The table below is accurate as of February 2021, reflecting prices in Honolulu (not including sale prices).
| | | |
| --- | --- | --- |
| Product | Average Price | Price Per Unit |
| 24 Oz Bread | $6.92 | $0.288 Per Oz |
| 48 Oz Bread (2-Pack) | $6.64 | $0.173 Per Oz |
| 1 Gallon of 2% Milk | $6.49 | $6.49 Per Gal |
| 18 Count Large Grade A Eggs | $6.37 | $4.25 Per Dozen |
| 3 Lb Bananas | $3.36 | $1.12 Per Lb |
| 2 Lb Boneless Ribeye Steak | $26.64 | $13.32 Per Lb |
To check out more grocery prices and find out more about how I grocery shop with a plan, you can check out my video below on grocery shopping tips.
Cost Of Utilities In Hawaii
Hawaii has a Utilities score of 158.4 - significantly down from 184.6 in second quarter 2021. Utility bills all things considered come in at roughly $550 to $700 per month. This is an average across the entire state - but I primarily serve clients on Oahu that tend to be towards the higher end of the pay scale. As such, I've broken down the costs you might see in those areas as of February, 2021. While utility prices have increased in general across the mainland, Hawaii's have stayed relatively stable.
The price of electricity is one area where the contrast in price especially shows, costing between $0.26/kWh and $0.30/kWh. This is a little over double the national average of roughly $0.13/kWh. Hawaii has an average of 515 kWh used per month, or around $150 - but in the areas I service, homes tend to use between 1400 and 1600 kWh. This comes to a cost of roughly $400 to $424 per month on the low end. I have had clients that have had average electric bills of around $1,700 per month on the higher side.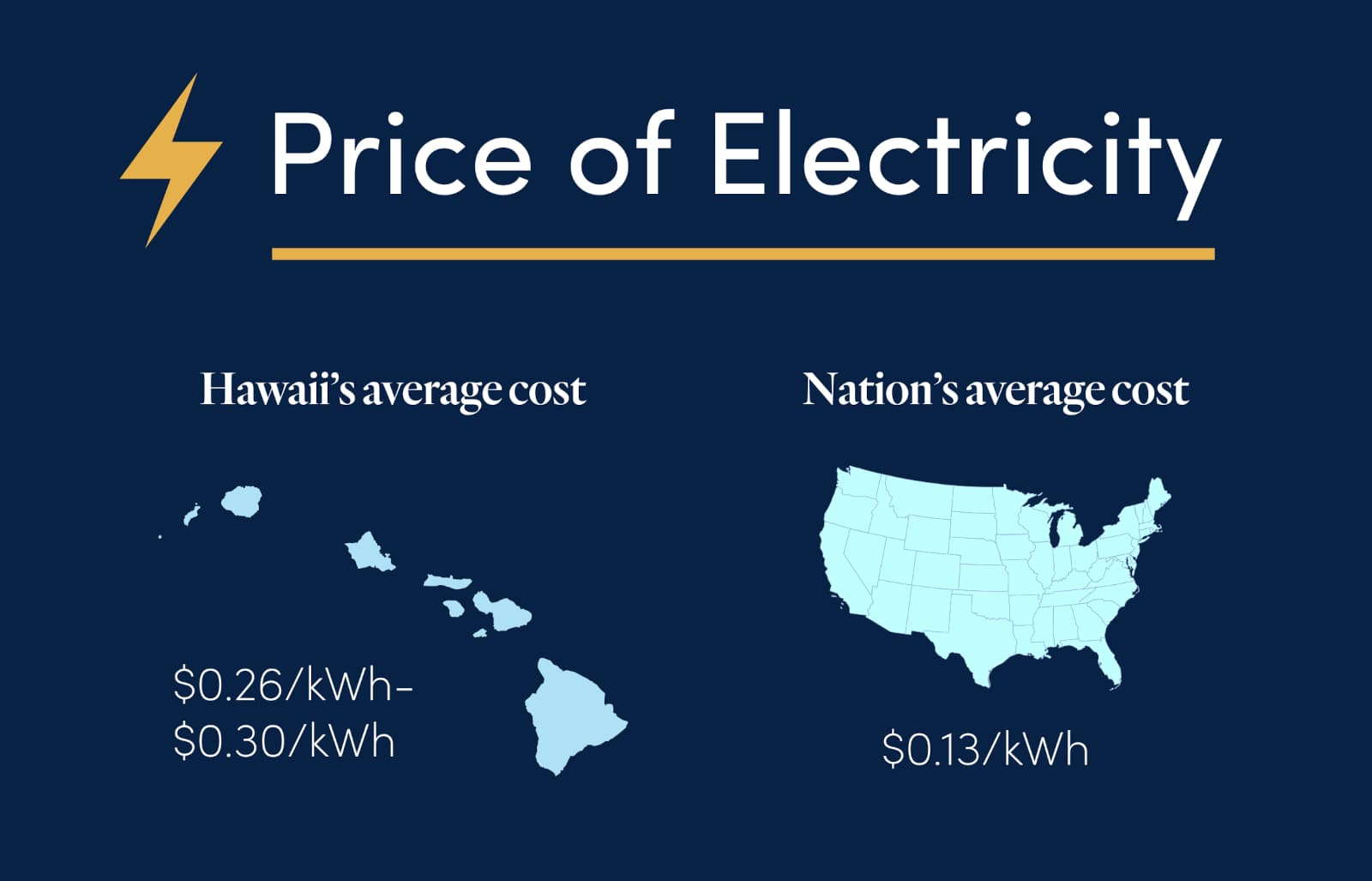 Natural gas is another area that comes at a premium compared to the mainland, coming in at around $225 to $250 per month. Water and sewage bills combined for a property with a pool and nice landscaping can run between $160 and $180.
Cable & internet bills really depend on where you are on the islands. In Honolulu itself, bundles with promo rates can run from around $90 for cable and internet speeds up to 200 Mbps download and 10 Mbps upload, or about $50 for just the internet. On the flipside, Fiber options are being installed throughout Honolulu - bringing the download speeds up to 1000 Mbps with up to 300 Mbps upload. The prices and availability can range wildly depending on your neighborhood as you get further out, so it's important to check thoroughly for every home you look at.
If you are looking at being a remote worker you don't have much to worry about for internet connection and since our temperatures throughout the year are very moderate you don't have to worry about losing power to the internet, to an ice storm or other severe weather.
This comes out to a range of roughly $875 to $1,000 per month in utility bills. Many of these prices can be significantly lowered through various methods. For example - properly installed solar panels that charge a battery bank throughout the day can lower your long term electricity costs for a higher upfront installation & purchase cost. Similarly, solar water heaters and energy saving appliances can bring it down even further.
Average Income In Hawaii
The Department of Housing and Urban Development (HUD) Guidelines released in 2021 show the median family income for a 4 person family in Hawaii is $99,800 total, with $104,700 median family income for metro areas and $81,100 for nonmetro areas. The breakdown by county is below.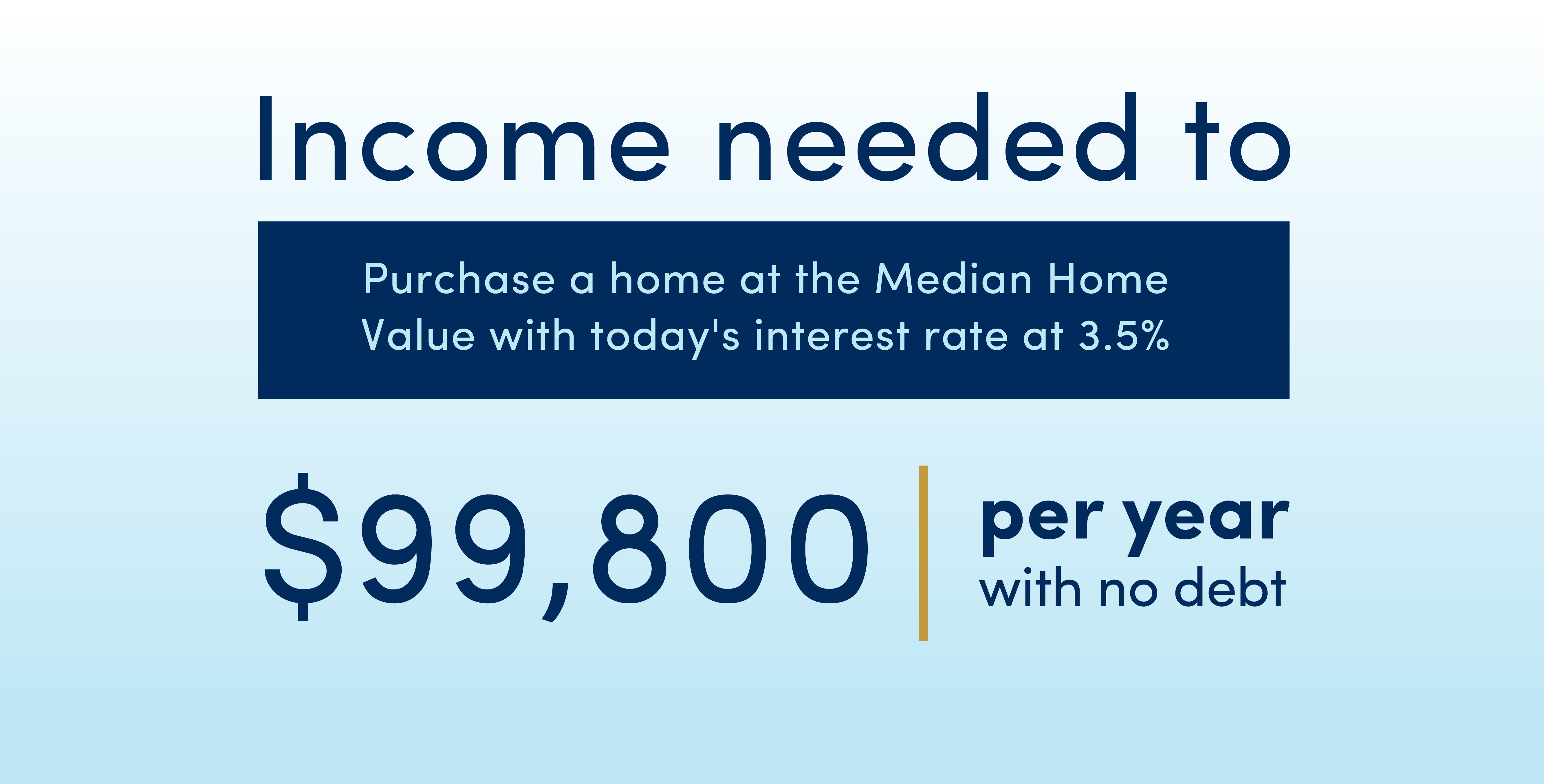 Hawaii Median Family Income By County
Honolulu County - $106,000
Kalawao County - $95,900
Maui County - $95,900
Kauai County - $93,400
Hawaii County - $78,800
An annual income of $120,000 will do well in Hawaii - but to really take advantage of the best the island has to offer, more is obviously better.
Taxes In Hawaii
Taxes in Hawaii primarily consist of Income, General Excise (Sales), and Property Taxes.
The income tax rate is variable, adjusting depending on your income. It ranges from a 1.4% to 11% marginal tax rate, with 12 tax brackets from $0 to the top Tax Bracket of $200,000. Property taxes in Hawaii come in at an average of 0.26% of home value, around $1,300. Hawaii ranks 42nd out of 50 states for property tax as a percentage of median income, though the dollar amount ranks around the middle due to high property values.
While there is technically no sales tax in Hawaii, there is a 4% statewide tax on goods and services that serves the same purpose.
Sales Tax
Instead of a state sales tax, Hawaii has a 4% statewide gross receipts tax known as the "General Excise Tax." Counties and cities can impose an additional local sales tax of up to 0.5%. Honolulu is one example of this, with a 4.5% total tax on purchases. This tax applies to all sales of goods and services and is charged to the business rather than the customer - though this cost is passed on to the customers, similar to sales tax.
Income Tax In Hawaii
Hawaii ranks 9th out of 50 for income tax rate, with the average family paying $2,264 in Hawaii income taxes. The tax rate you pay varies, depending on your Tax Bracket and filing status. For single filers, it starts at 1.4% from $0 to $2,400 and tops out at 11% for incomes of over $200,000. For married couples filing jointly, those numbers double.
See the table below for the tax brackets and their marginal tax rates.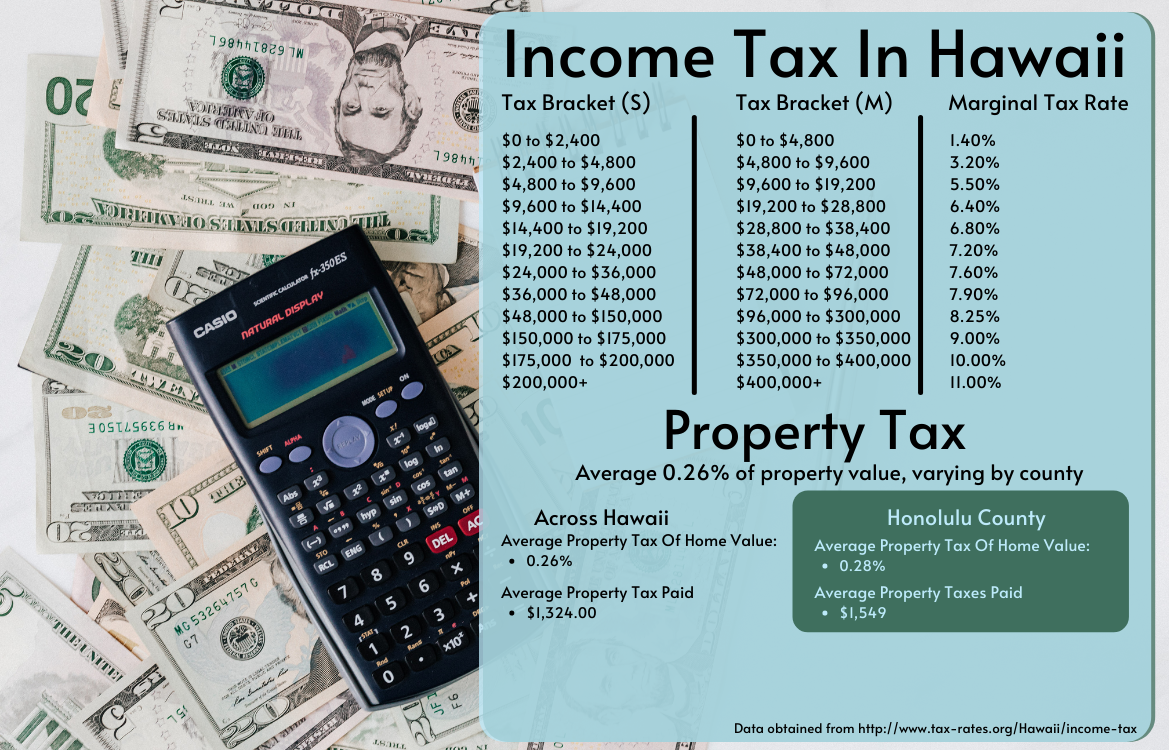 Property Tax In Hawaii
Hawaii ranks 34 out of 50 for the average amount in property taxes collected. The exact formulas vary by county, but are an average of 0.26% of a property's fair market value across the state. The Average Property Tax paid in Hawaii is around $1,324.00 per year for a home worth the median home value of $517,600.
In Honolulu County, Oahu, property taxes are on average 0.28% of a property's assessed fair market value. It ranks around the middle for property taxes paid in the United States by county - 1744th out of 3143 counties. The average amount paid yearly in Honolulu County is around $1,549.
While these numbers are reliable for estimation, Honolulu County uses a complicated formula for determining property tax - making it difficult to know exactly what you're going to pay beforehand. There are property tax estimators out there, just never forget - these are just estimations and your tax rate will partially depend on if you are an owner occupant or an investor, plus the value of the property.
Wrapping Up
Hawaii is paradise. That much is known around the world. Between the gorgeous scenery and the fresh island air, life on the islands is amazing. There isn't a day that goes by for me after all these years that I am not taken aback by some of the natural beauty on a daily basis. The lifestyle is wonderful and relaxed. It's a big reason why I never used my return trip ticket in 1999. The culture encourages meeting new people, caring for your community, and maintaining an active, healthy lifestyle - perfect for raising a family. I've lived here for 20+ years and I love it.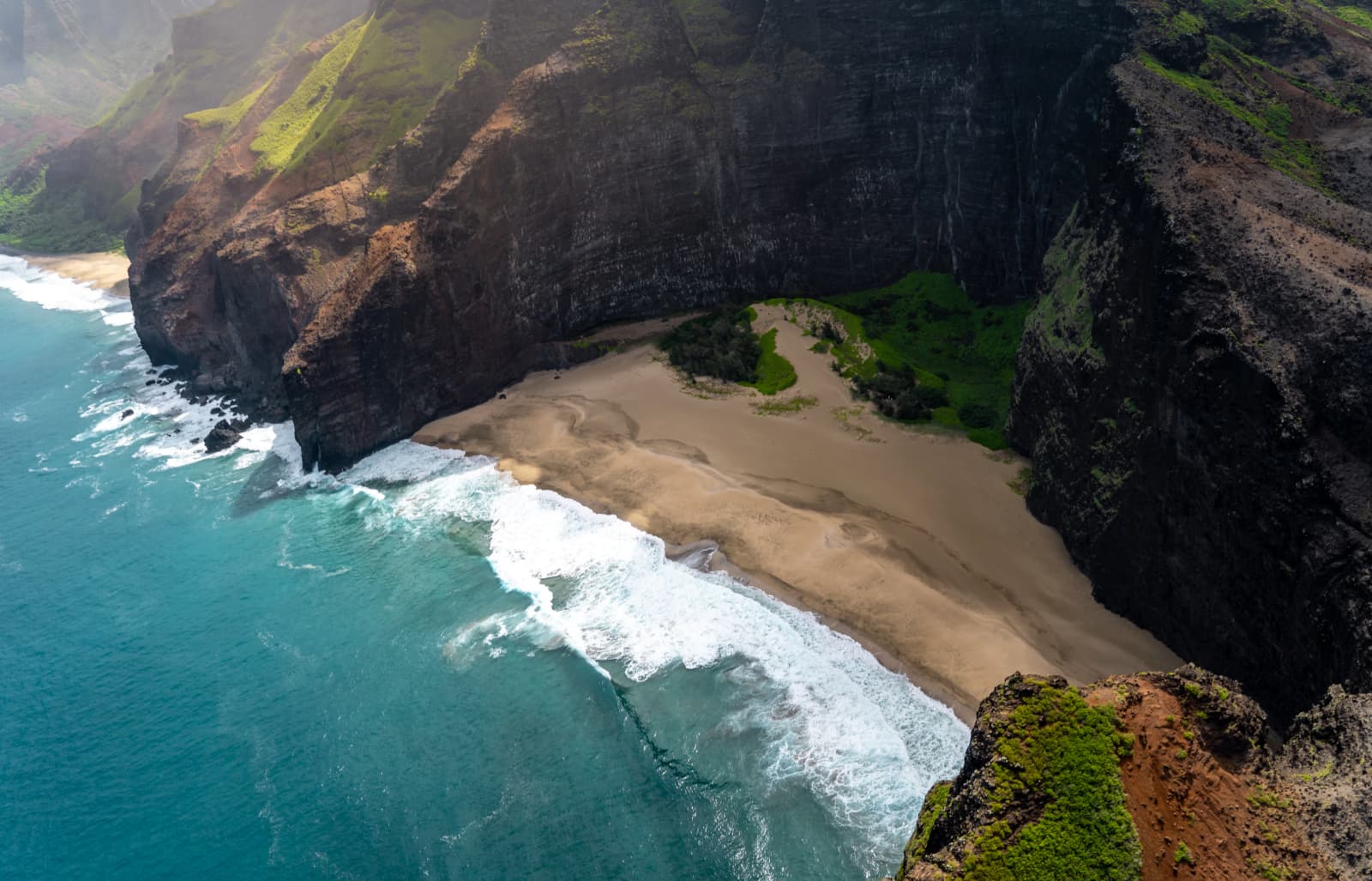 We rank high on various cost of living indexes, but it's for good reason. Hawaii is a paradise like no other, offering gorgeous views, a healthy lifestyle, and a diverse cultural melting pot to those who seek it. It's just about as close as you can get to living in a foreign country without a passport. If you are aware of the costs and spend your money with intent, you can easily do well here.
When you're ready to take the plunge and start getting ready to move to Oahu - contact me, Scott Startsman, at 808-291-5441 or email me at [email protected]! I have years of experience, and I'd love to help find the home right for you!